For the first time since the festival started in 2007, Roots N Blues is featuring an all-female lineup. Friday through Sunday, women encompassing the musical genres of country, folk, pop and rhythm and blues will take the stage at Stephens Lake Park.
With a total of 25 artists set to perform, it might be hard to know what day to buy tickets for or who to see on what day.
Aarik Danielsen, arts and culture editor at the Columbia Daily Tribune, shared his thoughts with Vox on whom festival goers shouldn't miss from this year's lineup.
Friday
Larkin Poe
For Friday, Danielsen says he wouldn't miss Larkin Poe. "The Lovell sisters have reached a musical unity that even many other family bands can't quite achieve," says Danielsen in an email. "The way they twine their harmonies, and the way Megan's lapsteel playing fits with Rebecca's hard-charging electric guitar, is really something special."
The sisters will perform 7:15-8:15 p.m. on the EquipmentShare Stage.
Betty Who
Another artist you don't want to miss Friday is Betty Who. The Australian-American singer songwriter is widely know for singing the opening track to the reboot of Netflix's Queer Eye, however, her 1980s inspired pop sound is relflected across her entire discography and especially through her latest album titled Betty. Who's synth pop style will contrast with the large amount of blues and country music artists at the festival.
Who will perform 6:15-7:15 p.m. on the MU Health Care Stage.
Lennon Stella
Lennon Stella, another pop artist, will be the final performance on Friday night and the wait will be well worth it. With roughly 8.4 million monthly listeners on Spotify, Stella has carved out a place for herself in the pop music charts. Since her 2018 single "La di da" off the Love, Me EP collected 149 million Spotify streams, Stella has released her first full length album titled Three, Two, One in 2020 and was featured on the single "Light Year" with Adam Melchor in 2021.
Stella performs 7:45-9 p.m. on the MU Health Care Stage.
Saturday
Brittney Spencer
Of the 11 artists who perform on Saturday, Danielsen's pick to see is Brittney Spencer. "She plays country music with a reverence for its storytelling tradition," says Danielson in an email. "As well as a generous spirit that pulls in elements of other genres." In the email, Danielson says Spencer will be a "rising star" at the festival. "She might also have one of the great, pure voices at this year's festival," says Danielsen.
Spencer performs 5:15-6:30 p.m. on the EquipmentShare Stage.
Tank and the Bangas
Another artist you don't want to miss Saturday is Tank and the Bangas, a four person, grammy-nominated, funk jazz group. With their first album release in 2013, the group spent six years working on their second full length album that was released in 2019. In 2020, the group released another EP and was nominated for best new artist at the Grammys. Their ability to blend musical genre lines, as well as energetic and soulful delivery makes them a gem you won't want to miss.
The group performs 7:15-8:30 p.m. on the MU Health Care Stage.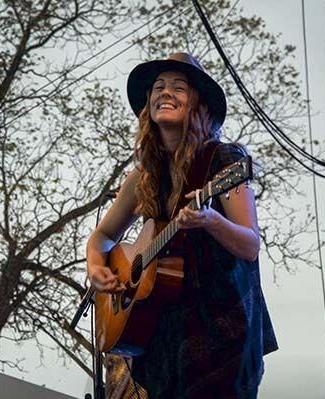 Brandi Carlile
Another major artist taking the stage is Brandi Carlile. The 11-time Grammy nominated artist has recorded six studio albums and has experimented with her sound on each one. "You can't go wrong with Brandi Carlile, who somehow has maintained a career-long hot streak,"  says Danielsen in an email. Carlile's vocals range from powerhouse to relaxed and melodic, and her understanding of country and folk music create an iconic Roots N Blues sound.
Carlile will perform at 8:30 p.m. on the EquipmentShare stage.
Sunday
Sheryl Crow
On the last day of the festival, Danielsen suggests none other than MU grad Sheryl Crow. The country music star is a must see for any Columbia native, not only because of Crow's close ties but also because of her country music charm and songwriting talent. "Sunday, I can't pick anybody other than Sheryl Crow" says Danielsen in an email. Danielsen also addressed Crow's large discography. "She could play two full sets and not quite touch all the hits in her catalog," he says in the email.
Crow will perform 7:15-8:45 p.m. on the EquipmentShare Stage.
Mavis Staples
Another must see on Sunday is the legendary Mavis Staples. An inductee in the Rock and Roll Hall of Fame and the House of Blues Hall of Fame, Staples is a soul and rhythm and blues icon. With 12 Grammy nominations and two wins, Staples is expected to bring excellence to the last day of the festival.
Staples performs 5:45-7 p.m. on the MU Health Care Stage.
There's no shortage of talented women to see perform at this year's festival. Every day will showcase a lineup of different sounds, giving people the opportunity to hear something they like.
Related Stories