People don't usually think of pole dancing as an art form; they see it as a performance with sexual overtones, or more recently, a whirling, whole-body workout. But local pole dancer Jordan Mazur says it's also an expressive craft, no less rigorous than other types of dance.
Mazur moved to Columbia five years ago as a Missouri Contemporary Ballet apprentice, but she loved the creative side of pole dancing. Mazur began practicing seven years ago as a hobby while studying ballet at Indiana University. She got progressively more involved in the dance form throughout college and, once in Columbia, decided she wanted others to be able to experience it.
So in 2012, she stripped her living room of everything but a few poles and mirrors and opened her makeshift studio to interested dancers. The hobby has since expanded into a full-time job. Later that year, Mazur opened Muse Pole Fitness on Providence Road, where she teaches regulars and newcomers the growing art form.
The business expanded more than Mazur anticipated. She posted some fliers, sent out an ad and quickly received many inquiries. Even the people at The Addsheet advertising company told her that businesses don't normally take off like that, she says.
Mazur welcomes people of different ages and backgrounds. Muse Pole Fitness now has 60 to 70 regular participants, as well as various drop-ins and occasional attendees. The studio also hosts shows in which dancers can audition to participate. In May, 20 dancers, including Mazur, performed group and solo acts in Muse Pole Fitness' Fourth Annual Spring Showcase at The Blue Note.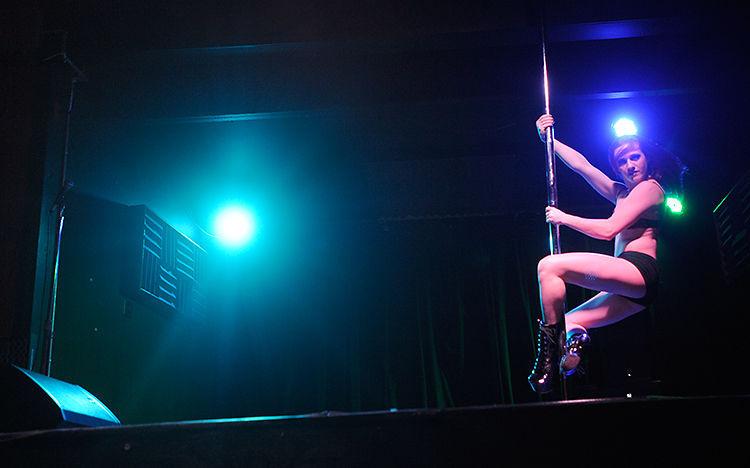 Mazur uses a method common in most dances: emphasizing her performances' artistic meanings. For example, Muse Pole Fitness put on a Halloween showcase last year, and one routine was '80s-themed. The music, costumes and choreography played on aspects of the time period to create a cohesive dance with an identifiable theme, Mazur says.
"It's not masculine or feminine," she says. "It's not necessarily sexy or athletic; it can be nerdy, sad, dramatic, angry. You can emote absolutely anything you want to with a pole."
Some people, however, view it as a sport rather than an art form. The US Pole Sports Federation has spent two years pushing to get pole sports included in the Olympics. Despite the overlapping goals of destigmatization and gaining recognition, the initiative is polarizing in the pole dancing community.
Michelle Mynx has pole danced for more than 15 years and owns the Michelle Mynx Academy of Pole Dance in St. Louis. She's not opposed to the idea of Olympic pole sports, but she personally has no interest in it. To make it objective and able to be scored, there would need to be a lot of rules, she says.
"Pole dancing is all about not having rules and being able to express yourself in a way that you choose," Mynx says. "It will have to be something else to be in the Olympics. It will have the soul sucked out of it."
Mazur adds that pole fitness uses a different approach than pole dancing. If it does go to the Olympics, she says, there should be a clear distinction between the two forms.
Her approach, like many others, is to confidently make it her own. "Pole can be absolutely anything that you want it to be," Mynx says. "There is no limit, and there are no rules."