"Folks don't notice that the same patterns are there over and over and over again. Superiority. Supremacy. Folks building their esteem on the backs of others," writes Claire Syler in her director's note for the MU Theatre Department's world premiere production of The Green Duck Lounge by Michelle Tyrene Johnson. She is quoting a line from the show's script, and there is honestly no better way to sum up what Johnson explores in her piece. Starting with the true stories of the killings of two owners of the Green Duck Lounge, a Kansas City bar, Johnson expands upon the similarities that exist between the civil rights movement and the present to create a rich look at the patterns and enduring conversations surrounding racial issues.
The MU Theatre Department's production, which opened Feb. 21 and runs through Feb. 25 in the Rhynsburger Theatre, was relevant and authentic. The play itself takes place inside the Green Duck first in 2015 shortly after Jimmy Townsend's murder and then in 1970 just before Leon Jordan (Harvey Williams) was killed. The show is made up of two scenes. First, Detective Robinson (Steven William Moore) comes to look around the bar as part of the investigation into Townsend's death. Then Bailey (Zahria Imani Moore), the only character that appears throughout the whole show, takes the audience back to the day Jordan was killed. Following the scripted performance, this production features a discussion with a panel of experts.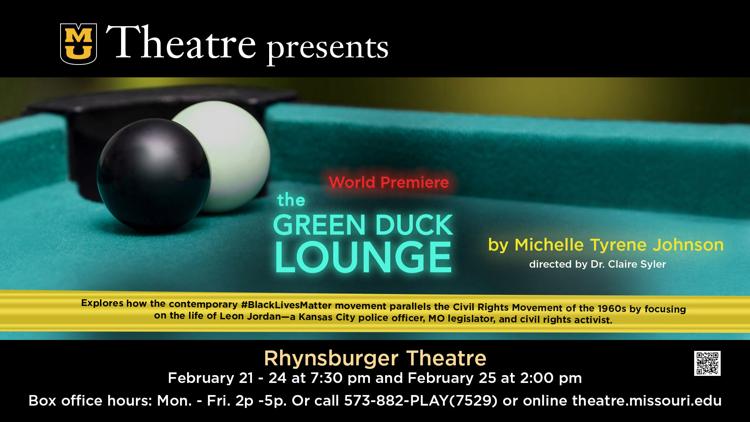 Yes, Johnson started out with interesting source material, but she uses her creativity to effectively enhance it. Having a character that is present in both scenes not only increases the intrigue, but also, allows her to point out specific patterns between the two periods. Johnson doesn't waste words in her tight script, which runs about an hour. She not only packs a lot of character, but also includes lots of factual references such as The Kansas City Star's investigation of Jordan's death.
The cast features just five performers with four of them playing a different role in each time period. For example, first, Ethan Isaiah Phillips was Darius, a young man involved in the Black Lives Matter movement, and then he was Marcus, a Black Panther. The way the roles were doubled enhanced the threads that run between the two eras, connecting ideas and movements across time.
Equity actor Harvey Williams plays Clarence and Leon Jordan. Williams brought a natural ease to his characters that was effective in grounding the show in the reality on which it's based. His performance as Jordan particularly stood out. His character was multifaceted and nuanced. Williams was able to convey his hard side when, with raised voice and hard face, Jordan demanded that Frankie B. (Steven William Moore) leave his bar. His tender, loving side came out as his voice and whole demeanor softened as he talked about his wife.
Williams might be the only professional actor among a cast of students, but the students certainly kept up. Phillips' combative stance and often-raised voice brought the necessary anger and frustration to both Darius and Marcus, tying the time periods together with this emotional thread. Additionally, Zahria Imani Moore's Bailey was clearly worn down from all she had witnessed as evidenced by her strained and weary voice that came out most strongly when she discussed history.
MU Theatre Department's 'The Green Duck Lounge'
Credit is also due to the designers who brought this world to life and pulled the audience into it. One highlight was Brad M. Carlson's set. The walls seemed to shrink the size of the Rhynsburger stage and created an enclosed space, making audience members feel like they were in the bar with the actors. Another was the incredible work that lighting designer Vincente Williams and sound designer Jae Shanks did to set the tone of the piece with an opening sequence that included flashing lights, ambient sounds and news reports.
In today's world, a piece like The Green Duck Lounge feels necessary to teach people more about black history and to create conversation about issues this country is struggling with. Johnson's script is powerful, and when combined with a team that enhanced it at every turn by strengthening the patterns explored and bringing the audience into the world, it is a show that shouldn't be missed.