Live performance is like a hug.
And not just any old hug—according to Brett Olson, an acting professor at Stephens College—but a long-awaited hug someone might give a loved one after receiving a COVID-19 vaccine. You squeeze a little tighter and hold a little longer because of how long it's been since you felt that feeling.
"It's very hard to deny the reality of a person when they are right in front of you," Olson says. "I think that's what audiences need. I think there's a huge opportunity for catharsis."
Olson is preparing to deliver that catharsis by directing Almost Maine, a series of 10-minute acts coming to Macklanburg Playhouse in September. He says the stories will give the audience "warm fuzzies" while still facing difficult realities.
"I think that we can choose to produce entertainment that is supposed to be sweet just because we think that everyone needs a little bit of lightness right now," Olson says. "Or we can choose to produce entertainment that is romantic, something that believes that there is not great hope without great despair. There is not great progress without great regress."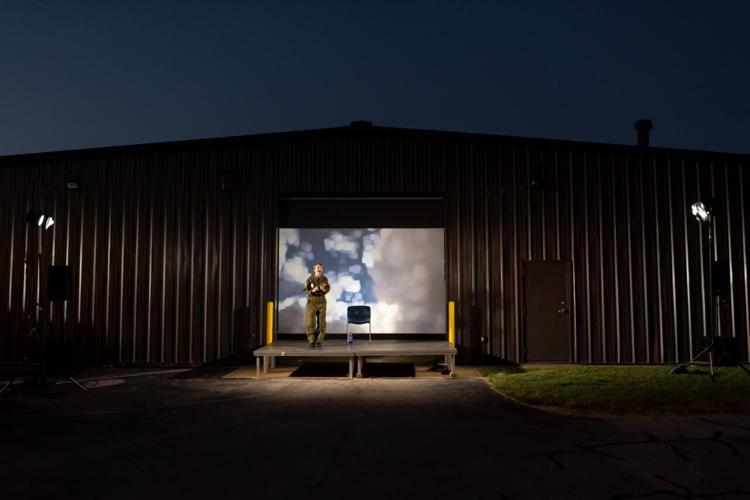 Elizabeth Braaten Palmieri has had to find similar silver linings while Greenhouse Theatre Project pivoted to virtual and outdoor performances the past year. As co-founder and artistic director of the site-specific theater company, she says adapting was nothing new.
"It's kind of forcing creative people to be more creative about how they approach everything," Palmieri says. "And I don't have a problem with that because we are a very non-traditional theater company. We're always in weird spaces performing, and we're rarely in the same place twice."
Greenhouse will debut Urban One Acts throughout Columbia's North Village Arts District in October. There'll be live music and hot cider, similar to a fall-time bonfire.
So, live performance is back. It's different and punctuated with new meaning. But it's the hug we all needed. Here's a look at some of the live performances gracing Columbia stages this fall.
Almost, Maine
The show is essentially a romantic comedy, but not void of distress. "When you see it, it just feels like, 'Oh, these people have been dealing with some stuff,'" Olson says.
Where: Macklanburg Playhouse
When: Sept. 30-Oct. 2, 7:30 p.m.; Oct. 3, 2 p.m.
Cost: $16-18; $10 for students and seniors
Call: 573-876-7199
Online: Email ticket requests to boxoffice@stephens.edu.
Arsenic and Old Lace
This play takes the stereotypical crazy-aunt character to the next level. We're talking poison. You'll have to see for yourself.
Where: Columbia Entertainment Company
When: Oct. 14-17, 7:30 p.m.; Oct. 21-24, 7:30 p.m. and Oct. 28-31, 7:30 p.m.
Cost: $10-$14
Call: 573-474-3699
Online: https://cectheatre.simpletix.com/
Urban One Acts
These 15-minute acts will be staged in the garages in Columbia's downtown art district, featuring live music and hot cider. Remember to bundle up!
Where: North Village Arts District
When: Oct. 21-23, 7:30 p.m.
Cost: $16 for adults; $12 for students and members
Online: https://www.greenhousetp.org/
An Evening With Spirits
This show was postponed from its original date in August, but Britney Buckwalter, also known as The Missouri Medium, is ringing in the spooky season with a night of conversation with passed loved ones.
Where: The Blue Note
When: Oct. 25, 7:30 p.m.
Cost: $30 in advance, $35 day of show
Call: 573-874-1944
Online: https://thebluenote.com/event/an-evening-with-spirits-4/
EMERGE
Missouri Contemporary Ballet will perform EMERGE as a part of the University Concert Series. The title echoes the desire to emerge from more than a year of a disrupted life.
Where: Missouri Theatre, MU
When: Oct. 29-30, 7 p.m.
Cost: $48, $38, $28
Call: 573-882-3781
Online: https://concertseries.missouri.edu/
Rent
525,600 minutes. Now that "Seasons of Love" is stuck in your head, you might as well plan to see the show in November. We included the song here to tide you over until then.
Where: Rhynsburger Theatre
When: Nov. 4-6, 7:30 p.m.; Nov. 7, 2 p.m.; Nov. 11-13, 7:30 p.m.; Nov. 14, 2 p.m.
Cost: $20
Call: 573-882-2021
Online: https://theatre.missouri.edu/
Ms. Pat
Patricia Williams – or Ms. Pat – has been bringing the laughs on BET+, iHeart Radio and her own publications, including a memoir titled Rabbit and a podcast called The Patdown. She's coming to Columbia as a part of The Blue Note's new CoMo Comedy Club series.
Where: The Blue Note
When: Nov. 11, 7 p.m.
Cost: $25
Call: 573-874-1944
Online: https://thebluenote.com/event/ms-pat/

A Christmas Story: The Musical
Rob Crouse founded Capital City Productions in Jefferson City, Missouri, 30 years ago. "Community theater is so wonderful because you get to meet and know so many people from so many walks of life that you wouldn't ordinarily meet in your everyday life," Crouse says. A Christmas Story will be the last show of the season, featuring a buffet that includes glazed ham, roasted turkey and homemade hot chocolate cake.
Where: Capital City Productions, Jefferson City
When: Dec. 9-11, 6:30 p.m.; Dec. 16-18, 6:30 p.m.
Cost: $38
Call: 573-681-9612
Online: https://ccpjc.org/a-christmas-story/
Related Stories