It's awkward to be caught in the background of a photo without knowing you're in it. Now imagine being featured in a documentary without your consent. That's what happened to the subjects of The Commons, a 71-minute documentary taking place in the middle of heated protests on the University of North Carolina Chapel Hill campus.
Last year's True/False screening of the film in Jesse Auditorium sparked its own protest and raised a question about observational filmmaking: Should filmmakers seek consent or consultation from their subjects prior to the film's release?
The students and protestors featured in The Commons would say yes. Filmmakers Suki Hawley and Michael Galinsky captured the protests and the eventual removal of Confederate statue "Silent Sam" on the university's upper quad. The statue gained notoriety in 2018 after student protestors tore it to the ground.
Courtney Staton is a former UNC student organizer, 2018 NeXt Doc Fellow and one of the leaders of the protest at Jesse Auditorium. She wrote in a statement on the NeXt Doc website that three of her friends emerged as central characters in the documentary but didn't know they were part of the film until Staton watched it at True/False.
"Nothing about us, without us, is for us," Staton wrote. At the time, Staton, who has since graduated, and fellow filmmakers at UNC were working on a documentary of their own called Silence Sam.
Before filming began, Staton identified four major players from different areas of the "Silent Sam" protests, all of whom were black women, to serve as producers. They worked with a journalism professor to create a film that promoted the activists' work.
When making Silence Sam, Staton and the other creators regularly checked in with subjects in hopes of telling an accurate story. "I think my biggest advice would be to heavily consult the community and consider the community a partner instead of a subject," she says.
Staton says making Silence Sam wasn't about bolstering resumes or getting a good course grade. "It was always about the movement," Staton says. "And if it didn't benefit the movement, then there was no point in doing it."
In his 2019 response to the True/False protests, Galinsky apologized for calling Silence Sam a student film and for not reaching out to the subjects of The Commons. "As white individuals, we have a responsibility to challenge our own perspectives and positions of power when filming protests that involve historically marginalized groups," Galinsky wrote in the response.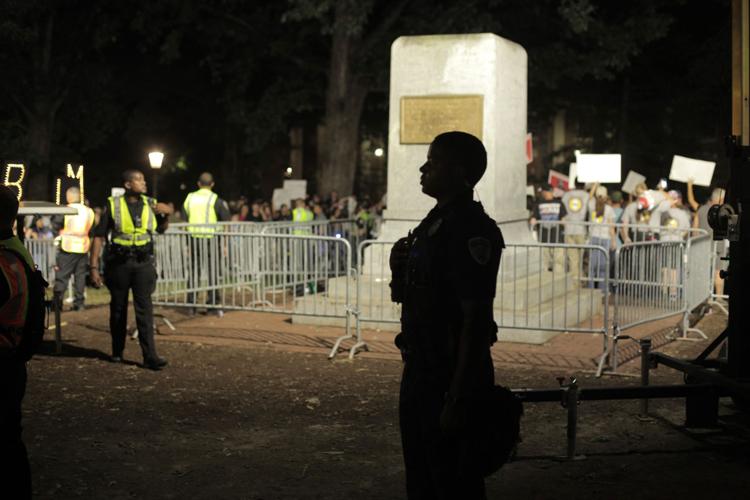 "As Suki said from the stage at True/False, we hope we can use this situation to discuss a path toward greater communication and understanding," he, Hawley and David Beilinson wrote in a February email to Vox. After True/False, The Commons was pulled from the film circuit.
The Silence Sam premiere took place shortly after True/False at the Indie Grits Festival in Columbia, South Carolina, and showed at the New Orleans Film Festival in October 2019.
After speaking out at True/False last year, Staton traveled to panels and events, including the Double Exposure investigative film festival, to inform people about the importance of community-oriented storytelling. She has also written about the silencing of student activists for Medium. She's still making films and hopes eventually to document housing issues and gentrification.
Related Stories