After a year of planning, the Unbound Book Festival joined other events and gatherings around the country with an unexpected chapter: cancellation. On March 12, the festival announced it was calling off all events for the festival because of COVID-19 risks.
Since then, restrictions have been placed on such large gatherings, but even without those rules, Alex George, executive director of the festival, says it was an easy decision. "We simply want to keep people safe," he says.
The decision about the April 23- 26 festival came over a Zoom video call among board members. In early March, they were already practicing preventive measures like social distancing before the tighter recommendations were made by government and health officials. The festival has announced new dates of April 22-25, 2021.
This year's event, the fifth year of the festival, was more ambitious and event-filled, and sponsors donated money to help it come to life and remain free. Board members and volunteers worked tirelessly over the last year. "It is devastating," George says. "The board and volunteers put in hundreds and hundreds of hours of work."
The idea for the festival began while George was on tour for one of his books in 2012. It was four years later that he gathered community members, such as librarians, writers and others interested in the literary arts, to meet in his living room. After 18 months of soliciting community and financial support, organizing festival committees and volunteers, and planning for authors, events and venues, the festival came to be.
Even now, the process takes an entire year. "We basically, and I'm not exaggerating, the day after the festival we usually start having discussions about what we're going to do next year because it takes all year to do it," George says. "Authors, and particularly the caliber of authors who we want to invite to Columbia, are very busy people, and they get booked up very, very quickly."
Local students get the opportunity to hear from the visiting authors because of the relationship between the festival and local schools. Last year, about 3,500 students listened to an author in their classrooms or at the Missouri Theatre.
"We work with partners at Columbia Public Schools and the Daniel Boone Regional Library to bring authors into schools for students of every age," says Peggy O'Connor, Unbound board member secretary and liaison for the Authors in Schools program. "It takes months for all the pieces to come together."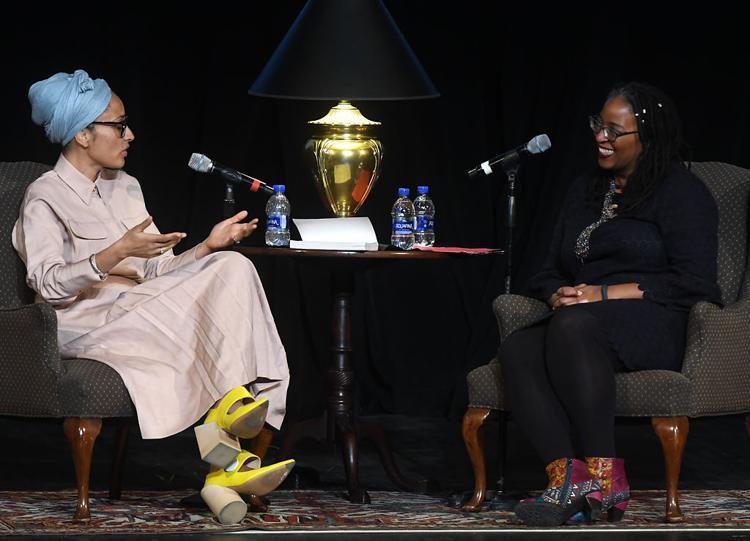 The festival will host virtual events throughout the next year. Alex plans for authors to speak to Unbound fans via livestreams to make up for the festival's cancellation. These smaller events will allow people to listen to their favorite authors while in self-isolation and will be a part of Housebound Unbound, according to Unbound's website.
"Artists all over are streaming concerts, so we have decided to do something like that as well," George says. "I just finished speaking with Amber Sparks and Alexander Weinstein, and they immediately agreed to be a part of it."
The first virtual author event, Housebound Unbound: Future Imperfect, will be a conversation about speculative fiction between authors Amber Sparks and Alexander Weinstein at 7 p.m on Thursday, April 23.
The second virtual event, Housebound Unbound II: Historical Fiction - You Had To Be There, will be a panel discussion featuring novelists Whitney Scharer, Meg Waite Clayton and Alex George at 7 p.m on Thursday, April 30.
Despite the heartbreaking decision, George says he knows it was the right one. Community members have sent condolences and have been supportive, George says, and Unbound will continue to look for a silver lining.
"With all of the growth we have had in past years, it is really devastating to cancel this year's festival," George says. "But, there is no use crying over spilled milk, and we are going to work over the next year to bring an even better festival in 2021."
Related stories