Roots N Blues features artists of a variety of genres and styles, and glancing at the list, you might not recognize more than one or two names. But even if you aren't a music buff, there might be at least a few songs by these artists that you didn't know you already knew. Here's a roundup of songs and albums that have topped the charts. 
Maren Morris
Maren Morris is a newly minted celebrity artist performing for the first time at Roots N Blues. A country, folk, and pop cross-genre singer from Nashville, she debuted in 2016 with her first album, HERO. She's best known for her pop song "The Middle," a collaboration with Zedd and Grey, which peaked at #5 on the Billboard Top 100 in 2018.
Morris also has joined forces with Brandi Carlile, Amanda Shires and Natalie Hemby to form the Highwomen,* a country supergroup devoted to breaking Nashville's gender barriers.  (Two of the group's four members will be at Roots N Blues, as Shires has her own solo set at 4 p.m. Sunday. Shires is also part of her husband's band, Jason Isbell and the 400 Unit, which plays Sunday at 7:30 p.m.). 
Morris will be performing at 9:15 p.m. Friday on the Missouri Lottery Stage.
John Prine
Unlike Morris, John Prine has been in the limelight for a long time. The two-time Grammy winner will be performing at Roots N Blues for the third time this year. A prolific artist and songwriter, Prine has been inducted into the Nashville Songwriters Hall of Fame. Of his many acclaimed songs, his album Tree of Forgiveness peaked highest at #5 on the Billboard 200 list in 2018.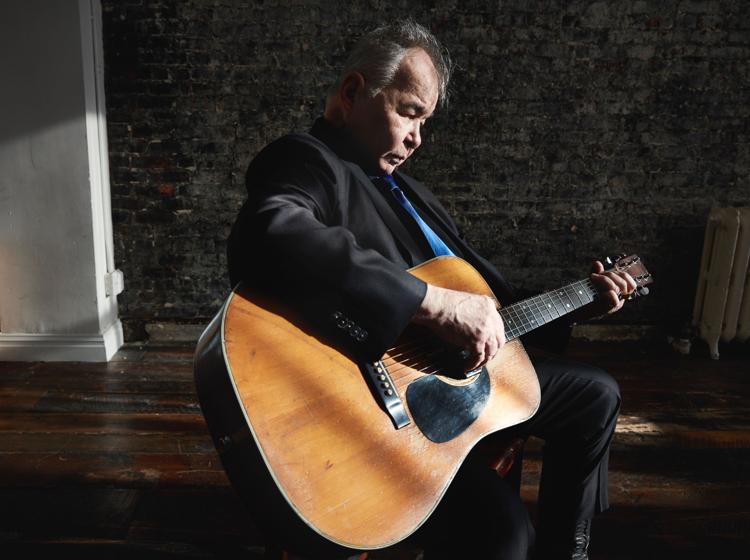 The album is a late bloomer in Prine's decades-long career. The Tree of Forgiveness is the name of a bar in Heaven featured in the song "When I Get to Heaven."
Two other songs that Prine is well-known for, "Angel from Montgomery" and "Paradise", originated from his debut album John Prine in 1971. Prine's celebrity was immediate and Rolling Stone magazine ranked the album at 452 on their list of the "500 Greatest Albums of All Time." Rolling Stone has credited Prine with having, "created some of the strangest, funniest, most surreal and most enduring songs of our time." Prine's songs have been covered by other notable musicians including John Denver, who did a cover of both "Angel from Montgomery" and "Paradise".
Prine will be performing Friday at 8 p.m. on the Great Southern Bank Stage.
Ben Harper and the Innocent Criminals
Ben Harper and the Innocent Criminals are guilty of putting this hit single on repeat in 2016. "Shine," a love song with a bluesy beat, peaked at #9 on Billboard in 2016. While "Shine" may be his most recognizable song, "Steal My Kisses" also has performed well on the charts. Harper has won three Grammys and has collaborated with the likes of Charlie Musselwhite, Jack Johnson, Ringo Starr, Ellen Harper, and The Blind Boys of Alabama.
Harper and the Innocent Criminals will be playing on Saturday at 9:15 p.m. on the Missouri Lottery Stage.
Doug Kershaw
Now you're thinking, this guy I have definitely never heard of. But if you're into country music, think again. Or rather, if your parents are into country music. He's a member of the Louisiana Music Hall of Fame and has had not one but two songs make it into the Top 10 of Billboard's Hot Country Music. Kershaw partnered with Hank Williams to create "Cajun Baby," which peaked at #3 in June of 1969 and sang "Louisiana Man" with Rusty to reach #10 in April, 1961. "Louisiana Man" is a Cajun classic that Kershaw played on the Johnny Cash Show. The song was also broadcast back to Earth by the crew of Apollo 12 and has been covered by over 800 artists.
Kershaw will be busting out his fiddle with Dave and Deke Combo on Saturday at 3 p.m. on the Great Southern Bank Stage.
John Nemeth
If you love the blues and a fierce harmonica riff, John Nemeth is your man. Nemeth's music is funky, humorous, and witty but also tackles bigger issues like gun violence and class inequality. Nemeth has released four albums that topped the Blues Albums chart. Memphis Grease was #4 in 2014, Love Me Tonight was #6 in 2010, Name the Day! was #6 in 2010, and Feelin' Freaky was #7 in 2017.
Nemeth will be bringing the blues on Friday at 6 p.m. on the Missouri Lottery Stage.
Lukas Nelson
Heard of Lukas Nelson and Promise of the Real? Maybe not. But I know that you've heard "Shallow" from the 2018 "A Star is Born" remake featuring Lady Gaga and Bradley Cooper every time you turn on the radio, and you can thank Nelson. Son of Willie Nelson and a prolific singer songwriter himself, Nelson worked as a musical consultant to Cooper and Gaga and wrote eight songs on the soundtrack. Nelson didn't write "Shallow," but he is credited for shaping the song and for adding its signature acoustic guitar. "Shallow" hit #1 on the Billboard Top 100 list and has amassed an impressive collection of Grammys and accolades.
If Nelson and Promise of the Real look familiar, it's probably because you saw them playing backup in scenes of "A Star is Born." You can see their musical styling in real life on Friday at 7:30 on the Missouri Lottery Stage.
Jason Isbell and the 400 Unit
Isbell is no stranger to the stage, having performed at the Grand Ole Opry when he was only 16 with songwriter Chris Thompkins. NPR has called him "one of the finest singer-songwriters working at the intersection of folk, country and rock today" and he has amassed several Grammys and a great deal of respect in the world of music. Isbell and the 400 Unit's album Something More Than Free peaked at #6 in 2015 on the Billboard 200 and won a Grammy for Best Americana Album. His album The Nashville Sound peaked at #4 in 2017 and won a Grammy for the same category. Isbell also was a collaborator on the 2018 "A Star is Born" soundtrack.
Jason and the 400 Unit will be performing on Sunday at 7:30 on the Missouri Lottery Stage.
*CORRECTION: An earlier version of this story gave incorrect information about the Highwomen. Morris will perform solo.
Related Stories