The video of George Floyd's death on May 25 at the hands of four Minneapolis police officers appeared to be the proverbial straw that broke the camel's back.
"Everybody should've walked away from that video disturbed at what they saw," says Columbia resident and protest organizer Marcus Ferguson Jr. "Everybody should've walked away with some type of fire to say something has got to change at this point."
In Columbia, various organizers have led protests calling for an end to racial injustice, and reform or defunding of police departments. Peoples Defense, a group Facebook page, serves as a forum and semi-structured way for residents to organize protests. This timeline tracks moments in early June in Columbia (up until the week of Vox's press deadline, June 19).
Friday, May 29 – CoMo for Justice
At the CoMo for Justice March, the first noted Columbia protest after marches began in Minneapolis May 26, several speakers addressed an audience before completing several loops around downtown. "No justice, no peace," the crowd cried out.
Monday, June 1 – At a crossroads
The same day hundreds gathered on the capitol lawn in Jefferson City, protesters put bricks and rocks in the road, blocking the intersection of East Broadway and Providence Road to protest. Two protesters were struck by vehicles.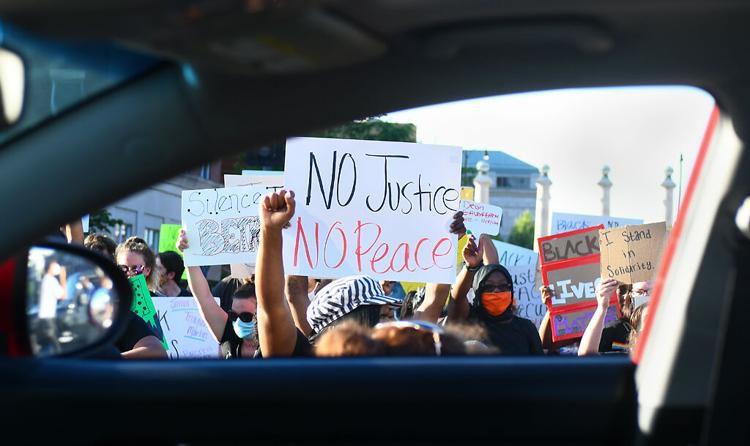 Tuesday, June 2 – Conversations with police officers
On day five of protests in Columbia, activists marched around downtown then to the columns on the MU campus and Providence Road before they ended their walk in front of the Columbia Police Department. Several police officers joined the protest and had discussions with leaders including DeMarco Winston, Sterling Brown and Kirubel Mesfin. After the end of the official rally, the crowd stayed for more protesting throughout the night.
Wednesday, June 3 – Athletes for change
At 2 p.m., a group of over 100 that included Missouri athletes and coaches such as Eliah Drinkwitz, Cuonzo Martin and Robin Pingeton, and administrators Jim Sterk and Mun Choi, marched from the MU campus to the courthouse where they knelt for 8 minutes and 46 seconds. "I challenge all of us to stand up for what is right and end the hate in our nation," Sterk said in a statement that day. Sixty-two student athletes registered to vote.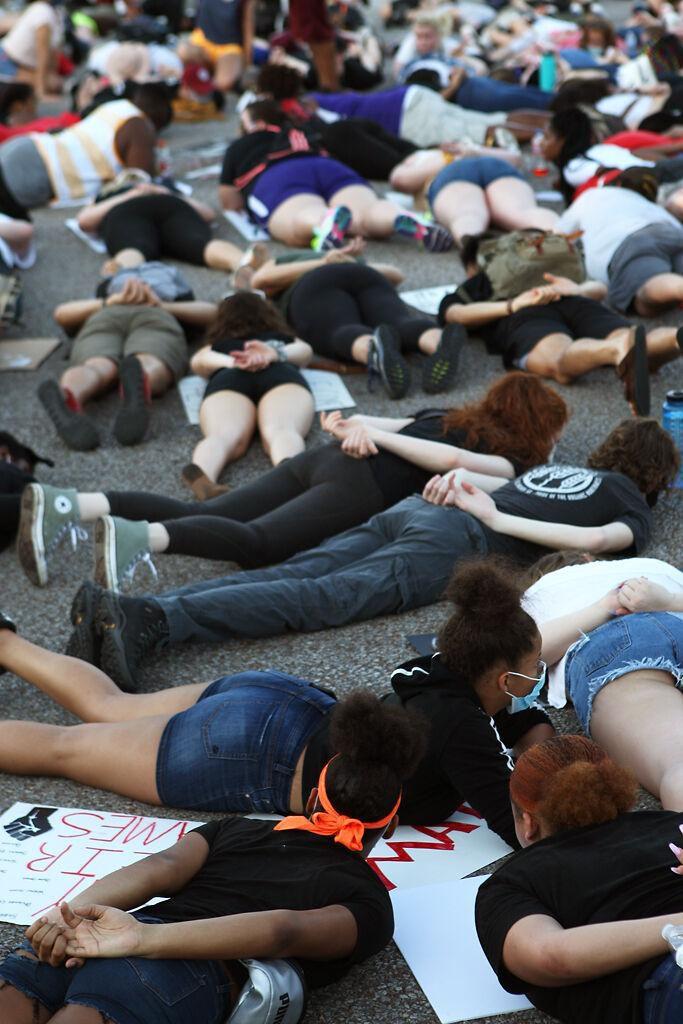 Saturday, June 6 — The meaning of 8:46
The NAACP held a protest at the Boone County Courthouse that attracted hundreds. Speakers included Mayor Brian Treece, First Ward City Councilwoman Pat Fowler and the Rev. J.P. Patterson. Protesters once again surrounded the police department building to lie down for 8 minutes and 46 seconds, the estimated length of time officer Derek Chauvin had his knee on Floyd's neck.
Sunday, June 7 – 1,000+ gather
A Black Lives Matter protest organized by resident Markiez Smith drew a crowd of over 1,000 Sunday afternoon — Columbia's largest gathering in response to Floyd's killing and in support of BLM. Protesters marched through Columbia's Sharp End, past Douglass Park and downtown. During the protest, residents knelt for 8 minutes and 46 seconds. From the crowd: "George Floyd! Say his name! Breonna Taylor! Say her name!" and lyrics to "Lift Every Voice and Sing."
Monday, June 8 – A life at stake
As protesters prepared for another night of marching, organizers were told by an officer that they would have to wait. Officers were responding to a call about a man who was walking along Broadway with two knives.
The man threatened to take his own life. The officers had a nonlethal shotgun (as indicated by a red-orange attachment). Winston, Kirubel Mesfin and Kelsey Blanton began pleading with the man to drop his knives. "We were telling him, 'We love you.' 'Your life matters.' 'We care about you.'" Winston says. Eventually, the man to dropped his knives, and he was promptly handcuffed by police, who told the crowd they'd get him help.
Tuesday, June 9 – Student-led change
Mesfin, an MU sophomore, and about 200 others marched from Francis Quadrangle to Flat Branch Park and then through downtown before finally reaching the courthouse. Mesfin, Winston, Kiessence Bassett and Daimontre Yancy were the main speakers throughout the night. According to Missourian reports, Yancy told the crowd to raise their hands in a "'hands up, don't shoot' style."
Friday, June 12 – Losing faith
The man who was arrested at the intersection of College and Broadway June 8 was spotted downtown with knives once again. After hearing he was arrested again, Mesfin said his trust in the police department was eroding. "They said they would get him the help he needed … Either they lied to us, or we have a big problem with mental health in this country. Honestly, it's probably both," Mesfin says.
Monday, June 15 – City Hall
Protesters attended and spoke at the regularly scheduled Columbia City Council meeting. Behonsay Williams, one of the women who was struck by a car on June 1, asked for justice. Brown had a discussion with Treece about possibly setting up a town hall-style meeting to discuss community race issues.
Related Articles