With summer heating up and the great outdoors beckoning, the time is right for getting into nature. Luckily, according to the Columbia Parks and Rec Directory, Columbia alone is home to more than 70 parks.
Columbia's parks are full of amenities, scenic views, playgrounds, fishing areas and plenty of trails. It's time to grab a friend and a backpack filled with water, snacks and sunscreen and get outside.
Columbia's best
Nifong Park
Nifong Park is great for history buffs — It's home to the Boone County History and Culture Center and Boone Junction Historical Village.
"It is a beautiful, convenient location that boasts easy parking and numerous amenities from the picnic shelter and playground to our historic structures spanning 200 years of local history," says Mary Ellen Lohmann, Administrative Services Manager at the Boone County History and Culture Center. "We are proud to be at the center of Nifong Park, where we have the privilege of operating an irreplaceable community treasure that offers essential educational resources and creates an important tourist destination for all, both locals and out-of-town visitors."
At Nifong Park, there are several picnic areas, both reservable and non-reservable. The Maplewood Barn Theatre is also located in the park.
This park offers a quaint 1.3-mile dirt nature trail and a small fishing lake for those looking to get active.
Gans Creek Recreation Area & Phillips Park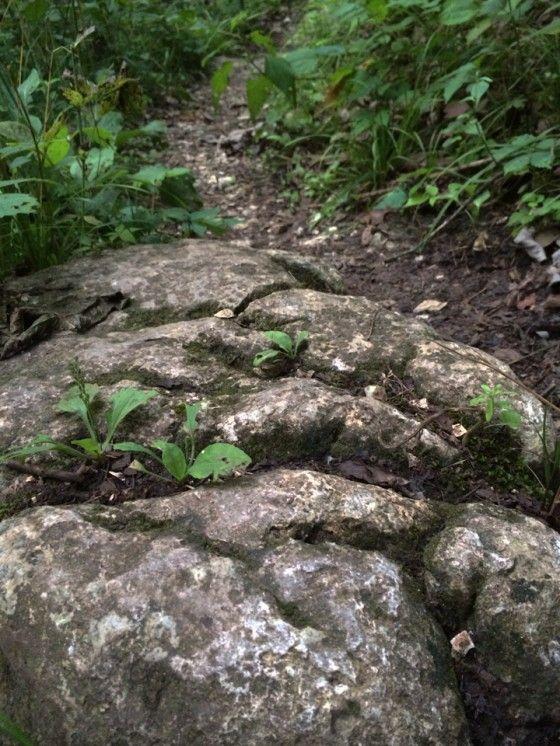 Gans Creek, located at 3350 E. Gans Rd., is home to the new MU Athletics Cross Country Course, which debuted in fall 2019. This recreation area offers great training for competitive runners or a nice walking trail for the less competitive. Leave the dog at home, though; no pets are allowed on the course.
"The backdrop of the cross country course is breathtaking, and I can't wait for the nation to see our beautiful park and cross country course," says MU Head Cross Country Coach, Marc Burns.
Currently, Gans Creek has five multipurpose fields. The park covers over 300 acres of grassland.
Directly across the street is Phillips Park. Phillips is best known for its 40-acre fishing lake, which is stocked and maintained by the Missouri Department of Conservation. It also houses the Columbia Sports Fieldhouse, an indoor sports facility. 
Capen Park
Capen Park is great for anyone seeking a challenge. It offers nearly 32 acres of land and access to bluffs and gorgeous views. Rock climbers can be found scaling their way up various rock formations.
"Capen has a great combination of cliffs and creek," says MU student Sarah Thompson. "My favorite spot is to sit up on top of the cliff, high above the creek and read."
This park connects to Hinkson Creek Trail as well as a bridge connector to Grindstone Nature Area. These connections make Capen Park perfect for those looking to get out and hike around.
"Capen is a hidden gem right in the middle of Columbia," Thompson says. "It's a close place to get away and experience the outdoors without needing to travel a long way."
MKT Trail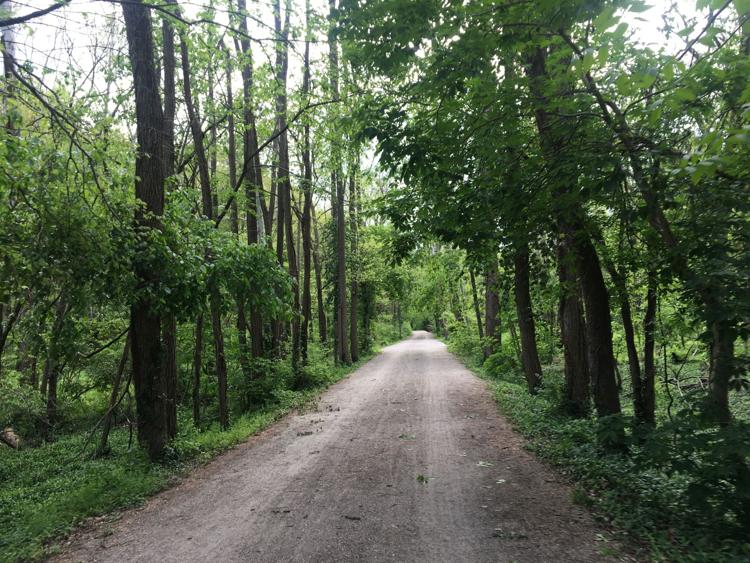 The MKT is a great option for those looking to go the distance. The portion of the trail in Boone County spans 4.7 miles perfect for walking, running or biking and has multiple access points. It also connects to the Katy Trail.
"The MKT offers a great option for trail users either for recreational use or as transportation to work or school," says Parks Department Marketing Specialist Tammy Miller.
Fun fact: MKT stands for Missouri-Kansas-Texas and refers to the old railroad that ran along the same path as the trail.
Cosmo Park
Cosmo Park spans a whopping 533 acres with 6 miles of multi-use trails and 5.4 miles of nature trails.
Cosmo truly offers something for everybody. Whether you're into remote control car racing, roller hockey, golf or fishing, you can guarantee Cosmo has it.
There are more than 30 fields for activities such as baseball, softball, football and soccer, as well as the 18-hole L.A. Nickell Golf Course. Its many facilities make Cosmo the perfect host for the Show-Me State Games and other sporting events.
"Cosmo is the largest park in the city's system," Miller says. "With supporting concession stands, parking lots and restrooms, this makes Cosmo Park a natural spot for the Show-Me Games."
Stephens Lake Park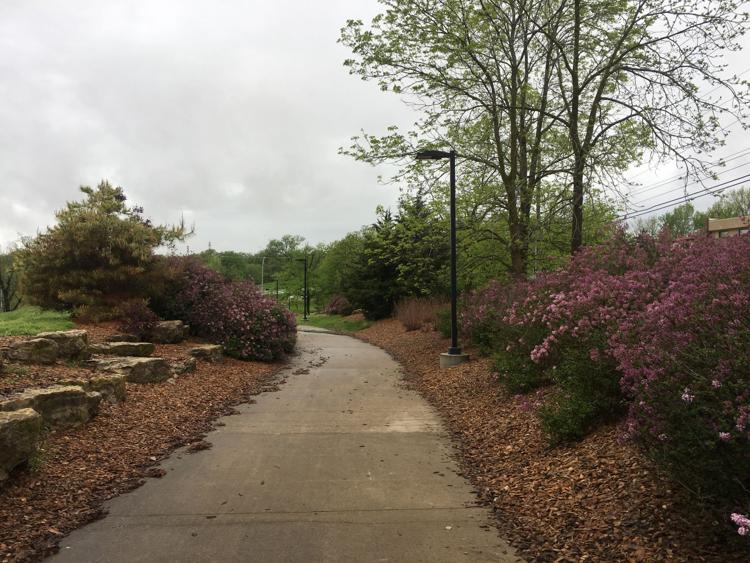 Stephens Lake offers a great venue for family fun. You can fish or go for a swim in the 11-acre lake, or take the little ones to play in a sprayground. The park has three playgrounds, an amphitheater, practice fields, picnic areas and more.
This park is full of activities to keep the family busy from sunrise to sunset and is home to many community festivals and concerts throughout the year.
Woodridge Park
Although Woodridge Park is much smaller than many parks in Columbia at only 6.1 acres, it serves a great purpose to the community. Woodridge is an inclusive playground designed for children with developmental or physical disabilities.
"Inclusive parks are important because they offer kids and parents with all abilities the opportunity to play together," says Terri Gray, the Executive Director of Ronald McDonald House Charities of Mid-Missouri. "Playgrounds are places that build community and children with physical and/or developmental disabilities are an important part of that community."
The location of this park was intentional: It is in close proximity to the Ronald McDonald House, the Thompson Center and the Women's and Children's Hospital.
"At the House, they are just steps away from the hospital, but they are also in a home-like setting with trees and a wonderful park that serves as our backyard," Gray says.
Woodridge is equipped with a fenced enclosure for the safety of children, ground-level roller slides, group swings, rubber surfaces and ramps. There are also two fields, a mini-shelter with a single picnic table and a half-court basketball court.
Around Missouri
If you're willing to venture outside Columbia for a day trip, mid-MO is home to some beautiful parks and recreation areas.
Ha Ha Tonka State Park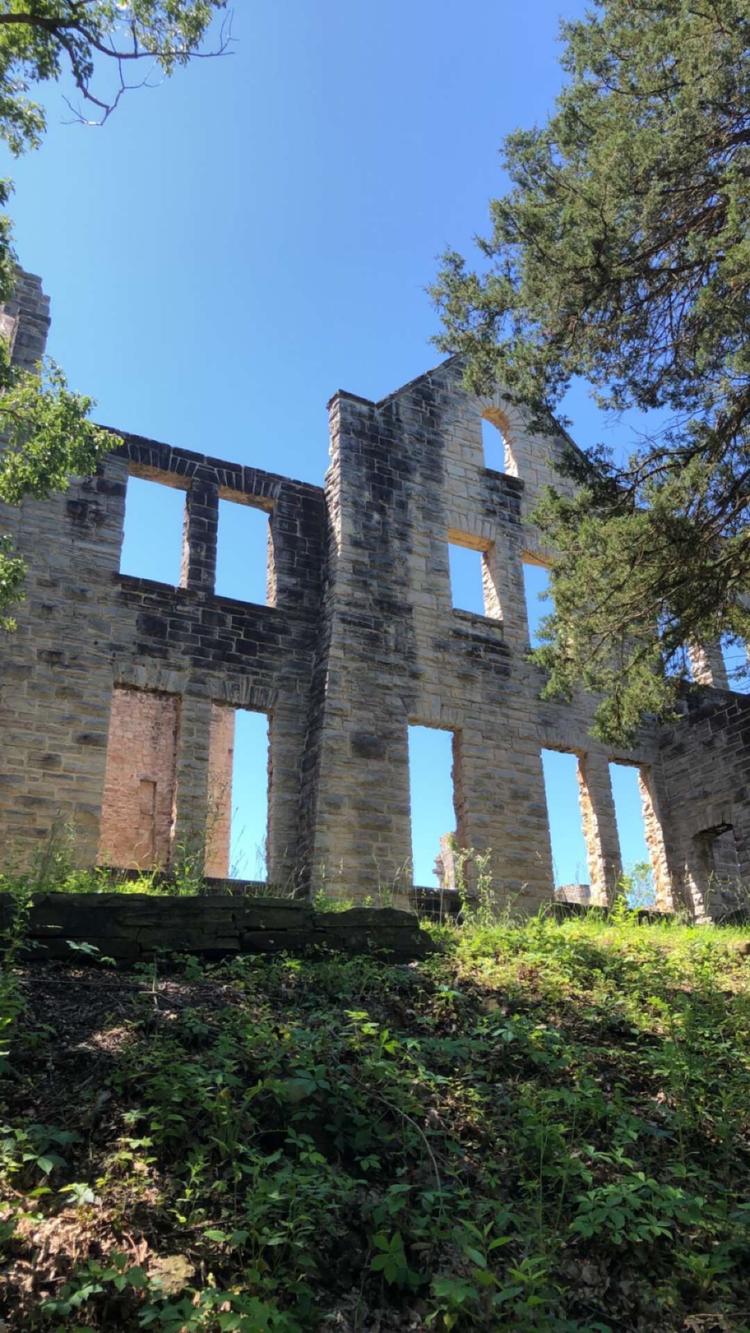 Ha Ha Tonka sprawls across more than 3700 acres on the Niangua arm of the Lake of the Ozarks.
This park has nearly every activity a nature-lover could dream of. At Ha Ha Tonka you'll have the freedom to go for a hike, fish, camp, canoe or kayak, use motorized boats, swim and more.
"The views are amazing and the hiking isn't too extreme, so anyone can do it," says MU student Claire Bilyeu.
This park is also a standout due to its breathtaking geological features, including sinkholes, caves, natural bridge, bluffs and the 12th largest spring in Missouri.
Plus, it offers something not commonly found in other parks: A stone castle.
"People from CoMo should travel [to Ha Ha Tonka] because it's close enough to be a day trip," Bilyeu says, and the hiking has views you just can't get in Columbia."
Castlewood State Park
Castlewood Park can be found at 1401 Kiefer Creek Rd, Ballwin, Mo 63021.
This park is superior for those who want to hit the trails, whether that be on foot, on a bike or even on horseback. It's among the best parks for mountain biking in the St. Louis area. Its vast meadows are full of wildlife and recreational facilities.
Harry S. Truman State Park
Named after the former president and Missouri legend, Harry S. Truman Park is made up of nearly 1500 acres on a peninsula in Truman Lake, making it a great vacation spot. It has a marina that provides opportunity for fishing, boating and other water sports.
While a large part of this park is aquatic, there are still great hiking trails and campsites. Trails run through glades and thick brush forest, making each turn a new quest, even for the most experienced hikers.
For those eager to cool off in the hot Missouri sun, this park is the perfect escape to a small piece of paradise.
Related Articles: