Saturday marks the first home game of the 2019 MU Football season, and with it comes changes to MU's football scene. A new addition to Memorial Stadium, a revised alcohol policy and optimistic gameplay predictions are looking to be the secret ingredients in what could be one of the biggest football seasons Columbia has had in quite some time. Here are some things to keep in mind as MU gears up for its Sept. 7 game against West Virginia:
An upgraded stadium
The new south end zone of Memorial Stadium is set to open before the first home game on Sept. 7. The project — which, according to the official south end zone website, totaled about $98 million — features premium seating, and various new facilities. 
"Our football team had out grown their previous space, and we wanted to provide them with a state-of-the-art facility," says Nick Joos, deputy athletic director of communications at MU.
Joos says that MU was able to get the necessary funds for the renovation by making it a dual purpose project that benefited the fans as well as the football team. The new premium suites and seating areas have been added to the south end zone are already sold out.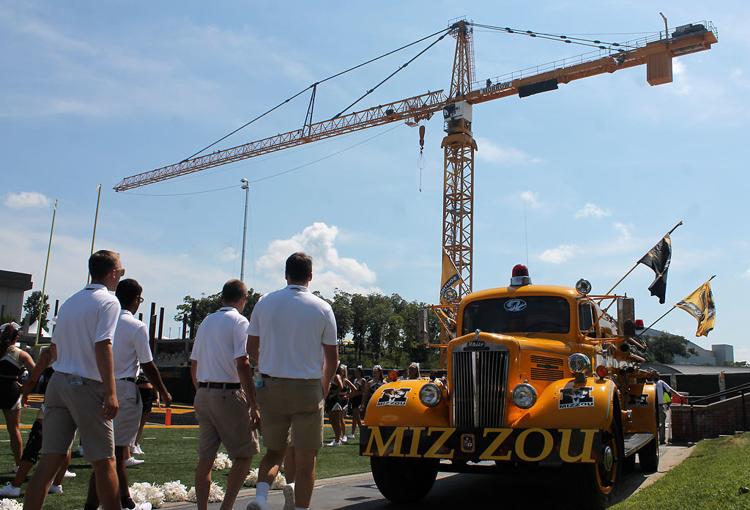 Alcohol sales at the stadium
At least, that's what SEC chair of Presidents and Chancellors Harris Pastides says, on the official SEC website, that the new alcohol policy would do. The policy gives conference members the ability to decide whether their stadium will serve alcohol to fans on game day. MU has decided that it will begin serving drinks this season, a choice which Joos believes could eliminate one of the reasons fans may have chosen to stay home for the game in the past. While no hard liquor is being served, there will be plenty of beer and wine options to appease thirsty fans.
MU expected performance
Discussing some pre-season record predictions, Columbia Missourian sports reporter Bennett Durando guesses the Tigers will end up 9-3 based on the schedule they're playing. "I thought (it) might be a little bit of a stretch, but they've got an easy schedule, they return a lot of people and they have Kelly Bryant," Durando says.
Speaking of Kelly Bryant…
Playfully called "The Chosen One," by Missourian sports editor Michael Knisley, the former Clemson University quarterback is easily the player to watch this season. Boasting an impressive career at his previous school, The St. Louis Post-Dispatch has already ranked Bryant as the "most important player for the Tigers." As to whether he's going to have to work hard to take his team to victory, Knisley thinks they shouldn't have too much trouble.
The NCAA sanctions still loom
In January, the NCAA released its official list of penalties for scandal involving MU football, baseball and softball and one particularly helpful tutor. Among these penalties was a postseason ban for the 2019-2020 football season. This means they're not eligible for any national championships or bowl games. The MU athletics department has challenged this, most notably with their Make It Right Campaign, but the results of the appeal have yet to be announced.
Watch out for Georgia
In terms of the most anticipated game of the season, Georgia seems to be the game everyone has circled. Despite the upset after the Tigers lost to Wyoming, Knisley says his original prediction of a better-than-average season hasn't changed. It is likely that Georgia could come into the game 8-0, and if the Tigers are able to regroup and beat West Virginia, they run the chance of facing Georgia 8-1, a treat for many MU football fans. This year's Georgia game is taking place at Sanford Stadium in Athens, Georgia, on Nov. 9.
Related stories