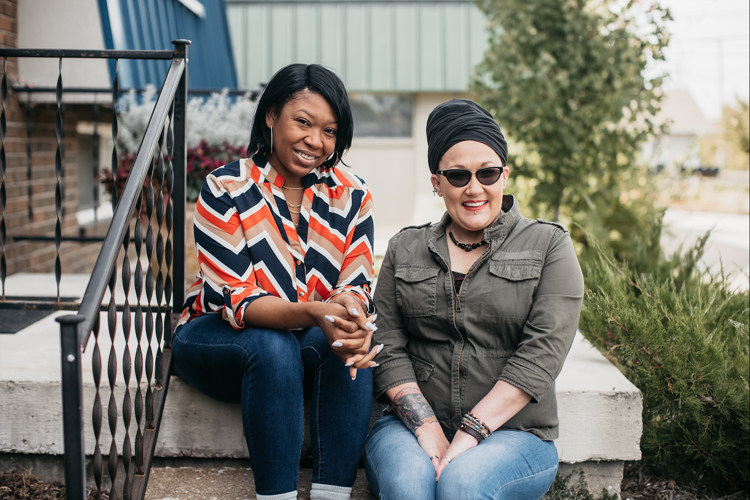 Four months into the pandemic, Shannon Anderson found herself sharing a room at the Red Roof Inn with her spouse and five children, ranging in age from 2 to 12. The Topeka, Kansas, native had come to Columbia for a job at the Boone County health department, but their living arrangements fell through the day before Anderson arrived.
Although she was working, most of Anderson's paychecks went toward hotel room costs and food. They had come to Missouri for a better life, but the hardships seemed never-ending. "I just felt like I was spinning in a circle with no way out," she says. Then, a friend recommended she try something called the Extra Mile financial coaching program, offered by the poverty relief resource center Love Columbia. Anderson sent an email to the program co- ordinator. That message changed her life.
A growing need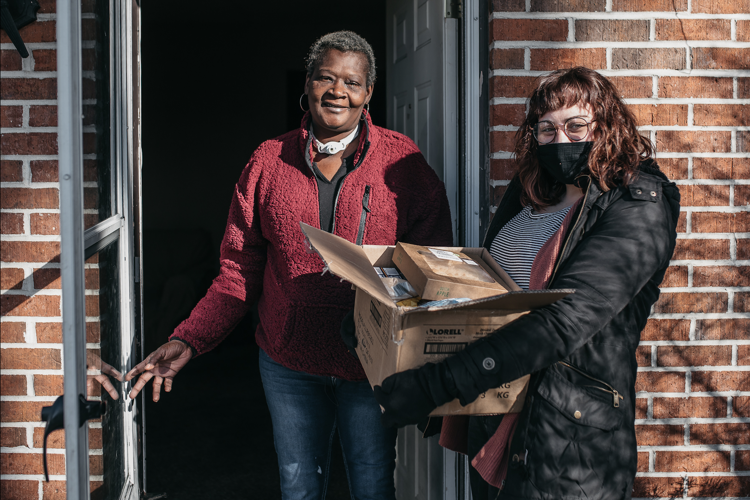 When the pandemic hit, Love Columbia had to figure out quickly how to serve clients while maintaining safety protocols. When Anderson emailed seeking help, Kelli Van Doren, who coordinates the Extra Mile program and Love Colum- bia's transitional housing efforts, began working to find stable housing for the family while also helping with hotel bills. Anderson's family wasn't alone. Within the first week of pandemic clo- sures in March 2020, Love Columbia put 23 families who had become homeless into hotels. Van Doren worked closely with clients to help them fill out appli- cations and arrange for transportation. With the help of grants from the com- munity, the organization helped hotel occupants make plans to move into more permanent housing.
Growth and changes
As the pandemic exacerbated fragile living situations, it also heightened Love Columbia's need for a larger office space. After 13 years, the organization had out- grown its two buildings. Those who have long known the group might still call it Love INC. That's the name of the na- tional, faith-based charity under which executive director Jane Williams first opened the local chapter in May 2008. It collected and distributed resources, but over time, Columbia's chapter of Love INC developed its own assistance programs. That self-sufficiency, coupled with rising affiliate dues from the parent organization, pushed the Columbia branch to go independent officially and take a new name on Jan. 1 of this year.
The move to a new location began in fall 2020, when the organization learned that the former Boone County Family Resources building downtown
was available. The property came with two residences, one of which had po- tential as transitional housing. Such opportunities led the Love Columbia board to decide the location would make a perfect new center.
With the help of donations from the community, including $750,000 from Veterans United Home Loans and $1 million from the Veterans United Foun- dation, the group made it happen.
The moving trucks finished un- loading at the new center at 1209 E. Walnut St. by March 12. A long, narrow hallway extends just to the right of the front lobby desk. Rooms branch off from the corridor, creating numerous little crossroads along the main route.
The layout of the building mimics the nonprofit's primary objective, which is to serve as the intersection of needs and resources for Columbians. "Some- one was in here yesterday and said, 'I feel like I'm walking down a street,'" Wil- liams says. She hopes the space comes to function as a path toward a better life for clients.
Opportunity awaits
Williams says the 12 coaching rooms at the new location create more opportuni- ty for volunteers and the 16 employees to help a greater number of people. In 2020, Love Columbia found permanent housing for 101 homeless families or individuals, Williams says. It also provided job, housing and financial coaching to 410 people, supplied furniture to 123 families and funded 21 no-interest loans, plus many other additional services, ac- cording to the group's impact summary.
The past year served as a wake-up call to many about the need to find vi- able jobs that pay living wages. To accommodate an increasing demand for financial coaching and credit building, Williams says she hopes to double the 114 volunteers who assisted last year.
Tutoring volunteer Rich Wolpert says he could use more help in his department, preparing people for job training and high school equivalency tests. With the upgrade in the new location from his shared conference room, he now has his own office, plus a good-sized classroom next door.
As a retiree, Wolpert began volunteering last August to fill his free time. Most weekdays, though, he gets to his classroom at 8 a.m. and leaves at 2 p.m. "I was in the Marine Corps, and there's a saying, 'Anything worth doing is worth overdoing," Wolpert says. "So that's kind of my model for the way to do stuff."
Trekking ahead
Van Doren says she looks forward to the return of more personal interactions between clients and volunteers such as Wolpert. She worries about how to engage clients and new volunteers in meaningful ways as the numbers of each rise, but she knows forging those relationships is vital. "You can read about poverty or people struggling in the newspaper, but when you know them, when you sit in a room with them, you're just like, 'They're my friend,' " she says.
Anderson says she thinks the organization's new downtown home will allow it to help many more people. "When going through that program, I was able to see things in a totally new light," Anderson says. "I would hope that anyone in it would take advantage of it."
As large as the new center is, the need for the tight-knit feeling of an interconnected community has never been great- er. Down the main hallway, the rooms await, ready to be filled with resources, connection and, as always, love.
Related stories