It had been two years since Hughes Ransom touched a cigarette as he sat in Smokey Joe's bar in Philadelphia in February 2018. The 22-year-old had just finished a stand-up comedy set when a Natural American Spirits representative armed with coupons and an iPad entered the bar, approached him and asked if he was a smoker. I met Ransom our freshman year at MU before he transferred to the University of Pennsylvania. He was then smoking about a pack a week. He quit during the second semester, so he told the representative that he was a former smoker.
"What if I told you I could get you two packs of American Spirits for $4?"
"Oh, well I would definitely take that."
Ransom thought he'd be able to savor the two packs and stop there. He typed his email address on the iPad and took the coupon for his favorite cigarettes. He cashed it in, tore through the two packs, about 40 cigarettes, and just like that, he was hooked again.
He thought the stress of being a student at Penn, an Ivy League school, was why he continued to smoke and shell out more than $11 a pack for American Spirits. He was sure he'd quit once he returned home to Kansas City after the school year ended. He was wrong. "As soon as I got to Missouri, cigarettes are $5 a pack," Ransom says. "Why would I quit? I'm getting double the bang for my buck."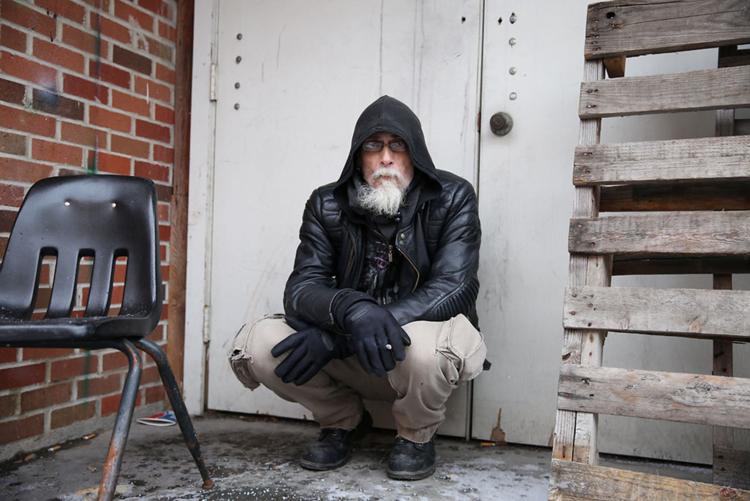 Missouri's tax paradox
In contrast to Pennsylvania's cigarette tax of $2.60 a pack, the 12th-highest in the nation, Missouri's cigarette tax is just 17 cents per pack, the lowest in the nation. Because of Missouri's 1980 Hancock Amendment, which requires state tax increases be passed by a popular vote, you shouldn't expect a tax increase anytime soon, says Leah Martin, director of advocacy for the American Lung Association. Low taxes on cigarettes might save Missourians money up front, but it costs the state greatly in the long run. According to the Missouri Department of Health and Senior Services, the revenue generated from tobacco products in Missouri in 2017 was just over $105 million, but smoking-related illnesses cost the state $3 billion annually. Smoking is something to worry about not only in Missouri, but also in the United States as a whole. It is the No. 1 cause of preventable death in the U.S., accounting for about one in five deaths in 2014, according to the Centers for Disease Control and Prevention.
According to 2017 research from the CDC, 20.8 percent of adult Missourians smoke, the 12th-highest rate of any state. "In Missouri, I don't feel as bad about smoking cigarettes," Ransom says. "I see a lot more people around me smoking cigarettes." In Pennsylvania, where 18.7 percent of adults smoke, Ransom's smoking is met with more backlash. "Hey Hughes, are you killing yourself slowly again?" one of his Penn classmates asks him while he smokes a cigarette on his porch. "Yeah," Ransom says with an empty chuckle, "... yeah."
Smoking more than ever
After spending the first two weeks of last summer in Kansas City, Ransom went to Los Angeles for an internship and was determined to quit smoking by the end of the summer. As a parting gift to himself, he took advantage of Missouri's bargain prices and bought a carton of 10 packs of cigarettes. He made the drive over two days and smoked non-stop, ripping through 50 cigarettes by the time he reached California. He finished the remainder of the carton in three weeks and wasn't able to kick his habit that summer. He was smoking more than ever.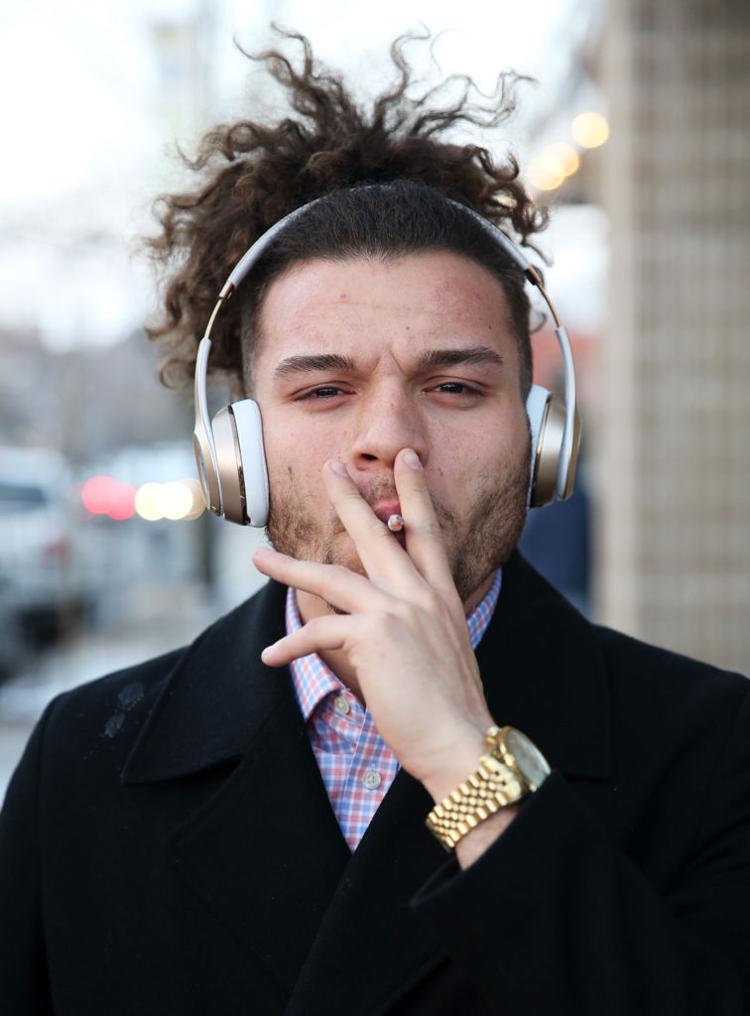 He had started smoking cigarettes when his cousin bought him a light-blue pack of American Spirits for his 18th birthday. After that, he smoked his senior year of high school and most of his freshman year of college.
After his summer internship and before he returned to Penn for the fall semester, he visited me and other friends in Columbia. He had a few beers and sat slouched in my armchair with an unlit cigarette hanging out of his mouth. "I'm at the level of drunk where I constantly want a cig," he said, the cigarette bobbing up and down as he spoke. Many smokers crave cigarettes when they drink, and Ransom says he does, too. So I joined him outside my front door while he puffed away at his American Spirit, and we talked about Russia, communism and Kanye West.
Aspects of addiction
The social aspect of smoking is one of the three links in the chain of addiction, according to Quitters Circle, a group created by the American Lung Association and Pfizer to help smokers quit. Both Ransom and another one of my friends, Sami Baugher, an MU student and Columbia native, say the social facet is one of the driving forces behind their smoking. It's hard for them to decline an invitation to step outside with their smoker friends and get a few quiet minutes away from a party. If they're in a group with other smokers, it's always an option to go have a cig.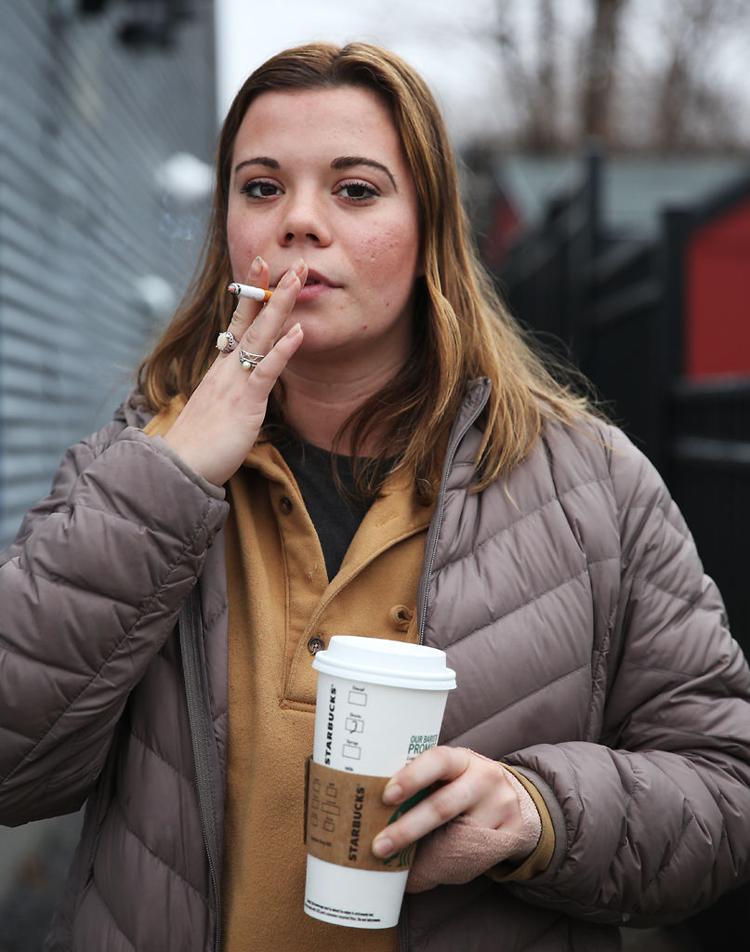 "There are certain friends in my friend group who I'd definitely be less close with if they weren't also smokers," Baugher says. One of his roommates is typically quiet in larger groups, but the four or five minutes of one-on-one time has made them closer.
Baugher also comes from a family where smoking is normalized. His mom is from France, where 27 percent of adults smoke, a higher rate than anywhere in the U.S. Although his mom doesn't smoke, almost everyone on her side of the family does. On top of that, Baugher smokes with his dad when they golf together. "I smoke with my relatives, and I have for years now," Baugher says. "Not that anybody encourages me to smoke, but it's an accepted thing in my household." It's a habit he always knew he'd pick up. What also didn't help his addiction was when the older kids on the high school baseball team would buy him cigarettes and chewing tobacco. Dipping catapulted his nicotine addiction, and he continued to use tobacco through graduation. The only change he made is the move from Marlboro Reds to Marlboro Lights.
About once a day after he smokes a cigarette, Baugher thinks to himself, "I didn't even want to smoke that." He just smokes it because it's time to smoke. This is the second link in the chain of addiction behind social pressure: the mental aspect. Baugher uses cigarettes to punctuate tasks, so on days when he accomplishes a lot, he tends to smoke more. "There's something unsatisfied in my brain if I don't do that," Baugher says.
Cigarettes become a part of a smoker's daily routine. At the end of a day, Baugher can think back and recall every cigarette he smoked that day, especially if it's a weekday where he follows a regimented schedule. "It's almost like I have them in my head with my classes," Baugher says. Smokers' routines manifest themselves from when and where they smoke to their brand of cigarettes. Ransom only smokes American Spirits. For Baugher it needs to be a Marlboro.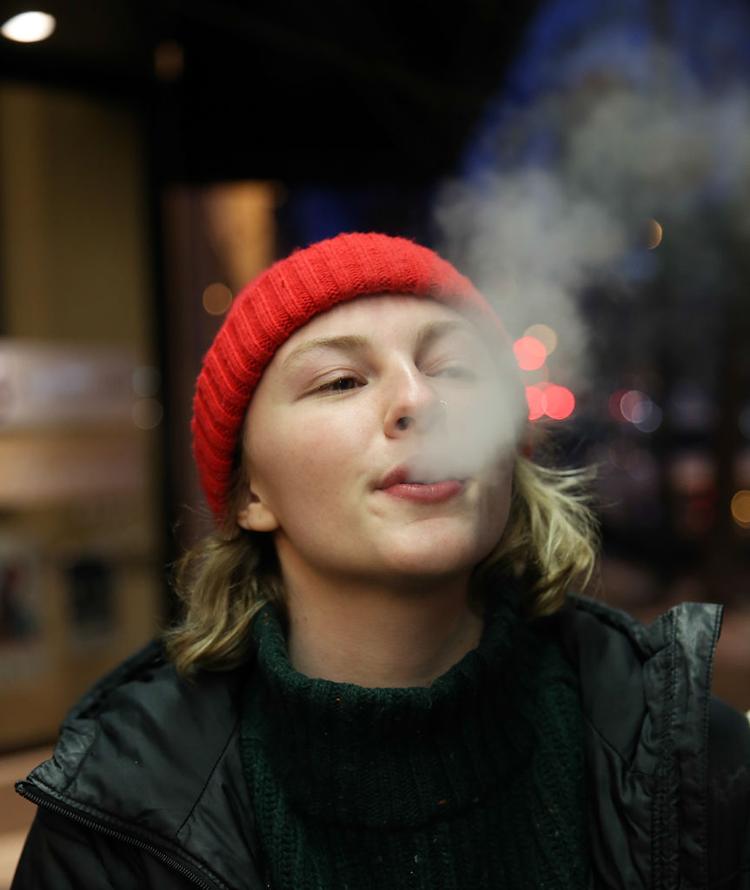 In addition to being a built-in part of a smoker's daily routine, smoking becomes part of their identities. Research from Norwich Medical School in July 2018 showed that one reason quitters relapse is to regain the identity they lost by quitting. "Some of my friends call me Marb Red as a joke sometimes," Baugher says.
The third link in the chain of addiction is physical. "It's a bodily craving," Ransom says. "It's more of a physical reaction than me rationalizing why I need a cigarette." The urge rises in Ransom until he is compelled to smoke to relieve the tension inside him. Nicotine replacement, typically through gum or patches, is the primary way smokers can overcome their physical addiction. Finding something to replace the oral act of smoking is another way. Baugher was once able to quit for a month by eating whenever he wanted a cigarette. After this, however, he relapsed.
Quitting time
Five months ago, Ransom decided to try to quit. He called 1-800-QUITNOW and was connected with Pennsylvania's Free Quitline. He received a four-week supply of nicotine patches and was introduced to a personal quit coach. According to the ALA, the state of Pennsylvania's quitline allocates $1.47 per smoker, which is below the national median of $2.21 but well above Missouri's 51 cents. Missouri's funding only allows for two weeks of nicotine replacement therapy. Missourians are limited to four phone calls with a trained quit coach and have access to online and text support after the multiple call counseling sessions.
Like Missouri's quitline, Pennsylvania offers two or more weeks of nicotine replacement therapy, but it has the option to continue if necessary. Additionally, Pennsylvania residents get five calls with a coach that will help them quit. The state provides online and text support, which includes a call to the center.
The ALA has been doing the "State of Tobacco Control" report for 17 years, which grades each state on tobacco prevention and cessation funding, smoke free air, tobacco taxes, access to cessation services and Tobacco 21— a campaign that focuses on raising the age for buying tobacco from 18 to 21. On the American Lung Association's report card, Missouri received five Fs and Pennsylvania received four Fs and one D. Compare that to California, which received four Bs and an A on its report card. Its cigarette tax is $2.87 per pack, well above the national average of $1.79. The state also invests $3.14 per smoker in its quitline. On top of that, it is also one of just six states that have raised the sale age of tobacco to 21. California's commitment to tobacco control has paid dividends; it has the second-lowest adult smoking rate in the country at just 11.3 percent.
It's getting better
Missouri might not have the public funds necessary to control tobacco, but residents here still have access to state or national programs aimed at helping smokers quit.
In Columbia, Ginny Chadwick, western regional director for the Preventing Tobacco Addiction Foundation, was involved in the 2014 effort to raise the city's sale age for tobacco to 21. She first became involved in the issue when she was a member of the Columbia City Council in 2014. She sponsored the city's Tobacco 21 ordinance, which passed in 2014. "Missouri was one of the first places to pass it, and we don't typically lead in tobacco control," Chadwick says. "I was getting calls from across the country asking me how to do it."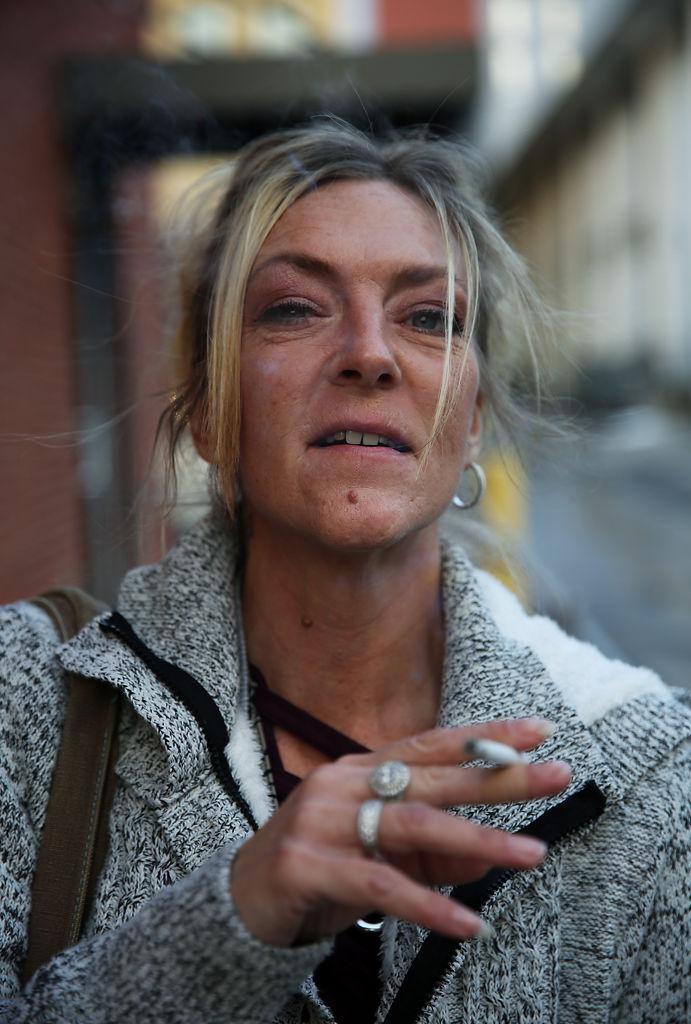 Greater accountability comes at the federal level from the FDA, but even its fines for sale to a minor aren't much of a deterrent. In 2018, the Gerbes grocery store on Paris Road received a no-tobacco-sale order after its seventh offense. It is the second retailer in Columbia to receive one, the other company being the Break Time on Nifong Boulevard, which has received two.
Following the passing of the Tobacco 21 ordinance in 2014, Columbia saw decreases in the percentage of retailers the FDA caught selling to minors in both 2015 and 2016. However, in 2017, the percentage of retailers caught by the FDA jumped to 11.8 percent and then 16.9 percent in 2018. Stan Cowan, a research aide with the University of Missouri School of Medicine and with Missouri Tobacco Control Research Center, speculates that retailers have learned the ordinance isn't strongly enforced, so they are willing to take more risks.
Kevin Everett, an associate professor in family and community medicine at MU, was involved in developing MU's smoke- and tobacco-free policies and also used to work as a cessation coach. One quitting technique Everett has focused on is identifying teachable moments. Everett says these are when smokers face the negative consequences of their smoking and make the link between those consequences and their habit. For example, if a smoker has a heart attack, that can be a jumping-off point for them to quit. At MU, trained ambassadors also go around campus several times a day and approach people breaking the rule in a nonconfrontational way. The ambassadors carry nicotine gum, lozenges and pamphlets with information on resources to quit. As of Aug. 20, 2018, MU is completely tobacco-free.
On Feb. 19, the Columbia City Council passed a bill that will require tobacco retailers to be licensed to sell tobacco, vapor or nicotine products according to the Columbia Missourian. The bill will help the city identify businesses that sell tobacco. To obtain a license, businesses will need to turn in a written form to the city business services administrator. Once the applications are accepted, then licenses will be given. If businesses don't follow these guidelines, then they could be fined up to $5,000. This will start next year. Chadwick's organization recommends doing at least one compliance check per year for the Tobacco 21 policy to be fully effective.
To quit or not to quit?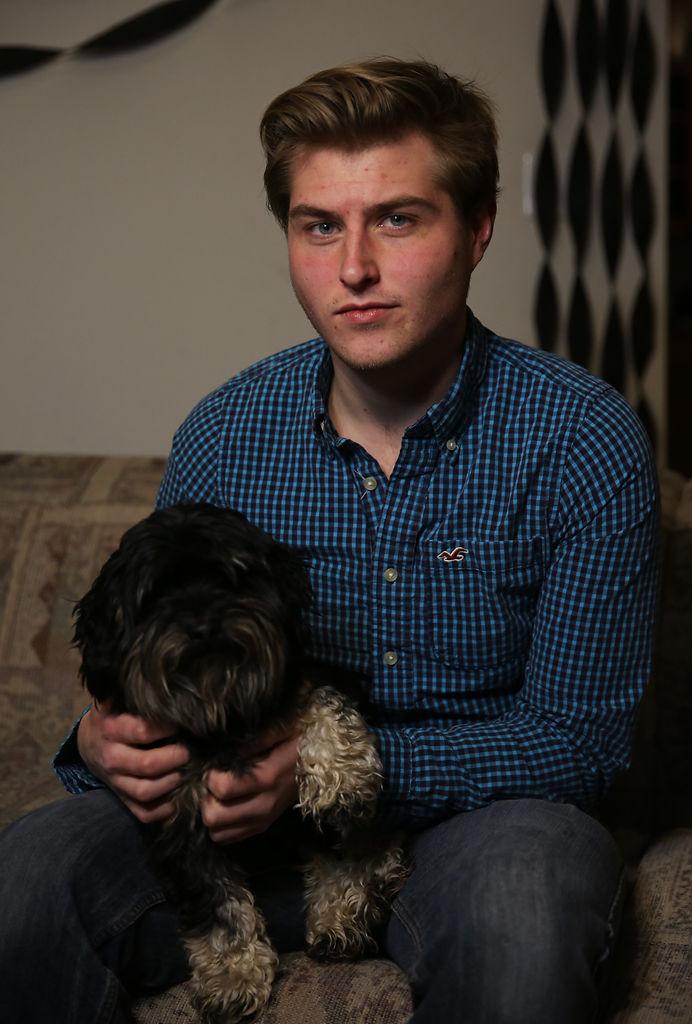 But just because people are providing help doesn't mean everyone is looking for it. Baugher has no plans of quitting any time soon. "People always laugh at me when I say this, but to me, modern medicine plays a big factor," he says. "I most likely won't get cancer from cigarettes for at least 40 or 50 years … I'm genuinely not worried about it."
On the other hand, some smokers, such as Ransom, are more than happy to make use of the resources available to them. After starting his effort to quit on Oct. 26, he was cigarette-free by mid-November. Three weeks later, he relapsed during Thanksgiving break because he reduced his nicotine patch dosage from 21 milligrams to 14 milligrams too quickly. He says he felt the pressure to smoke with a friend when he was in Kansas City. He plans to try quitting again soon, but this time he'll have to buy his own nicotine patches. He hopes sticking with the 21-milligram patches will help him quit for good.
Smokers follow different paths, but their shared addiction is something they'll carry with them even after they've quit. For former smokers, the fight to stay cigarette-free is endless because they never know when their addiction will walk through the door with a fistful of coupons. 
RELATED