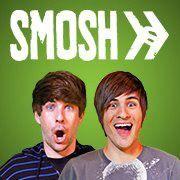 Over the last few years YouTube has gone from a site that hosts mainly cat videos and the occasional viral video, to a large platform of content creators that have a huge fan base of subscribers. Now, more and more content creators are becoming YouTube partners, which allows them to make money off of the ad sales from their videos, and in turn allows them to make YouTube their full time job.
Have you ever wondered who these people are and how they manage to make money off of producing videos a few times a month? Here is a list of the top 5 most subscribed YouTubers, not including non-English speaking, music video, video game or movie channels. These channels show people who started off in their bedroom making videos who now produce high quality content for their viewers. This list takes a look into how they have become so popular.
5. EpicMealTime
EpicMealTime is a channel that makes epic food concoctions, which always seems to feature bacon in some way. It is very heavy on the meats, and very heavy on the fat content. The channel started in 2010, and is hosted by Harley Morenstein and a group of his friends. The show has become so popular on YouTube, that you can now find T shirts and other merchandise of theirs in stores such as Hot Topic.
Their no-nonsense attitude about food is very entertaining, and while most of the things they make are in the 8,000 calorie range (thus, obesity would probably result in one bit of their dishes), it is interested to see how these epic meals are made (and that people then actually eat them).
4. nigahiga
-pxjmlpds
Nigahiga is a channel started by Ryan Higa, on which he makes sketch comedy videos that comment on pop culture and relatable every day situations. He first gained popularity with his "How to be..." videos, which aimed to "help" nerds fight off their bullies. Now, he has almost 8 million subscribers and is producing higher quality content, and has even featured Wayne Brady in one of his videos. If that doesn't spell out success, then I don't know what does.
3. JennaMarbles
JennaMarbles is a channel that was started by Jenna Mourey in 2010 that features videos that give advice for all kinds of situations, as well as sketch videos that portray stereotypical every day situations. Jenna first gained popularity with her brilliant advice about how to make unwanted strangers stop talking to you (above), and the rest is history. Now the third most subscribed channel on YouTube, JennaMarbles has imparted so much wisdom on the Internet and I, personally, hope she never stops. 
2. RayWilliamJohnson
RayWilliamJohnson is a channel that features popular videos on the Internet and comments/reviews/criticizes/makes fun of them. It's like The Soup, but for YouTube. It was started in 2009, and his videos series, titled Equals Three, has helped launch multiple YouTubers and viral videos into popularity. He held the spot for the most subscribed channel on YouTube for over a year, until his spot was taken by....
1. Smosh
Smosh is a channel that was started by friends Anthony Padilla and Ian Hecox in 2005. They gained massive popularity after releasing their Pokémon Theme Song video, which has since been taken down due to copyright infringement. Their videos mostly consist of comedy sketches, spoofing video games, things pertaining to "nerd culture", and pop culture.
Since 2005, Ian and Anthony have started their own website, as well as maintained a strong presence on the most subscribed list on YouTube. They also have created multiple secondary channels, including IanH, which features videos from their website, and SmoshGames, which consists of videos of them playing video games.
Smosh are the true example of how YouTube channels can create a successful business out of thier videos, as they have made this their job since 2005. Having gained a huge following over the past seven years, Smosh continues to retain a large presence on YouTube and create videos that they people want.