Angelique Allen spent 36 hours hiking around Crested Butte, Colorado, this August and didn't see another person of color. Three months later when Allen, a Black MU senior, went rock climbing in Kentucky's Red River Gorge, she saw trucks displaying the Confederate flag just miles from the campgrounds. She had gone to Kentucky with some white friends, who saw these as emblems of local politics. Allen, a little uneasy, says she was reminded of her position as a Black woman in these spaces.
"I wanted to make sure my driving shifts [on the way back home] were at the end of the trip, so I'm driving through Missouri," she says. "I don't want to get out of the car at certain gas stations in these very small towns."
Allen is used to this dissonance, but it doesn't stop her from exploring the outdoors. She hikes, rock climbs, scuba dives, bikes, hammocks, kayaks, does yoga and goes camping all around the country. This summer, in the midst of a national movement to wipe out institutional racism, she converted her food and fitness Instagram page to one that addresses racism in the outdoors: @angeliques.outthere. She tells her followers to reflect on how many people of color they see on the trails, on the campgrounds or in their community pools. In one of her posts, she says that "even though the majority of people you see outdoors are white, that doesn't mean they are the only ones who can or should be outdoors."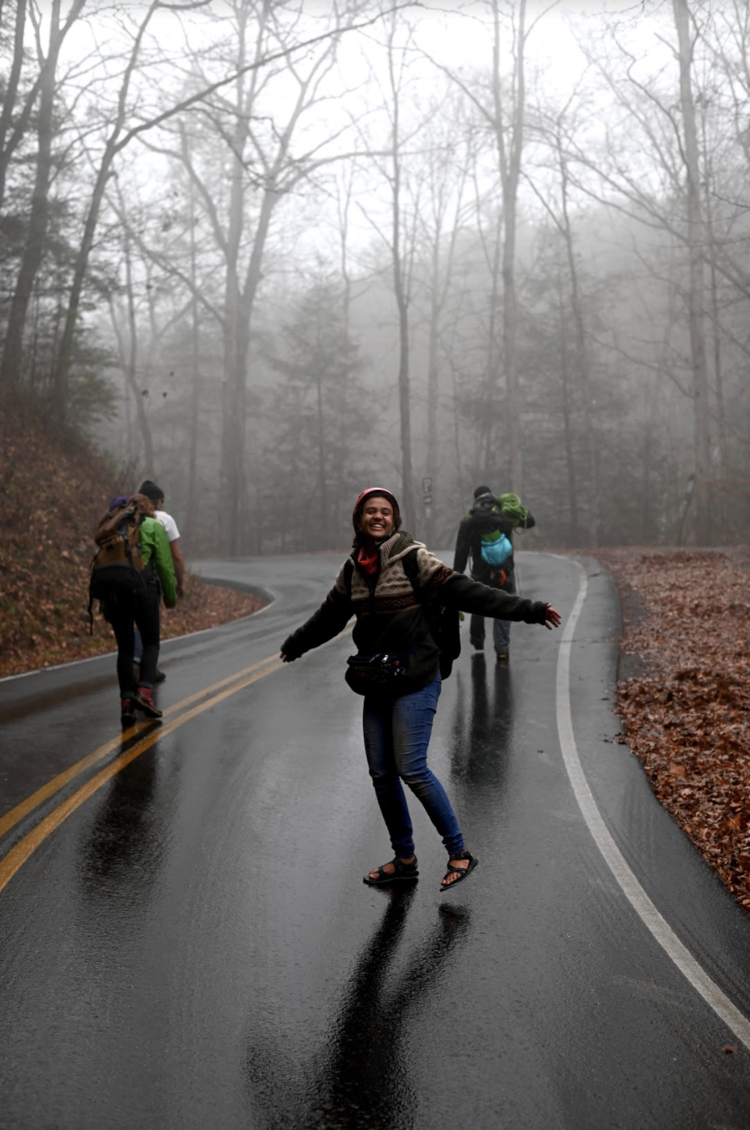 Although it might seem like it at times, Allen is not alone. Many people of color aren't represented in nature and the environment as equally as white people, which can make them feel less welcome outdoors.
A Black couple on TikTok dedicated their account, @black.people.outside, to their fellow "blackpackers." They captioned their first post with their mission statement: "This page is just black people being outside. Nothing more. Nothing less." They have just over 42,000 followers, and one of their videos has been viewed over 500,000 times.
During the resurgence of the Black Lives Matter movement this summer, Allen felt compelled to share her story as a person of color in the outdoors.
"I decided to make a switch and address experiences that I've had," she says. "Representation really does matter. I transferred that idea to climbing by showing that there are people of color doing things in the outside realm."
Because of this lack of representation, people of color have to make communities on their own. Outdoor Afro is a nationwide organization designed to make Black people feel safe outdoors through community chapter-led group hikes, camping trips, nature film screenings, bike rides, bird walks, float trips, rock climbing excursions and yoga sessions. The only chapter in Missouri is in St. Louis, but anyone can create a chapter anywhere. This need to create community among people of color is a long-lasting effect of the race- and class-based origins of recreation. People of color have long been excluded from the outdoor sports community.
Problem from the start
Recreation as a tool for self-betterment has historically belonged to the upper classes. They had disposable incomes and disposable time. In the 1800s, the wealthy escaped from the hot weather of their hometowns and vacationed in resort towns, such as Saratoga Springs, New York; Bar Harbor, Maine, and Newport, Rhode Island. These excursions had a goal of self-improvement, and through recreation, people improved their spiritual, mental and physical health.
But many of these visitors were white, as many recreational centers excluded Black people at the time. They had to find their own equivalent places to socialize, including seaside resorts, amusement parks and theaters.
During the Jim Crow era, Black children were excluded from pools and safe swimming spaces, if they even got the chance to swim at all. When Black swimmers tried to access Pittsburgh's Highland Park pool on Aug. 4, 1931, white swimmers threw rocks and swarmed them to prevent them from entering the pool. In similar incidents around the country, police officers arrested the Black victims and charged them with starting a riot.
This disparity has created the modern-day stereotype that Black Americans can't swim. According to the Centers for Disease Control and Prevention, Black children aged 5 to 19 are 5.5 times more likely to drown than white children. According to USA Triathlon, less than 0.5% of triathletes identify as Black. In 2017, Ebony Rosemond, the founder of Black Kids Swim, wrote an article for the Washington Post about the historical lack of access to swimming pools for Black Americans. Her organization helps Black adults and children overcome the barriers that initially prevented them from learning how to swim.
"The black community must focus on getting more of its children in the water," she wrote for the Washington Post. "[...] We should not continue to lose our lives because we can't swim."
Black adventurists have made efforts to counteract these disparities. In 1936, New York City mailman Victor Hugo Green wrote the first edition of the Negro Motorist Green Book. These books became the ultimate guide for Black roadtrippers: they outlined which gas stations, taverns, barber shops, hotels and restaurants were safe for Black use. The final edition was published in 1966, two years after the passage of the Civil Rights Act. The foreword of the 1956 edition stated that "the white traveler has had no difficulty in getting accommodations, but with the Negro it has been different."
Even though it has been about five and a half decades since the last publication, Black explorers still have to take more safety precautions than white roadtrippers. When Allen went rock climbing in Kentucky's Red River Gorge, she stayed in a campsite designated just for rock climbers operated by a combination rock climbing shop and pizza restaurant.
Existing in white spaces
As a result of the historical discrimination, the modern, mainstream idea of wellness and recreation has become so white that it has excluded people of color. For example, only about 8% of bird-watchers are Black, according to a study by the USDA Forest Service. When a white woman saw Christian Cooper, a Black birdwatcher, in Central Park this summer, she falsely claimed he was assaulting her and called the police.
"We [Black birdwatchers] should be out here," he said in an interview with the New York Times. "The birds belong to all of us. The birds don't care what color you are."
Black nature enthusiasts such as Cooper and Allen spend time in the same environment as all other races, but they are often the only ones who look like they do in these spaces.
Allen says it's rare to see diversity at the local mid-Missouri crags, the rugged cliffs that attract ambitious rock climbers. Clemson University researchers found that only 1.5% of USA Climbing members and affiliates identified as African American. When Allen first started climbing at MU, she says there was only one other non-white climber in their regular group.
"The lifelong goal of anyone who is interested in these things would be to diversify these (local climbing or hiking) spots," she says. "But it's like destroying the patriarchy. One thing at a time."
Rock climbing gear
Vox digital editors Evan Musil and Walter Fields created an interactive image of what Angelique Allen carries with her on each trip. Hover above the bubbles for a brief description of each item.
White slopes
Allen's father grew up as one of six in Joplin in a low-income household. He spent his formative years playing basketball and went to college playing basketball, but the front yard was the extent of outdoor recreation. He only needed to spend a few dollars on a basketball.
Allen compares that to the financial barriers from participating in outdoor recreational sports, such as how expensive it is to ski. According to FamilySkier.com, a moderately priced five-day ski trip can cost up to $4,800 plus airfare. In 2017, the median Black household income was about $30,000 less than the median white household income, according to the U.S. Census Bureau.
"Skiing is definitely the peak of whiteness outdoors," she says. "The socioeconomic requirements are what prevents it from being a more diverse sport."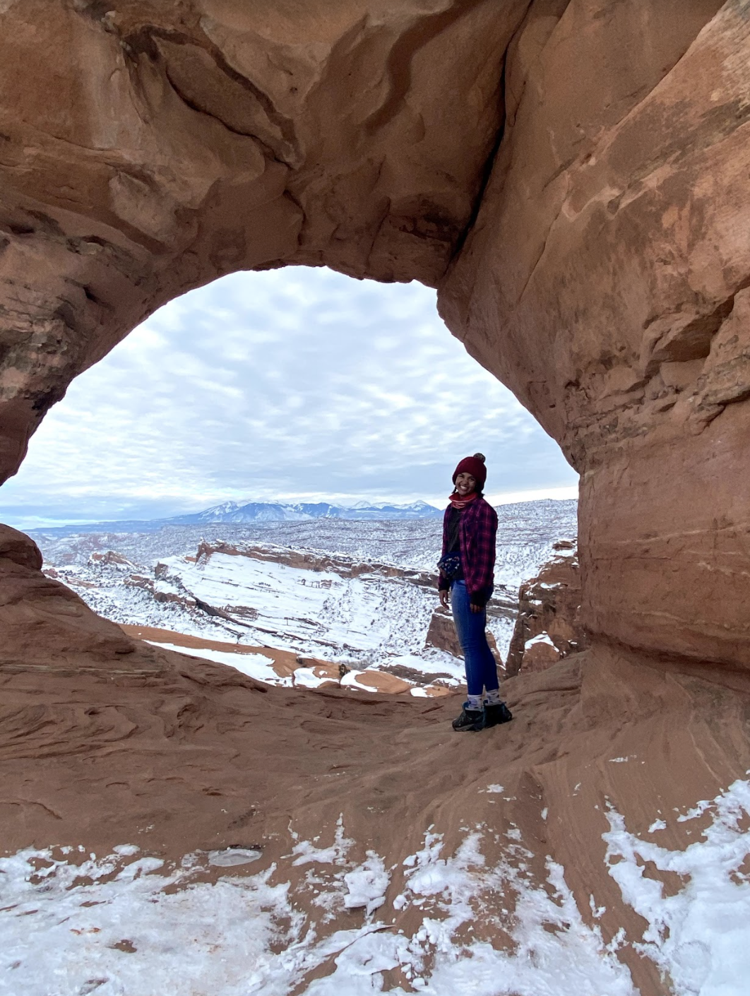 In a survey of the racial participation in winter sports, only 5% of respondents who self-identify as skiers were Black. There are national organizations designed to diversify the slopes, such as the National Brotherhood of Skiers. During one of the founding meetings in 1973, club leaders agreed that their mission would be to support athletes of color and get them to the winter Olympics. That year, Seba Johnson was born. At 14, she became the first Black woman to ever ski at the Olympics. A young Black woman competing in a sport dominated by white men, Johnson received her first death threats just three days after arriving at the Olympic Village.
Violent acts of racism, such as what Johnson endured, make it harder for Black people to enter predominantly white environments. As a result of this, some sports are seen as "white" and some are seen as "Black."
Allen has seen this stereotype manifest itself first-hand. "My dad always had a lapse of like, 'Black people don't ski,'" Allen says. "If you look at any ski slope, there are no Black people out there."
On the run
Brittany Carson, an MU medical student currently on rotation in Springfield, Missouri, was the only Black girl on her high school cross country team. She grew up in Elgin, Illinois, where 6% of the population is Black. She says that because she was a Black long-distance runner, her friends would joke that she's Nigerian when she isn't.
"I never would have considered doing cross country until having done track and seeing the coaches say, 'Hey, come over,'" Carson says. "Why would I do (distance track events)? I always figured that if I'm going to do track, I'm going to be a sprinter. All the minority people were on sprints, so I thought I would be too."
While attending MU for undergrad, she ran for Mizzou Running Club, the school's club team that competed against Division I and III schools and other teams nationwide. The MU team was predominantly white, and recreational running is a pastime usually occupied by white people. In 2016, only 8% of recreational runners were Black, according to a 2016 Routledge Sociological Focus study.
"It's gotten to be one of those 'whatever' things for me at this point," Carson says.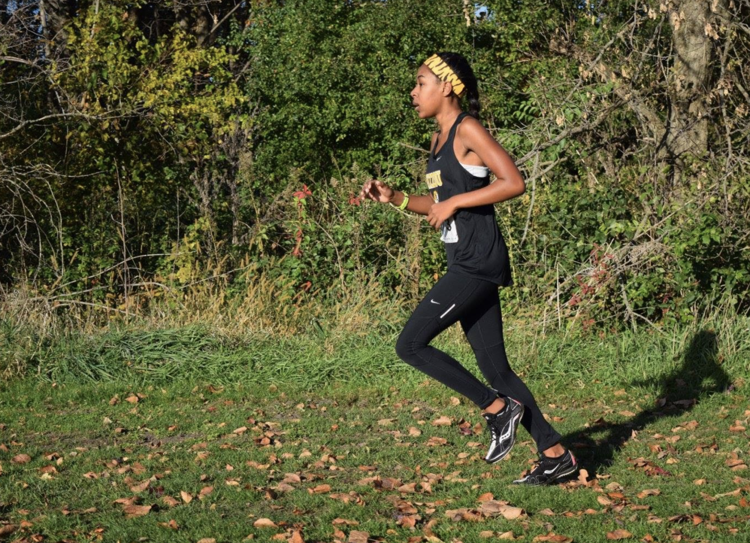 After Ahmaud Arbery was shot and killed 2.23 miles into a run in February 2020, Black runners spoke up about the unnecessary dangers of being a person of color outdoors. In 2017, Rashawn Ray, a sociology professor at the University of Maryland, College Park, published a paper titled "Black people don't exercise in my neighborhood." Ray writes that middle class Black men who exercise in predominantly white spaces have to soothe the anxieties of their white neighbors in their dress and manner: wearing a T-shirt of a notable university, running during the day, bringing a form of identification and smiling or waving to people they pass.
Carson does her own version of this. She only runs during the day and with other people. To this day, her mom asks about her route ahead of the run. When she was in Columbia, she would run alone only at Stankowski Field or at the Mizzou Rec. She hasn't been on any runs in Springfield because there aren't any runners in her medical school cohort, the routes are unfamiliar and she is busy working at the hospital.
She isn't sure if these safety precautions come more from the fact that she's a small woman or that she's Black.
"I will never go running on a route by myself," she says. "When I go back to Columbia for fourth year (of medical school), I'll run outside."
Breaking the cycle
The Missouri Department of Conservation is developing opportunities to make all Missourians feel comfortable outdoors. Christopher Kennedy, the new assistant to the director on inclusion and diversity for the MDC, grew up in a multigenerational fishing and hunting family. He had a lot of access to the outdoors because his parents and grandparents were all interested in these activities. Because of this, he says he was a rarity.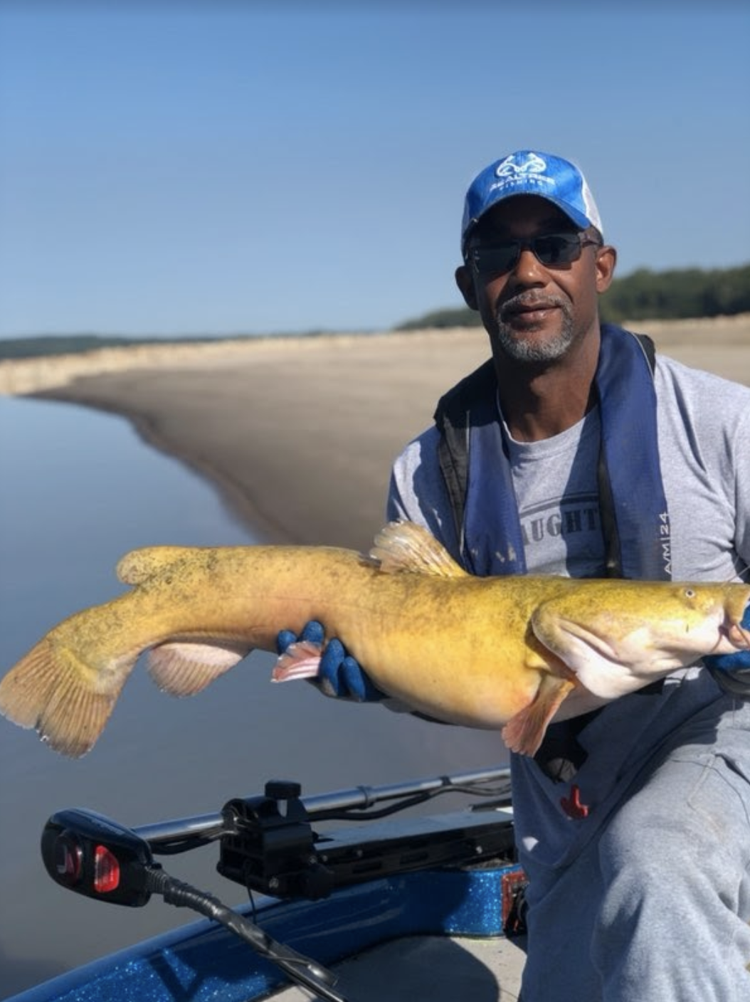 "There were racially charged instances throughout my life, but we never let that keep us away from the things that we'd love to do," Kennedy says. "Fishing, hunting, water sports — those are things that in my family were commonplace, and we love to do it. Nobody's going to stop us from that."
Kennedy has worked at the MDC for the past 25 years. In his new role, he will focus on hiring diverse voices. He says the conservation department has a lot of work to do in terms of inclusive hiring, and he is working to change that because his department performs a public service for a diverse range of Missourians.
"We must deliver the services as equitably as we can," Kennedy says. "And that requires us right now, today, to be inclusive enough to reach any member within our Missouri demographics and be comfortable doing it. We're moving in that direction and working on training that helps us develop a level of empathy for one another."
The outdoors should feel inclusive to all, he says, and parks workers can help guests feel like they belong. "Something as simple as a smile could go a long way," he says. "To those individuals that might be a little bit apprehensive about utilizing our areas, that could go a long way to making them feel comfortable."
In order to do this, Kennedy says the conservation department has to have "tough conversations that force our staff to step out of their own comfort zone, start to view things from other people's perspective and recognize why they would do things differently."
In this, Kennedy references the historic exclusion of people of color from certain spaces, and that has impacted generations' ability to recognize and access the outdoors. He says the next generation is inclusive and making the outdoors acceptable for everybody.
Representation matters, and it will impact if the next generation chooses to recreate outdoors. KangJae "Jerry" Lee, an assistant teaching professor for the MU College of Agriculture, suggests joining youth development organizations that expose Black children to nature. This will hopefully break the cycle of racial disparity in nature as they grow up, he says.
Allen also uses her platform to inspire her followers to try some outdoor activities, such as scuba diving, hiking, rock climbing and hammocking.
"I've gotten some interest from non-white people who say, 'Oh, my gosh, I've actually really wanted to get into this. How did you do this?'" she says. "I'm not going to say that I inspired these people to go scuba diving or anything like that. I think that [I'm] just putting it out there that this is something that non-white people are doing, and that it's not as difficult to get into as I originally thought."
Boone County rock climbing map
Vox digital editors spoke with Angelique Allen and found a few spots perfect for rock climbing.
Related Stories