Tradition is how we connect with those who came before us and how we remember who they are. For Tim Puchta, owner of the Adam Puchta Winery, his tradition is wine.
As a young boy sitting at the dinner table, surrounded by his laughing family, Puchta was served a tablespoon or two of wine with his meal. A crisp white to harmonize perfectly with a fish; a robust red blend to accompany beef — Puchta remembers these meals fondly. Wine was always served with a meal but wasn't to be taken for granted. If he misbehaved, no wine with dinner. It was a privilege to have wine served with food. "Wine was viewed as food, and food was viewed as wine," he says.
Missouri has a long and storied history with wine, full of surprising tales and colorful characters. Did you know that 160 years ago Missouri winemakers helped save the French wine industry from collapse? Or that 100 years ago Missouri produced the most wine of any state, second only to New York?
In 1920, 48 of Missouri's 114 counties were home to wineries, and the industry was flourishing. That all came to a screeching halt when Prohibition, a constitutional amendment that banned the production and sale of alcoholic beverages, began. By 1933, when Prohibition was repealed, the wine industry had virtually evaporated in Missouri. Since then, however, many winery owners have been reclaiming their heritage, resurrecting the diminished field.
The Puchtas are just one of many families who have dedicated themselves to growing and cultivating the wine industry here. They initially began selling wine in 1855 but were forced to abandon that tradition because of Prohibition. Now, in 2021, the Puchta family and many others have once again begun to share the tradition of Missouri winemaking with others.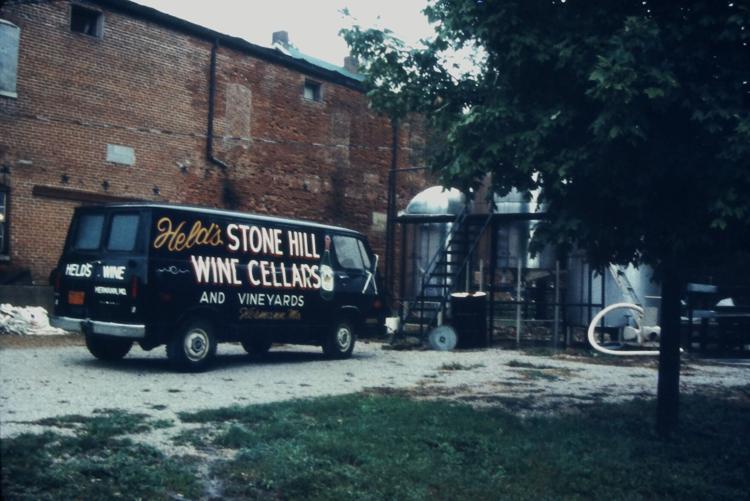 Missouri: an unexpected wine country
Who would think that Missouri has a climate to grow wine grapes successfully? The state doesn't have the mild and temperate climates of Southern France or Northern California. Even German viticulturist Friedrich Münch, an expert in the science of winemaking as well as a Missouri state senator, wrote about Missouri's climate in 1859, perplexed why people were trying to grow grapes here. Despite those opinions, a robust wine industry took root through the passion of Missouri winemakers and their desire to create quality wine in a difficult environment. Some wine grapes that are native to Missouri include Norton, Chardonel and Catawba.
"Winemakers I've talked to in the state like the challenge, so it's not necessarily negative for them," Nina Furstenau, a journalist and author of Savor Missouri: River Hill Country Food and Wine, says.
The industry took off in 1847 when Stone Hill Winery in Hermann began producing at unprecedented rates. Stone Hill Winery, which is still around today, produced about 1,250,000 gallons of wine per year by 1870, making it the third-largest producer of wine in the world and the second-largest producer in the U.S. Stone Hill's wines were becoming world-renowned and won eight gold medals at various World's Fairs, including in Vienna in 1873 and Philadelphia in 1876. "The history of winemaking here, due to settlement by the Germans and others that appreciated wines — it was deep and long," Furstenau says.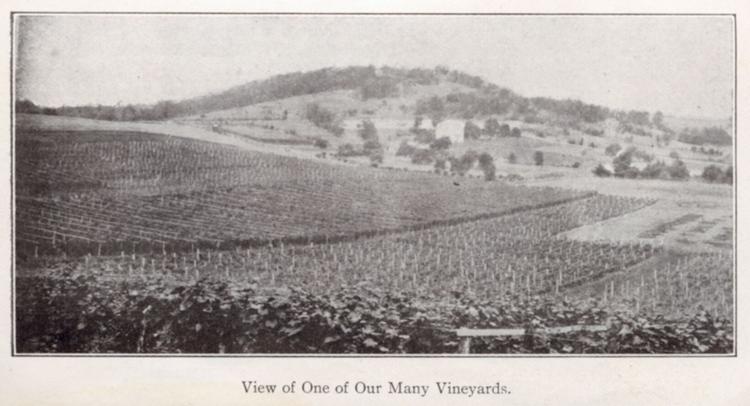 It was during this golden era of Missouri wine production that Tim Puchta's family entered the scene in 1855. As Bavarian winemakers and butchers, his ancestors brought their trade to the New World. "They bought land, amassed about 1,000 acres of ground and immediately started clearing land and planting grapes," he says. The Adam Puchta Winery currently lies on 86 acres of the original 1,000 in Hermann.
During this time of success in the Midwest, vineyards in France were suffering. A pest was laying waste to vineyard after vineyard — it was a full-out blight. In 1868, three men were determined to find out what was happening to the grapevines, and what they discovered was any winemaker's greatest fear: thousands upon thousands of tiny aphids. Panicked, the men wrote about their observations of the bug, which caught the attention of Charles Valentine Riley, the state entomologist of Missouri. He recognized the description and identified it as phylloxera, a tiny bug that causes grapevines to rot. But that tiny bug is also native to North America, not Europe. Because of that, Riley took a chance and assumed the grapevines here were resistant to phylloxera. Although it took some convincing, by 1871 Riley had helped French winemakers come up with a plan to save the French vineyards. With the help of Missouri winemakers, thousands of phylloxera-resistant roots were sent to France, where they were grafted together with French vines, creating a rootstock that is resistant to phylloxera.
A screeching halt
Missouri wineries were at the top of their game by the 1860s as the second-highest producing state of wine in the U.S. Missouri kept increasing production until wine producers' luck reversed, and a slow decline in business began in 1870. Less wine was being produced because vineyards were being over-cultivated, and California had entered the wine scene. Although people were consuming more wine than ever, California was quickly saturating the market with quality, low-cost wines, and more people continued to buy from the Golden State. This led to a slow decline of Missouri's wine industry for about 50 years, until finally, Prohibition was put in place in 1920.
With that final blow, local wineries were virtually decimated. The one Missouri winery that survived Prohibition was St. Stanislaus Novitiate in St. Louis, and only because the Jesuits were producing wine for sacramental purposes. All other wineries closed.
Stone Hill Winery's once-overflowing cellars were stripped of wine barrels and repurposed for growing mushrooms. Piece by piece, the Puchta family sold off their acres of vineyards in order to keep the family afloat during Prohibition. "While they were putting in grapes, they were also doing traditional farming that allowed them to, once Prohibition hit, sustain themselves for a little while, but winemaking was their main source of income," Puchta says.
After 13 years, Prohibition was lifted, but that didn't mean families who had once made wine went back to producing. A little more than a decade had passed since the Puchta family was forced to shutter their winery. During that time, they found other ways to support themselves. By the time Prohibition was over, it was too late for them to produce wine.
The Puchta family's story isn't unique — Prohibition had devastated Missouri's wine industry. Many Americans didn't even drink wine anymore and opted instead for hard liquor, and the wine they did drink came from the monopoly California had on the industry post-Prohibition.
Tradition rekindled
Missouri's wine industry lay dormant until the 1960s, when individual wineries began to take small steps toward producing again. Furstenau says it's exciting that the historic Missouri wine industry has made a comeback because the wine brings a connection to the past. "If you want to talk about history and use the lens of food, you get to see the world in something that makes sense to us today," she says.
In 1961, Jim Held, fresh out of the Navy, began planting and tending grapes on the land at the original Stone Hill Winery. "He preferred the aroma of the Catawba grapes to the pigs that he was farming originally," says Jim's 22-year-old grandson, Nathan Held.
Fast-forward to 1965, when Jim and Betty Held bought the crumbling remains of the Stone Hill Winery with a vision in mind — they were going to restore the buildings to a functioning winery. "They were really dirt poor, so they wanted to find a better life for themselves and their kids," Nathan says. With the help of Phil Harrison, the mushroom farmer who owned the land before the Helds, the couple started to rebuild.
It was a huge undertaking — most of the buildings on the property sat unused for about 40 years. However, the cellars were in relatively fine condition, and they produced 1,200 gallons of wine in that first year.
Held, the third generation of his family to work at Stone Hill, remembers growing up at the winery. Tasting rooms were his playgrounds, and wine cellars were his hideouts. He would hide among wine barrels with his cousins and wait for tours to pass by, then jump out and scare them. Now, Held is taking over the winery's marketing and figuring out how to integrate tech solutions into the vineyard and cellar management. For instance, he is incorporating software that monitors what is happening in the wine barrels at any given moment.
The Adam Puchta Winery got back into the wine industry later, about 30 years after Stone Hill. Tim Puchta reopened the winery — bearing the name of his ancestor who originally started selling wine in 1855 — with his father in October 1990 and credits the idea to sell wine again to "a perfect storm."
After working in the medical field in respiratory therapy, Puchta says he was burning out. At the same time, his interest in wine was growing. Wine had been a constant in his life. He grew up in a wine culture, and he dated a few women at MU whose parents had wine cellars. "My knowledge of wine just expanded dramatically because of my exposure to wines from around the world with these girls I was seeing, and we became really good friends and just enjoyed food and wine," he says. Post-MU, he became friends with people in the restaurant industry, including sommeliers and chefs, who he says opened his perspective to how lively the wine industry was. "It just exploded into something I wanted to do," he says.
After sitting down with his father in 1990, the two decided to sell their family's wine once again. They produced about 4,000 gallons that first year. "I can still remember we were getting the grapes in, and my dad looked at me and said, 'I sure hope you know what the hell you're doing,'" he says. He wasn't alone, though. Friends at Stone Hill and St. James wineries took Puchta under their wings and helped him get his family business off the ground.
"I always had a love for wine — I didn't realize to some extent how much it gets in your system," Puchta says. "You actually get into the production, and then it becomes a passion, and it becomes part of your everyday being."
Spencer Puchta, who was born the same year his father opened the winery, has basically grown up with his family business. Living on the vineyard grounds, Spencer says the winery was a part of everyday life. "You walk out of your backyard one day, and there's 200 customers out on the picnic grounds, and there's all these strangers just drinking wine," he says. Although he now works as a mortgage loan officer in Columbia, he still goes back to Hermann to help out with operations on most weekends — after all, it's a family affair.
Operating under 'the new normal'
Like most small businesses this year, wineries have had to change operations in response to the pandemic.
At Adam Puchta Winery, the staff has had to reimagine what being a winery means. They were able to set up tables outside during the fall harvest for outdoor tastings, but there was still a sense that things had changed. The winery has added a bistro, where ideally, patrons would be able to eat a meal along with drinking wine. The bistro opened and provided the Hermann community with curbside pickup and delivery services for a few months but is now closed for the winter season. "There's things that we're doing to maintain a viable force in the wine industry and in the community," Puchta says. "Just trying to keep our people employed, and when you have a lot of people working for you, you try to make the best decisions." Puchta says he's thankful that they have their own means of shipping, so their supply of wholesale wine to businesses like grocery stores is still strong.
At Stone Hill Winery, the staff misses the noise the most. The historic tasting rooms, once lively with people sipping various wines, are quiet. "It's been hard to not have people coming in and enjoying wine with us," Held says. But the pandemic has allowed Stone Hill to focus on online sales. Held says the community has been supportive through this time and is appreciative for the help his family's business has received during the pandemic.
Although the pandemic rages on, the Missouri wine industry has proven that it can't be stamped out so easily. It has survived a tumbling fall from success and managed to roar back to life after a time when it was illegal — all thanks to the passion and dedication the winemakers have for their craft.
The people who grow grapes in Missouri aren't here because it's easy. In fact, they have to battle blistering summers and numbing winters, all while trying to cultivate grapes that produce consistently good wines. The winemakers are here because they're resilient. "We like to joke that it's like playing on hard mode here in Missouri," Held says. "You have to battle the climates here and can't grow grapes that have wide awareness; it's a big marketing question, as well as a big winemaking question. You have to really be in it to succeed."
Related Stories