It took a year for the Community Remembrance Project of Boone County to prepare a recognition of an act of racial terror in Columbia. It took one night of vandalism to attempt to erase that history.
On April 29, the CRP of Boone County, a group established through the Equal Justice Initiative in March 2020, hosted a soil-collecting ceremony to honor the life of James T. Scott, a Black man who was lynched in 1923 at the since-removed Stewart Road bridge. Nearly 200 people attended the ceremony, gathering around the sun-dappled entrance to the MKT Trail, where a memorial plaque for Scott has stood since 2016. One by one, participants scooped soil into three jars labeled with Scott's full name and the date and place of his death.
Just a week later, the memorial plaque honoring the historic site was forcibly removed and stolen. All that remained was an empty pedestal.
The Stewart Road bridge is gone. So is the original Boone County Jail where a mob dragged Scott from his cell. As Columbia develops, relics pointing to Scott's murder are vanishing.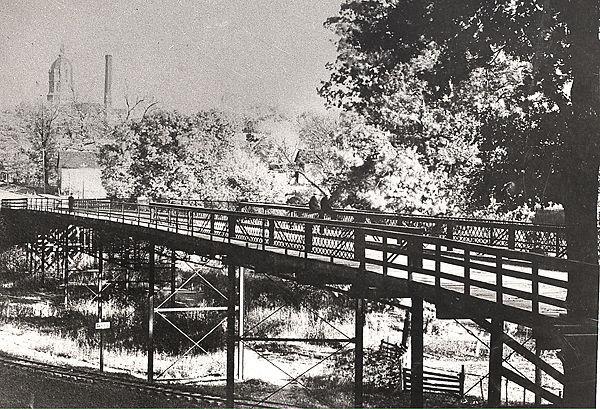 As more and more visual reminders of racial terror and hatred are erased and lost to history, the CRP of Boone County strives to remember by collecting soil from where terror was planted. During the ceremony, Wiley Miller, a member of the CRP, noted that as a landscape changes over time, the soil will change the least. By collecting jars of soil, the CRP is committed to remembering.
At the April ceremony, the sound of soulful music, reverent speeches and amicable chatter lifted up into the trees surrounding the MKT Trail entrance as attendees honored Scott's memory. In 1923, those same trees were a silent jury as a mob hanged Scott from the bridge while he pleaded his innocence. And the soil, carrying the lifeblood of thousands of lynching victims in the United States, remains as a reminder of this country's dark past.
Going back to the roots
The CRP of Boone County began with a movement in Rock Bridge Christian Church. The Rev. Sarah Klaassen, the pastor of Rock Bridge, facilitated a book club on Dear White Christians, a book by Jennifer Harvey that calls on white Christians to shift radically their thoughts about race. It caught on so well that the congregation added a second club. Many congregants also knew they needed to be proactive in righting the wrongs of terror against Black Americans. They believe their faith requires it.
Bradford Boyd-Kennedy, a leader within the Rock Bridge church, started noticing his restlessness about race on Saturday afternoons. After serving with the predominantly Black Fifth Street Christian Church, he would return to his home with his wife, Vicki, untouched by the effects of generational trauma his friends at Fifth Street were more likely to have experienced.
"We got to the point where we weren't surprised to hear about people saying they were raising their grandchildren and the history of family dynamics and relationships that I seldom experienced personally, at all," Boyd-Kennedy says. "Finally, I began to realize, well, reconciliation is a wonderful thing, but I didn't see that approach making many changes in the lives that Vicki and I lived, and in the lives that our Black friends, if I can use that term, experienced."
He and some other Rock Bridge members reached out to the Equal Justice Initiative. EJI is a nonprofit based in Montgomery, Alabama, that works to end racial injustice and reform the criminal justice system. It began organizing CRPs in 2015 within local communities to gather soil, with the aim of looking at history through a holistic lens — one that includes lynching. There are now six local CRPs in Missouri and many more throughout the country. EJI connected Boyd-Kennedy with others in Boone County who wanted to start a remembrance project in mid-Missouri.
As the state with the second highest number of lynchings outside of the South, there is much to remember.
Keslie Spottsville, secretary for the Black Archives of Mid-America in Kansas City, was impressed by Boyd-Kennedy's eagerness. She met him when he attended a meeting of the CRP of Missouri in Kansas City. She showed him around the Black Archives, where there is a Soil Collection Exhibit for Missouri lynching victims. The Black Archives is an organization that preserves the history of Black people in the U.S., with a focus on the Kansas City area.
She says it took about a year to get the ball rolling for the CRP in Boone County. Boyd-Kennedy gathered interested members to start planning, and Spottsville helped them through the EJI vetting and training process. When the group was officially established in March 2020, there were about 13 members. It was time to start digging.
Unearthing the past
Brittani Fults, an MU alumna, was one of the people recruited to the CRP of Boone County. Originally from Kansas City, her presence in the group is a testament to history on its own. In 2016, she and the other members of the MU Association of Black Graduate and Professional Students revived Scott's history by erecting the now-vandalized memorial to him near the entrance of the MKT trail.
Now, five years later, she is helping the local CRP remember Scott and other Black victims in Boone County. Her passion is in facilitating educational opportunities to learn about the Black past. She says previous jobs as the education and outreach coordinator for MU's Title IX Office and as an investigator for the University of Kansas' Title IX Office have shown her in real time how lack of education causes people to repeat our country's history of discrimination in the worst ways.
"One of the things that I always tell people is that once you are informed, you do have a responsibility to use whatever tools, whatever skills, whatever capabilities that you have to honor those legacies by doing the best you can for other human beings," Fults says.
She helped coordinate several educational events leading up to the ceremony, including "The Past is the Present: Conversations on Racial Injustices from the Classroom to the Living Room." The presentation explored how racial identity and injustice can be addressed in the classroom and at home while being mindful of what is appropriate for different ages. Knowing Black history — and not just the flattering parts — can help even young people start seeing the generational effects of Black trauma and not be complicit in continuing those effects.
Boyd-Kennedy describes it as swimming in white supremacy, being so accustomed to it that it's no different than a fish swimming in water.
Fults experienced her own frustration with education when she discovered that, as a Black studies minor at MU, she never formally learned about Scott's murder. "Here I am, paying for this curriculum to teach me about Black studies, the history of Black people in America, and I don't even know what happened across the street," Fults says. She knows this education can be uncomfortable. But getting it into open air starts the process of healing.
"I don't even like being outside," Fults said as she sat down after Scott's ceremony. Despite her discomfort, she recognized that engaging with nature allowed the participants to be active in their commitment to preserve the history that was living and breathing around them. To her, the experience is spiritual, grounding her in the time that has passed since Scott's murder. "So, even when I'm asking other people to be uncomfortable, I also have to be uncomfortable," she says. "The onus is on everybody to get uncomfortable. Are you willing to push through it? Are you willing to use whatever resiliency that you have to push through that uncomfortability to get to the next level?"
Why we remember
Nick Foster, a member of the CRP of Boone County, says the project allows him and other white Columbians to use their privilege to address the actions of their ancestors. During his visit to EJI's memorial sites in Montgomery, Alabama, he went to the National Memorial for Peace and Justice. As he walked through rows of hanging steel columns, all of them etched with the names of lynching victims, he paused when he saw the column dedicated to victims from where he grew up in Birmingham, Alabama.
"I couldn't help but think that when some of those things took place, I very likely had family that was there," Foster says. "I had forebearers who benefited from others being put down and limited in their opportunity to access the bounty of this country. So, I have to — I need to recognize that as a white person that I still benefit from what's happened in the past."
One way Foster responds is by discussing and distributing reparations with the Anti-Racism Work Group at Rock Bridge Christian Church. "We don't know exactly what reparations looks like, but if we want to repair the damage of what's happened in the past, reparations, it seems to me, is part of the equation," Foster says.
Preston Wilson, a doctoral graduate from MU and former president of the MU Association of Black Professional and Graduate Students, says remembering keeps us from being purely reactive when we witness modern-day lynchings — the deaths of Black people at the hands of police. The shock value and short-lived hyper-fixation on new occurrences of racial terror can distract from the ways that dehumanization of Black life has seeped into every sector of life in the U.S. Black people will continue to be murdered until we address their dehumanization at the source, he says. "I've always said that America is very successful at acute attention but has failed at chronic care," Wilson says.
When Wilson taught choir at Start High School in Toledo, Ohio, he says he witnessed district administration and other teachers treat his class, composed of about 85% Black students, differently from others. He says he was discouraged from taking them on field trips because his students "didn't know how to act." To him, it clearly was racism, just not as overt.
"Racism is much more than getting called the N-word," Wilson says. "Racism is much more than police brutality. It's deeper than that. And we have to get the majority to understand those nuances."
Why we don't remember
Frank Bowman, a law professor at MU, says he recognizes that remembering racial terror in Columbia can be tricky. The community didn't just "parachute" into this time. There are still sentimental connections to the past.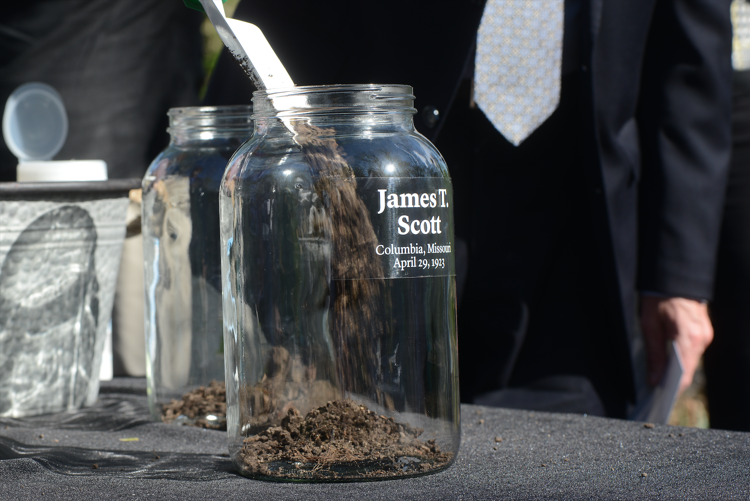 To start, he says, there's still a living generation of Columbians who stood by the city's response to the Jim Crow and Civil Rights era, specifically with the celebrated placement of Confederate Rock on MU's campus in 1935. The rock was moved to the courthouse in 1975 and once again to the Battle of Centralia memorial site in 2015.
"It's not just ancient memories or projections backwards," Bowman says. "The familial community and inheritances have kind of allegiances and predispositions and guilt or resentment or what have you that you still have in living people who have actually living memory of how we've moved to the present day. And then of course, whatever they passed along to their own children."
Bowman also noted that as a university community, Columbia is full of what he calls "imports." Not everyone here shares the common historical view of the city. "There's a really uneasy coexistence at times between that largely alien, outsider community and the people who are actually from here, which creates dissonance, I think, at times," Bowman says.
For Black people, specifically, Spottsville of the Black Archives says remembering can be challenging because it's traumatizing to relive terror against victims who share your skin color."We've never even healed from enslavement," she says. And she notices that in Black communities, it's common not to start difficult discussions about collective pain because of the historical need to be strong, as a race, in the face of adversity. Pausing to heal wounds wasn't an option. "We have not actually addressed our historic trauma, collectively, in any kind of way. We haven't had the apparatus, I think."
Forging ahead
When it comes to remembering racial terror, being oblivious is a path often traveled — willfully or not. At the soil collecting ceremony for Scott, the constant sound of cars driving past on Providence Road served as a reminder that not everyone will pause to reflect. A quartet of young men jogging down the trail glanced at the ongoing ceremony but did not stop. Neither did the dog-walkers, though their pups were certainly excited by the crowd of gathered people.
But as long as the soil remains, the history still lives to be told. And the CRP of Boone County is committed to helping Columbia remember.
After Scott's memorial was vandalized, it took only a day before the plaque was found and welded back onto the pedestal. With enough diligence, history can be restored. And, equipped with knowledge of racial terror, Columbia might be able to tread consciously toward a better future.