Sweaty palms, a tightening chest, a racing heart, the sound of people running. His vision existed only in flashes. All rational thought processes came to a halt. "I just ran," says Briar Napier, an MU junior. "I had to get out of there."
He didn't know what it was at the time, but he knows now. It was Napier's first major panic attack. It was during his sophomore year of high school. On this particular afternoon he had basketball practice. His coach had a habit of making him feel singled out, and Napier felt off-kilter the entire practice. He was a step behind everyone else. He let an opponent pass him. He was missing one shot after the next; some didn't even hit the backboard. It seemed nebulous, but he could feel dread building.
After the panic attack reached a climax and Napier ran out, he collected himself, walked back into the gym and completed practice. Plenty of people witnessed the episode. "Something was clearly wrong with me," he says. Still, nobody said a single helpful thing. They made comments about him giving up or being weird, or they brushed it off entirely. No one asked him if he was OK. His coach never even mentioned it.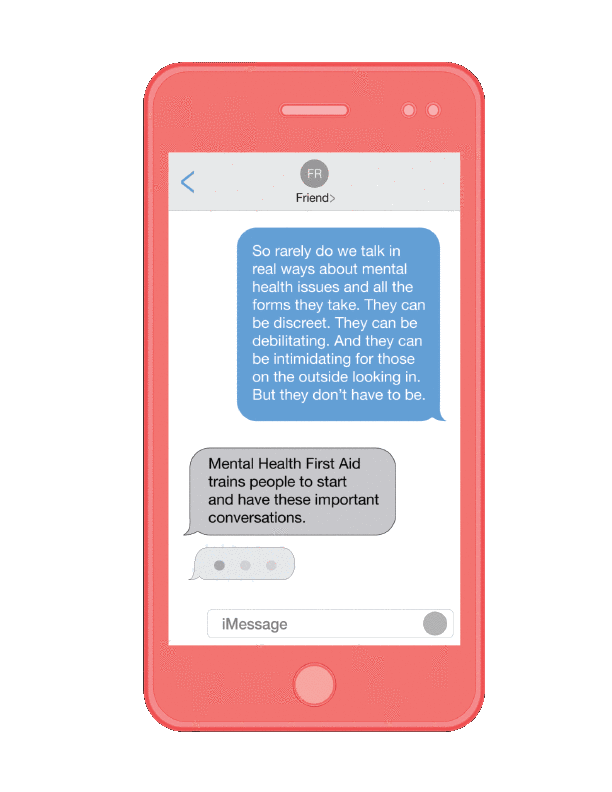 It hurt for him to have to go through the panic attack alone, and it hurt that no one helped him that day. But it can be hard to help someone having a panic attack or struggling with a mental illness. What do you do? How do you help? If Napier's coach or one of his teammates had known what to say, he might have found help sooner.
From the tiny Illinois town of Chrisman (one Casey's gas station and no stoplight), Napier never felt like he could talk about the negative thoughts he was having. Everyone seemed to be raised with a "don't ask, don't tell" mentality, he says. "It's not a point of conversation in my household, in my town, in my area. Mental health was not a priority in my life."
Napier is exactly the kind of person Betty Kitchener, a nurse in Australia, had in mind when she came up with the idea for a mental health version of first aid training in 2001. Kitchener had been living with depression for years. She had been in and out of a psychiatric hospital when she decided to start Mental Health First Aid in Australia. Kitchener's husband, Anthony Jorm, just so happened to be a mental health literacy professor. Together, the two developed the curriculum for MHFA, which has since spread to 30 countries around the world.
Just like a CPR class doesn't teach you to be a cardiologist, an MHFA class doesn't teach you to be a therapist. "You're just learning how to respond appropriately," says Betsy Schwartz, vice president of public education and strategic initiatives for the National Council for Behavioral Health. MHFA teaches people how to assess a mental crisis, determine how to intervene, offer immediate help and connect the individual with other resources. Participants also learn about common signs of illnesses such as anxiety, depression, bipolar disorder and psychosis.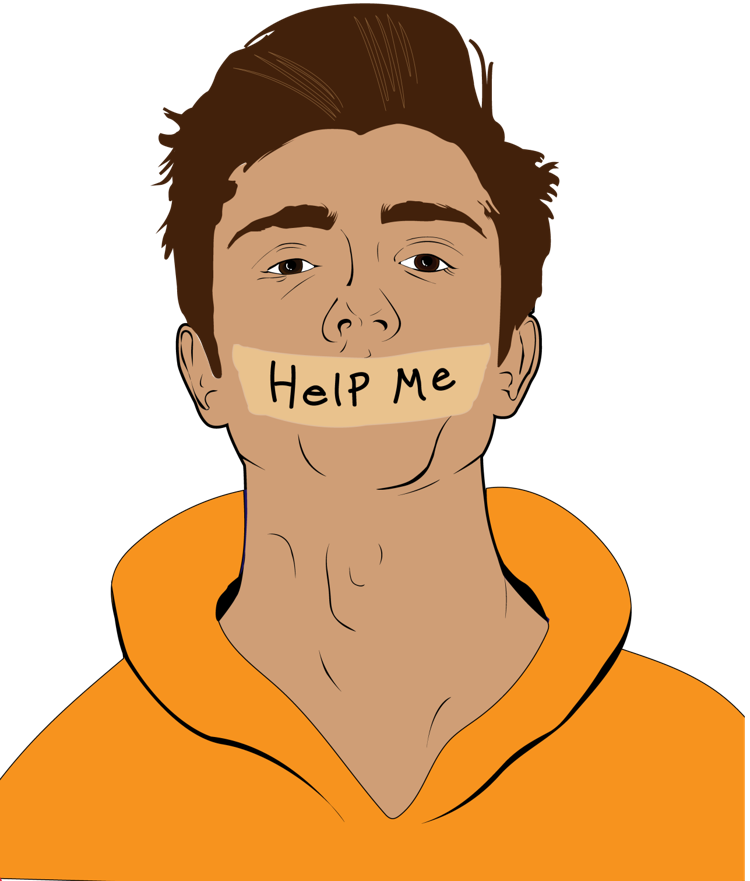 The National Council for Behavioral Health started looking into bringing MHFA to the United States in 2007. At that time, the Missouri Department of Mental Health had already been considering the program at the recommendation of the late Missouri state Sen. Betty Sims. Missouri's Substance Abuse and Mental Health Services Administration formed the Mental Health Transformation Grant program in 2006 in an effort to improve the state's mental health resources. After hearing about MHFA, Sims, who died in 2016, suggested the grant funds be used to invest in bringing the program to Missouri. The MDMH is the national council's only state partner as of right now."The National Council leads the national growth and headquarter operations," Schwartz says.
The eight-hour first aid course is composed of an informative lecture, role-playing simulations and group discussions. It equips participants with the knowledge needed to act as a first responder. This could apply in crisis situations, such as an encounter with a panic-stricken stranger, and in personal scenarios, such as talking with a relative who is struggling with substance abuse.
Although he always tried to suppress it, Napier says he's struggled with mental health issues since elementary school. His mental health worsened his last two years of high school. He tried to keep busy; he occupied himself with sports, schoolwork, college and scholarship applications. Even though he filled his schedule, he would end up skipping family gatherings and events such as senior prom. He couldn't sleep. He thought a lot about dying.
In Boone County alone, the suicide rate has nearly doubled since 2008. Rachel Jones, manager of trauma-informed treatment for the state's department of mental health, points out that loved ones often see the warning signs of suicide long before tragedy strikes. The problem is that they don't know what to say or how to help. "You don't have to be the one to figure out all the complicated stuff," Jones says. "You just have to be the conversation starter."
Dismantling the taboo around mental illness is a major goal of the program. While this includes starting conversations about suicide, it goes far beyond that. One in five Americans lives with a mental illness, according to the National Alliance on Mental Illness. Who can't relate to experiencing depressive or anxious feelings sometimes? Having open conversations about these experiences in our daily dialogues is key to progress, Jones says.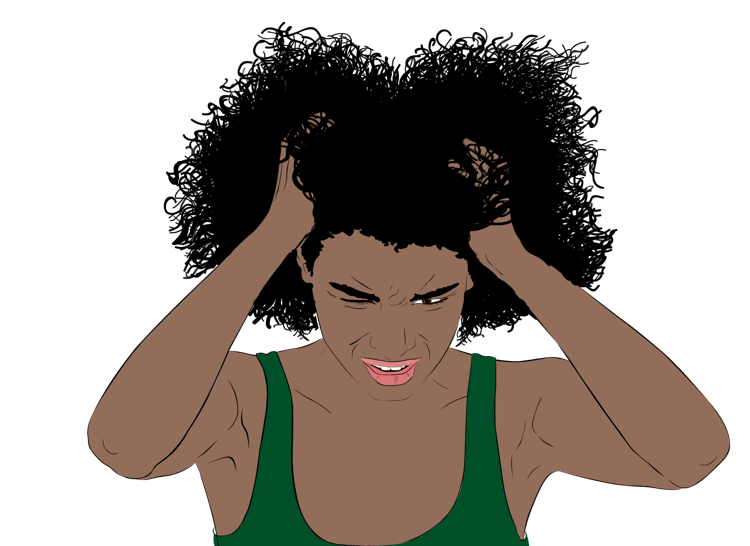 Jones recounts being at a coffee shop a couple of months ago, eavesdropping, admittedly. A few tables over, two women sat having an open discussion about depression. "That was really cool," Jones says. "People talk about physical health a lot. They'll talk about medications they're on, tests they're getting done, diagnoses that their doctors are giving them. There's not really an embarrassment, shame or stigma attached." The women conversed matter-of-factly about mental health. "One of them was sharing her depressive symptoms; the other was recognizing she had the same thing. The other was saying what she did first. Really, that's where MHFA is trying to get people. It's trying to get people being able to talk about how common this is and how it's okay."
The way that MHFA has been received shows that these conversations are clearly overdue. Since Missouri, the national council and the Maryland Department of Mental Health brought the program to the U.S., over 2 million Americans have been trained, which includes over 17,000 who have been trained to teach the course. "During the first five years we had the program in the U.S., we trained 70,000 people," Schwartz says. "Now, we're training half a million people per year." Some 1,000 people are trained each day. With 37,000 trained first-aiders, Missouri ranks as the state with fifth-highest number of people trained; in 2016, Missouri ranked first in people trained per capita.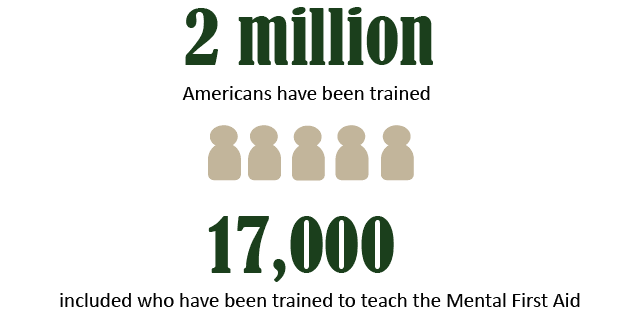 When it comes to America's mental health crisis, the impact of education can't be overstated. Sarah Traub is an engagement facilitator at MU Extension. She became a certified MHFA instructor six years ago. Traub emphasizes that people need to know what to look for and how to react if they spot a warning sign — especially among children and adolescents.
Information from Pew Research Center indicates that 70% of American teenagers cite anxiety and depression as major issues among peers, and half of all chronic mental illnesses begin before age 14, according to NAMI. Parents and teachers brush off suspicious behaviors too often, saying "it's just a phase." Equipping parents with information about what is and isn't normal for adolescent development can make a big difference.
A step to help solve this issue is educating teens on mental health early — essentially putting an end to stigmas and misinformation before they can set in. A teen-oriented version of the first aid course is being piloted in Springfield, Missouri, in partnership with Lady Gaga's Born This Way Foundation. The course is condensed so that high schoolers can be trained during class periods.
The hope is that by coordinating these topics into curricula, the next generation will be better equipped to deal with mental health issues. Scouts are taught how to apply a tourniquet in case of emergency, but they're never taught how to cope with feelings of rejection or aggression. When is the last time you needed to apply a tourniquet? Science textbooks outline how to identify venomous snakes by their scale patterns. Where are the textbooks telling kids what to do if they feel the urge to hurt themselves?
Napier didn't have access to mental health resources before coming to MU, he says. It would have taken over an hour to visit a professional. "With my friends in high school – I still love them – but our main concerns were senior trips and basketball games," Napier says. "It would have felt weird to bring up, 'Hey, I cried in my sleep last night. Can you guys help me?'" He's right. It's not exactly water-cooler talk. "To think that there are people like me who are in high school right now, who are going through the same thing, shows that even though we have the progress we've made, we've got a long way to go," Napier says. "The mental health conversation shouldn't start in college. It should start as early as you can."
Each MHFA instruction course concludes the same way. The instructor poses the question: How will the first-aiders take care of themselves? Helping others can be heavy work, and the reality is that taking care of yourself is equally important. In the same way that we all have heart health or joint health, we all have mental health. "We brush our teeth every day to prevent dental problems," Jones says. "We wash our hands. There are hygiene things that we do for our health all the time that we don't even think about. We teach people how to do it, we expect them to do it." While MHFA teaches how to deal with situations that are critical, Jones wants people to be proactive and take steps to avoid letting issues get to crisis mode. Practicing self-care means mental health issues are less likely to spiral out of control. Beyond the trend of bath bombs and face masks, self-care is a lifestyle of wellness, one of recognizing your own triggers.
Napier finds solace in therapy; it's part of his self-care regimen. He surrounds himself with people who appreciate his presence and tries to take 20 minutes a day to do an activity he enjoys. He now tells his story whenever someone asks. He talks about his own reality because no one was talking about theirs when it could have helped him. It gets uncomfortable at times, sure. It's a script that he's writing as he goes.
He never had the words for this dialogue before now, but it's a topic worth talking about because talking can make all the difference. "Mental health intervention doesn't just have to be medication," Jones says. "It doesn't just have to be a hospital; it doesn't just have to be a therapist. It can be a lot of other things. It can be just connecting to someone who's had the same experience."
Related Articles