Use the playlist below to listen to karaoke staples while you explore Eastside Tavern.
---
This home is a home for AARP members, teens, addicts, cheerleaders, doctors, professors, guitarists, bartenders, misfits. "The island of misfit toys," Jay Gro, the karaoke maestro, Eastside Tavern glue and a walking, breathing legend, tells me about the core group of regulars. They're all friends with the employees, and you'd be forgiven for thinking they're employees themselves.
Love has flourished and floundered at Eastside Tavern, fights have broken out, laws have been bent, people have thrown up on its already sticky floor. This is all part of the lore of a longtime dive bar. It's all part of the same good time.
Scott Ziolko, a 39-year-old music-lover, man who laughs a lot and singer of melancholy songs, remembers his initiation into this informal coalition. One of the Eastside Family regulars was known for singing LCD Soundsystem's "All My Friends" to end each night, but Ziolko took his place one evening. The regular was pissed until he found out Ziolko was going through a divorce.
"You're broken like the rest of us. Welcome," the regular told him. And Ziolko joined the family.
I am an authority on Eastside. I'm there every Friday or Saturday. Sometimes both.
At first it was an accident — no one thinks they've found their sanctuary when they initially walk into a bar. I was an East Coast English major thrown into the always-spinning and grinding gears of the nation's first journalism school. I had never been to Missouri. I found that most people I met were either too much like me (arrogant, passionate, confrontational, empathetic) or too different (uptight, pretentious, judgmental). I was told my only friends would come from the Missouri School of Journalism.
Eastside, though, has been my friend. That's true. It's also true that a bar should not be a friend. A crutch, maybe, but a friend? Pathetic. I'll call it my solace rather than confidante, somewhere I can put my elbows on the bar and order whiskey or tequila or PBR from tattooed and black-haired Jess Hahn (AKA "Juice"), the best bartender in Columbia, someone who wants to hear from you, someone you want to hear from. And it's a place where I can play for an audience who will support me whether I succeed or fail — whether I'm inebriated enough to think I can sing Aretha Franklin or I'm sober enough to land a Bill Withers tune.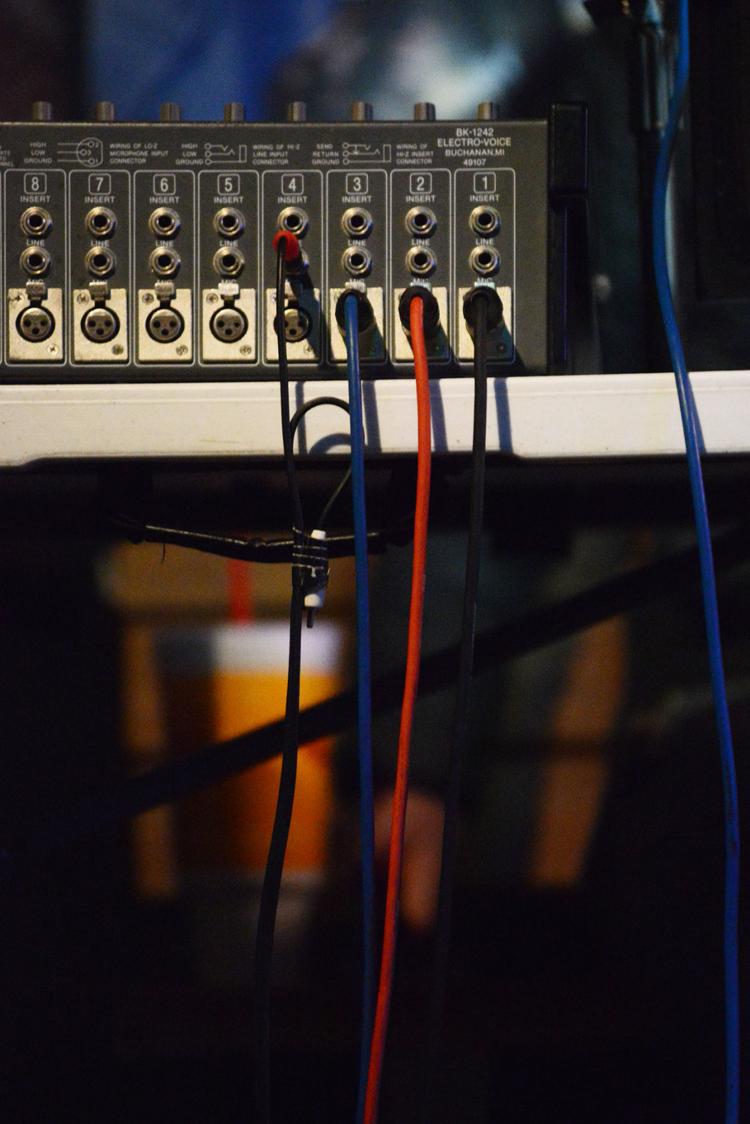 Indeed, this loud, dark, unassuming bar is the same as any method through which we seek comfort, be it booze, scholarship, music, friendship, conversation, flirtation or cigarettes. It does not matter where you are from or what your profession is; Eastside welcomes you. And of course, you could spit on that invitation — many do. Perhaps you find the same solace I get from this tavern through a novel, a shopping spree, a road trip, a museum, or, God forbid, My House. What Eastsiders want and need, though, is the opportunity to perform a song we've rehearsed in our heads for years, to make new friends and reunite with old ones, to be the people we pretend we're not and do the things we abstain from daily.
When I got to Columbia in 2017, I'd recently been dumped, and I'd been depressed since that July. I like to dance. I like conversation. I like to go out. But the bars I went to made me acutely aware of my depression (and being dumped). So I stayed in my house and my head for a while. When I came out again, I chose Eastside. I sang "Ain't No Sunshine" and rediscovered her for two minutes and 30 seconds. The next weekend, I rapped Jay-Z's "Public Service Announcement" and forgot her for good.
Before MU, I had found home in my girlfriend's well-kept apartment, in the University of Connecticut student newspaper building, on basketball courts and in a small UConn dive bar that would sometimes offer karaoke and always offered dancing. Like my former havens, Eastside gave me the unorthodox therapy of song and dance, and it gave me consistency; a stool, a bar, a stage. A playground for remembering then forgetting again.
The fixtures
Sometimes, the Eastside Family regulars will pregame karaoke at Clark and Gro's house — socialize, smoke cigarettes, eat, drink and play games. This group can comprise 10 to 25 people at any given time. It's made up of local professionals, their work ranging from university activities to food service and other careers and odd jobs in between. Danielle Clark, Gro's girlfriend and fellow karaoke showrunner, says she integrated herself into this collection of karaoke devotees and drinking buddies three years ago when she didn't know many people in Columbia. Gro and Clark met at Eastside. One night during karaoke — as these stories go — he said, "Dance with me." The song was by John Denver, or someone corny like that, Clark says.
Comfortable in her role and social standing, Clark now integrates people like me into this loose assembly.
It's not only an establishment for the local and the displaced. Those with a certain disposition, those disenchanted with what Sal Nuccio, founder and owner of Eastside, calls "the meat-market-bro-dance club-places," will stay close to this bar. "It's an alternative for you," he says. "It's a spot that you might find you'll fit into a lot better."
Fitting in is easy when no one sticks out. Fraternity and sorority members, athletes, whiskey/beer/tequila-drinkers, gay, straight, asexual, single or dating, bearded, fat and skinny, pierced, Christian and Atheist and everyone else all exist at once.
What could bring such an assortment together?
Karaoke. (And alcohol.)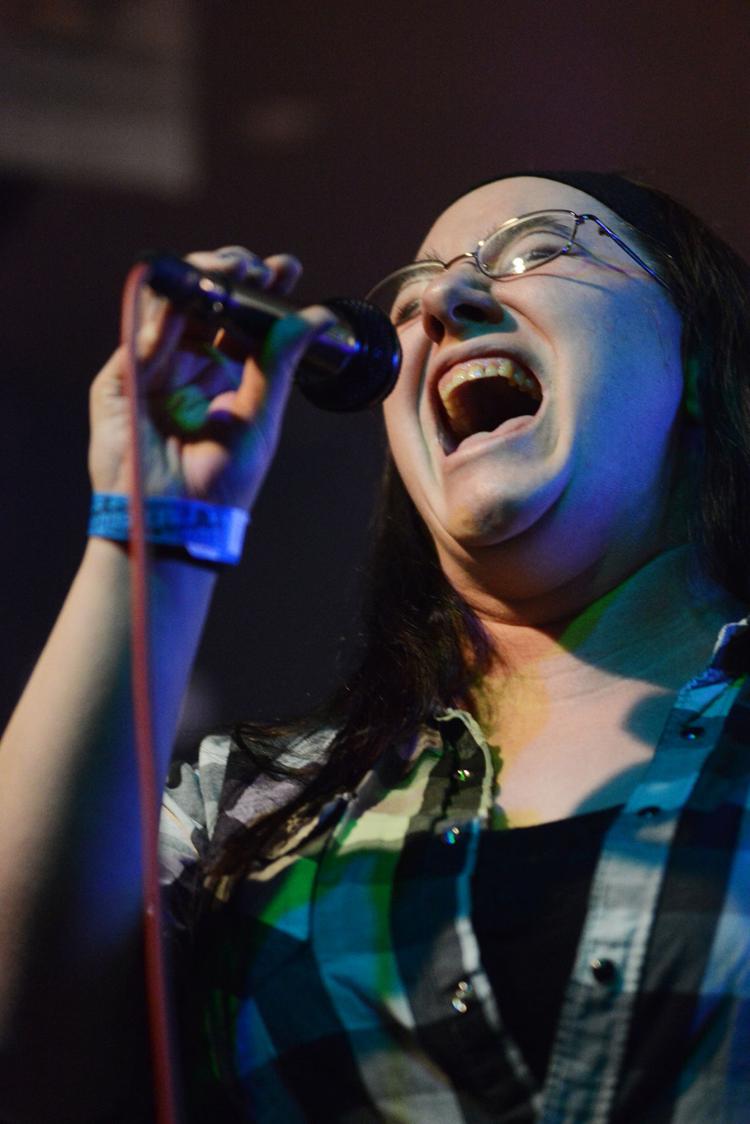 A black man "sings" Avenged Sevenfold. A bearded white man belts out "Man! I Feel Like a Woman." A young woman offers her take on "House of the Rising Sun." Two women wearing fringed vests attempt a duet of "Before He Cheats," somehow managing not to harmonize once. Another woman is serenaded by her Marvin-Gaye-impersonating and fedora-wearing husband. This is every Thursday through Saturday night, and everything is ever-changing yet the same for karaoke hosts Clark and Gro. Intermittently, Johnny Hurricane, a 41-year-old Asian man and much-ballyhooed karaoke crooner, will pick up the microphone.
"Johnny H, if you stand outside with him, every third person that walks by is like, 'Hey, it's Johnny!'" Gro says. "People love him…He's a magical creature. I love him."
Johnny Huang first came to Eastside in 2010. Gro remembers how organically people took to him. His stature in the city grew along with the tavern's. "Now he's the most famous person I know," Gro says.
Just as it is for me and many others, Eastside is Huang's oasis. What would life be like for him without the tavern? "Let's just say I'd probably spend more time at home," Huang says. "I don't know if I'd call [Eastside] home since there's no bed inside." He's only going to stop coming and blessing crowds with his signature high-pitched ballads when "either I'm dead, so incapacitated I can no longer move, or I lose my voice so much that even talking is a struggle."
The atmosphere
Nuccio says Eastside started out as a townie dive bar, similar to what Klik's is today. But then it went through two reinventions, and it's now in its third phase.
When Nuccio opened Eastside in 1997, he says he saw the business as "kind of like a punk-rock-heavy-metal Cheers." Rather than a Harpo's or a Fieldhouse, Eastside was something different, an industry bar where everyone could fit in. At that point, he says, it was for "punk rockers" and "a lot of town restaurant people, a lot of working class kids, the misfits." The first major evolution came when Eastside began revolving around live music. Roughly between 2001 and 2009, Columbia had a rock 'n' roll heyday with about 25 local bands that attracted good crowds, Nuccio says. He recalls a kid named Drew who used to be at Eastside during this live music era. "He loved the bands, he drank a little too much, one day he ran toward the stage and he tripped on his way there and he kind of hit his head when he landed on the stage, and I don't know if he was faking it or not, but he just kind of laid there through the whole song," Nuccio says. No one was really sure if he was faking it. Nuccio says he wasn't. The band played through the incident.
When young people became more interested in other music genres, the rock artists that once ruled Columbia moved to bigger markets. Even so, several live music venues opened near 2008 and 2009. Nuccio saw that it was time to change. Eastside introduced Dirty Disco, the popular Friday-night dance parties now hosted by The Social Room, in 2010, and it ruled until 2013. Nuccio describes the years between 2013 and 2015 as turbulent, with a mix of live music, experimental 80s dance parties and karaoke. Finally, in 2015, Eastside went full karaoke (with some stand-up comedy) because there were no other karaoke bars downtown, and that's where the establishment now stands. Even though he had loved the live music, Eastside maintained the "misfit" ethos and stayed in business. 
Last year, a fraternity rented Eastside for moms' weekend for a few hours before the general public later joined the frat and their families. A regular sang "My Neck, My Back," much to the chagrin of one of the frat brothers, who found the lyrics inappropriate considering the present company. He stepped on stage and tried to grab the cords off the back of the mixer, then he threw punches at the singer, who hit him with his microphone. "There is definitely still a dent in that mic," Gro says. (There is, I've checked.) The scuffle turned into what Gro describes as an "Old West-style bar brawl." Eventually, Juice, Gro, Clark and others ejected the brothers and associated family members from the bar, but other patrons stayed behind. "We started back up with 'All You Need Is Love,'" Clark says.
But the ambiance of the bar comes from more than just its patrons.
Upon entering, you see everything at once. You'd just come from the familiar, long straight street of Broadway, with Seoul Taco and El Rancho flanking Eastside, the underdog dive bar staring at the prominent behemoth Penguin Piano Bar and Nightclub across the street. But now you're in this strange rectangle of a room with a small stage to your right, then as you keep walking, the bar, the pool table, the bathrooms. But you don't have time to see, because you're lost in the red lamp light emanating from a tiny baby head behind the bar, a Ringling Brothers placard, a Route 66 license plate, "Danger: LSD psychology experiment in progress" and "Repeal the 18th Amendment" signs, vinyl covers of Iron Maiden, Pink Floyd, Kiss, Tom Petty, Jimi Hendrix. You hear the bartender say, "I'm severely allergic to whiskey: I break out in felonies," yet you're fixated on the massive werewolf guarding the pool table. The werewolf is Nuccio's favorite.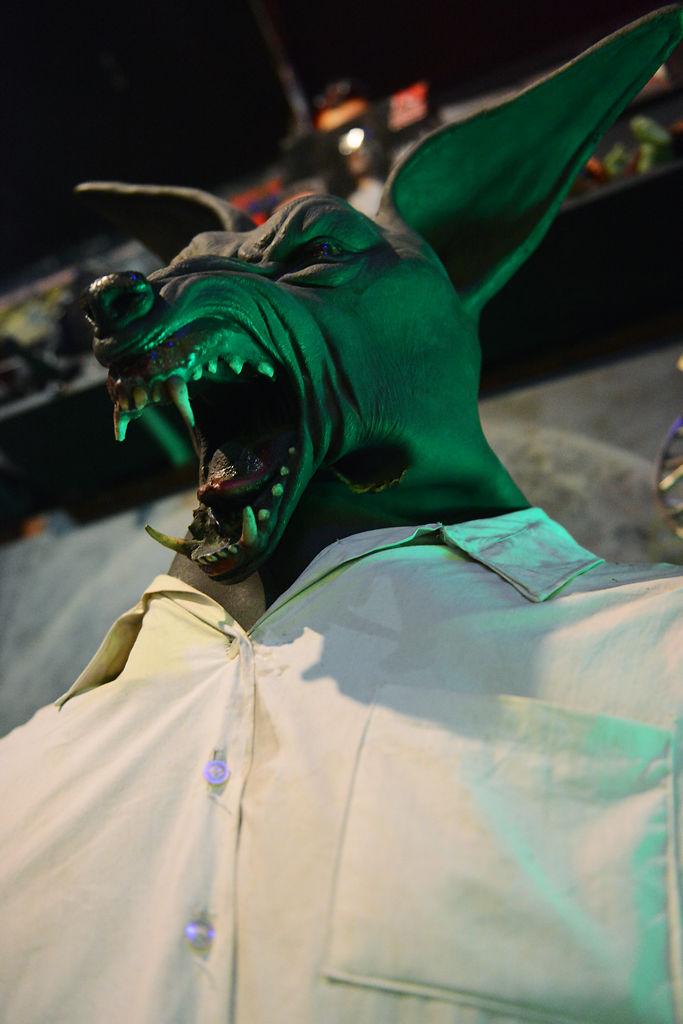 "There are some sheltered people scared of the decorations," Nuccio says. So he tells them, "This is Scooby Doo meets Kiss. It's silly, campy fun." He tries to buy the decor where he can, stopping at random yard sales on the road. "That Old Style sign is from 1972, and some guy had that in his yard for 15 bucks," Nuccio says. "It could be anything. Anything weird and bizarre with the right price."
In a way, I see myself in Nuccio, a broad-chested, bearded and long-haired Italian man from New Jersey. We are not connected by appearance, but by his coming to the center of the country in search of something new. He created a home in Eastside. I made myself at home there.
Nuccio is not as forgiving as the atmosphere of his bar. He holds grudges toward the people he calls pseudo-hippies and "haters" who attacked him and decried his candidacies for Columbia mayor and city council. He called out one popular live music venue for serving drinks after hours and for allowing customers to smoke long after the ban of 2006, giving them a leg up on Eastside.
I remind him that they are gone, and Eastside lives. He smiles, sips his beer and reminisces on being a union steamfitter from the ages of 19 to 28. When he needed a job, his chapter gave him the options of St. Louis or Portland; he chose St. Louis and was transferred to Columbia, a city he'd never heard of. The whole time, he had a vision of working for himself, you know, escaping the rat race. So he used his savings and cashed in his annuity and started Eatside, replacing a restaurant called The Metro.
"People make big money; they're gonna be rich, rich men, but they never have a day off," Nuccio says. "I take the less money with the freedom."
The legacy
Gro gravitates to Eastside because of that priceless sensation of being part of something. He's well-known for his role at karaoke.
"People I've never spoken to are like, 'Oh, that's the guy,'" Gro says. "People who are here for four years going out to the bars, it's stuff they're gonna remember their whole lives."
On the street, people pass by, laughing, arguing, grandstanding. I'm talking to Ziolko, our initial interaction. He recounts how he's adjusted to life since the dissolution of his marriage. Twenty minutes later, he's singing LCD Soundsystem's "New York, I Love You But You're Bringing Me Down."
I'm taken aback by the beauty of it. His voice cracks in the right places. He owns the crescendo in the center of the song. The empty bar suddenly feels full. Whereas I had seen people crowd to the stage before, a sort of semi-circle forms about 15 feet from him, as if to give his soul room.
While we silently take in the spectacle, I lose track of the lyrics and instead listen to moments I thought I'd forgotten. Good ones: I'm overlooking the glittering Mediterranean with my cousin in Italy; I'm drinking coffee before class and watching my ex-girlfriend make scrambled eggs with sriracha and avocado toast; I'm smoking a cigar with my best friend on a Miami balcony; I'm in an audience and once again feel my spine chill as my mother sings "Ave Maria." I think back to when I'd found this barstool because I was sad, lonely, and how decades from now, akin to the misfits I've encountered here, I'll consider Eastside a home of mine.
---
Find a sense of home in Columbia with the stories below.