My voice has emerged almost every Friday over the past three years.
I'll start talking between sets of underground R&B singles and the newest hip-hop hits, and I'll begin my commentary: "Hey, hey, hey, Columbia." I'll pause as the sound of a car horn echoes on my command. "You're listening to KCOU/88.1 FM, Columbia's college radio station, and this is Live From the Minivan with me, DJ Mom."
I'm not actually in a minivan. In fact, I don't even own a car. I'm also not a mom. That's just the name of my radio show airing 2 to 4 p.m. Fridays. I play newly released songs in the basement of the MU Student Center, sitting in a dimly lit studio containing a multi-colored soundboard and a poster of Kanye West. The car noise comes from an automated YouTube clip I play; I giggle every time I hear it.
I play everything from the newest Earl Sweatshirt to Yazmin Lacey to Guerrilla Toss. Then the red on-air sign goes dark, and I walk out the studio doors to a room full of people dressed in a variety white sneakers, denim jackets and round glasses.
Welcome to KCOU. It's vibrant, and it's musical. It's the weekly music staff meeting, so the station's lounge is in a frenzy. About 20 DJs swarm and place themselves in various spots around the room — on the ripped pleather couches, on the floor below the poster of Toro y Moi and leaning against the hundreds of albums and CDs that line the walls. I am at ease.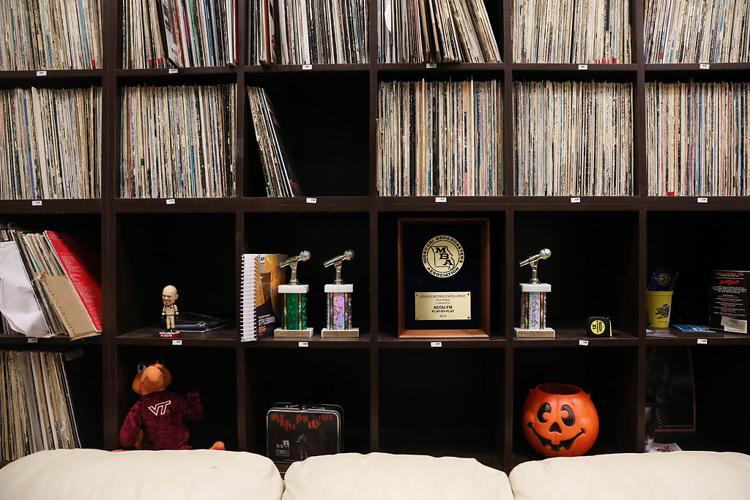 This is the home of artists and outsiders, a home for the 18- to 22-year-olds who need a place to land after transitioning from their parents' houses to Columbia. When we are just discovering our independence from the lives we've left behind, KCOU provides a safe, creative, sometimes-pretentious space; but if anyone except a member of KCOU calls us pretentious, we'll fight them to the death.
That's a joke, obviously, because all the DJs in that room collectively have the muscle mass of a jellyfish. But it's true that folks have been fighting for KCOU since its early days.
KCOU first aired from inside a broom closet in 1961, and it became a licensed station on Halloween of 1973, according to the station's website. It was a progressive rock station in the '70s and turned into a punk and new wave station in the '80s. But the '90s brought the devil of all devils. Pop music.
The station was shut down in the fall of 1993 by its parent organization, Residence Hall Association, but reemerged months later and was was briefly turned into Top 40s station, KEJJ "The Edge." The pop station soon failed, and with public support, KCOU returned to its old name and alternative style. In 1997, however, RHA tried to sell KCOU to KBIA where it would play classical music. Supporters of the station rallied, and with community help, the Missouri Students Association instead bought KCOU in its current form for $80,000. Then, in 2008, MSA planned to remove funding from the station again, but public outcry prevented the withdrawal.
With MSA's yearly election cycle, student senator positions change frequently, and dominant views on the auxiliary budget, which funded organizations like KCOU, fluctuate, former MU Student Media Coordinator Mark Johnson says. On-campus organizations such as STRIPES, Tiger Pantry and student media have felt the impact of these changes. But KCOU has maintained MSA's funding for years because of its ability to reach an assorted audience with a diverse set of staff members, Johnson says. "They take people from health professions, science, engineering backgrounds; it was just to get your message out on the air," he says. "Everyone loves music, we want to play your music, we want to help you become better public speakers and understand what it means to make an impact in the community."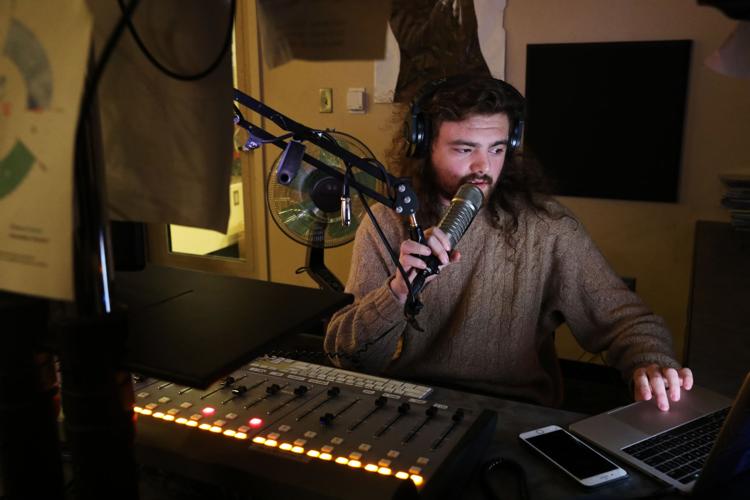 This community also spans beyond Columbia, Johnson says. Listenership peaked in Germany during the heavy metal show "An Affront to Your Delicate Sensibilities." The show ran for just under a decade until 2018 as host Denis Wisniewski, aka Metal Denis, received his undergraduate, masters and doctoral degrees from MU. In 2012, a U.S. Navy communications officer called the station from the Pacific Ocean to say his battle fleet had been listening to KCOU for hours.
But back in the landlocked state of Missouri, student government still controls KCOU's broadcast. Spring 2018 arrived, and a decade after MSA's last major attempt to defund the station, the student association successfully removed funding from five of its eight auxiliaries, the university programs started by and for students that operate on MSA and Graduate Professional Council funds. KCOU was one of those surrendered programs. For the first time in over 20 years, ownership of KCOU switched. Its future was uncertain.
Marching to one beat
Music Director and MU junior Claire Winegarner has been in charge of KCOU's music staff since fall 2017. She calls the station "scrappy." She also calls it home.
"I think KCOU attracts individuals who have a little chip on their shoulder," she says. "I think we're all a group of people who maybe felt the same way that I did when I was growing up and in high school: just kind of looking for my people."
I, too, call KCOU home. I admittedly wasn't too thrilled to move from Milwaukee to Columbia in 2016; I thought I would fit better at school on the coast or in a big city. My closed-minded view of the Midwest swallowed me up, and KCOU showed me where I was wrong.
I've joined a community where I feel more accepted than I ever did before, partially due to the close friends I've made. Like Claire, I never found "my people" in high school, but the college students at this station embraced me and all my quirks with their open, jean jacket-clad arms. KCOU showed me what the Columbia community is really like: welcoming, comfortable, honest. It celebrates innovative art and accepts eccentricity.
The station also welcomes students of different classes, races, ethnicities, genders, sexualities and mental health diagnoses, and although it still can improve, conversations involving these topics are common. MU has a lot of upper-middle class white students, and KCOU provides a sanctuary for people who don't fit perfectly into that frame — and even for those who do.
This is true not only for today's class, but also for previous students. Former staff member and host of "The Riot" Eddie Duckworth III attended MU from 2012 until 2014 when he couldn't afford tuition any longer. He continued to work at KCOU through the following summer, however.
After sitting down with Johnson, Duckworth learned he was welcome to continue working at the station after dropping out. This bought him another year and a half to figure out his situation. "I mean this from the bottom of my heart: If it weren't for that conversation I had with Mark, if it weren't for Mark looking out for me, I don't know what I would be doing right now," Duckworth says.
Facing the music
There were other internal problems in 2018 as KCOU lost its funding from MSA — Johnson's position wasn't renewed or filled, the station was gaining too many members too fast, and the scrappy home was in turmoil. KCOU management was transferred to MU's Student Unions, and executive members were worried once again that KCOU would, at the very least, be forced to change its music.
"We kind of panicked because there wasn't a solution immediately laid out for us," Winegarner says about their worries of losing funding. Yet, she immediately adds, "I think that kind of pulled the exec members of the station together."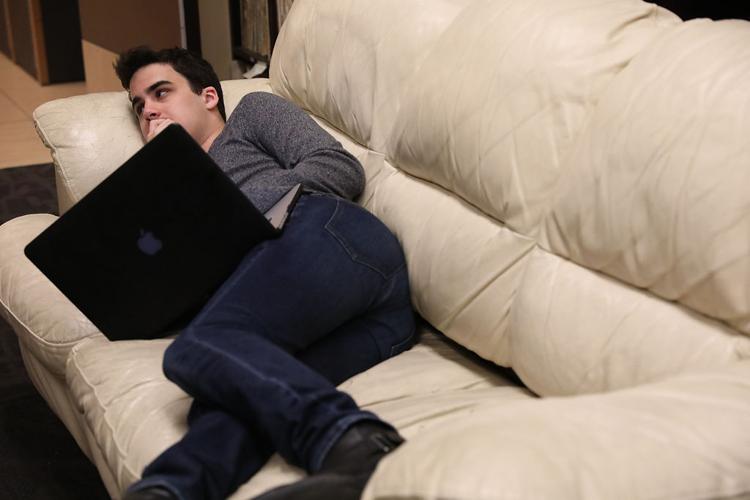 The students were unified by the needs to act fast and act together, just as the station required in decades prior. The members come together from different hometowns and majors and backgrounds, and they know how to band together to fight for a home.
There are now more funding efforts, such as further outreach to get sponsorships from local businesses. Despite original fears, KCOU has increased its presence on campus and communication with faculty.
Yet, KCOU's future still remains uncertain. "Budget issues are still in question, and I know that as that pool gets smaller and smaller as it continues on, the organizations that need support on campus aren't going to continue," Johnson says. He obviously wants the station to see many more years and says it can always use support. "We want to have our own voice because there are not a lot of other opportunities for students to really be broadcast out there to the world."
A sanctuary of sound
We entered MU without friends or family near us, and we created our own. As our voices grew stronger, we broadcast across Columbia. We fought to keep our radio station afloat. I'm certain the new members will demonstrate the same momentum.
The next generation of KCOU-ers has already started to appear. Freshman Lily Kraxberger joined KCOU last fall, and she reminds me a lot of myself when I first joined. She's enthusiastic about learning new music, eager to work for the station and, truthfully, a little intimidated.
Kraxberger also joined KCOU to find her people, and she wants to stay involved during the next four years. "It's an environment that encourages people to be really authentic and unique," she says. Kraxberger is the type to wear yellow rain boots enthusiastically and smile when she speaks on air under the alias DJ Morts. She'll be fine carrying the station forward.
We each present made-up personas to the outside world, but inside the radio station walls, we're allowed to be our authentic selves. We discover new music together and, more importantly, feel comfortable during a transitional phase from youth to adulthood. And as KCOU has proved over the past 40-odd years, and as its students have learned in their time at the station, authenticity is worth fighting for. In the authentic we find friends, we find family, and we find a home.
---
Find a sense of home in Columbia with the stories below.