"Tonight's gonna be long," Josh Gunter said to his girlfriend of the past two years. "I need some coffee." It was May 19, 2018. The solution was unspoken: They'd stop at The Grind Coffee House.
Emily Brehe did not object, though she was still mildly annoyed. Here they were, on their way to MU professor David Crespy's house for a faculty party, and she knew they were going to be overdressed. But Josh, in his dark suit and skinny black tie, wouldn't hear it. He'd insisted it was going to be fancy. He'd even gotten her the gown she was wearing — a long black dress with sequins at the top, she remembers — specifically for the night.
As Emily stood at the counter surveying the menu, Josh backed out of the way, letting her order. Emily didn't notice; this was a normal occurrence. Only this time it wasn't.
Josh got down on one knee.
"I was sitting there for what felt like an eternity while she was looking over the menu," Josh says. "I made eye contact with the barista, and she was like, 'She'll turn around eventually.' It was a silent exchange."
Finally, Emily did. And there, he had a proper answer for the countless times she'd mused, "You know what would be awesome? If you proposed to me at The Grind."
Now living in Frisco, Texas, Emily and Josh still speak fondly of The Grind, which served as poetic bookends to their time together in Columbia. I sought them out because I knew of the proposal. I knew it had been at The Grind because they'd had their first date there, and I wanted help sorting through my feelings toward the tiny coffee shop. Because for me, The Grind feels like home.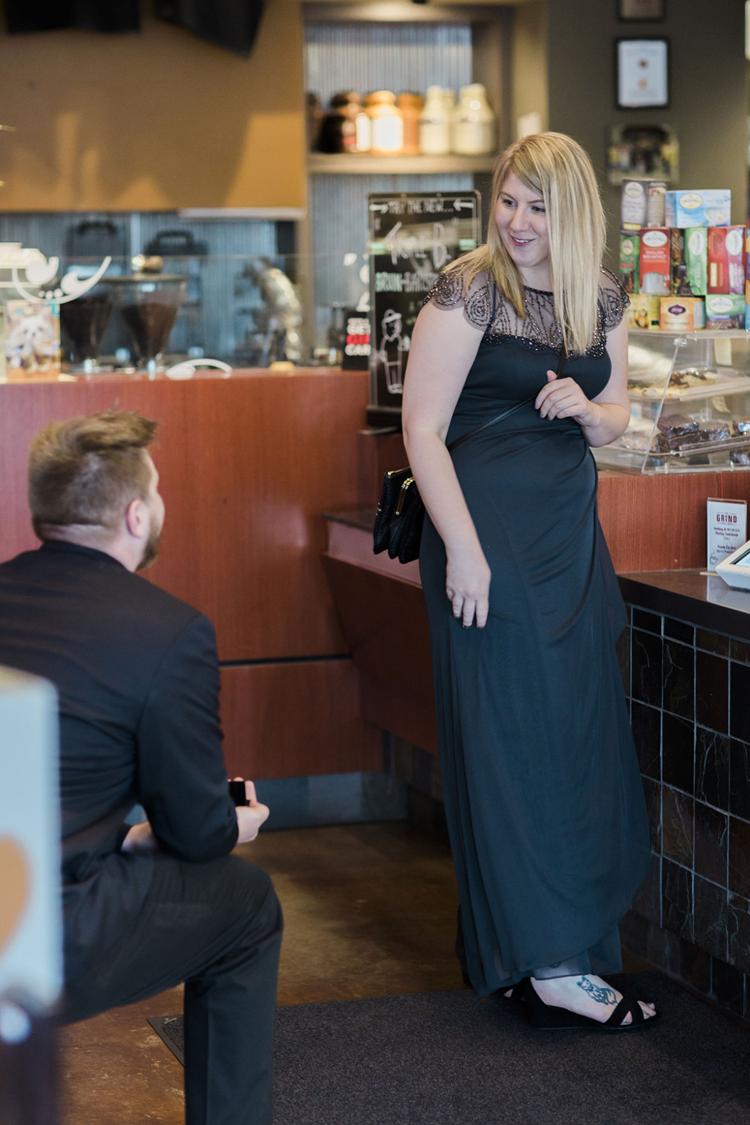 Where the heart is
Home is not a physical structure; it's an aura, a wavelength, a feeling. When you cry out that you want to go home at the end of a trying day, it's not because of anything inherently special in those four walls. It's for the comfort it brings you. It's for the sense of peace. It's for the fulfillment of a basic need. The output may differ, but the starting equation is always the same: home is a place, and people make that place whole. The beauty of home is that it can take different forms. Some find home in the masses — the ability to connect with kindred spirits, to revel in the company of strangers and friends alike. They find home in those places that make the heart pump a beat or two faster, that fire the synapses and tingle the senses, that sweep you up in the energy of the room.
I am not those people. I am the opposite of those people. But my math is no different: Home is a place, and a place is people. The Grind, my place. Allison, my people.
Fresh beginnings
I'd moved to Columbia for a new start — a change in careers that would begin by going back to school. I met Allison three days after I arrived. It was Jan. 6, 2018. I wish I could say that I met her at The Grind, but I didn't. Our first meeting was dinner at ABC Chinese Cuisine, just off of I-70 Drive Southeast. After exchanging some emails at the suggestion of a mutual friend, it culminated in an invitation to dinner.
I arrived earlier than I should have, and embarrassed by that fact, I sat in my car for about 15 minutes, waiting for the appointed hour. When I walked in to find her sitting in a booth, I approached nervously, wondering all the while what I'd say, what I'd do with my hands. Do I shake her hand? Or does that feel too much like a job interview? Do I hug her? Or is that creepy? Once she became aware of me, to my great relief, she stood up and gave me a hug. I told her I'd wanted to do that, being from the South and all, but that I wasn't sure how it would go over up here. She made a crack about Missouri being in the South. I scoffed, she laughed, and dinner had officially begun.
We learned basic background facts about each other — where the other was from and what events led us to Columbia. But we also learned small things that revealed a lot. She loves New Year's Eve and hates unread emails piling up on her phone. She laughed at the literal hundreds of unread emails in my inbox, and she listened as I rambled on about loving resolutions for a new year, even though I'm terrible at keeping them. She was a bottomless pool of understanding as I choked up about the goodbyes I'd recently said, especially with my younger brother who was just finishing Navy boot camp and about to pursue his dream of becoming a Navy SEAL. Before I knew it, we'd been in that booth for three hours, and the restaurant staff was ushering us out the door.
I was sad to see the night end because I wanted to know more. I got my chance the next day; she invited me to The Grind. It was among the first places I went in Columbia with any intentionality. It did not last three hours, and it did not require the same ice-breaking as the night before. There, I started to meet her friends. There, I became a tiny part of her life.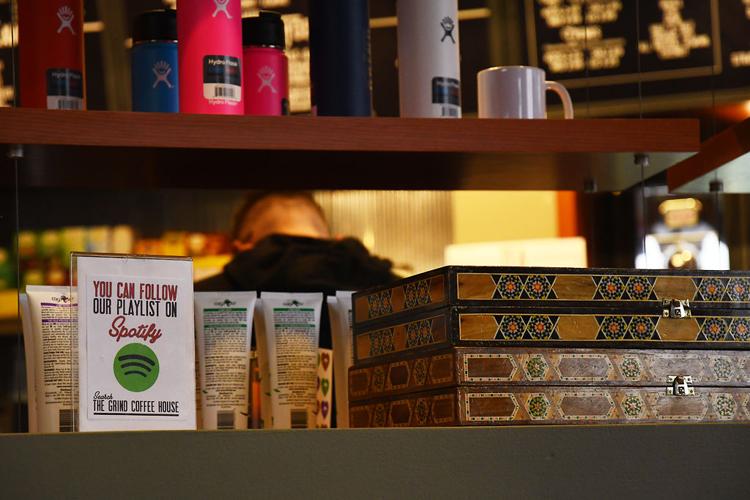 Connection point
She's a medical student, and I'm a graduate student studying journalism. Her days are filled with words and concepts with too many syllables for my brain to comprehend. Her days are filled with patients and clinics. Mostly, her days are simply filled. My schedule allows for little free time and is always subject to unexpected obligations, and the uncertainty makes it difficult to find time for each other. This is where The Grind comes in. It's not simply the place where we meet up to study or steal a few moments in close proximity — though it is, and we do. More times than not, though, The Grind is a crowded place I go to be alone when I can't see her but still want to feel close to her.
A part of Allison resides there, in the air or absorbed into the varnish on the chairs. For me, she's its friendly ghost. As for the place itself, there's no real reason it should feel like home. It endeavors to be cozy only in the slightest ways — a couch here, a cushioned chair there. Otherwise, it's a space defined by function rather than form. The colors fade into the background; blindfold me and ask me the color of the wall, and I'd fail that test. It's not particularly quiet — an eclectic Spotify playlist runs nonstop, and the sounds of espresso machines whoosh alongside conversations of long lost friends, study groups, first dates.
A cozy escape
But in those countless cups of vanilla-nut coffee, I am transported back to Allison's old apartment at the Boulder Springs complex, on the ground floor where she lived when we first met — the apartment that grew to feel more and more like our apartment. The apartment where we'd spend Saturday mornings after sleeping in later than we should and start our day with a fresh pot of coffee.
We'd grind the beans and sit back as we waited for the pot to fill, looking out the windows at a hillside spilling down from the woods. She'd placed bird feeders near the hill, and we adopted a family of cardinals and a herd of deer that both made regular use of them. We sat cuddled on the couch, watching nature treat us to a sight most on campus wouldn't even know was possible, all while the scent of coffee grew stronger. The labored gasps of the coffee maker finally grew quieter, then fewer, then stopped altogether. With our mugs in hand, our world felt tiny and complete.
She doesn't live there anymore. She has a new house and new roommates. That feeling of being the only two people in the world doesn't happen as much as it once did. In a lot of ways, that's the feeling I'm chasing at The Grind, and that's why I go after work at 10 p.m. or on a Saturday morning as she prepares for exams. She won't be there. I know that. But it'll feel damn close.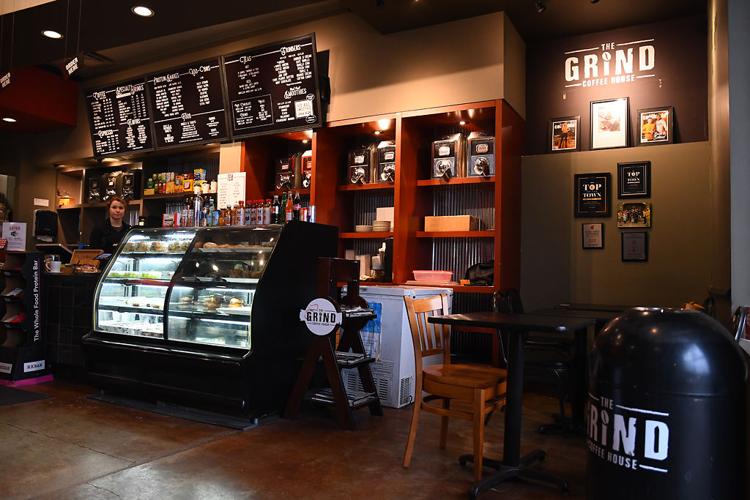 A haven for many
For different reasons, Emily and Josh thought of The Grind as home. For them, it was a sense of family cultivated by the owner, Aucky El-Tayash. "Aucky has it all figured out," Emily says. "He's a really good business owner. I don't think I've ever been to another coffee shop where the owner is welcoming you through the door and always has a smile on his face." The couple watched The Grind grow with their relationship; when they went for their first date in August 2016, the shop was barely two months old. Because they lived close by, The Grind was a regular part of their lives. "We went there way too often," Josh says. "I think we were going every day in the early months of us dating." They became close friends with Aucky, and five months before Josh proposed, he told Aucky of his plan to do it at The Grind. Aucky didn't just wish Josh luck with the plan; he got involved. "He talked to a photography agency that he knew, and he had them come in," Josh says. "I was really thankful for that."
When I asked Josh whether he thought Aucky would do that for any of his customers, he said that he thought he would. But he couldn't help but feel like it was personal. "He was there from the start, he saw exactly what happened between Emily and I, and each time we'd go in, he'd see how much further our relationship was progressing, how much we loved each other," Josh says. It's unspoken, but he feels that Aucky did this specifically for them.
Oliver Wendell Holmes, Sr. once summed up the concept of home: "For there we loved, and where we love is home, Home that our feet may leave, but not our hearts." He understood that home is not merely a place but the sum of the people and events that inhabit it. He understood how a couple could move over nine hours and 500-plus miles away to Texas but find themselves homesick for a tiny Columbia coffee shop. He understood that home is a wavelength. He understood how I could find sanctuary in The Grind, the hilltop of coffee shops, where the signal is clearest and my girlfriend's frequency finds me no matter our distance. He understood simple math: home is a place, and that place is people.
---
Find a sense of home in Columbia with the stories below.