Now that we've entered the sugar-filled, candy-crazed month of the year, it's officially time to start baking. There's a few different camps of people when it comes to cooking: those who want nothing to do with it, those who want everything to do with it and a few in between. But sometimes, during the holidays, we just want our home to smell — and look — good. You don't have to have an all-out cooking marathon to achieve some sort of food peace in your home. We've come up with a list of beautiful, easy snacks and desserts to add to your list this year that will taste good and look good — some sugar and some spice.
1. Peppermint popcorn
Popcorn is always a must-have during the holiday season. From decorating the tree to snacking on it during a classic Christmas movie, it can't be left out of the equation. But this year, add a little bit of class and sweetness to it by adding peppermint!
All you need to make this is any white popcorn, white candy coating, crushed peppermint candy and some optional red sprinkles. Follow Taste of Home's recipe for exact instructions.
The popcorn looks great in a bowl on any table, but if you're willing to deal with a bit of stickiness, it might add that extra spark to the tree that you've been looking for.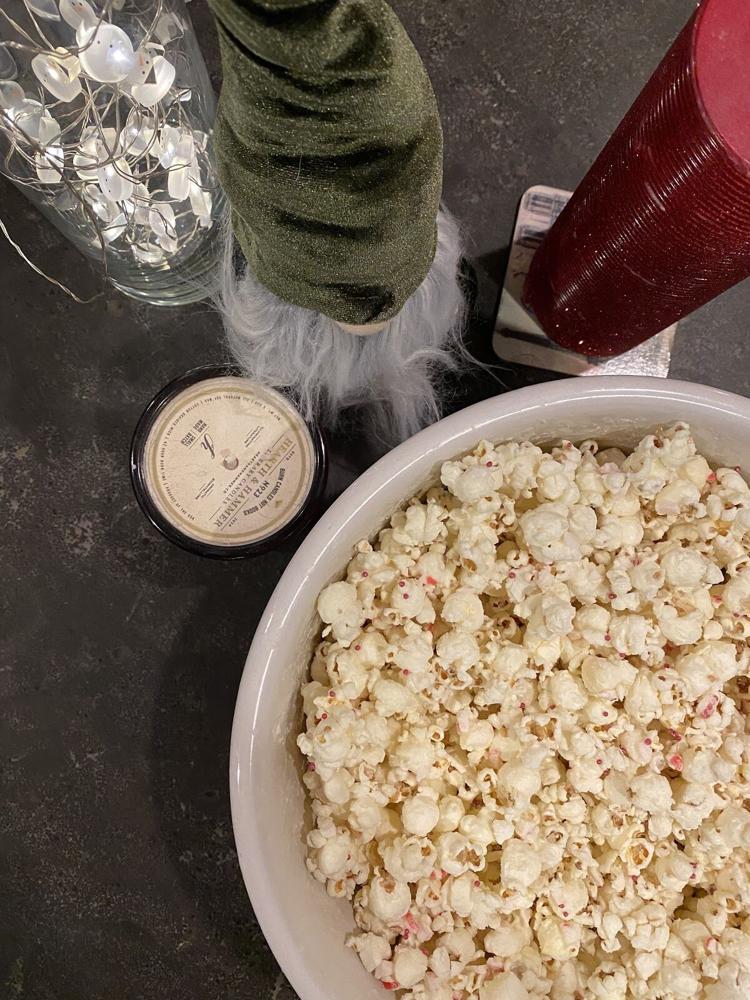 Columbia blogger Madison Loethen says that how you present things makes an impact. "How I set my food out makes a difference," Loethen says. "I really love my crystal that I got from my wedding … If I want to go with a sparkly vibe, putting it in crystal would definitely be the way to do that."
2. Classic spiced nuts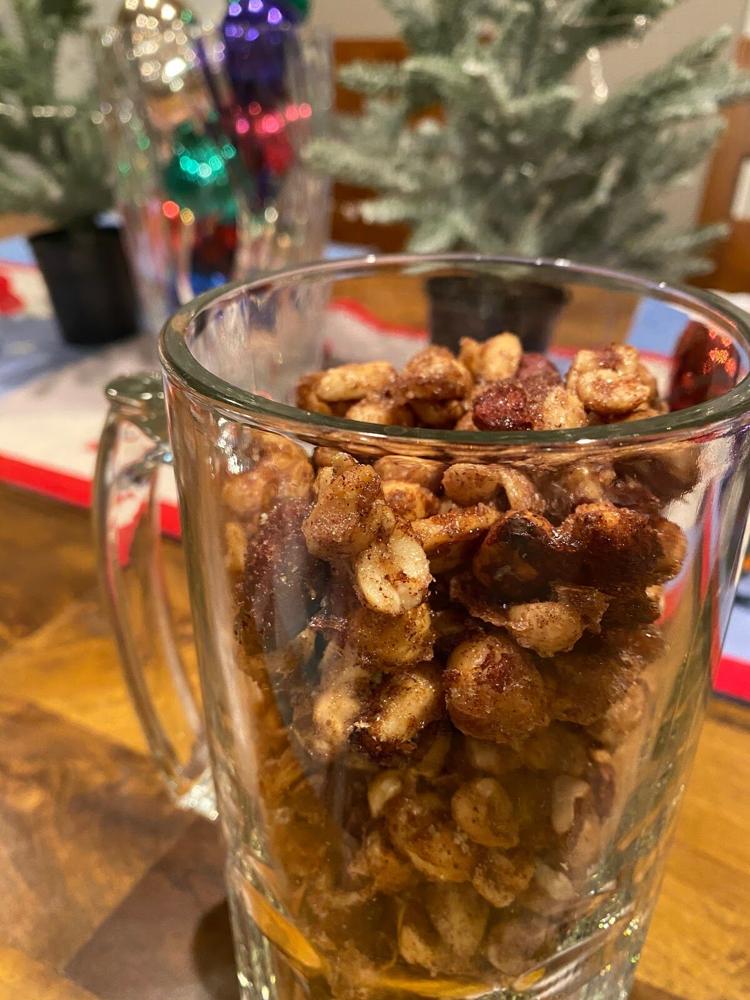 You've probably seen these at a holiday party somewhere or even been gifted them by a friend. They're actually super easy to make and pretty to look at, and Garlic and Zest's recipe is easy to follow.
One bite of these will definitely cut through the cookies you've been munching on and refresh your taste buds. They look great stored in any glass container throughout the house.
3. Chocolate-dipped Oreos and pretzels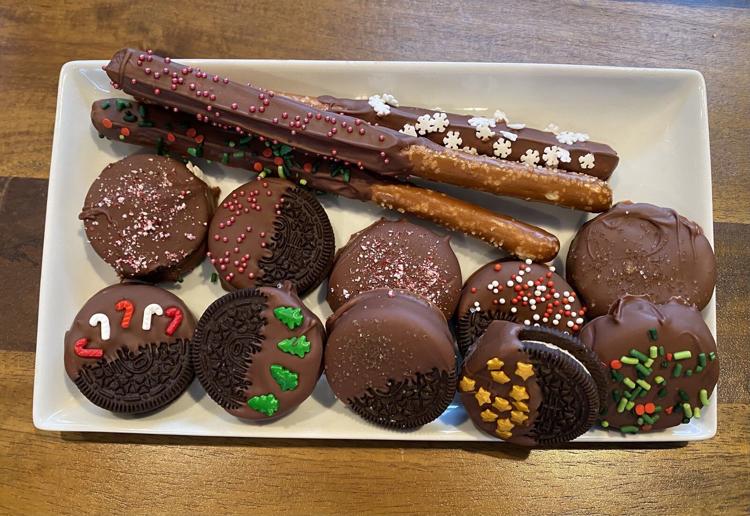 These are a fan-favorite throughout the year, and they're especially appropriate around the winter holidays. You can easily gift these to coworkers and friends, or keep them for yourself to snack on when you need a pick-me-up.
It's as simple as a melted chocolate of your choice (milk chocolate pictured here) and a quick trip to the grocery store for Oreos and pretzels.
4. Cinnamon apples
One of the best-smelling dishes of the holiday season, cinnamon apples are a no-brainer for dessert after family dinner or just nice to have on hand. Myrecipes has a great, easy recipe that you can come back to anytime you want to make these apples.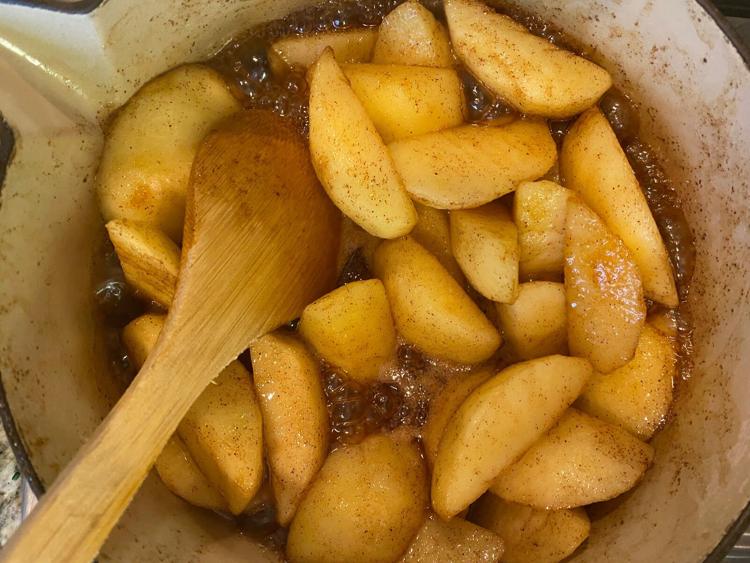 Cinnamon apples will look beautiful in a spread with Christmas dinner or just by themselves—they're flexible. We recommend serving with a nice scoop of vanilla ice cream to balance the heat.
5. Holiday charcuterie board
At the end of the season when you need to finish off all of your leftover goodies, put them all on a holiday-themed charcuterie board for a game night with the family. Hosting other people is not in the cards right now, but we can still have a great night with our immediate family members and roommates. The perfect charcuterie board can make any night memorable.
According to Loethen, there are so many options out there to get started on cooking and decorating. "You can look on Pinterest and come up with ideas from there," Loethen says. "You don't have to start with expensive decorations." She says she encourages new designers and cooks to try easy recipes like these.
You can follow and message Madison Loethen on Instagram @madisonloethen  with any questions.
Related Stories