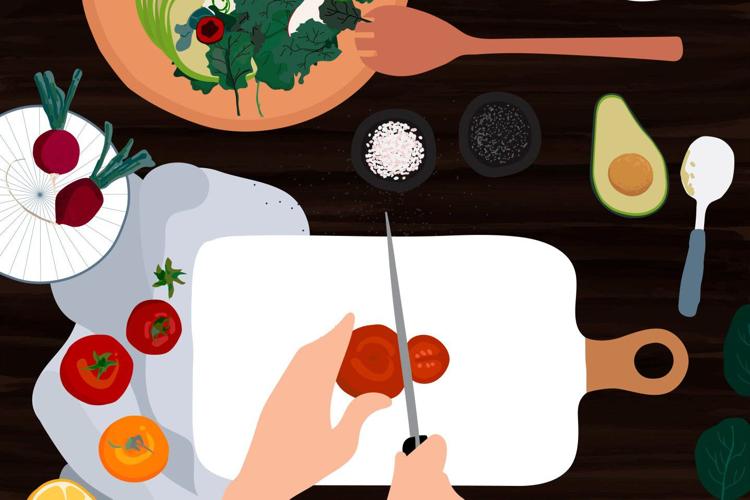 Being confined to our homes has changed our approach to cooking and eating. Maybe you've started baking homemade bread or are enjoying a few 'quarantinis.' Whichever you prefer, we hope these nutrition tips and cooking ideas will prevent your meals from becoming a source of added stress.
Tip #1: Be kind to yourself.
You haven't had a vegetable in over a week. Your head hurts, you feel sluggish and bloated. Is it the end of the world? Probably not, says MU nutritionist and assistant teaching professor Jennifer Bean. "If you've been living off of mac 'n' cheese for three days, don't be too hard on yourself," she says. Bean says nutrition is evidence-based. Although it may be hard to prove what eating mac 'n' cheese does to your body over time, it's common for people to report feeling lethargic after overindulging. If that's you, don't fret. Bean recommends focusing on today and remembering that yesterday is in the past.
Local health coach Amanda Garrison-Lucas says learning to simplify and understand ourselves is key to achieving a sustainable health plan. "Stress is huge and controls our physical and emotional well-being," she writes in an email to Vox.
Of course, sometimes life can throw you unexpected hurdles. The Food Bank of Central and Northeast Missouri remains open to those in need of free meals and is accepting donations. The CDC also has some good tips on how to reduce everyday stress.
Tip #2: Choose your cooking method carefully.
Microwaves are known for being a favorite of college students with limited cooking skills. While they do warm leftover slices of pizza quite nicely, microwaves also have a hidden superpower. Bean says steaming vegetables in the microwave can actually preserve more of their nutrition content than other forms of cooking. The downside is that they can be mushy.
If microwaved veggies aren't your speed, you'll find it comforting to know that eating raw vegetables is much better for you. Bean says roasted, baked and canned vegetables are also good alternatives. Many people consider boiling to be a healthy option, but it can actually leach the nutrients from vegetables. One solution is to save the water you boiled the vegetables in and use it as a nutrient-dense stock, Bean says.
Frying is probably the most unhealthy (yet delicious!) way to cook your meals. For all cooking methods, Bean says it's important to consider what oils you are using. She ranks olive oil and canola oil among the healthier options.
Tip #3: Make friends with your freezer.
Consider saving a few cookies for later the next time you start stress-baking. Bean says she typically saves half her batch of desserts in the freezer after baking. You can also freeze raw and cooked meat products, which will last two to three months according to the USDA.
The texture and color of foods may vary in the freezer, which makes things like mayo or eggs a no-go. Nutrients, however, are not destroyed by freezing. Frozen fruit may actually be more nutrient dense because it is frozen during peak freshness close to harvest. Fresh products often travel weeks to reach the grocery store, Bean says.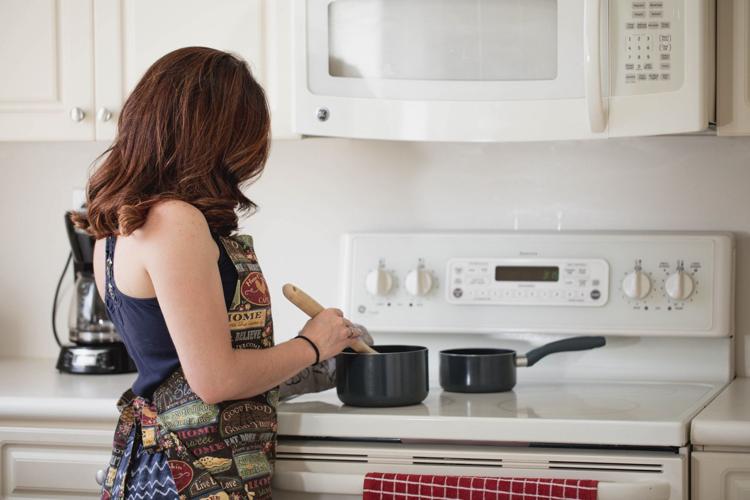 Tip #4: Stock your pantry, but keep it simple.
There are a million different articles on how to stock your pantry during a pandemic. Luckily, there's no need to create an in-depth meal plan or purchase expensive ingredients. Bean says good nutrition is pretty straightforward. "It's not sexy; it's not gonna make books fly off the shelves," she says. The best course of action is to purchase inexpensive staples like beans and canned tuna. Both provide protein and are shelf-stable.
Old-school nutrition rules still apply, and it's a good idea to try to make half your plate filled with vegetables. Whole grain products such as brown rice and oats are good options for carbohydrates.
How you prepare your food matters, too. Bean says that simply washing off the syrup or liquid something is preserved in can help reduce the sodium content. Avoiding items canned in heavy syrup is an easy way to reduce your sugar intake.
Tip #5: Seek inspiration.
Cooking is both a privilege and a source of enjoyment, though it can sometimes be tedious. Now might be a good time to check in with family and friends on social media to see what recipes they're leaning on. "Working together locally strengthens our community and our immunity," Garrison-Lucas writes.
There are also still plenty of local restaurants serving customers through delivery and to-go orders. Nothing beats someone else doing the dishes, and it's a great way to support small businesses in Columbia.
Related stories