Growing up in the heart of Texas shaped nearly every part of me. While I've changed in my time away from home there has been one southern tendency I haven't been able to shake: my love of barbecue.
Barbecue was the dinner of my childhood — gracing the checkerboard tablecloths at everything from family reunions, first communions and even my high school graduation party.  Needless to say, I consider my palate to be quite refined. Which is why I took on the task of arriving early to Roots N Blues and trying all the barbecue I could get my hands on. I know what you're thinking: "Emily, isn't 11 a.m. a little early for BBQ?" And to that I say, it is never too early to eat seven pulled pork sandwiches in a row. Here's how I did it:
Pulled pork sandwiches were chosen for both their availability at every location, and their ability to combine two BBQ staples: meat and bread.
Sandwiches were ranked from one to five according to their flavor, texture, and how badly I wanted to finish them despite being absolutely stuffed with BBQ.
*Disclaimer: You may notice that this list does not include Dickey's BBQ Pit, and the reason for that is twofold: One, Dickey's is a nationwide chain restaurant and I wanted to limit my taste test to Missouri vendors only. Two, by the end of the day I was physically incapable of putting another pulled pork sandwich anywhere near my mouth and I don't feel bad about it.
Harold's Doughnuts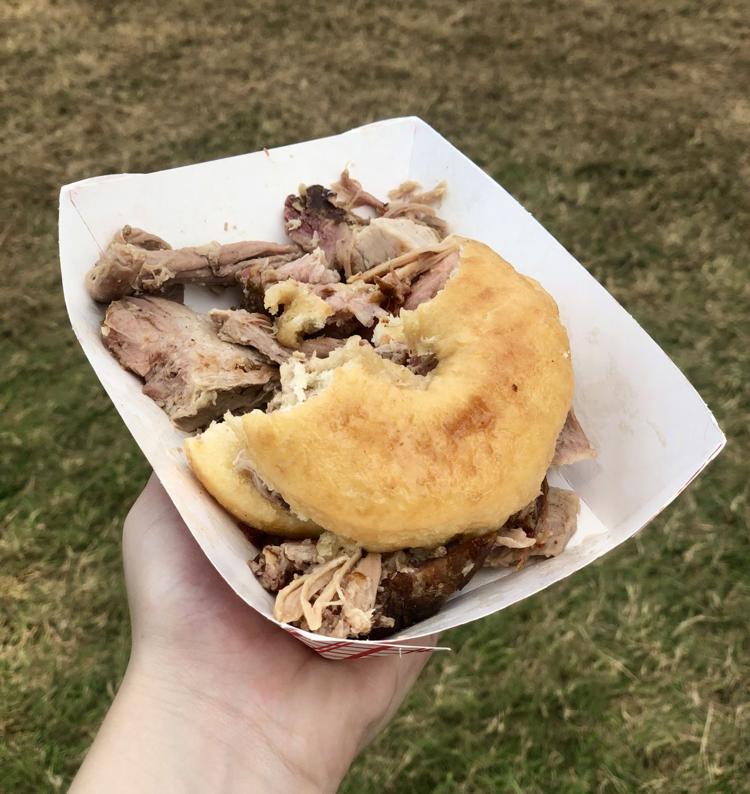 What better way to start off my morning than with a doughnut for breakfast. Well, a doughnut stuffed with pulled pork. That's right, Harold's famous BBQ doughnut sandwich is a Roots N Blues staple — started four years ago and exclusive to the fest. It is made with a single glazed doughnut sliced in half serving as the bun for a traditional pulled pork sandwich.
Flavor: 3/5
Texture: 2/5
Did I want to finish it? Nah.
Overall, it was a unique treat that I am proud to have tasted, yet I have to admit it's appeal for me was more novelty than anything else. It was a sweet, drippy mess that I don't love, but I do respect.
American Fusion
This BBQ actually hails from Kansas City, which already gives it some major street cred, even for a Texan like myself. The pulled pork sandwich came with a generous helping of sauce and a side of crispy fries
Flavor: 5/5
Texture: 4/5
Did I want to finish it? Desperately.
Needless to say this BBQ did not disappoint: It was sweet without being overpowering — a flavor which combined with hay bales and humidity took me right back to my childhood.
Ozark Mountain Biscuit Co.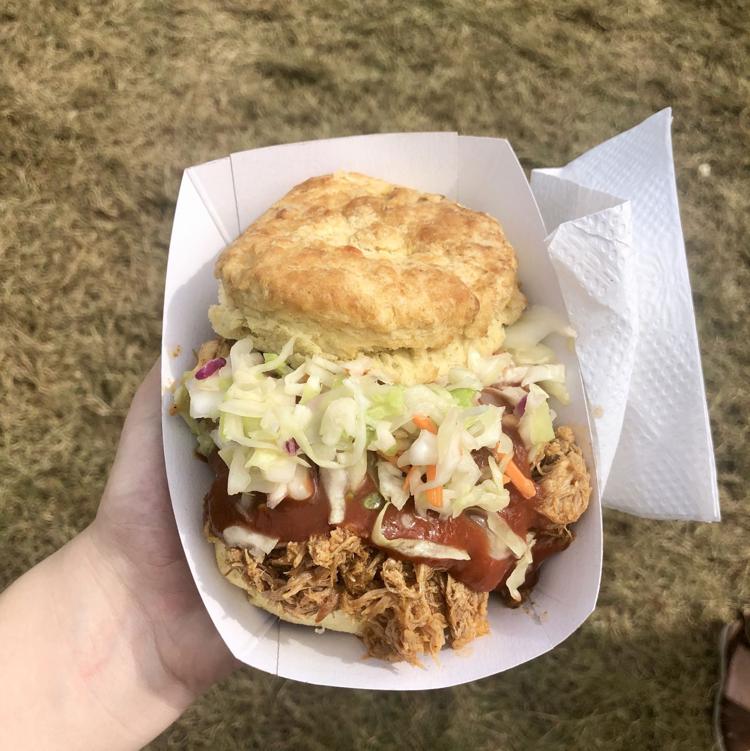 If you've ever spent time on MU's campus, there's a decent chance you've seen this food truck parked along speakers circle. Despite being quite familiar with them, this was the first time I had tasted one of their famous biscuit sandwiches. The sandwich in question was made thinly sliced pork and a heaping helping of coleslaw stuffed between a plain biscuit. 
Flavor: 4/5
Texture: 3/5
Did I want to finish it? Nah.
This sandwich was delicious, if a little gaudy. By that I mean that it was far and away the most creatively put together sandwich I tasted all day, which, when it comes to BBQ, isn't always a good thing. Its showy appearance certainly lined up with its rich, spicy flavor, giving it a really gourmet feel.
Sugarfire Smokehouse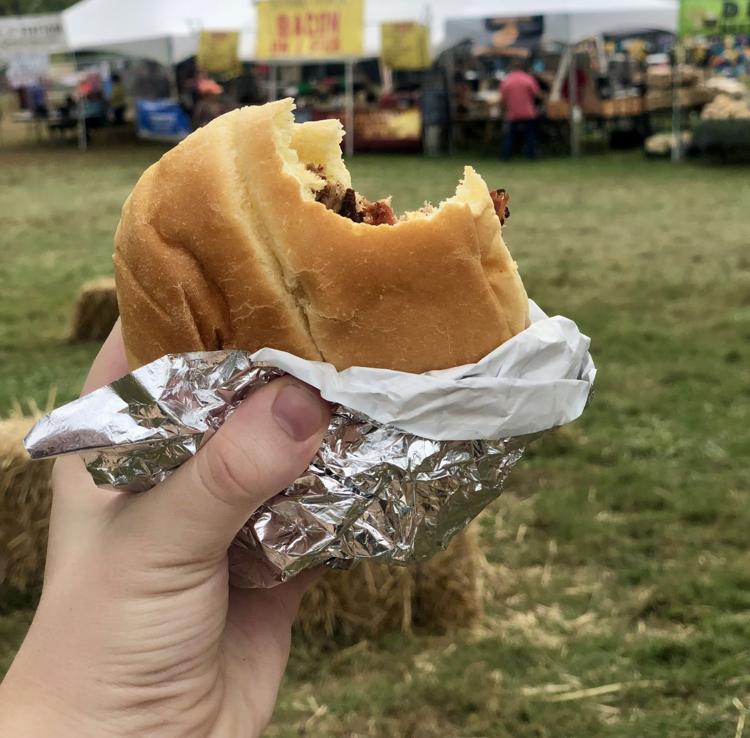 This BBQ comes from St. Louis, setting itself up to be a fierce competitor with KC's American Fusion. I ordered a classic pulled pork sandwich with a side of homemade chips. The pork itself was topped with their signature Sweet St. Louie sauce.
Flavor: 5/5
Texture: 4/5
Did I want to finish it? Oh man, yes.
While I'm sure I've ruffled a few feathers by ranking the KC and St. Louis BBQ equally, in this case there was no other option. Just like American Fusion, Sugarfire was full of nostalgia for me. The sandwich was possibly the simplest-looking one I ate all day, but the Sweet St. Louie sauce was subtle and delicious, and the whole thing surprised me with the amount of flavor crammed between a plain hamburger bun.
Big Daddy's BBQ
Nothing flashy here, just a simple food truck offering classic BBQ dishes. The sandwich I ordered was noticeably saucier than the others I had tried, but that was the only real standout difference it made on first impression.
Flavor: 3/5
Texture: 3/5
Did I want to finish it? Sure.
Look, Big Daddy's BBQ was good BBQ. It wasn't the best I ever had, and it certainly wasn't the worst. I'll admit I'm not a huge sauce girl, I like to portion out my own rather than having my BBQ dressed for me, so perhaps that made me biased. When it comes down to it, I would say that Big Daddy's was wonderfully average.
Missouri Legacy Beef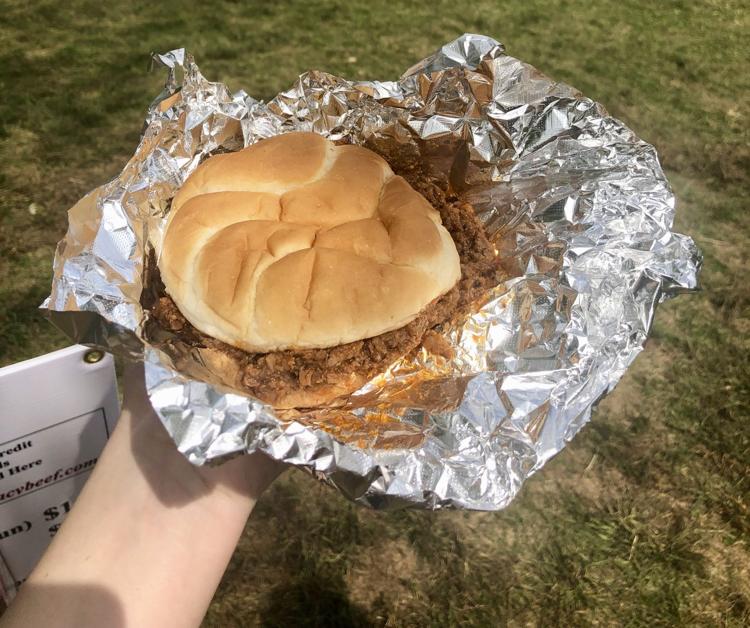 Another example of a saucy yet simple sandwich. Missouri Legacy Beef knows its meat, so it suited them that their meals keep things simple and let the meat do all the heavy lifting flavor-wise. 
Flavor: 4/5
Texture: 2/5
Did I want to finish it? You know what? Yeah!
I'll be honest, based on appearance alone, I was prepared to dislike this sandwich. It was incredibly saucy, and the pork had more of a finely chopped vibe rather than pulled. However, the taste really blew me away. It was salty and sweet, and the unusual cut of the meat allowed the sauce to distribute evenly, preventing the dreaded bite of pure BBQ sauce. Moral of the story, don't judge a sandwich by its cover.
Smokin' Chicks BBQ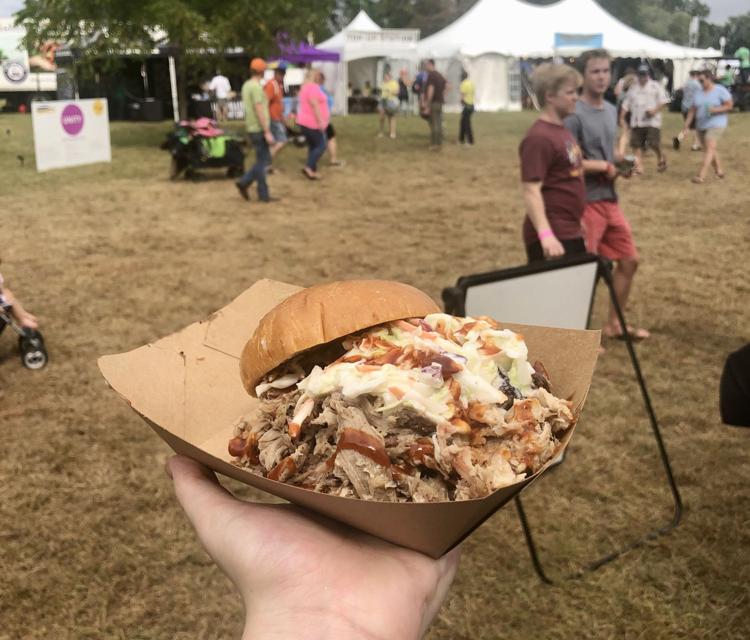 For my last sandwich of the day, I ordered a pulled pork sandwich with a heaping scoop of coleslaw on top. By this point in the day I also ordered a strawberry lemonade to help me remember that there are other flavors in the world besides BBQ. It didn't work.
Flavor: 5/5
Texture: 5/5
Did I want to finish it? YES. So, so bad.
I have to admit, being stuffed full of the six previous pulled pork sammies of the day, the last thing I wanted was to try another, but Smokin' Chicks was not going to let me off the hook that easily. The last sandwich of the day came through with the best flavors of the day, and that's coming from a girl who usually claims to hate coleslaw. Words cannot describe how disappointed I was that my body couldn't handle the idea of finishing this delicacy. RIP to the half of this glorious sandwich I had to toss on my way out.
In conclusion: 
All barbecue is good. I went into to today knowing full well I was going to love every dish I tried, and I was right. If it really came down to it, however, there is no doubt that Smokin' Chicks takes home my prize, followed closely by American Fusion and Sugarfire Smokehouse. Keep in mind however, that these are all just my opinions, and I have no doubt that as long as you are eating any BBQ at this year's Roots N Blues, there is no way you'll leave disappointed. 
Related stories