Driving along Walnut Street in downtown Columbia, you might have passed by a new wing restaurant that offers flavors many mid-Missourians have never seen before.
Wicked Asian Wings is a late-night wing joint that opened last November. It serves Asian-style wings from different regions and sides such as fried rice, egg rolls and french fries.
Owner Sophal Sam, 48, says he never imagined opening a restaurant when he immigrated to Columbia in 1986 as a 12-year-old refugee from Cambodia. After high school, Sam moved to Atlanta to learn how to do nails. "My mom and dad were going to force me to work in a factory," he says. "That's the reason why I left Columbia."
At age 21, he wanted to open his own nail salon in Jacksonville, Florida. But five years later, Sam had to return to Columbia to take care of his parents.
When he returned in 2000, he decided to open Florida Nails. He now owns two locations, one on Forum Boulevard and one on Broadway. He intended to open a third nail spa on East Walnut Street, but he decided to go a different direction.
"Something didn't happen the way I wanted it to, and we went with Plan B," Sam says. "That was the wings."
Sam got the idea for a new kind of wing place when he was getting tired of traditional American-style wings.
"I was next door to Wing Stop, and they always serve me dry wings," Sam says. "When I asked the manager why it took so long, they said because it was frozen."
Sam then decided to ask his friends from different backgrounds for inspiration for his sauces. "One day, I was like, 'You know what? I'm going to call all my friends — who's Chinese, who's Japanese, who's Korean — I'm going to call my friends to send me their best recipe,'" Sam says. "They all taught me their own unique skills, so I kind of made my own pattern, my own ingredients, to enhance it."
And thus, Wicked Asian Wings was born. Sam steam cooks the wings halfway, marinates them in the different sauces for 24 hours, deep-fries them and coats them again with sauce. Wicked Asian Wings has 12 sauces including Asian zing, honey teriyaki, mango habeñero and barbecue. Sam's personal favorites are spicy Korean and spicy Thai.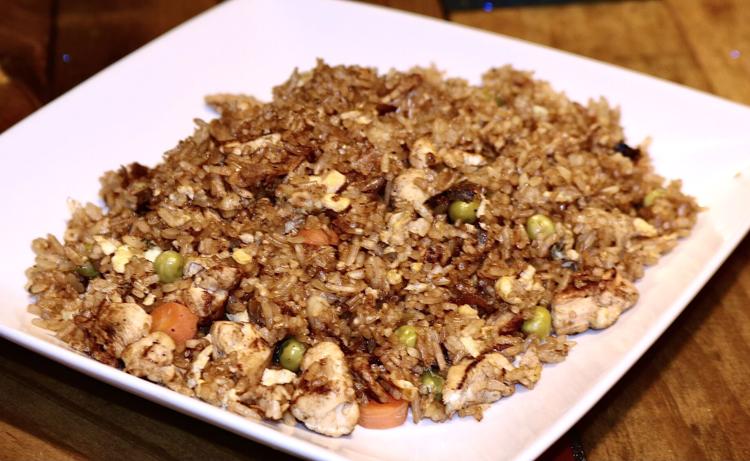 "By the time we serve to you (from) the deep fryer, you have the inside flavor and the outside flavor," Sam says.
The learning curve was steep at first for the first-time restaurant owner. Sam couldn't put up a real sign above his restaurant until the city of Columbia gave approval in January. Before the sign, not many people realized the space was open for business, so most of his customer base came from word-of-mouth. Sam even painted the restaurant name, hours and menu onto the windows to attract businesses.
"Nails and restaurants are two different worlds," Sam says. "Trying to get the word out was the toughest thing. It looked like you were the crazy man barking at somebody trying (to say) 'This is a restaurant.' "
Rickey Christian, long-time friend of Sam and an employee at the restaurant, recognizes the effort Sam has put into advertising. "A lot of it is due to (Sam)," he says. "He would march around, go to parking lots, hand cards to everybody, catch people walking past here if he's ever over here."
Business has still been slow these first few months, but with his new sign and more people noticing the restaurant, Sam says he hopes to be able to share his flavors and open people's minds to a different kind of chicken wing.
For now, Sam says he wants Columbians to taste his vision of what sets his wings apart from traditional wings. "I hope they open their eyes and see how different we are," he says. 
Related Stories