Argue all you'd like, but it's an established fact that New York is home to the best bagels on the planet. What you might not know is that the Empire State also boasts the best breakfast sandwiches. 
When I moved to Columbia from New York as a freshman at MU, I made it my quest to find a dish that could fill the bacon-, egg- and cheese-shaped hole in my heart. I gave up after numerous disappointing attempts. 
Alas, I was younger then. I was weak in spirit. Three years later, I am fortified and ready to try again. So here it is — a list of Columbia's best breakfast sandwiches, tested and ranked accordingly by yours truly, a New Yorker (now happily landlocked in Missouri).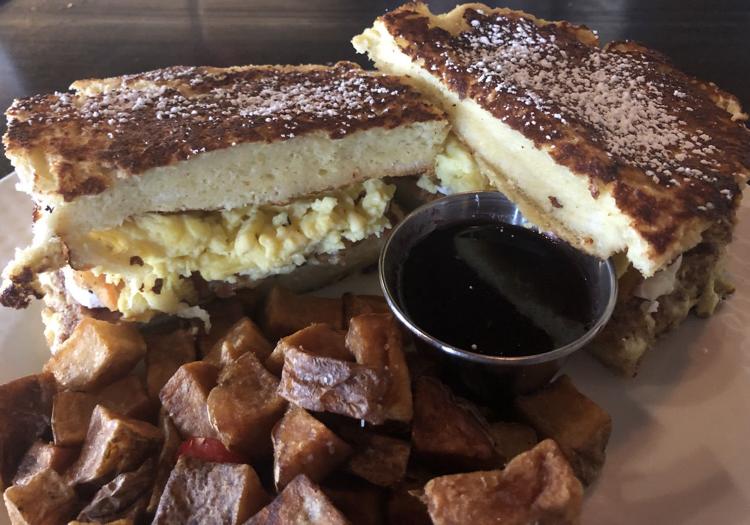 The sandwich: Breakfast Monte Cristo, $11.99. Eggs, bacon and brie cheese in a French toast sandwich. Served with a side of berry syrup and sprinkled with powdered sugar. 
My thoughts: When I first read this on the menu, I thought, "This is what dreams are made of." I was met with disappointment. There's a lot of potential here, but the proportions are off. All I could taste was that heavy French toast, not enough of the bacon and brie. But, sure, I'll admit it: That berry syrup is delicious.
Visit: 3915 S. Providence Rd. Mon.-Sat. 11 a.m. to 10 p.m., Sun. 10 a.m. to 10 p.m. Breakfast Monte Cristo available only on Sundays, 10 a.m. to 3 p.m.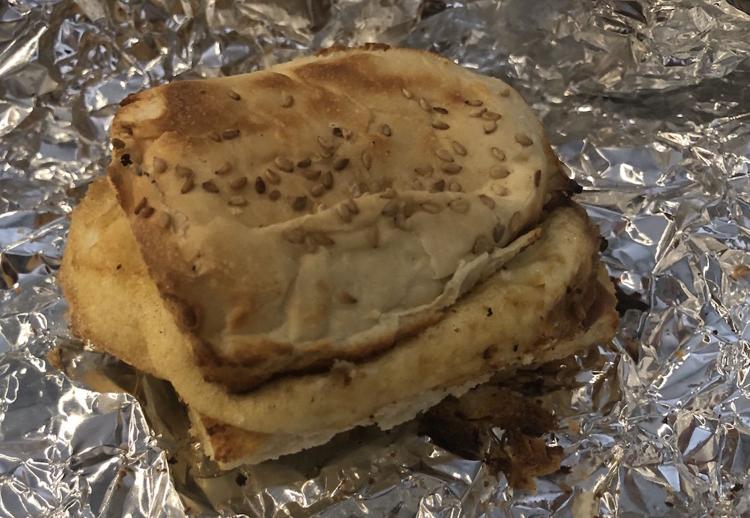 The sandwich: Bacon, Egg & Cheese, $2.68 for 1/4 of a sandwich. The classic bacon, egg and cheese on toasted bread.  
My thoughts: What's up with the sizing? It's nice to have options if I don't want a full sandwich, but why ruin breakfast with fractions? Otherwise, the sandwich was okay — just okay. The cheese wasn't melted enough, and the bread was toasted unevenly. Sub Shop? Subpar, sadly. 
Visit: Multiple locations, Mon.-Thurs. 7:30 a.m. to 10 p.m., Sat.-Sun. 9 a.m. to 10 p.m.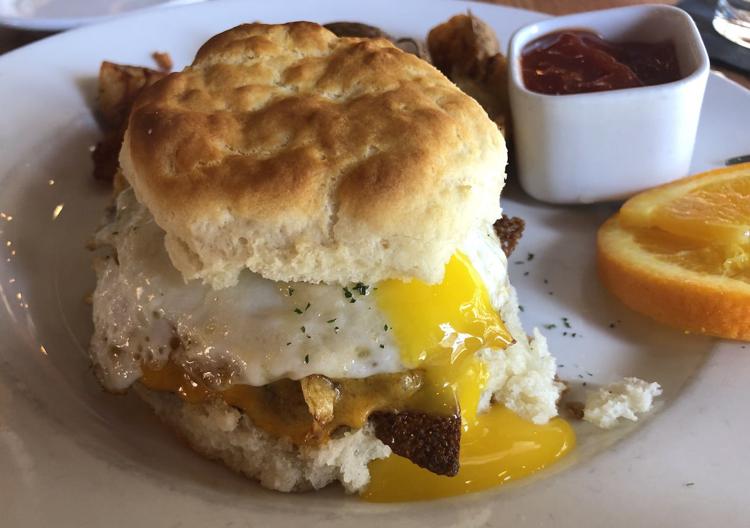 The sandwich: Breakfast Biscuit, $12. Sausage, fried egg and cheddar cheese on a buttermilk biscuit. 
My thoughts: The biscuit was crumbly and too small for the contents it was trying to hold, so too much of my breakfast fell apart and stuck to my fingers. The fried egg was yummy (but hard to mess up), and as for cheese, I could have used a more generous helping. While I'm roasting this sandwich, the sausage patty was a bit too dense. 
Visit: 29 S. Eighth St., 7 a.m. to 11 p.m. Breakfast Biscuit available weekdays from 7-11 a.m.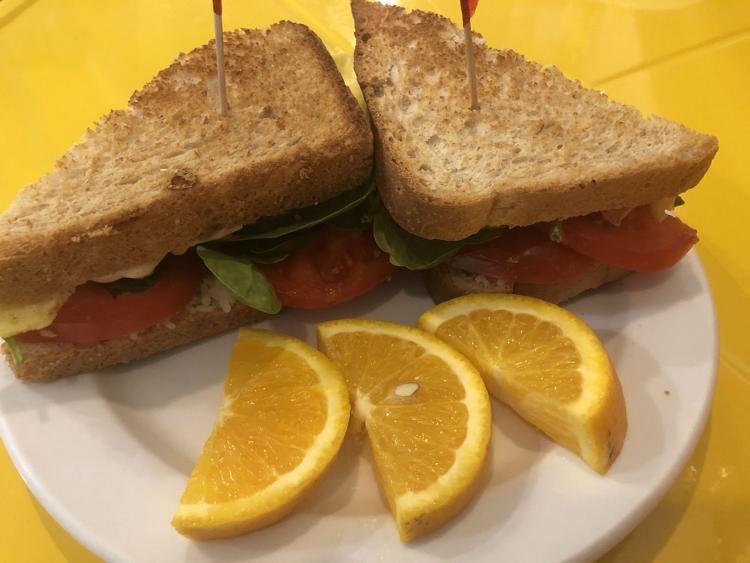 The sandwich: Egg Sandwich, $9. Eggs, cheddar, spinach, tomato, onion, avocado and chipotle mayo on wheat toast. 
My thoughts: This is the most nutritionally balanced option in Columbia, as far as I can tell. But if I'm going for a breakfast sandwich, I'm probably not too worried about my calorie count for the day. That aside, I was pleasantly surprised by Main Squeeze. The avocado and chipotle mayo combine for a delicious spin on the traditional sandwich, and the sausage- and bacon-less bite means vegetarians get to chow down, too. The dish is, however, very messy. About half of the contents fell onto the plate. 
Visit: 28 S. Ninth St. Mon.-Sun. 8 a.m. to 8 p.m.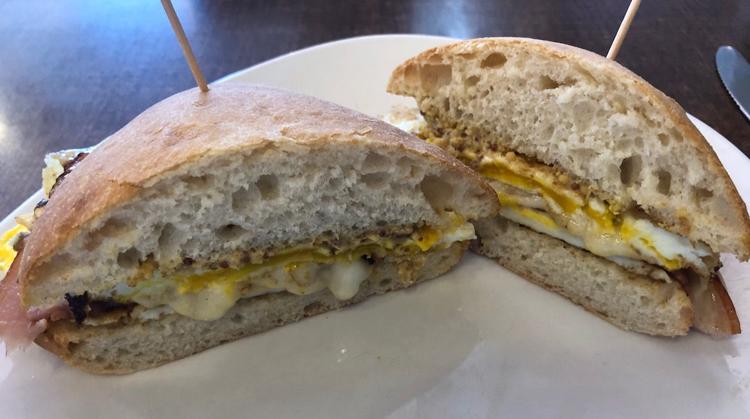 The sandwich: Breakfast Sandwich, $6.49. Fried egg, country ham, Swiss cheese and grain mustard on ciabatta. 
My thoughts: Ciabatta bread tops the list of foods I love. You'll be hard-pressed to find a more delectable sandwich bread. Therefore, Kaldi's was set up for success. I was surprised by how much I enjoyed this one, given I don't usually like ham. But the mustard- and egg-smothered meat made for a tangy, savory mouthful. But beware that tang if you're not a mustard fan; it can be a little overpowering. 
Visit: 29 S. Ninth St. #1, Mon.-Fri. 6 a.m. to 10 p.m., Sat.-Sun. 7 a.m. to 10 p.m.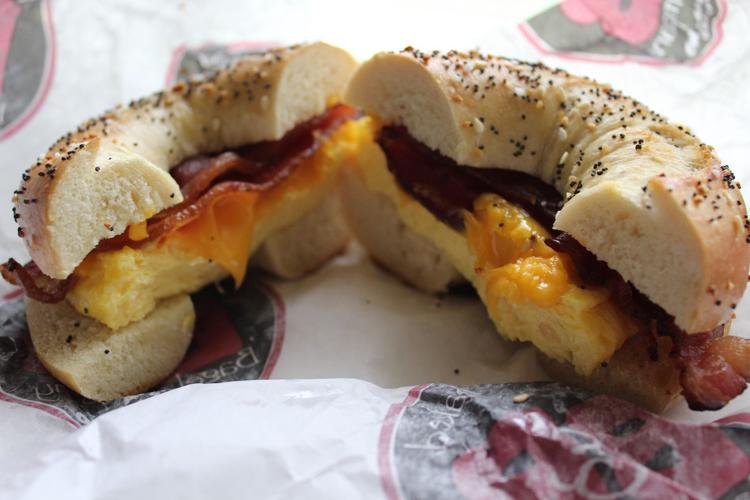 The sandwich: Egg'wich, $4.09. Your choice of accompanying meat and bagel. 
My thoughts: I went with bacon and an everything bagel, which I recommend because it adds a nice dose of saltiness. The eggs are fluffed to perfection, and the ingredients are well-proportioned. But the bagel itself? There's not enough! I was craving another ten bites after the sandwich had already disappeared. I guess that's a sign B&B knows what it's doing. 
Visit: 124 E. Nifong Blvd. Mon.-Sun 6 a.m. to 3 p.m.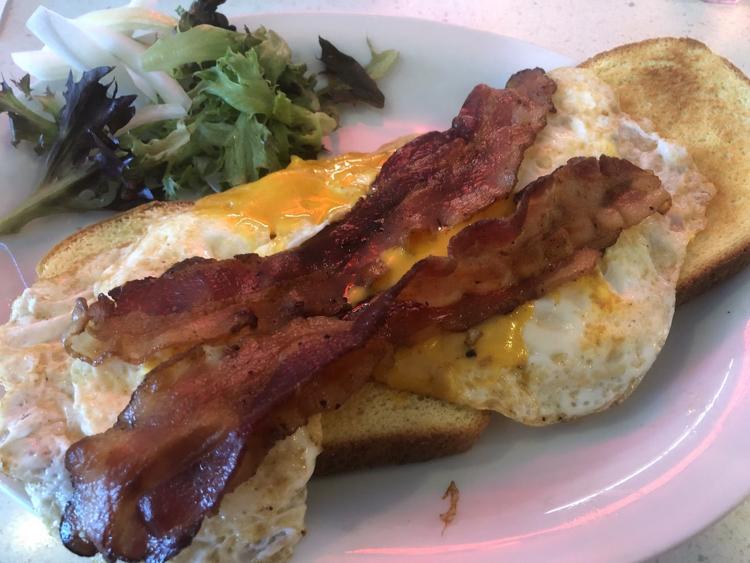 The sandwich: No. 1 Egg Sandwich, $5.99. Your choice of meat, cheese and bread.
My thoughts: Another pleasant surprise. I opted for bacon, cheddar cheese and white toast. This was the biggest and most filling sandwich of the bunch. The buttery toast gives it a home-cooked taste. And of course, everything is more delicious when eaten in a diner setting. 
Visit: 1005 E. Walnut St., Mon.-Sun. 6:30 a.m. to 2 p.m.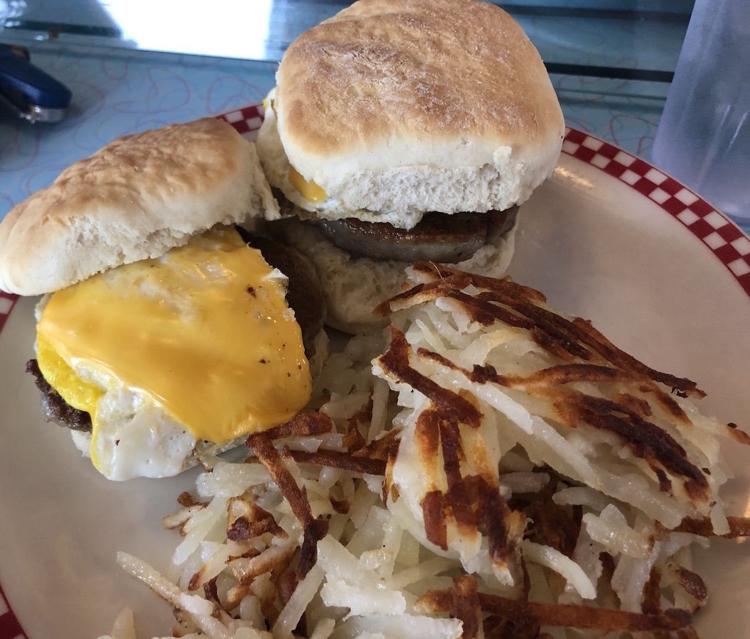 The sandwich: Sausage, Egg & Cheese Biscuit, $6.30. It's all in the name. 
My thoughts: This actually comes with two small biscuit sandwiches and hash browns, so it's the best value meal. I'm normally not a fan of biscuit sandwiches (too messy), but there was something special about these. They stayed intact in your hands but melted in your mouth. Plus, the meat, egg and cheese were all cooked to perfection. 
Visit: 22 S. Fourth St., Mon.-Tues. 5 a.m. to 3 p.m., Wed.-Sun. 5 a.m. to 9 p.m.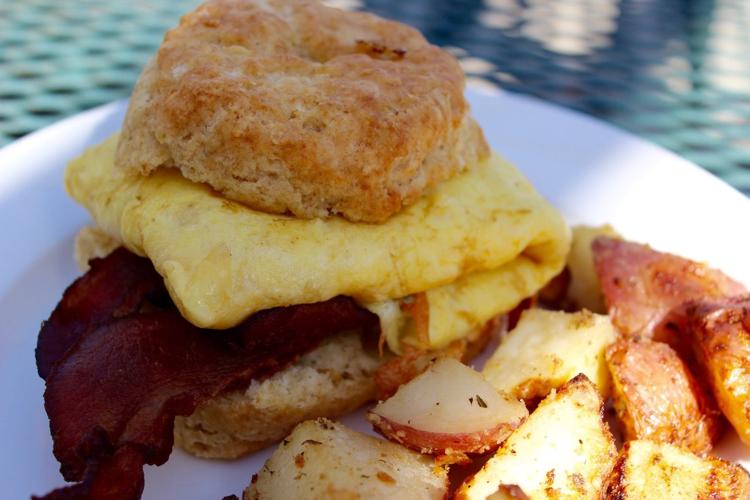 The sandwich: Biscuit and Egg Sandwich, $8. Your choice of meat. (Cafe Berlin has a couple different breakfast sandwiches on the menu, but this is the most classic iteration.)
My thoughts: They say you'll fall in love when you least expect it. Suffice to say, I didn't expect Cafe Berlin to be my favorite, but here we are. I recommend bacon and white cheddar as your sandwich fixings. The cheese is melted and folded into the scrambled eggs — pure art. The side potatoes were so well-seasoned that I didn't need ketchup or hot sauce. In summary, life-changing. 
Visit: 220 N. Tenth St., Mon-Sun. 8 a.m. to 2 p.m. 
Related articles