"Chim's is back," proclaim two disconnected signs pasted in the window of a tiny first-floor restaurant space in Alley A. Slotted alongside Kampai and Shortwave Coffee, Big Mama Chim's Noodle House is owned and operated by the same crew behind the 16-year Cooper's Landing staple Chim's Thai Kitchen. The new noodle house opened on Oct. 17. 
Pantipa Wadtananussorn, part owner of Chim's Thai Kitchen, has flitted around the company on and off since its inception. "My daughter was 2 years old at the time (the business opened), and now she is 18," she says. This family-owned and -operated business started as a food trailer set up beside the Missouri River.
Wadtananussorn and her mother, Pramuan "Chim" Duncan, are from Thailand. Duncan is the matriarch, the woman who runs the show, earning her the title of "Big Mama." She loves to cook, so it made sense that the food trailer — now a camper — would turn into a hit. The Cooper's Landing location, however, is only open seasonally, usually running from April to October unless the warm summer weather drifts deeper into autumn.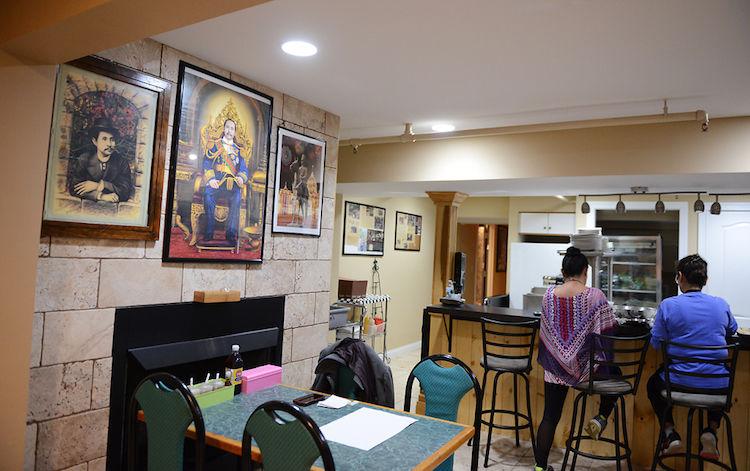 Pad thai and curry dishes are favorites at Chim's Thai Kitchen, but the new location will include a tweaked and updated menu. For instance, the noodle house will not have a lot of stir fry or deep-fried options. Instead, dishes will spotlight soups, noodles and curry. 
Although the condensed location only has space for three tables, Duncan and Wadtananussorn are considering playing with their nightly hours. Given that many restaurants downtown lock their doors before the bars close up for the evening, the Chim's duo see a golden opportunity for building a late-night customer base. Who wouldn't want a full Thai meal after a few beers? "If it doesn't work (to extend our hours), then we won't," Wadtananussorn says. "We might close and then open back up at midnight." 
Columbians eager to try the new spin on Chim's started noshing at 11 a.m. on Oct. 17. The noodle house will stay open until 11 p.m. The rest of the week's business hours are still in development, but the owners encourage interested eaters to check the Facebook page for updates.