It's not always clear what "soul food" really means. Is it synonymous with Southern food? Is it a subset of Southern food? Is it catfish, collard greens and cornbread? Is it uniquely or historically Black?
In The New York Times, Todd Richards, author of SOUL: A Chef's Culinary Evolution in 150 Recipes, says soul food is a Black art form passed down like a good story; it is a "gospel, and chefs are its preachers."
But Virginia Willis, author of Secrets of a Southern Table, offers a different perspective on soul food in the Times.
"Down here," says Willis, who is from Georgia, "I don't see the food being specifically black or white. It's more a question of who is doing the cooking. And that has a lot of complicated answers."
In an editorial for Delish, Chef Millie Peartree says the definition of soul food is changing. She explains that during the Transatlantic Slave Trade, enslaved Africans were given low-quality food rations. Think: beans, greens, cornmeal.
African people found many ways to use what they had, and that adaptability is found in soul food today. Pork, Peartree writes, is a common ingredient in soul food and is used for anything from seasoning vegetables and stews to dehydrating and pickling pork rinds and pig feet and ears.
But, she says, Black people "shouldn't have to take the brunt of a stigma that was brought to our front door." She points out that fried chicken actually came to the U.S. in the 1900s with Scottish immigrants, and the ancient Greeks grew kale and collards without making a distinction between them. But Black people did.
"I believe we have evolved, though, in the ways we use some products," Peartree says. "I believe the definition of soul food has expanded and should also come from the heart."
Vox, keeping in mind that the definition of soul food is always changing and should come from the heart, asked three local chefs what feeds their soul.
Big Daddy's BBQ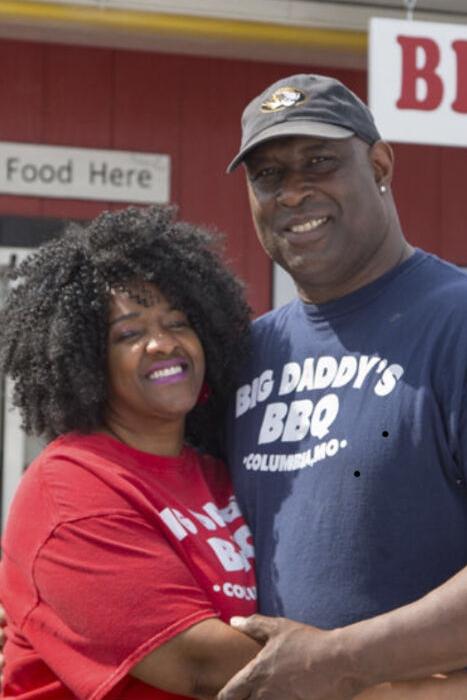 Husband and wife Fontella and Lloyd Henry have owned Big Daddy's BBQ for five years. Fontella opened the business after retiring as a police officer. The only store-bought menu item is the French fries — everything else, even the seasonings, is homemade.
"My best memory here are my customers and them coming back and telling us how much they enjoyed it, sharing their experiences with somebody and it just builds the business," Fontella says. "We hear those things, and that means more than the cash coming in the door. "
What feeds Fontella's soul: Catfish and spaghetti and meatballs. "It's soul food," she says, "The first time I ever made some spaghetti, I made it for some of my police friends. I had them over to our house and we had catfish and spaghetti and meatballs.... It's just heritage, and that's the way my mom cooked and that's the way her mom cooked and our grandparents and so on."
Don't miss: Beef Brisket ($8.50).
Location and hours: 1205 N Garth Ave. Open Wednesday through Saturday from 11 a.m. to 7 p.m. from March 15th to November 1st. 
Mr. Murphy's Stuffed Potatoes
Mr. Murphy's Stuffed Potatoes, as its name suggests, specializes in stuffed spuds and nachos. Jheron Nunnelly has owned the food truck for a year.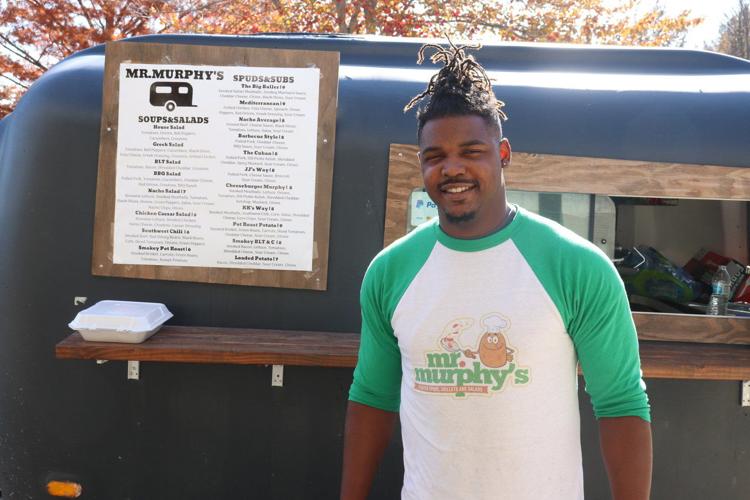 "The goal is to have a restaurant and have it family-run," Nunnelly says. "My son wants to do this. I just want people to know that there's a route besides basketball and music and everything else. Think outside the box. I don't want people to think that we have to fall into a stereotypical job." 
What feeds Nunnelly's soul: "When I think of soul food, I think of food that might not necessarily be good for you but it's good for your soul," Nunnelly says. That attitude applies outside his business. "At home, I feed my biggest critics — my kids. One meal they never complain about is my Nacho Average on house-made chips. Nachos are always a go-to in our house, but the house-made chips are a bonus for the kids."
Don't miss: BBQ Spud with Pulled Pork ($10) - Potato piled high with barbecued pork.
Location and hours: The food truck travels around mid-Missouri, so location and hours vary. See Mr. Murphy's social media for updates.
Papadoo's Soul Food & BBQ
Papadoo's has been running for two years with Joshua Williams in charge. The owner's inspiration for his food comes from his background in Louisiana and Texas.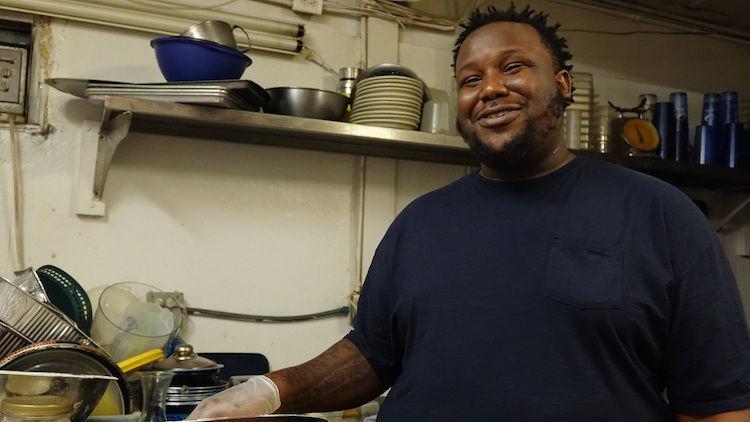 "I had pretty much nothing when I came here from Texas," Williams says. "I like to show people where I'm from you can make it in Dallas, you can make it in the hood, you can make it anywhere. You can fulfill your dreams." 
What feeds Williams' soul: "When I'm cooking I think about everybody," he says. "I think about my grandma. She was a big person on influencing me on how to cook. She cooked everything every day.... Everybody stopped by her house once a day because you knew she had food on the stove. I like to be that person you go to when you're hungry and you don't know what to eat. Granny always had that one thing all the time."
Don't miss: Oxtails ($15).
Location and hours: 904 Business Loop 70 E. Open Monday through Saturday from 11 a.m. to 6 p.m. 
Ms. Kim's Fish and Chicken Shack
Ms. Kim's Fish and Chicken Shack specializes in soul food based on family recipes dating back six generations. The owner, Kimberly Perry, explains why she chose to serve it.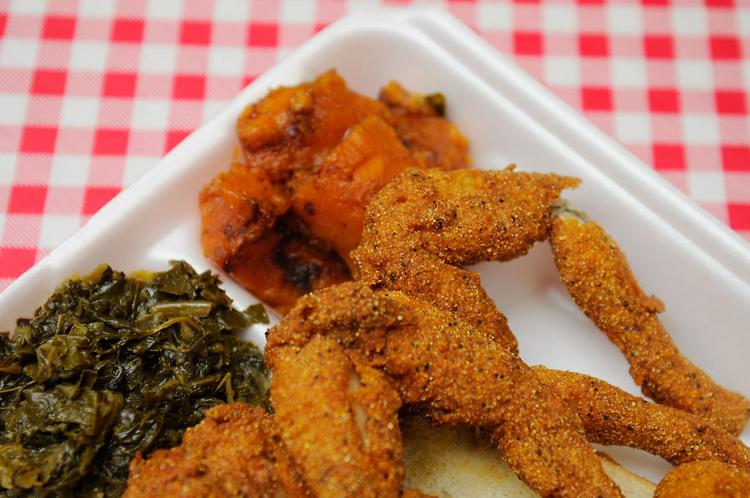 "My fondest memories are my grandfather catching bluegill and buffalo or carp and he would filet them and we would eat them for dinner," says owner Kimberly Perry. "We would even eat fish for breakfast. Me trying to keep my family traditions alive helps my customers remember theirs.... Family is what has made this restaurant."
What feeds Perry's soul: With the restaurant closed for now, Perry is still working hard at her home kitchen. "My most popular dish lately is fried chicken," she says. "Even chicken and noodles, chicken and rice, baked chicken. I was taught how to make oven-fried chicken, which is awesome."
Don't miss: Collard Greens ($4.99 for a pint, $1.99 for 6 oz) 
Location and hours: COVID-19 took a toll on the restaurant, and Ms. Kim's was forced to close due to high rent. The restaurant will reopen soon at a different location once the family finds a place.
Related Articles