Chicken patties. Fillets. Tenders. Wings. But one stands above them all. That's right. I'm talking about chicken nuggets — the ultimate fast-food item that has pecked its way into our hearts. But now, we're faced with a dilemma, one that has been the cause of many a sleepless night for fast-food fanatics everywhere such as myself.
But no more.
Seeing as chicken nuggets are my main food group, I took it upon myself to bring peace to every chicken-lover's mind. I enlisted two of my roommates, and we went out and found the top five fast-food chicken nuggets to compete in the ultimate fast-food showdown that I like to call The Chicken Nugget Olympics, if you will. But what are chicken nuggets without their irresistible counterpart, french fries? You heard me. Not only did I go for chicken nuggets gold, but I also put fries to the test. 
Here's how it'll work:
Both nuggets and fries will be judged on both their crispiness and their flavor
Each nugget will be given a score out of five chickens (🐔) — the more chickens a nugget has, the better it is
Each fry will be given a score out of five potatoes (🥔) — again, the more potatoes a fry has, the better it is
Included prices are based on Columbia, Mo., locations and might vary by restaurant
McDonald's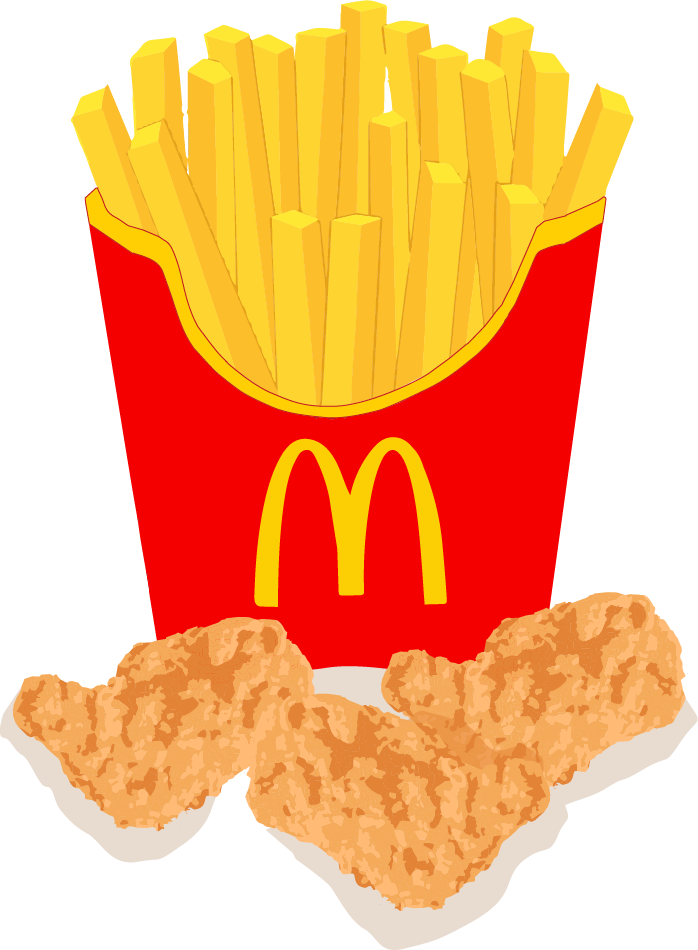 These are the traditional fast-food nuggets that everyone craves, and that, for nugget-lovers like myself, have always been thought of as the epitome of the fast-food nugget. However, after many, many years of eating McDonald's McNuggets, I find more and more that they don't possess the crispiness I look for in a nugget. However, the flavor is pretty much irresistible, and this is a nugget I go to time and time again.
Crispiness: 🐔🐔🐔
Flavor: 🐔🐔🐔🐔
Price: $1.49/4 nuggets
You know them, and you love them. McDonald's fries are some of the most classic fries you could get. The skinny, salty fry melts in your mouth and leaves you wanting more. Pro tip: dip McDonald's fries in its Signature Sauce for a flavor explosion.
Crispiness: 🥔🥔🥔🥔
Flavor: 🥔🥔🥔🥔
Price: $1.39/small
Wendy's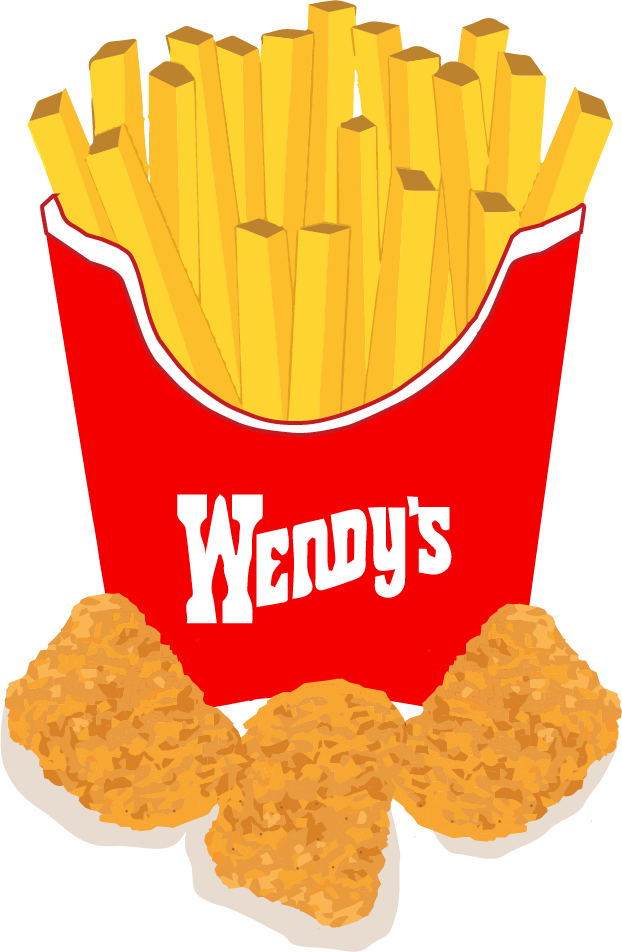 The last time I had Wendy's chicken nuggets, I was probably under the age of 10. Because of this, I had the idea that Wendy's nuggets were nothing special. This is the most untrue statement that has ever been written. Wendy's nuggets are completely underrated, beautifully crispy and extremely flavorful. Why I haven't been eating Wendy's nuggets my entire life, I'm not sure. In my opinion, this is the example of a perfect nugget. Not only that, but when you dip the nuggets into Wendy's ranch — it's unreal.
Crispiness: 🐔🐔🐔🐔
Flavor: 🐔🐔🐔🐔🐔
Price: $1.79/6 nuggets
Again, I think Wendy's as a whole is underrated. Not only are the nuggets out of this world, but the fries are also perfectly crispy as well. They have a certain flavor that I can't quite put my finger on, but it makes them so much better and pairs perfectly with the nuggets.
Crispiness: 🥔🥔🥔🥔
Flavor: 🥔🥔🥔🥔
Price: $1.69/small
Burger King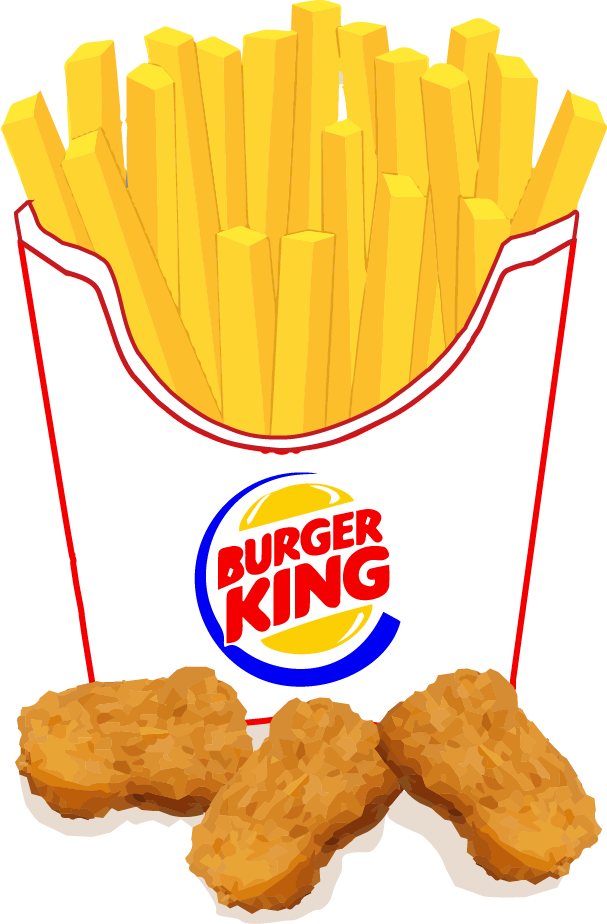 Ok, I'll be honest. I have never been a fan of Burger King, and this experiment showed me why. It was a unanimous opinion among the chicken nugget taste-testers that these nuggets had the consistency of a rock-hard sponge and the flavor of, well, there was no flavor. These bland nuggets are not what I would want from my chicken nugget.
Crispiness: 🐔
Flavor: 🐔🐔
Price: $1.19/4 nuggets
The same principle applies for the fries. They had no crisp and really no flavor. I wish I could say they were delicious, but what would I be if I lied to all the french-fry lovers of the world? 
Crispiness: 🥔🥔
Flavor: 🥔
Price: $1.99/small
Jack in the Box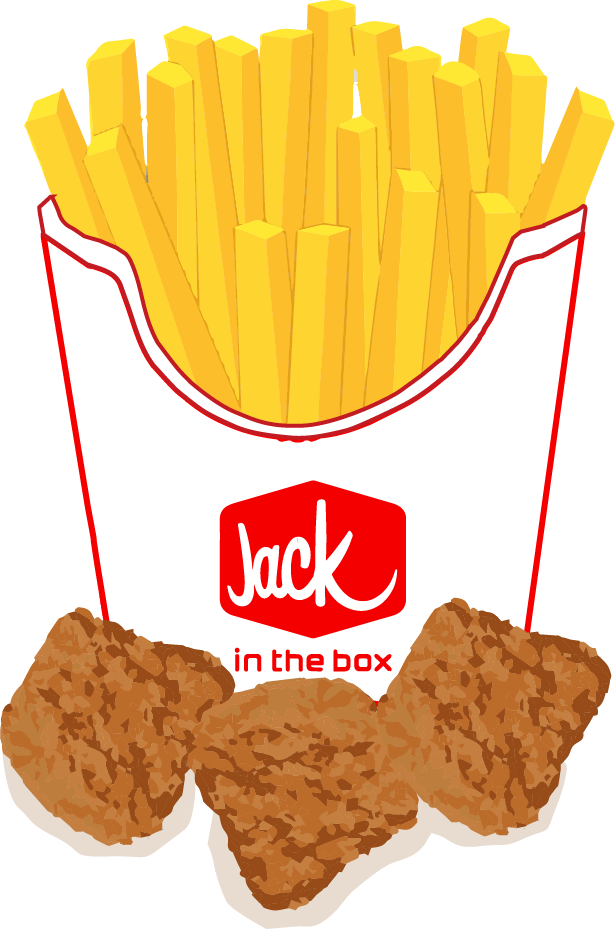 The last time I went to Jack in the Box, it was with an ex-boyfriend so he could buy a Munchie Meal, which is exactly what it sounds like. A meal for someone with the munchies with one of these meals including a grilled cheese-hamburger duo, but that's a story for another time. With that context, I assume you can forgive my lack of high hopes for these nuggets and fries. After eating a nugget, I realized they mostly met my expectations. Not very crispy, average flavor, overall not a great nugget.
Crispiness: 🐔🐔
Flavor: 🐔🐔🐔
Price: $1.74/5 nuggets
The lackluster nuggets gave me little hope for the Jack in the Box fries. However, I ate two at a time and BOOM. Beautiful crispiness and flavor that was almost as beautiful. Why had I never had these fries before? I was honestly shocked at how good these french fries were. Would definitely recommend them. The Munchie Meal does, in fact, come with fries if the grilled cheese-burger sounded appealing.
Crispiness: 🥔🥔🥔🥔🥔
Flavor: 🥔🥔🥔🥔
Price: $1.99/small
Chick-fil-A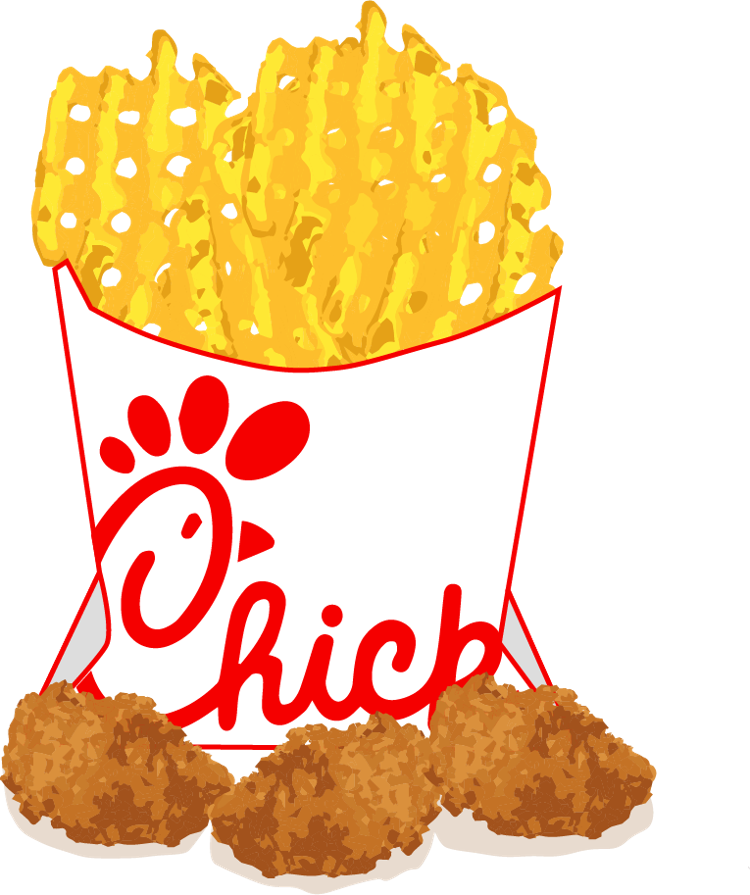 I'll be honest. Before these Olympics began, Chick-fil-A was my projected winner across the board. They are a go-to for me, and ironically enough, I always seem to want Chick-fil-A on a Sunday. Tragic, I know. These nuggets are a perfect golden brown, but I've found that normally they aren't as crispy as I would like. I think that this is made up for in the flavor though because the flavor of these nuggets is absolutely gold medal-worthy.
Crispiness: 🐔🐔🐔
Flavor: 🐔🐔🐔🐔🐔
Price: $1.88/4 nuggets
We all know Chick-fil-A fries as champion of the fast-food industry. These waffle fries are everything you could ask for and more. They're crisp, they're salty, they're amazing. If you dip them in Chick-fil-A Sauce, it takes it up another notch. Not much more needs to be said about these fries; Chick-fil-A has the process down to a T.
Crispiness: 🥔🥔🥔🥔
Flavor: 🥔🥔🥔🥔
Price: $1.69/small
Other Chicken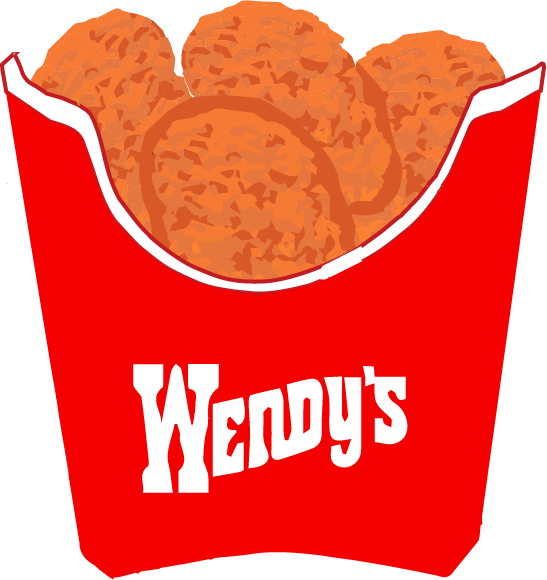 Wendy's Spicy Nuggets
This might be a hot take, but I was not a fan of the infamous Wendy's spicy chicken nuggets. The consistency was just like bad dino nuggets — you know exactly what I'm talking about — and I thought they were too spicy for how little flavor there was. These nuggets have taken the social media world by storm, and although I had heard great things about them, they fell flat. I would rather eat regular nuggets from Wendy's.
Crispiness: 🐔🐔
Flavor: 🐔🐔
Price: $1.79/4 nuggets
Burger King Chicken Fries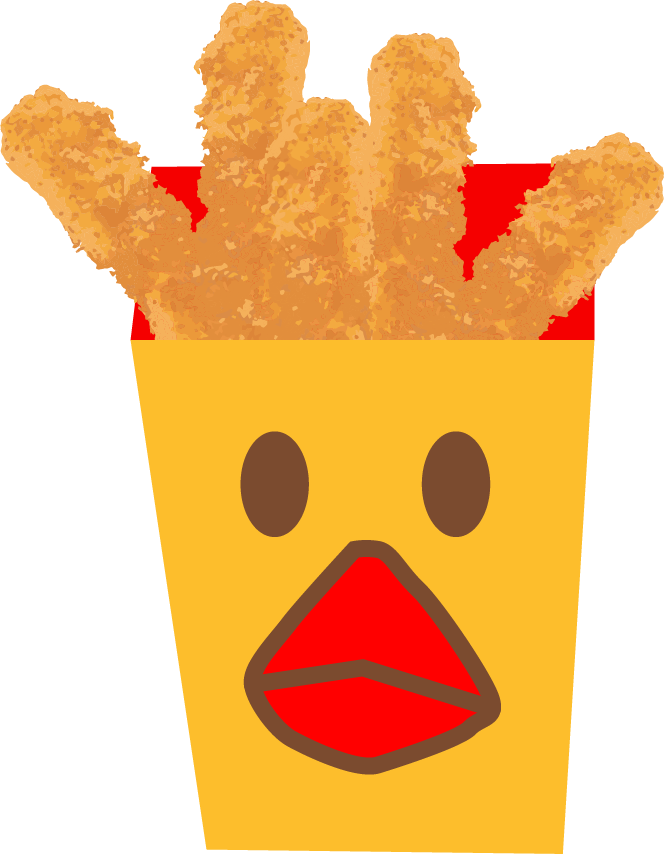 I really thought I knew what to expect going into ordering these chicken fries, but I was wrong. I expected them to be bland, but they were just the opposite. In fact, they had too much flavor. My roommates and I came to the conclusion that they tasted like frozen chicken tenders that someone had reheated and then sprinkled an overwhelming amount of seasoning. So, they had flavor; it just wasn't very good. Maybe how good these are depend on the specific Burger King location you go to, but I feel like it might be a sign that chicken belongs in nugget form.
Crispiness: 🐔🐔
Flavor: 🐔🐔🐔
Price: $5.29/small
Chick-fil-A Grilled Nuggets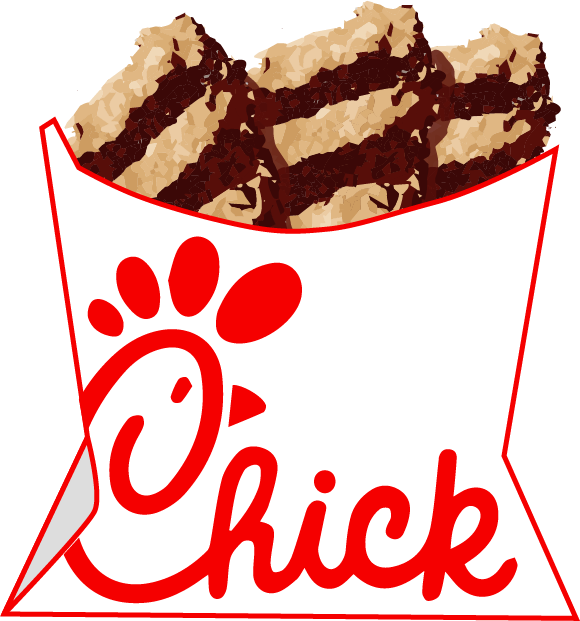 I had never had the Chick-fil-A grilled nuggets, and I was very excited to try them. As soon as I ate one, I felt like something was backward. I was eating a chicken nugget from Chick-fil-A, but it wasn't the classic fried nugget. The crispiness rating is low because, well, they're grilled and aren't supposed to be crunchy. The flavor, however, made up for lack of crust as they were very good. It seems that Chick-fil-A really does have this chicken thing figured out. Who would've guessed?
Crispiness: 🐔🐔
Flavor: 🐔🐔🐔🐔
Price: $2.28/4 nuggets
TOTALS
After tallying the combined basic chicken nugget and fries scores, we have a final ranking:
5. Burger King, 6 points
4. Jack in the Box, 14 points
3. McDonalds, 15 points
2. Chick-fil-A, 16 points
and finally, the winner of the Chicken Nugget Olympics, with a total of 17 points ...
Wendy's.
When reflecting upon this experience, I was shocked that Wendy's ranked higher than Chick-fil-A. I was expecting Chick-fil-A to blow the competition out of the water, but that was not the case. I am very pleased to announce that Wendy's has been crowned the ultimate chicken nugget.
I want to take this time to thank all those who have supported me through my chicken nugget journey. I'd like to thank the Academy, my fans and, most of all, my parents. Thank you for allowing me to eat enough chicken nuggets to be qualified to rank these fast-food nuggets.
Here's to hoping you'll take these nuggets of advice.
Related stories