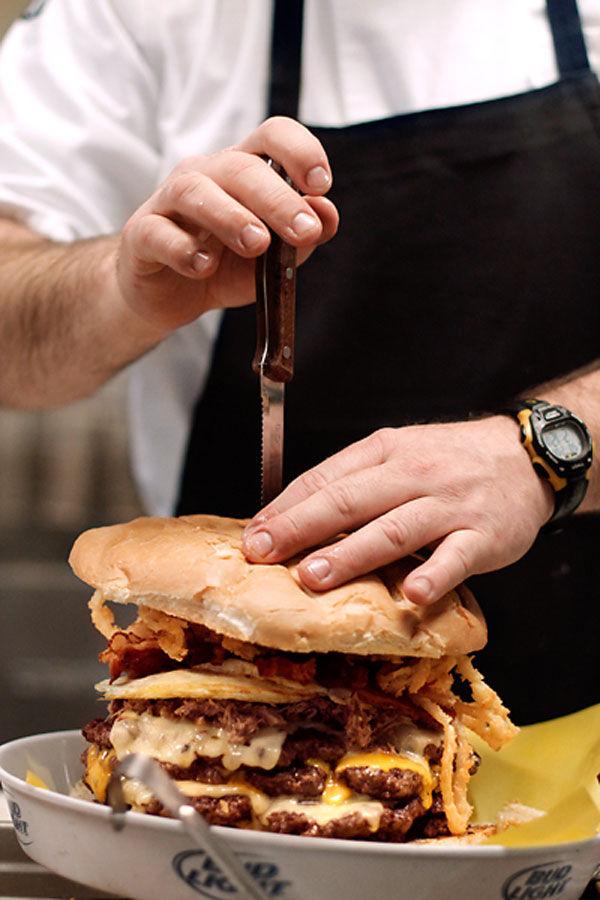 *CORRECTION: The Wall of Flame challenge at the Lee Street Deli has a 20 minute limit to complete the challenge to get money back. An earlier version of this article mentioned all eight Flaming Penguins had to be consumed in less than 30 minutes.
By Ted Hart
Adam Richman of the Travel Channel's Man v. Food fame has eaten his way across America in his search for the country's biggest and baddest eats. In three seasons of the show, Richman has stopped to challenge Kansas City's and St. Louis' most memorable fare. But on his cross-country quests, Richman has yet to film a show in Columbia.
It's about time someone asked, "Adam, why not?"
Sure, Kansas City has barbecue, and no one will fault St. Louis for toasted ravioli, but someone needs to pay Columbia's grub its due. This city boasts a pizza with the girth of Gwyneth Paltrow's character in Shallow Hal and a special type of sloppy Joe.
Some of these challenges have a storied history in Columbia while others are up-and-comers already making their mark on the city's residents who are neither faint of heart nor constitution. Either way, if Richman's looking for a challenge, this town has one waiting.
And for those Columbians wanting to attack some of these behemoth dishes, Richman offers this advice: "Exercise the hell out of your body," he says. "Get your metabolism revved high. Be empty. Be hydrated. Be hungry. And just go for broke because clearly, it's an unnatural act, but that's what makes it so entertaining."
The Hail Mary Challenge
Where: Stadium Grill, 1219 Fellow's Place
When: Sunday through Thursday, 11 a.m. to 11 p.m.; Friday and Saturday, 11 a.m. to midnight
Cost: $49.99
Call: 777-9292
Online: stadiumgrillcolumbia.com
Out of all the challenges Columbia has to offer, this was the one I had to try.
It was pure ignorance on my part to see the description of the Hail Mary Challenge at Stadium Grill and think I would be able to finish it. Joe Collins, manager of the restaurant, probably summed it up best when he told me that I was a little bit crazy for trying the challenge.
I'm not really a big eater. I'm skinny (some would say scrawny), and I don't have my father's Irish constitution for food slathered in bacon and grease. But I am proud. How could I refuse the opportunity to succeed where more than 100 people have failed? How could I pass up the possibility of winning a $50 gift card every month for a year, naming rights for the burger and unbridled glory?
While they were cooking my burger at Stadium Grill, I realized that five pounds of meat (and a pound of fries) doesn't sound that bad — in your head.
But when the burger was finally presented to me, I realized why fraternity brothers work in teams of four to finish the monster.
The Hail Mary is larger than a human head. Nestled between a Frisbee-sized bun, the four discus-sized beef patties are topped with bacon, fried eggs, onion straws, pulled pork and cheddar, American and Swiss cheese. It is listed on the menu as "Unnecessary Roughness," but this doesn't begin to describe the experience.
I decided to just go for broke — literally, the burger cost me $50. And I barely made a dent.
The time wasn't the issue. Contestants have to finish the Hail Mary Challenge in 60 minutes, or as the menu describes it, four quarters. I gave up about 20 minutes into the challenge, only making it halfway through the burger and not even touching the fries.
There's a reason why no one has ever attempted the Hail Mary Challenge twice. No person will be able to stomach that much food. More likely than not, the burger will remain nameless.
The Stretch
Where: Broadway Diner, 22 S. Fourth St.
When: Monday through Thursday, 5 a.m. to 2 p.m.; Thursday through Saturday,
11 p.m. to 2 p.m.
Cost: $5.60
Call: 875-1173
Finishing just one Stretch, a Diner staple consisting of a plate of hash browns covered with two scrambled eggs smothered with chili, cheddar cheese, green peppers and onions, isn't that difficult. Eating multiple Stretches is a different matter.
Until a few years ago, the Stretch Eating Contest was an annual affair at the Broadway Diner during MU's Engineering Week. The record was set by a student who ate 5 3/4 Stretches in fewer than 15 minutes.
The contest is on a semi-permanent hiatus now. Nevertheless, Johnson says some challenge one another to see who can eat the most Stretches after nights out downtown, even without a contest to spur them on.
The Massive
Where: Gumby's Pizza, 1201 E. Broadway
When: Monday through Wednesday, 10:30 a.m. to 2 a.m.; Thursday through Saturday, 10:30 a.m. to 3 a.m.; Sunday,
11 a.m. to midnight
Cost: $18.99
Call: 874-8629
Online: gumbyspizza.com
In the nine years that Gumby's shift manager Jessica Hahn has been working for the store on Broadway, man is 1-1 against The Massive. And like the late-night Stretch eaters, it was a night of drinking that spurred one Gumby's diner to finish an entire Big Ass Pizza in one sitting.
The Massive, or Big Ass Pizza, aptly earns its moniker. A 20-inch 12-slice pizza, the Massive is a popular item to share, especially on Massive Mondays when the price drops to $13.99. However, finishing it alone is a rare feat.
Gumby's employee Robbie Hill bets that the most an average person could finish on his or her own is half the pizza.
"I've only seen one person try to eat the whole thing themselves," Hahn says. "It was after the bars had let out one night. Somebody dared him to do it. And he didn't look so hot afterward."
Blazin' Challenge
Where: Buffalo Wild Wings, 505 E. Nifong Blvd.
When: Monday through Thursday,
11 a.m. to midnight; Friday and Saturday, 11 to 1 a.m.; Sunday, 11 a.m. to
11 p.m.
Cost: $8.99
Call: 441-2244
Online: buffalowildwings.com
Before attempting this challenge, beware: The habanero-based Blazin' sauce used on these wings can eat the corrosion off a penny, says Christina Boehm, Buffalo Wild Wings' franchise marketing manager.
The challenge is simple: Eat 12 traditional wings covered in the spicy sauce in less than six minutes without the aid of napkins, a drink or dipping sauce. The first person to complete the challenge gets the fiery wings for free, and every participant receives a shirt describing the feat as "like walking on hot coals, except you eat 'em."
Around 70 percent of the Blazin' battlers successfully complete the challenge, Boehm says.
With that kind of percentage, anyone should be able to complete it. Too bad that doesn't make the spicy endeavor any more comfortable.
The Wall of Flame Challenge
Where: Lee Street Deli, 603 Lee St.
When: Monday through Thursday, 9 a.m. to 9 p.m.; Friday 9 a.m. to 9 p.m. and
1 to 3 a.m.; Saturday 10 a.m. to
5 p.m. and 1 to 3 a.m.; Sunday,
10 a.m. to 5 p.m.
Cost: $20
Call: 442-4111
Online: williesfieldhouse.com/lsd
When Lee Street Deli's Juicy Burger has its spice amped up with pepper Jack cheese, Willie's hot sauce and jalapeños, it becomes a Flaming Penguin. Although the name might be a little misleading, the ingredients give away the fact that this dish is no arctic endeavor.
A participant must eat eight of these flaming Juicy Burgers in 20 minutes — and be able to keep the food down for five minutes after finishing — in order to successfully complete the challenge.
If victorious, the champion gets his or her $20 back, not to mention a T-shirt with flames up the side.
Lee Street Deli employee Brandon Sanborn created the challenge but is only able to finish six of the Flaming Penguins himself.
"We knew it was a good challenge if he couldn't get through all eight," Lee Street Deli manager Randy Laughlin says.
The challenge began on Valentine's Day, and two participants have already decimated all eight burgers. The fastest of the two, MU senior Lou Groff, completed the challenge in 10 minutes and 50 seconds.
"I woke up hungover one day, and I decided to go down there and try to break a record," Groff says.
He might have been able to hold this challenge down for the requisite five minutes, but when he got home it was a different story.
After trying to keep it down, the hangover and the eight sandwiches finally caught up with him. "Come hungry," he says. "You definitely won't leave happy."
Groff's reaction to the Flaming Penguins might just underscore why Richman says that these challenges are completely unnatural.
Richman encourages challenge attemptees to exercise regularly and eat well: "If you don't know how to cleanse your body, and if you don't know what you're doing, it will stay with you for much, much longer," he says.
But taking on these massive eats sure is fun — at first.
I have it on good authority that the morning after trying to eat a 6-pound burger isn't pretty, but I wouldn't take back a single bite of the "Unnecessary Roughness." I might even go back after I get in some training and an extra $50 to try to get the Hail Mary christened the Vox Commemorative Burger. So get hungry, get ready, and eat up, Columbia.