The Columbia Farmers Market was named the No. 1 "People's Choice" farmers market in the nation in the American Farmland Trust and Farmers Market Coalition's 13th annual America's Farmers Market Celebration.
The Columbia Farmers Market announced they had won the award in a Facebook post on Sept. 20, where they also revealed that they were named No. 1 in the Midwest and No. 1 in Missouri.
The Columbia Farmers Market started in 1980, sponsored by the Columbia Chamber of Commerce Agribusiness Committee and the University of Missouri Extension Service, according to their website. Their winter market began in 2010, allowing producers to market their products through the winter months. The market is now open year-round at the MU Health Care Pavilion at Columbia's Agriculture Park. Hours depend on the season.
Corrina Smith, executive director of the Columbia Farmers Market, says she was ecstatic that the community has shown so much support for the market.
"I was honored and thrilled to have won that spot," Smith says. "This is our 41st year being open here in Columbia, and being that the Columbia and mid-Missouri community has supported us and continues to come back Saturday after Saturday for all that time, I think it really shows what a strong customer base that we have."
The market pulled in over 10,000 votes in the poll, with the Oxford Community Market in Oxford, Mississippi, taking second place and the Monroe Farmers Market in Monroe, Connecticut, taking third place. 
Anna Meyer, owner of range free, an allergy friendly bakery and café, enjoys going to the market for its wide variety of products.
"I come here for my business," she says. "It's better than what you get at the supermarket."
Smith says what makes the Columbia Farmers Market unique is that they are a producer-only market, meaning that everything sold by the producers has to be made by them. Along with that, everything sold has to be produced within a 50-mile radius, keeping the market as local as possible. The market hosts nearly 80 vendors, selling products ranging from food to crafts.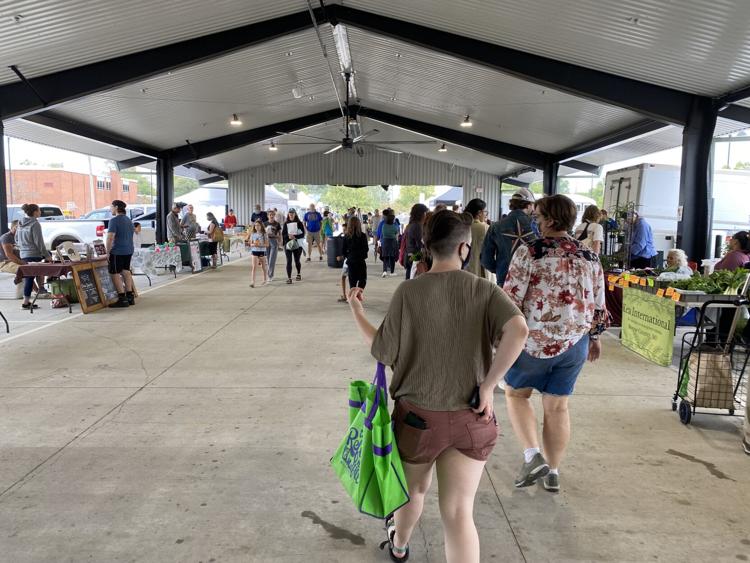 Dan Pugh, owner of Honey Creek Farm, a vendor at the market, is ecstatic that the farm received the recognition. "It's awesome," he says. "It's a pretty cool recognition."
Pugh says his farm started out growing vegetables and raising lambs, which he did for five to six years before also adding prepared foods to his work.
Food relief assistance is also provided to the low-income community, with the market matching up to $35 at every market for individuals receiving Supplemental Nutrition Assistance Program or Women, Infants, and Children benefits. This year, $39,000 has been matched.
"We want everybody to have access to all this amazing food that's being grown here in Missouri," Smith says.
In 2020, the market had to shift gears in response to the COVID-19 pandemic after record-breaking attendance numbers in 2019.
"We took it very seriously," Smith says. "We were constantly adapting and it was challenging, but it was challenging for everybody that was trying to remain open throughout the pandemic." The market implemented curbside pickup during that time.
In the future, wings will be constructed for the pavilion that will allow everyone to be under one roof. Bringing new vendors in is also a priority, which will expose new farmers and food producers to the four to five thousand people who come through on Saturdays. 
"This year has been great for us," Smith says. "We've been breaking records again, so I expect the future will be bright for us."
Related Stories