Most restaurants have classic staples. The chefs carefully craft menus to feed the cravings of their hungry customers, but those menus might never change.
At FlyOver, a new tapas-style restaurant on the south side of Columbia, head chef Adam Wells-Morgan and head bartender Dan Dethrow are working as co-owners to prove that an ever-changing menu creates a unique environment that keeps customers coming back for more.
Wells-Morgan and Dethrow both grew up in Columbia. They've strayed from the Midwest throughout their lives, but they have returned home to create and serve food and drinks they love — that are specifically Midwestern.
"All of our friends called the middle of the country flyover states — like there's nothing worth stopping and seeing — when the majority of their food actually comes from this part of the world," Wells-Morgan says.
While considering locations for FlyOver, the pair wanted to reach a crowd a little bit older than the bar-hoppers downtown. Aiming for customers in their mid-to-late 20s with a love for flavorful eats, Dethrow says their place on Green Meadows Drive has contributed to the new business' success.
One dish in particular has stolen the spotlight at FlyOver: the Bistro Filet. Because Wells-Morgan changes the menu almost daily, opportunities to try the dish are sporadic, and customers grab it when they can.
The Bistro Filet is a particular cut of beef shoulder that is tender and flavorful. Wells-Morgan cooks the meat using a method called sous vide. The technique involves sealing meat and seasoning in an air-tight bag and cooking it in a temperature-controlled water bath, which prepares the entire piece of meat at the same temperature. This imparts a tender flavor and keeps the meat from becoming tough.
The Bistro Filet is then removed from the water bath, basted with butter and thyme, seared and served with parmesan fries, wilted greens and Worcestershire butter. The crisp, cheesy fries complement the rich earthiness of the meat to create a dish that smells like a mixture of fine dining and fried goodness.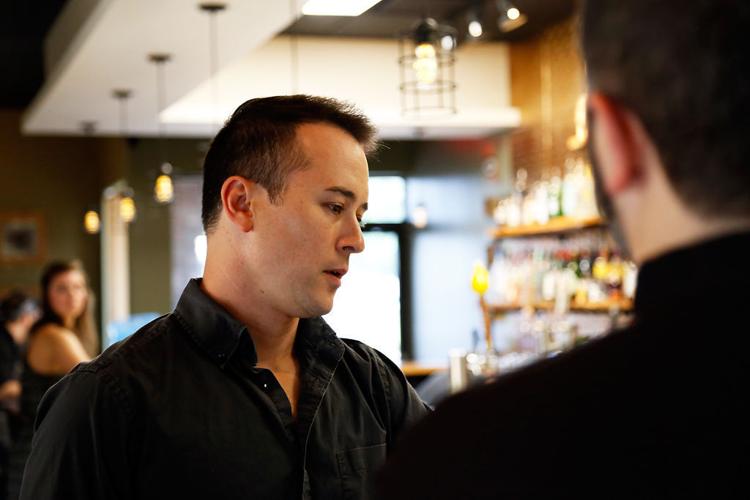 Dethrow says FlyOver aims to deliver excellent customer service along with its food. In the next five years, Wells-Morgan and Dethrow hope to maintain quality and flavor and to create a name for the food of the Midwest.
"I think we just want to continue making people feel at home and give them a good, comfortable experience," Dethrow says. "We want to take the pretension out of it, while still pushing the boundaries of what food and drink can be."