Look, we all need a pre-supper snack sometimes. When your stomach's rumbling but the dinner bell has yet to ring, chips and salsa are an obvious go-to. But once you've tried enough chunky, mild mixes, all that dip starts to seem pretty dull. It's easy to get bored when you're ordering the same starters.
Enter CoMo's more ... adventurous dips. This city knows how to do its apps right, and if you look in the proper places, you're sure to find a new snack that satisfies. If you're ready to take happy hour to the next level, try one (or all, we won't judge) of these "unusual" dips at local restaurants. Just be sure to save room for the entree. 
1. Crab Rangoon Dip at Addison's 
This smooth combo of crab and cream cheese is served with crispy wonton chips and vegetables. Reviews of the dip range from "rich and delicious" to "a meal I'll crave forever." You get the picture. 
Where: Addison's, 709 Cherry St. and Addison's South, 4005 Frontgate Dr. 
Cost: $10.50
Hours: Mon.–Sat. 11–1:30 a.m., Sun. 11 a.m. to midnight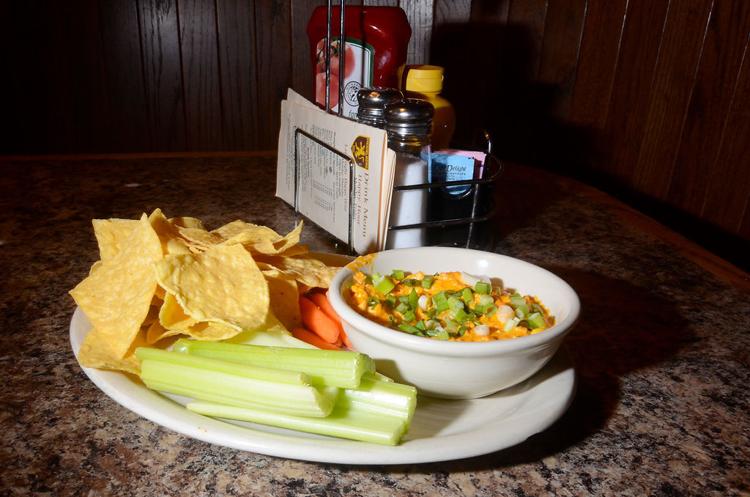 This dip is made with chicken, hot sauce, ranch, cheddar and cream cheese. It's served with corn tortilla chips and celery. 
One of the restaurant's chefs came up with this recipe, and the dip is made fresh at the 'Berg every day, says manager Richard Walls. 
Wells says the dip is at about a six or seven out of 10 on a spicy scale. Although that might sound totally doable for us hot-pepper professionals, consider yourself warned if you can't take the heat. 
Where: The Heidelberg, 410 S. Ninth St. 
Cost: $8.99.
Hours: Mon.–Sat. 11 a.m. to 11 p.m., Sun. 10 a.m. to 10 p.m. 
BOGO apps during happy hour: Mon.–Thurs. 3:30–7 p.m.
Late night happy hour: Mon.–Thurs. 9:30–11 p.m., Sun. 8–10 p.m.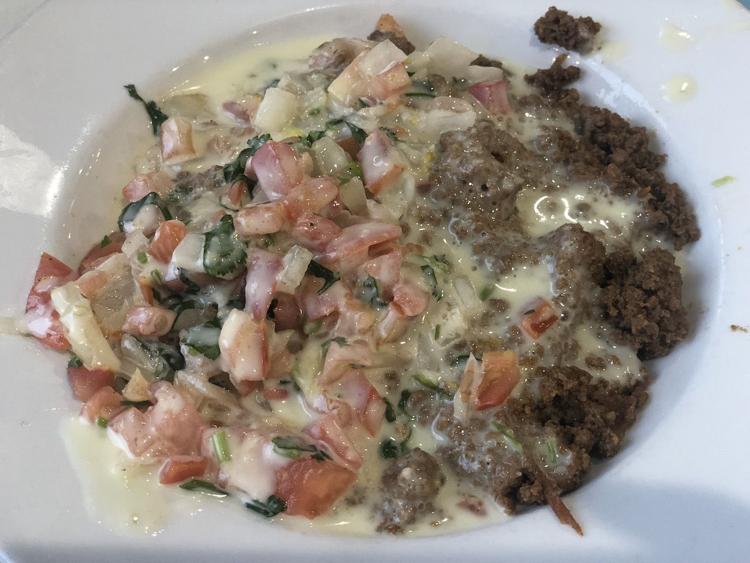 Fresh ground beef, pico de gallo and cheese, served with chips — what more could you want? If you're looking for more control over your taco filling to tortilla ratio, this is the dip for you. 
The recipe is an original from chef Jesus Mendoza, who has worked at Las Margaritas for more than 20 years, says restaurant marketing director Crystal Umfress. The dip gets its name from Las Margaritas' sister eatery, Maya's Mexican Restaurant in Poplar Bluff. 
Where: Las Margaritas, multiple locations, including 5614 E. St Charles Road Suite E, 10 Southampton Dr., and 220 S Eighth St.
Cost: $6.99
Hours: Sun.–Thurs. 11 a.m. to 10 p.m., Fri.-Sat. 11 a.m. to 10:30 p.m. 
4. Red Pepper Hummus at Park Restaurant and Bar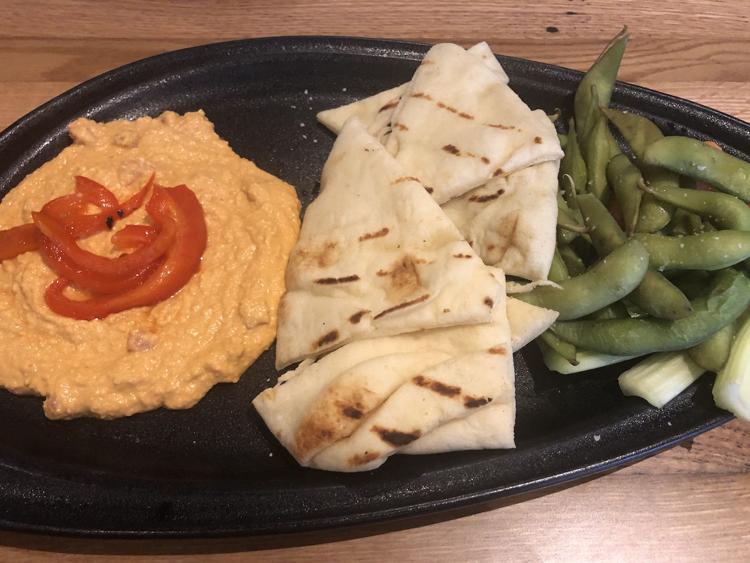 This red pepper hummus comes with edamame, vegetables and pita. Choose between fried or grilled pita for a little extra crunch or a more traditional taste. 
Where: Park Restaurant and Bar, 4380 Nocona Parkway
Cost: $6.95
Hours: Sun.–Thurs. 11 a.m. to 10 p.m., Fri.-Sat. 11 a.m. to 11 p.m. 
5. Spinach & Artichoke Dip at D. Rowe's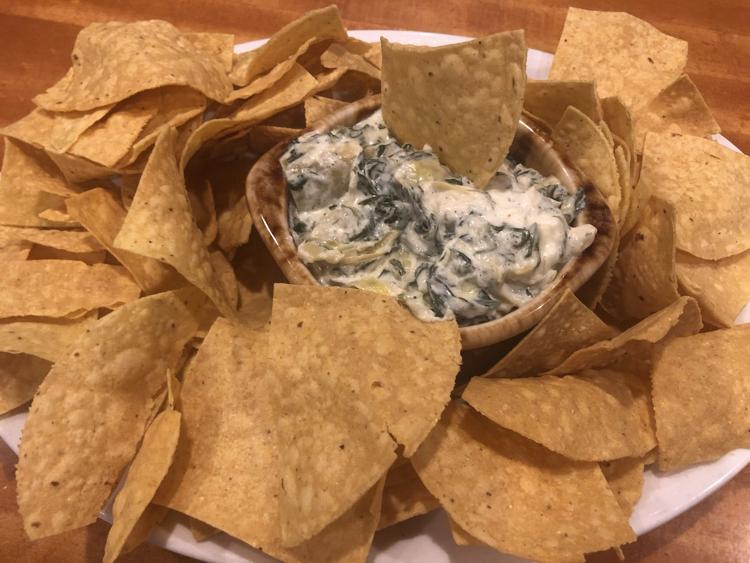 Manager Dan Hancook says the dip, served with warm tortilla chips, is made fresh every day. 
Where: D. Rowe's, 1005 Club Village Dr.
Cost: $9.99
Hours: Mon.–Sat. 11 a.m. to 10 p.m., Sun. 11 a.m. to 9 p.m.
Appetizers are 25-percent off every day during happy hour from 4–6 p.m. 
6. There's something for everyone at 44 Canteen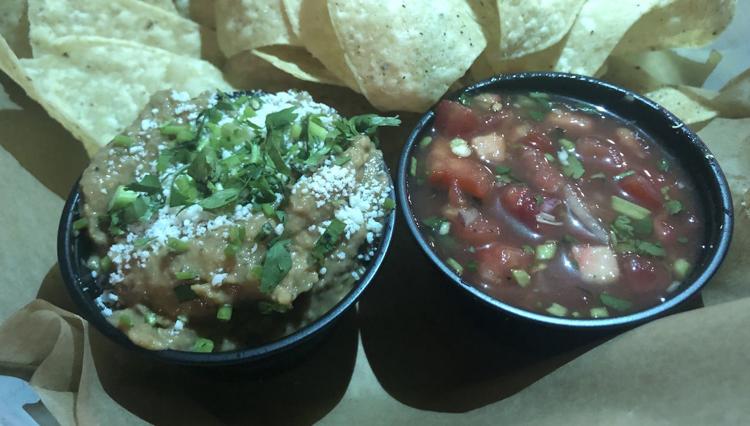 Pick from any two of these options to have with tortilla chips: pinto bean-roasted poblano pico, bean dip, crema, salsa fresca, guacamole (additional $1) or queso (additional $1).
Owner Mark Sulltrop says the restaurant just switched to the seasonal salsa fresca. He says the chefs use fresh local tomatoes during the spring and summer months when the tomatoes are in-season. His personal favorites are the queso and guacamole, but his wife prefers the bean dip. 
Where: 44 Canteen, 21 N. Ninth St. 
Cost: $5
Hours: Mon.–Thurs. 11 a.m. to 10 p.m., Fri.-Sat. 11 a.m. to 11 p.m. 
Related links