With Valentine's Day just around the corner, I wondered: what Valentine's Day treats do Columbia's local shops have to offer? From the traditional to the unique, we've rounded up some local sweets from go-to local sweets shops for Valentine's Day goodies to treat yourself or a loved one.
The Candy Factory
Specialty Treat: Chocolate-Covered Strawberries available in milk, dark and white chocolate.
They are ready to purchase in ½ lb. and 1 lb. sizes.
What makes these treats special? — The strawberries are sourced directly from California to The Candy Factory. All chocolate is made in-house.
Walking into The Candy Factory at the corner of Cherry Street in downtown Columbia is like walking back through time. This sweets shop wonderland is complete with stuffed animals, displays of chocolates and every kind of candy imaginable.
If you walk around the counter, you'll be able to walk up the cloud-painted staircase and into a small viewing room where you can watch the shop's candy being made. Owners Mike Atkinson and his wife say all the candy is made in-house upstairs.
Location: 701 Cherry St, Columbia, MO 65201
Nourish Cafe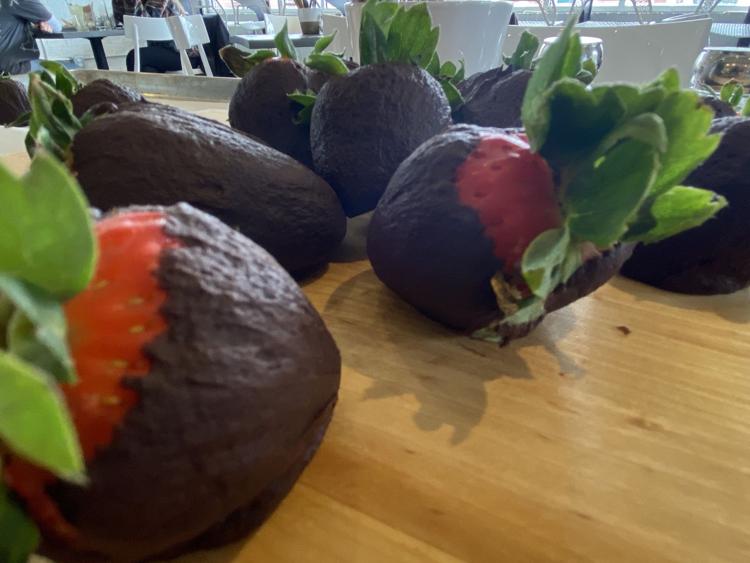 Specialty Treat: Chocolate-Covered Strawberries available in Original and Keto, which are both vegan, and CBD, which is made with CBD infused honey.
Made to order in ½ lb. and 1 lb. sizes.
What makes these treats special? — When possible, all the ingredients are raw, organic and locally sourced.
Nourish Cafe has a simple aesthetic. The dining area is small with white decor and the faint smell of curry, if such a smell can be faint, wafting from the kitchen. All the walls are various shades of gray except for the one that is almost entirely windows, letting in natural light from Broadway Boulevard in downtown Columbia.
Location: 1201 E. Broadway, Ste B, Columbia, MO 65201
Peggy Jean's Pies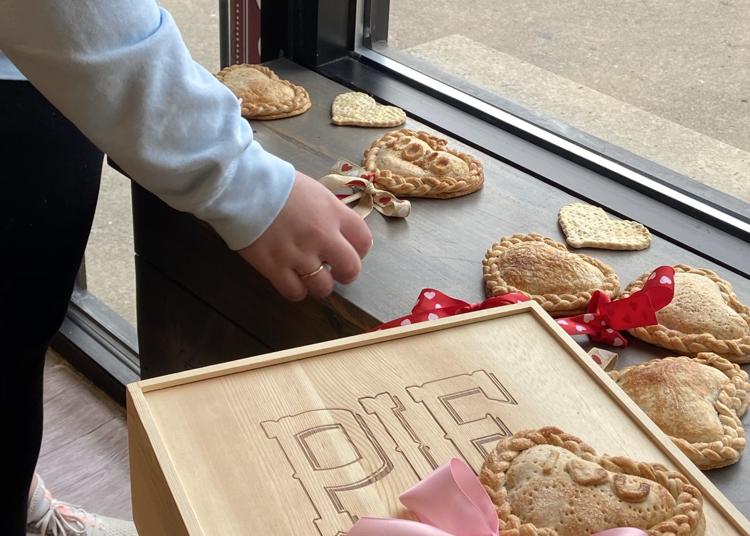 Specialty Treat: Pie On a Stick
It is still unknown whether they will be made to order or available for immediate purchase.
What makes these treats special? — "I mean, it's pie on a stick," says Rebecca Miller, co-owner of Peggy Jean's Pies. Every pie at Peggy Jean's Pies is created with a lot of love and a whole lot of work.
Emma Bannister, one of the lead bakers and the mastermind of the pie on a stick, says the family recipe lends itself to her creativity.
"No one knows it besides family," she says, "I mix it together. That's about it."
Three generations of women own and operate Peggy Jean's Pies at the Rock Bridge Shopping Center on Nifong Boulevard.
The bakery originally opened back in 1994 with co-owners Peggy Day and Jeanne Plumley. When Peggy became ill and passed away in 2004, the shop closed in her absence. It wasn't until 10 years later that Jeanne and her daughter, Rebecca Miller, decided to reopen. They moved to their new location next to Hy-Vee in September, 2019.
"Every single thing in here is made from scratch," Rebecca says, "The dough, the pie filling, all of the work [Emma] does in braiding the crust, tying the ribbon. Actual people are doing that and putting a lot of thought and effort into what they're doing, and that's a hard thing to find."
Location: 503C Nifong Blvd, Columbia, MO 65201
Related stories