Want to enjoy wine with amazing views? These four wineries are close to Columbia, where you can sit on the deck and enjoy the scenic Missouri River views and amazing specialty wines. All four are part of the Missouri River Wine Trail, which will host its Sip and Soup event from 12 p.m. to 6 p.m. on Nov. 7 and 8. Guests can stop by the six participating wineries to try a specialty soup made to pair with a particular wine. 
Les Bourgeois Vineyards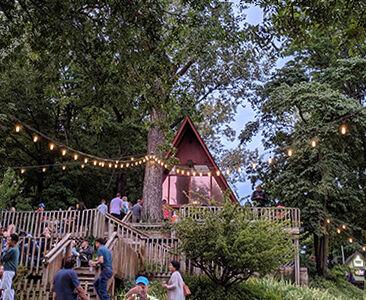 This popular Rocheport vineyard has three distinct properties: the tasting room and gift shop, the Bistro at LB and the A-Frame.
The tasting room is right next to the production facility and cellar. Because of COVID-19, director of marketing and retail Christa Holtzclaw says Les Bourgeois can't do regular tastings. "But instead, we have started doing wine flights, so people can select four different wines and try those on our patio seating," she says. Seating inside at the tasting room is very limited. The tours are by appointment and will take you through the production facility and the wine cellar to show you how the wines are made at their facility.
If you venture a mile down the road, there's a restaurant that overlooks the Missouri River called the Bistro at LB. It features indoor and outdoor seating and a full bar for customers that want to change it up. Reservations are recommended, but they do take walk-ins when there's space available.
Finally, there's the A-Frame, an outdoor wine garden. This is where it all started. "It's where the Bourgeois family lived while they were building their family home when they purchased the property back in the 70s," Holtzclaw says. The winery officially opened in 1985. The A-Frame has a huge patio area with tons of outdoor seating, plus picnic-style food. The only downside: the A-frame doesn't have indoor seating, so make sure to stop by on the weekends until November.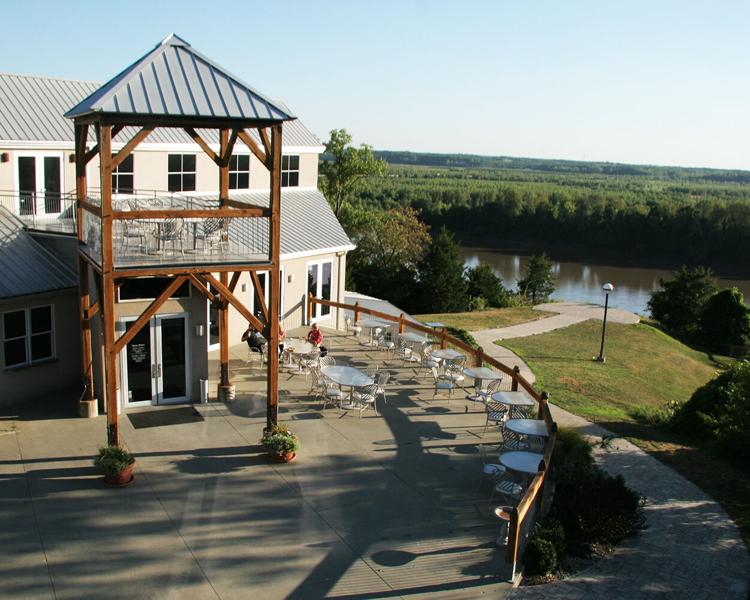 The A-Frame and Bistro are located at 14020 West Hwy BB Rocheport, MO. The A-Frame hours are daily noon to 9 p.m. and the Bistro is Thursday-Saturday: 11 a.m to 9 p.m., Sunday: 10 a.m. to 3 p.m. 
The tasting room is located at 12847 West Hwy BB Rocheport, MO their hours are daily 10 a.m. to 6 p.m. 
Serenity Valley Winery
This winery has been around for nine years. Located in Fulton, Serenity Valley is currently entirely outdoors with some heated tents provided for their customers. Regina Ruppert, managing partner at Serenity Valley, says the staff has been operating and waiting on customers outside since March. The winery was granted the Missouri Cares Grant for small businesses, which will allow them to expand and have more seating. There's no tasting right now; everything is outside and in disposable cups. "Hopefully, that'll change soon," Ruppert says.
Serenity Valley Winery is located at 1888 Co Rte 342 Fulton, MO their hours are Wednesday to Friday 1 p.m. to 6 p.m., Saturday 10 a.m. to 7 p.m. and Sunday noon to 5 p.m. 
Cooper's Oak Winery
If you're looking for something other than wine, Cooper's Oak Winery and Skullspliter Spirits Distillery share one space in Higbee. Between the two, they offer wines, moonshine, brandy and more, including a chocolate brandy. On their Facebook page, Skullsplitter shares videos showing how they make some of their spirits. 
Cooper's Oak Winery is located 9602 State Hwy B, Higbee, MO 65257 their hours are Monday to Friday 10 a.m. to 4 p.m., Saturday noon to 5 p.m. and closed Sunday. 
Bushwhacker Bend Winery
At Bushwhacker Bend in Glasgow, you can bring food from your favorite place, sip on their wine and enjoy the Missouri River views. They also carry cheese from locally-owned Hemme Brothers creamery and other snacks that pair with their assorted wines. Bushwhacker Bend also hosts special events and individual parties, and the owners' golden doodle Tucker is always ready to play with guests.
Bushwhacker Bend Winery is located at 515 1st St, Glasgow, MO 65254 their hours are Wednesday to Saturday 11 a.m. to 6 p.m. and Sunday noon to 5 p.m. 
Be sure to check out their locations while the weather is still in your favor. 
Related articles