There isn't a day that goes by where Chris Lammers isn't thinking about food, changing up menus or testing new recipes. But if you're cooking for a house of 97 women during the week, food is always on the mind.
Lammers works as head chef and food director for Kappa Alpha Theta, Alpha Mu chapter at MU. He cooks three meals per day Monday through Thursday and two meals on Friday and Sunday. He first found out about this job at Theta while trying to build a career in hospitality, and he stayed because he was creating meals that challenged him professionally. "I try to provide a variety of food that's going to be restaurant quality," he says.
Lammers, who was born and raised in Columbia, always knew he had a future working with food but never thought his talent would lead him to work in a sorority house. He knew nothing about MU Greek life, and most of his experience came from working in restaurants. His interest in cooking started early — he worked at the former Everett's Restaurant & Lounge in Columbia when he was a teenager. Then, he decided to attend culinary school in Scottsdale, Arizona. After graduating, Lammers moved back to Columbia to be closer to relatives and to start his own family.
Around the house, he has a trusted reputation. Kathy Pickett, house mom of Theta, says he is very easy to work with and that she relies on his commitment to the sorority. "He has a general interest in the people and the girls and never complains about having to fix different dishes for different girls," Pickett says. "He's an asset to our house."
Lammers' current job isn't the most conventional position for a chef. There are plenty of cooks who work in restaurants who prepare a standard menu for thousands of diners a day, but Lammers' job is quite unlike that because he's a personal chef for 97 women for the whole school year. Not every sorority has this type of arrangement with a cook, so that makes Lammers' job special in the MU Greek life community.
Five years ago, he started as a sous chef, spending most of his time cooking the food in Theta's kitchen. After one year on the job, he was promoted to head chef, where he now manages more behind-the-scenes duties such as payroll, bookkeeping and purchasing supplies. Through his time at the sorority, he has fulfilled his passion of serving food while building relationships with his customers — the women of Theta. Here's what a 10-hour day looks like for Lammers.
8:30 or 9 a.m. Five days a week, Lammers begins his day in the kitchen around 8:30 a.m. His assistant arrives at the house earlier to start cooking breakfast, which is served 7 to 9:30 a.m. Because he arrives closer to the end of breakfast, Lammers jumps right into cooking. A common favorite is the chocolate chip pancakes, he says.
11 a.m. When breakfast ends, the race is on to get the food broken down so lunch can be ready by 11 a.m. sharp. Lammers' staff of three is cooking nonstop. They work hard to get plenty of food out in time for the first round of girls.
The quick turnaround between breakfast and lunch makes this the tightest part of the day. Lammers says preparing for lunch is usually down to the wire. As long as there are women lining up to fix their plates, there needs to be food coming out of the kitchen.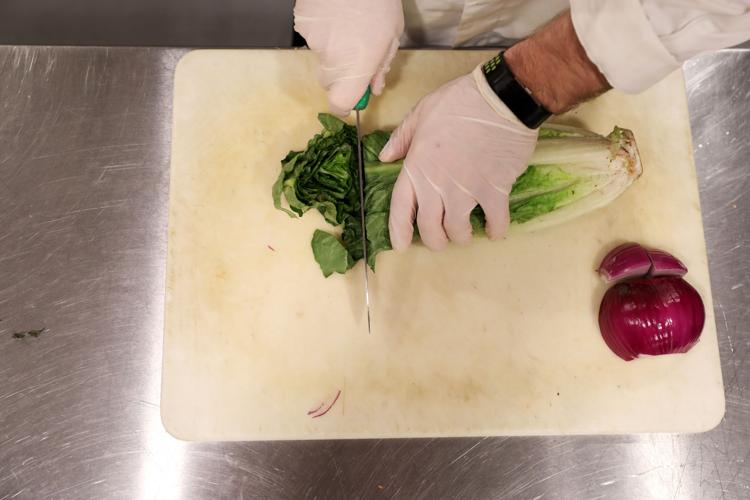 2 p.m. After lunch, the kitchen staff has some downtime before dinner. This is mostly when he manages the paperwork, which includes placing food orders and sending emails to Pickett or figuring out next week's meals.
Since taking over as head chef, Lammers said he is doing his best to elevate the quality of food for the women of Theta. Part of that includes introducing new flavors and bringing different food to the table. Some popular dishes at the house include build-your-own selections such as the pasta bar or sandwich options, which the women are able to customize. When thinking about new recipes, he knows he needs to try to meet everyone's needs. He has some help doing that, says Lily Coit, Theta's chief external affairs officer. The facility relations director or housing manager for Theta will inform Lammers of any women living in the house who have specific dietary needs. "It's a challenge at times coming up with new creations and new stuff to keep them pretty enticed with the food," Lammers says. "Then you've got your special needs like gluten-free, vegan, vegetarian. I always try to provide a wide variety that's going to please everyone."
5 to 6:30 p.m. Lammers then has to put a dinner together that lasts for an hour and a half. After factoring in time to clean up, a typical work day for Lammers ends around 7 p.m. He leaves the sorority house with one of his goals as a chef accomplished: providing quality service and brightening someone's day through the power of food.
The weekends require much less effort, Lammers says. On Saturdays, the kitchen is closed. Brunch and dinner are served on Sundays. On some occasions, the house uses a catering service on weekends. This is more common during football season or on Mom and Dad's weekends, he says.
Although Lammers never imagined he would become a sorority house chef, he has been able to grow as a cook and as a person because of this experience. Lammers and the Theta women plan on creating and enjoying more build-your-own selections and new recipes that will be discovered in the years to come. 
Related