With the wide variety of pizza joints in Columbia, it can be hard to pick a standout slice. MidiCi is burning up the Italian pie-lovers scene with classic Neapolitan-style pizza made with fresh, non-GMO ingredients in the restaurant's wood-burning ovens.
The pizza is distinct because of its tasty 300-year-old crust recipe. Pizzaiolo, or pizza maker, Connor Theisman uses only four simple ingredients — water, sea salt, yeast and double zero flour, which is a finely ground flour often used in Italian cuisine.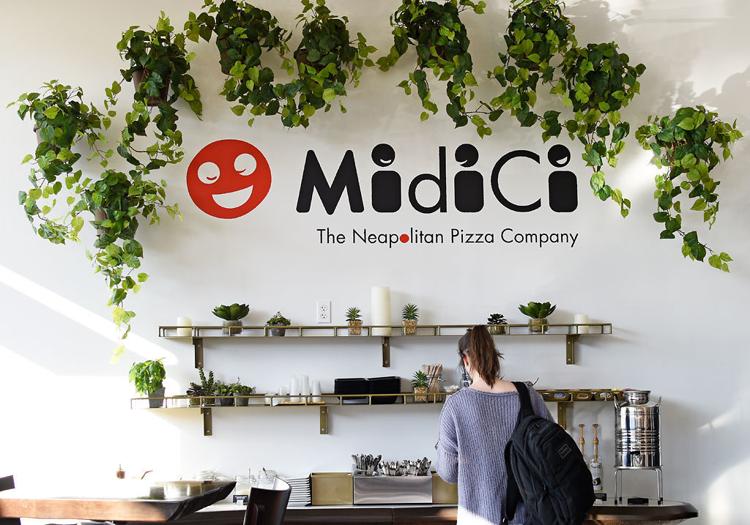 Theisman's favorite menu item is the Devil's Pizza because he likes spicy food. After stretching out the dough, the pizza is covered in sauce made of crushed Italian tomatoes. The heat comes from five pieces of calabrese, or spicy Italian salami, and the house-made spicy Italian sausage. And as if that wasn't enough, Fresno chilis and Calabrian chilis bring it to another level. Sweet basil and fresh mozzarella are added to contrast the heat, and finally, parmigiano reggiano and extra virgin olive oil garnish the top.
"There's not an overload of cheese," Theisman says. "There's a real balance of flavors. You can really taste the sauce, you can really taste the basil, you can taste everything that's on it."
The pizzas bake for about 90 seconds at 1,000 degrees in the large wood-burning ovens and then are plated, sliced and served. Manager Kevin Heiland says, however, that Neapolitan pizza is traditionally not sliced but eaten with a fork and knife. When the first MidiCi restaurant opened in Los Angeles, though, people wanted it sliced.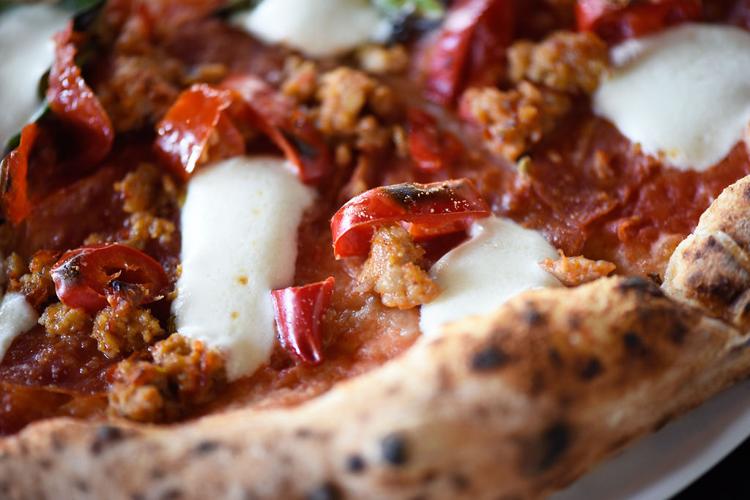 "We've actually had a few people ask us not to cut the pizza, which was very cool," Heiland says.
The thin crust does make it more suited for eating with a fork and knife. The Devil's Pizza is slightly flimsy under the weight of the ingredients, but the flavors are prominent and balanced.
Columbia food writer Audra Jenkins says her favorite local pizza joint is Pizza Tree, but after visiting MidiCi a few weeks ago, she says she will be back again soon.
"They emphasize the Italian Neapolitan nature of the crust so it's a little thinner, a little bit lighter," she says. "I think people will be happy to have something different."
For those who aren't fans of spice, the mix of chilis and spicy meats in the Devil's Pizza might prove to be too much. And though a glass of water is recommended, the spice is not the only note in the dish. The crust is the star, with the perfect mix of softness and crispiness, and is not overpowered by the other ingredients.