Chef Dustin Del Grosso looks at flavors, seasonality and aesthetics when he creates new dishes, and his new Winter Squash Salad at Walnut Street Tap + Kitchen knocks out all three.
The Winter Squash Salad has a base of baby spinach, which Del Grosso chose because it flourishes in the wintertime. Roasted butternut squash cubes lightly seasoned with salt and pepper top the spinach along with pickled beets, toasted pumpkin seeds, goat cheese and a warm pumpkin and bacon vinaigrette.
Del Grosso chose beets for their earthy flavor and vibrant color. He pickles the beets himself in a vinegar, water, salt and sugar blend. The toasted pumpkin seeds — sprinkled with red chile and salt, then roasted in the oven — add a healthy dash of fiber and magnesium to the dish. The crumbled goat cheese lends a new color and texture to each bite, as well as a complementary creaminess.
The finishing touch is the dressing, a combination of pumpkin purée, apple cider vinegar, mustard and a few basic seasonings, that's served on the side. Instead of oil, Del Grosso uses honey and bacon fat in the dressing to make it hearty and full-bodied. The dressing wilts the spinach, transforming what would normally be a cold, crunchy salad into a pleasant dish people can enjoy when the weather gets cold.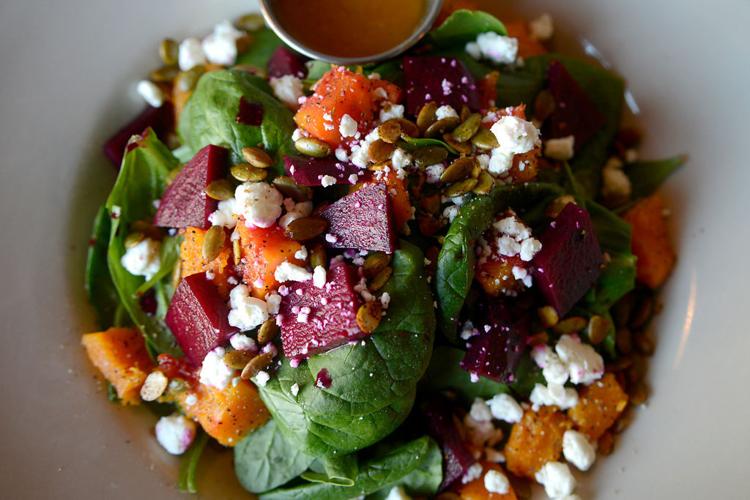 Del Grosso didn't want to overpower the salad by seasoning the ingredients too strongly. "I keep it real simple," he says. "I like to let foods speak for themselves and not make it too complicated, especially with a salad because it's going to get a dressing that has all the flavor you need in it." Each time Del Grosso invents a dish, he creates a list of seasonal ingredients, picks out the ones he thinks will pair well together, then tries it out and tweaks it.
Front House Manager Endi Rolufs says, "Dustin is great; I love the influence he brought here. It's unique to Columbia, and it's what brings people in."
Del Grosso recommends pairing a zinfandel or an IPA with the salad. "A stronger red wine would be able to battle the flavor of the beets and the goat cheese," he says.
The menu will continue to be updated with seasonal items throughout the year, Del Grosso says. The salad came onto the menu Nov. 1, and he expects it to stay until the weather warms up in early or mid-spring.