Nowhere to go and a little more external stress than average? That's usually a perfect storm for a boozy solution. Indeed, alcohol consumption from spring 2019 to spring 2020 increased by 14% among those over age 30, according to a RAND Corporation study. The same study showed women increased heavy drinking habits (four drinks or more within a couple hours) by 41%.
More than ever, it's nice to have nightcap options minus the booze. However, mocktails aren't just for those abstaining from alcohol. Sometimes you just aren't in the mood for liquor, or you want to shake things up while still enjoying a fun drink. International Tap House bartender Ian Cody says people choose a nonalcoholic drink for a variety of reasons.
"Some people just aren't feeling it," Cody says. "On game days, some people come in after drinking all day and just want something to sip on but don't want it to be alcohol. Pregnant women come in with friends and want to have a drink, just not with booze. That's why we have drinks that cater to everyone."
These non-alcoholic beverages don't have to be boring; many businesses are stepping into this sector of the cocktail market to provide unique products. Some mimic the taste of alcohol, while others provide their own unique flavor.
According to an article in The Washington Post in June 2019, many millennial and Gen Z consumers are switching to mocktail options for health reasons, among other things.
What if you still want the mellowing effect of that evening glass of wine? Hello, CBD seltzers.
Hemp Hemp Hooray, located at 917 E. Broadway, has been carrying WYLD Sparkling Water for eight months. The canned beverage tastes like any other sparkling water, but contains 25 milligrams of broad spectrum CBD.
CBD is not psychoactive, meaning you won't get high when you consume it, but potential benefits include lower anxiety and depression levels and improved sleep. These benefits make it a good alternative to cocktails, says Nikki Halderman, co-owner of Hemp Hemp Hooray.
Without the flavors that alcoholic spirits provide to a cocktail, bartenders and mixologists have to get creative. Here are some original recipes crafted by Columbia bartenders, and some options already on the menu.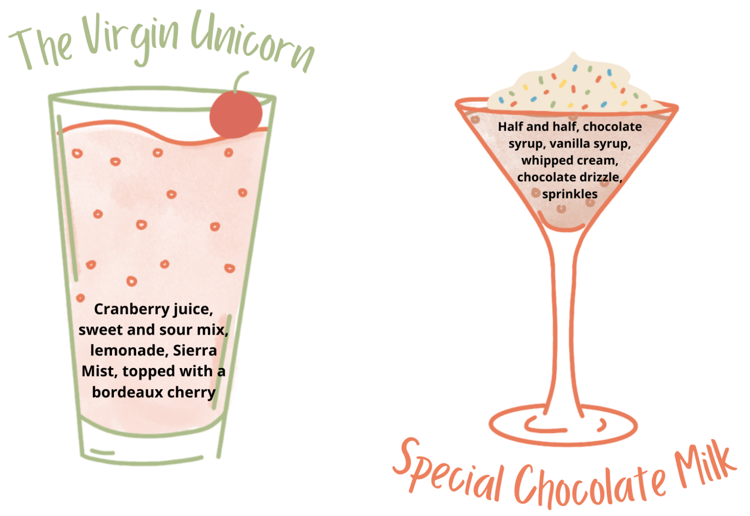 Sweet Drinks
If you're looking to satisfy a sweet tooth, these mocktails are the perfect dessert drink. Teller's Gallery bartender Kylie Evans combines cranberry juice, sweet and sour mix, lemonade and Sierra Mist with a bordeaux cherry on top to create the virgin unicorn.
Fans of chocolate will like the special chocolate milk by DogMaster Distillery owner Van Hawxby. It has half and half, chocolate syrup, vanilla syrup and is topped with whipped cream, chocolate drizzle and sprinkles.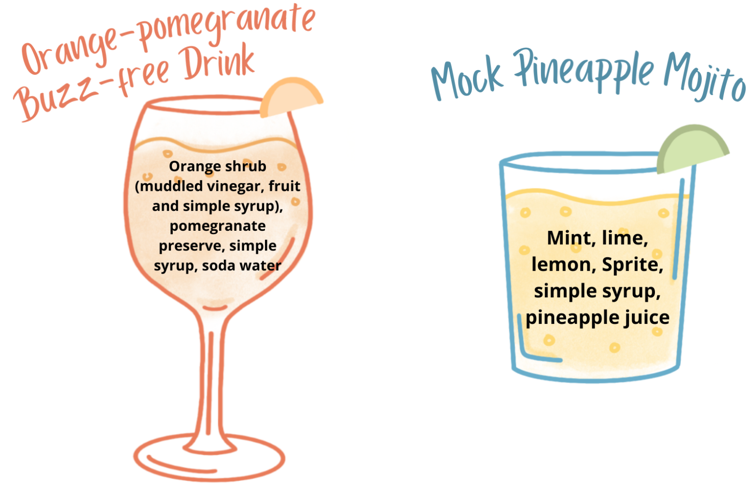 Refreshing Picks
Not all drinks have to be packed with sugar to be delicious. Sycamore Restaurant has the orange-pomegranate buzz-free drink on their menu. Bartenders make an orange shrub of muddled vinegar, fruit and simple syrup and mix with pomegranate preserve, simple syrup and soda water. "The vinegar gives it a little pop, which combines nicely with the fruit. Very refreshing," says bartender Melanie Lising. 
Sabrina Cookson, a bartender at Pressed, has a booze-free take on a classic with the mock pineapple mojito. It combines mint, lime, lemon, sprite, simple syrup and, of course, pineapple juice.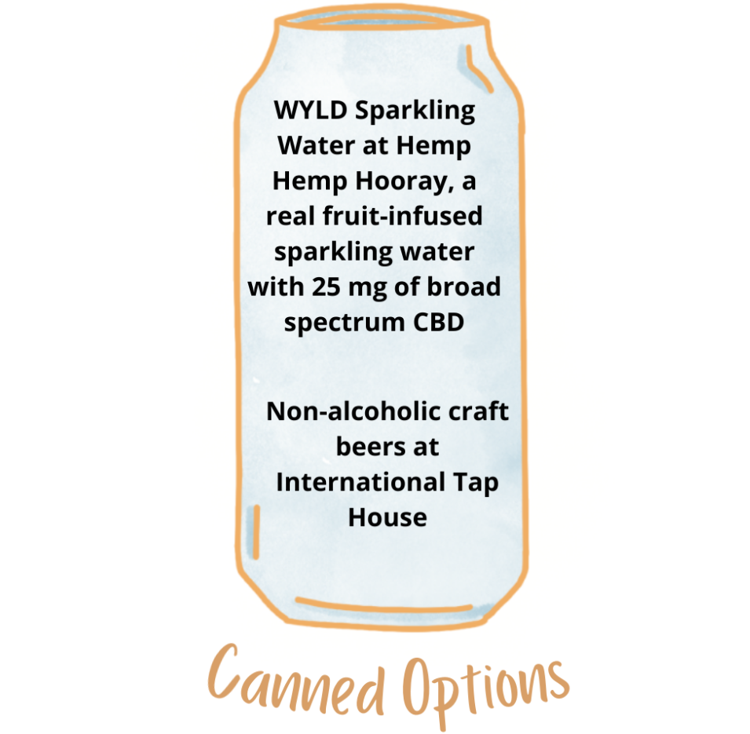 Canned Options
The WYLD Sparking Waters at Hemp Hemp Hooray are infused with real fruit and has 25 mg of broad spectrum CBD. It comes in four different flavors: lemon, blackberry, raspberry and blood orange.
International Tap House also has a variety of non-alcoholic craft beer choices from their list. Their bar features Heinekan 0 and Lagunitas Hop Hoppy Refresher. They also have an IPA, Golden Ale and Extra Dark from Athletic Brewing Co.
Related Stories