It's that time of year again where pumpkin spice reigns supreme.
According to Food & Wine, the spice blend has been around for more than 223 years, with two recipes including the spice appearing in Amelia Simmons' 1798 cookbook American Cookery. Today, the spice is inescapable. Every year, Americans are wanting to get their pumpkin spice fix earlier and earlier, according to Adweek. One of the most well-known uses of the spice is in Starbucks' pumpkin spice latte, famously known as the PSL. This year, Starbucks brought back the classic drink on Aug. 24, nearly a full month before the first day of fall.
Pumpkin spice is used in many different dishes, though. So, while you might be tempted to get the always-classic pumpkin spice latte, we've rounded up a few non-latte pumpkin spice recipes ranging from sweet, to savory, to boozy, that will also help satisfy those fall cravings.
Pumpkin Blondies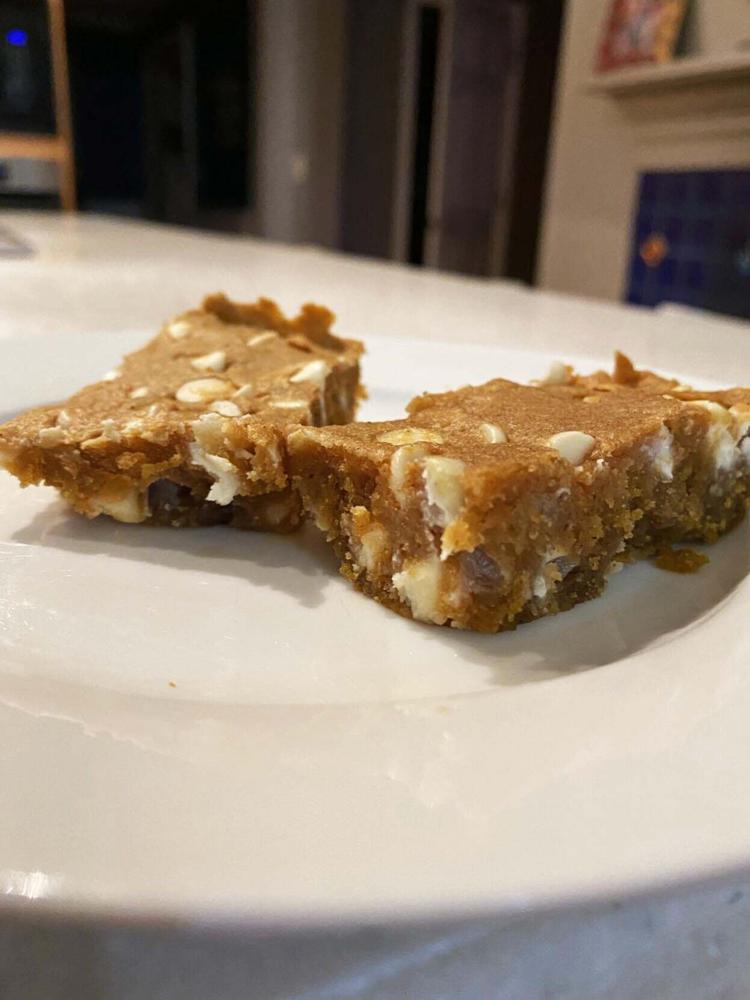 These delicious pumpkin blondies from Cookies & Cup will satisfy any sweet tooth.
(Makes 24 bars)
Ingredients:
1 cup butter
1 ½ cups light brown sugar
1 tablespoon pumpkin spice
2 teaspoons vanilla
1 teaspoon kosher salt
1 teaspoon baking powder
1 egg
1 cup pumpkin puree
2 ¼ cups all purpose flour
2 cups white chips
Directions:
Over medium heat, melt the butter in a medium sauce pan, bringing it to a boil. Swirl the boiling butter frequently to avoid burning. Once an amber color, remove from heat and cool for around 20 minutes.
Preheat oven to 350°F and line a 9×13 inch pan with parchment paper or foil, and coat with nonstick spray.
In a mixing bowl, stir and combine the sugar and cooled butter with a wooden spoon or rubber spatula. Add vanilla, salt, baking powder, pumpkin spice, egg and pumpkin, and mix until you reach a smooth consistency. A stand mixer on the lowest setting will also work. Mix in the flour slowly. Stir in the white chocolate chips.
Spread the mixture evenly into your pan. Bake 30 to 35 minutes. Allow to cool completely. 
Pumpkin Spice Chili
Looking for a warm, hearty meal to sit back and enjoy? This pumpkin spice chili recipe from Sugar n' Spice Gals is sure to meet your expectations.
Ingredients:
2 lbs ground beef
1 onion, diced
1 green pepper, diced
3 (15 oz.) cans red kidney beans, drained
1 (46 oz.)can tomato juice
1 (28 oz.) can diced tomatoes
1 cup canned pumpkin puree
1 tablespoon pumpkin spice
1 (1.25 oz) package chili seasoning
¼ cup sugar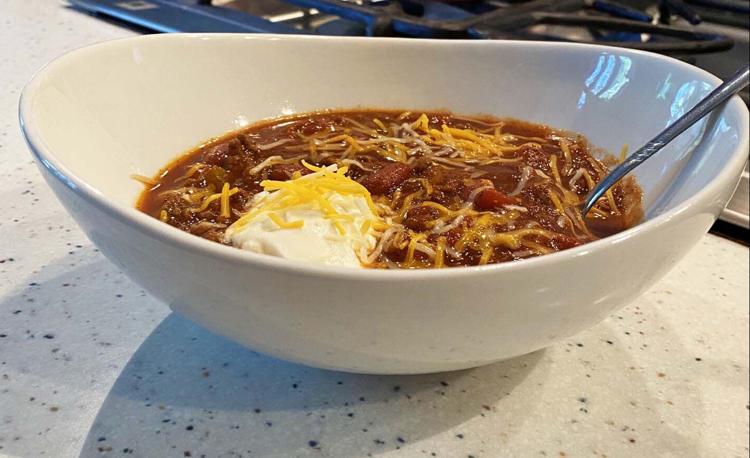 Directions:
Cook ground beef in a large pot until brown, draining excess fat. Add in onion and pepper and cook 5 minutes. Add tomato juice, diced tomatoes, drained beens and pumpkin puree. Stir in pumpkin spice, chili seasoning and sugar. Simmer for at least an hour. (To make this recipe in a crock pot, mix all ingredients together and cook for 4 to 5 hours on low).
Pumpkin Spice Chicken Tacos
Pumpkin spice? In a taco? This recipe from Cake n Knife is sure to interest anyone looking for a way to spice up their taco game.
(Serves 4)
Ingredients:
Chicken
2 ½ lbs boneless, skinless chicken breast
12 oz beer 
1 teaspoon garlic powder
¼ teaspoon cayenne pepper
½ teaspoon paprika
½ teaspoon pepper
½ teaspoon salt
1 ½ teaspoon pumpkin spice
Chipotle Crema
1 cup sour cream
1 chipotle in adobo
2 teaspoon adobo sauce
Toppings
1 avocado, peeled, pitted and sliced
1 cup canned black beans, drained and rinsed
½ cup toasted pepitas
12 flour taco tortillas
Directions:
Combine your chicken, garlic powder, paprika, salt, pepper, pumpkin spice, cayenne pepper and beer in your slow cooker or Instant Pot. Cook for 4 to 6 hours on high in the slow cooker, or 20 minutes on high pressure in the Instant Pot, releasing the air naturally.
While cooking, blend chipotle, sour cream and adobo sauce in a blender until smooth. Set in refrigerator until you're done cooking and ready to serve.
Once finished cooking, remove chicken and shred in a bowl. Warm your tortillas. Assemble your tacos with the chicken, cream and toppings.
Pumpkin Spice White Russian
This delicious drink from The Cookie Rookie is sure to please any cocktail connoisseur.
(Serves 2)
Ingredients:
Drink
3 oz. vodka
3 oz. pumpkin spice creamer
1 and ½ oz. Kahlua
Rim
1 teaspoon pumpkin pie spice
1 teaspoon sugar or sparkling sugar
3 tablespoons crushed graham crackers
Garnish with whipped cream and pumpkin spice
Directions:
Mix ingredients for rim on a plate. Dip the edges of your glasses in water and then your rim mixture. Set aside.
Pour drink ingredients in a cocktail shaker with ice. Shake lightly. Pour into your glasses and garnish.
Related Stories