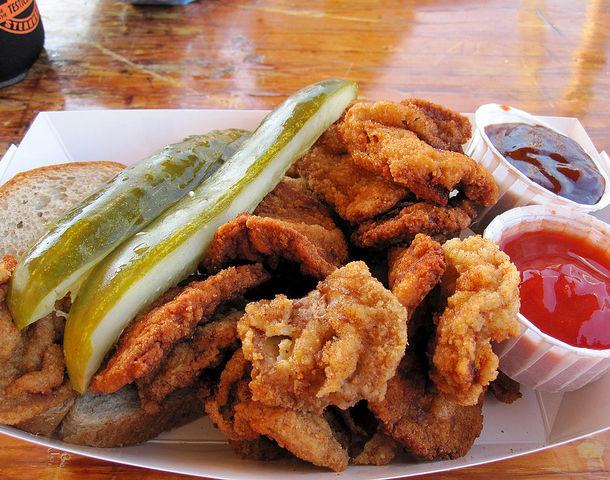 This Saturday, a ravenous crowd in Olean, Missouri, will scarf down 1,200 pounds of steaming hot turkey testicles.
Although the 22nd Annual Olean Testicle Festival lasts from 10 a.m. until 10 p.m., the fried turkey testicles (aka turkey fries) usually run out in the afternoon.
"If they want to eat fries, they should come early," says Gayle Bledsoe, an Olean resident and festival organizer.
The festival is hosted the by the Olean chapter of Jaycees, or Junior Chamber, a not-for-profit leadership, networking and service organization founded in 1920. In addition to the turkey fries, the Jaycees sell T-shirts and koozies and raise money through a $5 entry fee. If the weather cooperates and the turnout is comparable to that of years past, they'll raise about $15,000 just from entrance fees. The money from the festival supports the FFA, Camp Wonderland, needy families at Christmas and Project Prom, among other causes, Bledsoe says. The Eldon FFA chapter helps with breading the testicles, and about eight volunteers run the deep fryers.
But there's more to the Testicle Festival than just nuts: Bands will perform throughout the day, and festivalgoers can wash down the testicles with foamy libations at a beer garden. For timid gourmands, other vendors at the festival will offer less outlandish food and, of course, sundry festival tchotchkes.
Before new USDA regulations kicked in, Bledsoe says the festival featured a veritable Noah's Ark of mixed nuts: turkey, bull and boar. Now, they stick with turkey fries obtained from Cargill, a food processing facility located up the road in California, Missouri. Bledsoe, who lives on a farm and is accustomed to eating bull fries, says connoisseurs find that turkey fries are comparable to their bovine counterparts in every way except size.
"Even farm guys, they like the turkey fries real well," Bledsoe says. And she's not sad to have done away with the boar nuts: "The boar fries smelled like pig" (and not in a good way).
Since its inception, the Testicle Festival has swollen considerably. Alan Groves, a Jaycee member who helped establish the festival in Missouri, heard about similar festivals in other states and thought it sounded like a ball. For the first festival, they prepared fewer than 100 pounds of testicles, and "it really took off," Bledsoe says. "Just the name itself makes people curious."
In the past, the fest lasted until 1 a.m., but things tended to get a little nutty in the wee hours of the morning, Bledsoe says. To help keep the festival family-friendly, they're pulling out a few hours earlier.
Olean, a town of 105, is anticipating 3,000 visitors — all lured by the siren call of the testicle.