You might have heard the news: Earth is rapidly warming, and it's humans' fault. The Intergovernmental Panel on Climate Change released a document in October stating we could see devastating climate change effects as early as 2040.
So what can we do? On an individual level, not much — or so it might seem. But because one of the major causes of human-induced climate change is carbon output, and the production of meat is a huge contributor to carbon output, you can do your small part by reducing your weekly meat intake. With our country's growing demand for meat, scientists predict our terrain will increasingly shift from forestlands to grasslands to make room for more farms. Because of this change, carbon dioxide emissions will skyrocket, as will greenhouse gas emissions, due to manure produced from cattle, according to the IPCC report.
So let's say this news hits you hard. And maybe you'd like to help decelerate climate change, but you don't have the knowledge or income to make drastic life changes yet. Meat reduction is a great place to start. Vegan and vegetarian meals are healthy, delicious, often inexpensive, and best of all, they're a boon to the environment. And for the skeptics who fear a protein imbalance in their diets, good news: Chickpeas, tofu and other plant products offer a fantastic (and tasty) substitute for the chicken, beef or pork on your plate.
If you're frightened by the IPCC report — and, really, shouldn't we all be? — and you want an easy jumpstart to a greener lifestyle, we've got a whole week's worth of plant-based meals you can throw together fast. Get ready to eat green. 
Ingredients
Salad dressing:
1/3 cup of hummus
2 tablespoons of maple syrup
2 tablespoons of lemon juice
1-2 tablespoons of hot water
Lettuce
Buffalo chickpeas:
1 can of chickpeas, rinsed and drained
1 tablespoon of coconut oil
4 tablespoons of red hot sauce, divided. 
1/4 teaspoon of garlic powder
A pinch of sea salt
To serve:
Vegan-friendly tortilla wraps 
1/4 cup of red onion, chopped
1/4 cup of tomatoes, chopped
1/4 of a ripe avocado, sliced
How to make it: 
The salad and dressing in this recipe — pulled from the Minimalist Baker blog — are optional if you're short on time, but it's a nice way to incorporate more veggies into your meal. To make the dressing, combine all ingredients (except the hot water), and whisk them to combine. Gradually add hot water until it's thinner. Toss with lettuce (or kale!), and set aside. 
For the chickpeas, first heat up a pan over medium heat. Then, rinse and drain the water out of chickpeas, and add them to a mixing bowl with the coconut oil, hot sauce, salt and garlic powder. Toss the chickpeas with the sauce, and add it to the pan. Sauté them for three to five minutes, mashing some gently to create texture. 
To serve, pile the chickpeas on your wrap, along with some of the salad, onions, tomatoes and avocado. Serve hot or cold, and enjoy. 
Ingredients
1/2 cup of quinoa
3/4 cup of water, plus a tablespoon extra
1 tablespoon of olive oil
1/2 of a red onion, diced
1 orange bell pepper, diced
2 roma tomatoes, diced
1 medium zucchini, diced
2 cans (14 oz) of black beans
1 can (14 oz) of corn, drained
1/4 cilantro, roughly chopped
2 teaspoons of cumin
1 teaspoon of chili powder
3/4 teaspoons of chipotle powder
1 teaspoon of garlic powder
1/2 teaspoon of onion powder
Salt to taste
6-8 medium/large tortillas
How to make it:
For this recipe from Simple Veganista, combine the quinoa and 3/4 cup water in a medium pot, and bring to a boil. Reduce to a simmer, cover, and let it cook for another 15 minutes. Fluff with a fork, and set aside. 
"Quinoa is a complete protein," says Kalle Lemone, owner of Nourish Cafe. "It has all the essential amino acids, all the ones your body doesn't make. The body needs help to make that [and] to make proteins."
Heat olive oil in a large pan over medium heat, then sauté onions for four minutes. Add bell pepper, zucchini, corn and tomatoes, and cook for another three minutes. Add black beans and quinoa spices, and cook until heated through. Combine thoroughly.
Arrange the fillings in the middle of the tortilla, then add your salsa and avocado. Roll up, and enjoy! These can easily be frozen and reheated for later, as well.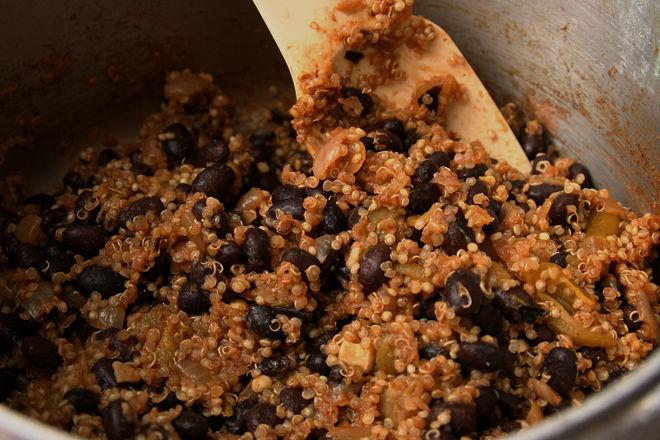 Ingredients
1 pound of extra-firm tofu
1 tablespoon of olive oil
1/2 tablespoons of soy sauce
1 clove garlic, chopped
1/2 tablespoon of onion powder
1/2 teaspoon of thyme
1/2 teaspoon of turmeric
1/2 teaspoon of paprika
1/2 teaspoon of garlic salt
1–2 tablespoon of lemon juice
1/4 teaspoon of nutritional yeast
How to make it: 
Wrap the tofu in paper towels, and place it on a plate with another plate on top to squeeze out the excess water. Heat a pan with olive oil over medium heat, then add in everything, except lemon juice and nutritional yeast. 
Once the tofu has been rid of excess water, crumble it through your fingers into the pan, to mimic the texture of eggs. Stir, and cook on low heat. Cook for seven to 10 minutes until the mixture starts to brown, then add lemon juice and nutritional yeast. Cook for a couple extra minutes, and enjoy!
"Turmeric is really, really anti-inflammatory," Lemone says. "With that amount, it's more for color I'd say, but a teaspoon a day can really help (with inflammation)."
Ingredients
Bowl:
1 cup brown rice
2 cups water
1 tablespoon of honey
2 tablespoons of rice vinegar
1/4 teaspoon of sea salt
2 bunches of radishes
1/4 cup of sake (If you don't have sake, Cooking Light says you can substitute 1 tablespoon of rice vinegar combined with 3 tablespoons of white grape juice.)
1 tablespoon of soy sauce
1 tablespoon of mirin (If you don't have mirin, My Recipes says you can add a tablespoon of sugar to 1/4 cup white wine for the same effect.)
Toppings:
Avocado
Cucumber
Green onions
Sesame seeds
Nori (optional) 
Pickled ginger (optional) 
How to make it: 
For Naturally Ella's sushi bowl, combine brown rice and water in a saucepan, and bring to a boil. Let it cook for 45 minutes. If you're short on time, use instant brown or white rice. Once it's done, let it rest for about 10 minutes. Whisk together honey, vinegar and salt. Pour the mixture over the warm rice, and stir to coat. Set aside.
Rinse the radishes, and cut them lengthwise and then into pieces about a quarter inch thick. Heat sake (or the substitute), soy sauce and mirin (or the substitute) over medium heat. Add radishes, and cook until tender. 
Assemble the bowl with rice on the bottom, then radishes and then toppings. Add extra soy sauce to taste. 
Ingredients
1 can of chickpeas, rinsed and drained 
1 large avocado
1/4 cup of cilantro, chopped
2 tablespoon of green onions, chopped
1 tablespoon of lime juice
Salt and pepper to taste
Bread
Lettuce
Tomato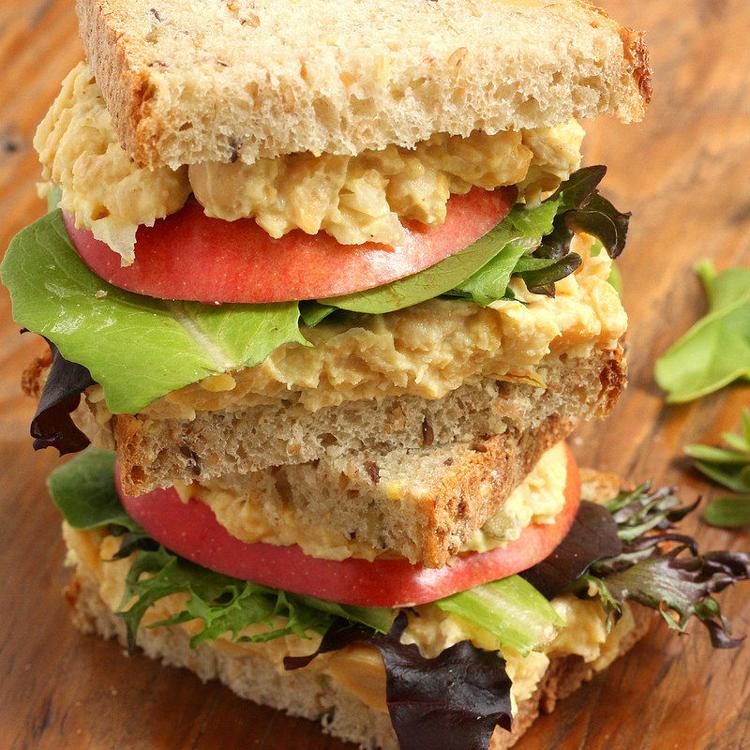 How to make it: 
Smash chickpeas and avocado together in a large bowl using a fork or potato masher. Add in the rest of the ingredients, except the bread and sandwich toppings, and stir. Spread chickpeas onto bread, and top with lettuce and tomatoes. 
"It is a lot of carbs," Lemone says. "I would put it over greens, or use like a cassava wrap if you didn't want so much bread bread."