The holidays are strange this year. If your family is like mine, you've forgone large gatherings around the dinner table in the name of pandemic safety. According to the Centers for Disease Control and Prevention, celebrating virtually or only with the people in your household is the safest route this Thanksgiving., and the likely option for many families around the U.S. 
I'm no stranger to missing family holidays. I regularly skipped Thanksgiving during my time in college because I wasn't able to easily travel back home to Missouri. Still, my family was just one phone call away and I always loved hearing the loud chatter in the background on the other end of the line. While I'm going to miss getting together this year, I would miss my family more if one of them wasn't around after a vaccine is available.
Regardless, I'm determined to connect with my family in other ways during this unprecedented holiday season. One such way is trying to cook one of my favorite family meals: cabbage rolls.
My great-grandmother Yulia's cabbage rolls, called "holubtsi" in Ukrainian, were a staple meal when I was growing up. They're a classic central and eastern European comfort food with many regional and familial variations, but my great-grandmother's recipe is one passed down from her parents who immigrated to the U.S. from the Carpathian region of Ukraine. Though it's considered an every day meal for many, it's also very popular around the holidays.
Even though I can always get my eastern European food fix from places in Columbia like Cafe Poland, there's nothing like a home-cooked meal. Traditionally, holubtsi are cabbage leaves stuffed with a mixture of minced meat, rice, onions, carrots and spices. They're then cooked in a tomato sauce to create a warm and filling meal. My family also adds sauerkraut to the sauce. (I guess we just like the taste of cabbage.)
I hope my attempt to recreate one of my favorite family meals inspires you to connect with the people you love this holiday season, whether or not you're able to see them in person. 
Holubtsi, or Ukrainian-style cabbage rolls
Ingredients
1 large cabbage
1/2 lb ground beef
1/2 lb ground pork
1 small onion, finely diced
1/2 cup shredded carrots, divided
1/2 cup uncooked white rice
1 egg
1 14 oz can sauerkraut
2 10 oz cans condensed tomato soup
2 tsp minced garlic
fresh dill, to taste
salt and pepper, to taste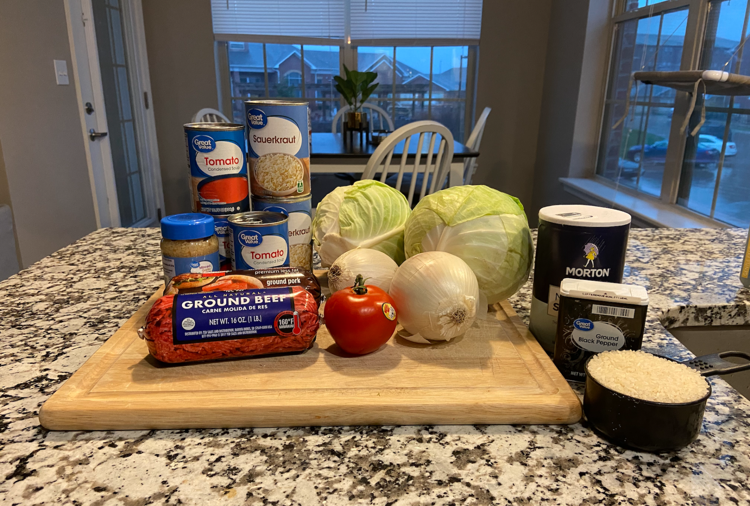 Instructions
Step one: prep the leaves. Start off by blanching your cabbage so that the leaves can easily be pulled off and rolled later. Cut out the core of the cabbage head, then submerse in boiling water for about two to three minutes so that all of the leaves are blanched. Remove from the water and carefully remove the leaves. Set aside.
Step two: make the filling. In a large bowl, combine the ground beef, ground pork, half of the diced onion, 1/4 cup shredded carrot, rice, egg and spices. Use your hands or a hand mixer to mix until all ingredients are evenly distributed throughout the filling.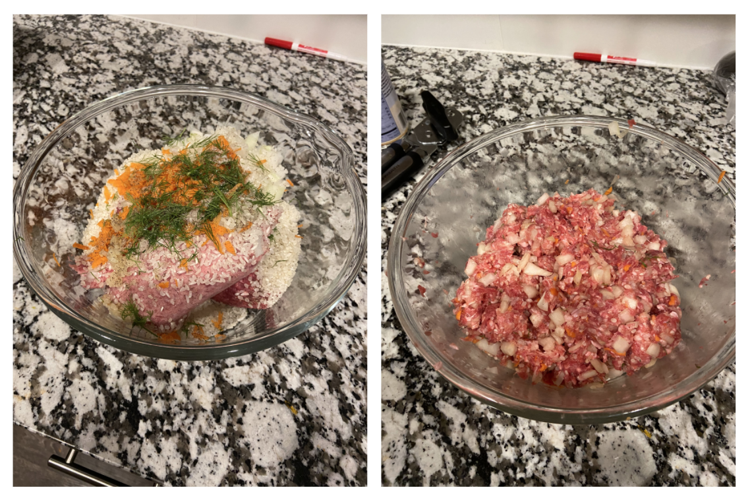 Step three: roll the cabbage leaves. Though this seems like the most intimidating part, it's actually quite easy due to the sturdiness of the cabbage leaves. Take about two to four tablespoons of filling (depending on how big your cabbage leaves are) and place it in the middle of the leaf. Fold both sides of the leaf inward, then pull the bottom half of the leaf over the filling. With both ends folded tight, roll the leaf away from you until it forms a perfect cabbage roll. Do your best to pinch the edges of the cabbage inside the roll to prevent leakage.
It's actually a lot like rolling a burrito, but smaller. Here's a good video if you're a visual learner:
Step four: assemble the pot. Put half of the can of sauerkraut at the bottom of a large pot. Place cabbage rolls seam side down in the pot (if you need to stack them on top of each other, that's okay). Top the rolls with the rest of the can of sauerkraut, any of the remaining cabbage leaves chopped, the other half of the diced onion, the other 1/4 cup shredded carrot, the tomato soup and extra dill.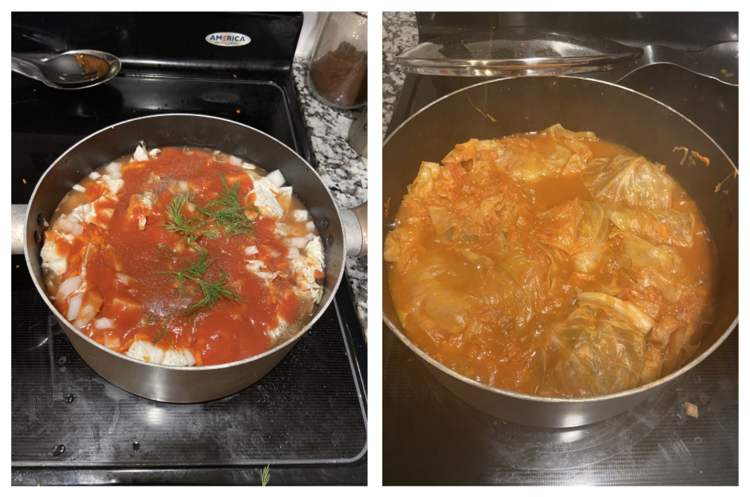 Step five: cook. Add four cups of water into the pot and bring to a boil. Let the sauce boil and cabbage rolls cook with a lid halfway on top for around thirty minutes. Then, reduce the heat and cover the pot with a lid completely, letting the sauce simmer for an hour and a half or until the meat and rice in the cabbage rolls are completely cooked.
Step six: enjoy! Serve these warm with a side of sour cream. If you made too much for one sitting, they last great in the fridge for two to three days!
Related Stories