Looking to try a new drink for your Zoom happy hour with friends? Fear not because makemeacocktail.com has you covered. 
This website, which gained popularity on Tik Tok, calls itself the "world's best cocktail resource." The homepage sports various feeds and resources about different drinks you can make at home with the ingredients you have on hand. It also has the top cocktail of the moment such as the "Quarantini," which is made from five ingredients, including Champagne and apple juice. 
In order to customize your personal list of bar ingredients, it is best to make an account so the ingredients you list in your bar are saved forever. After going to the "My Bar" tab, just hit register and follow a few steps before you dive into creating your bar. 
When customizing your bar, the website lists multiple different categories of ingredients. There's a main tab for spirits; liqueurs; wines and Champagnes; beers and ciders; mixers; and other. The mixers and other sections allow you to choose ingredients such as fruit, olives and more — if you have it.
One critique I have of the ingredients selection is that it didn't have White Claw Hard Seltzer catalogued or Tito's vodka. Although I probably wouldn't have noticed if these weren't the two beverages I had the most of in quantity.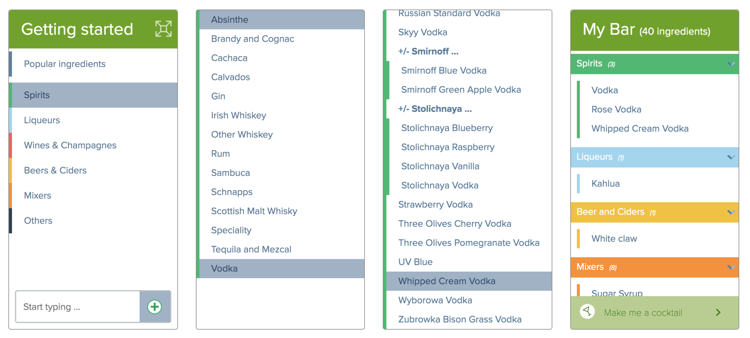 Once you have customized your bar, you can slam down on that "Make me a cocktail" button — because we are so ready for a cocktail!
The first drink the website suggested for me to make is a White Russian. Admittedly, I haven't tried too many cocktails outside the realm of a Moscow Mule or a vodka Redbull, so this was interesting and fun. It suggests a lowball glass, so I used a stemless wine glass. The three ingredients were vodka, cream and coffee liqueur. I mixed the vodka and coffee liqueur over ice and frothed up my cream a bit with a handheld milk foam maker.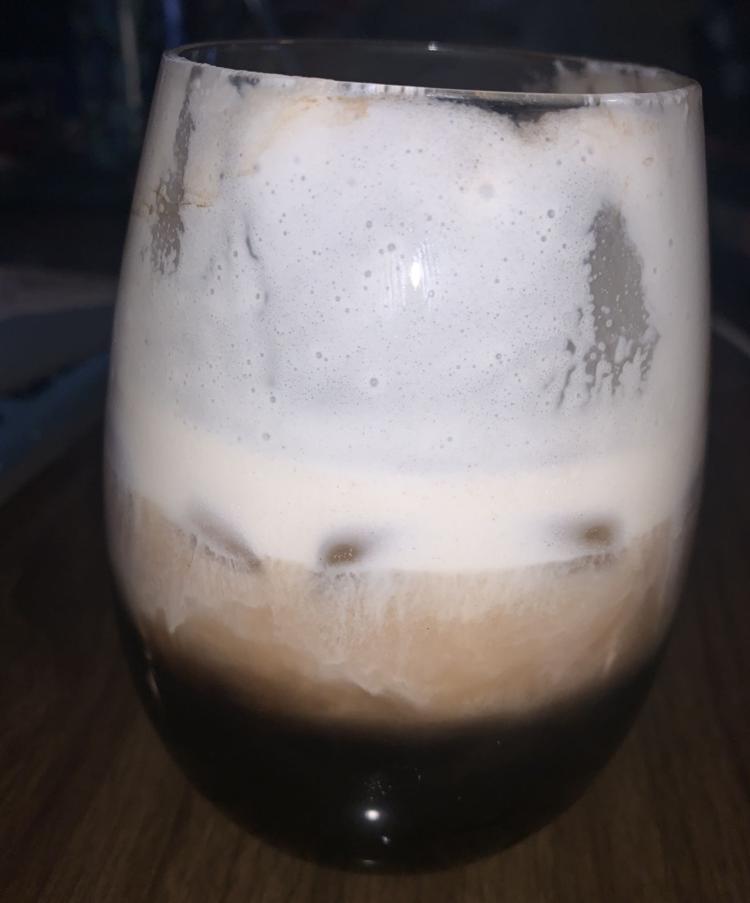 Voila! This drink was delicious, and I was excited to try a new coffee-flavored cocktail. During normal everyday life, I am a barista, so making new cocktails fills my need to make drinks. 
Anna Brezinski, who previously bartended at Nash Vegas in Columbia and at the Austen in Chicago, says she enjoyed making bombs the most. 
"I love making bombs," said. "When people ask me to make something good, I made a sweet tart bomb or a green tea bomb."
Pouring out shots evenly—when mastered—is also really fun, Brezinski says. As far as bartending from home, she says people need to be creative and find things around their house to try together. "For example, there's one drink I really like that has egg whites in it," she says. 
Another feature of makemeacocktail.com is the ability to search any ingredient. I searched for egg whites to browse what kind of cocktail recipes the site had available with the strange ingredient and found the Earl Grey Martini. This drink has egg whites, lemon juice, sugar syrup, dry gin and Earl Grey tea. For the sake of social distancing, I stuck with using vodka when crafting this cocktail.
I was honestly afraid to taste this cocktail, not because of the egg whites, but because I used vodka instead of gin. I am so happy I did though because it tastes like sweet tea with a kick, and it's delicious. I used a regular wine glass and added the lemon for a cute garnish. 
Makemeacocktail.com is a great website to learn how to make your own cocktails during quarantine using ingredients you already have. If you short on supplies, then you can take advantage of Missouri temporarily allowing the sale of mixed drinks and order cocktails from a local restaurant. But in my opinion, crafting new beverages from home is much more fun.
Related stories