There's no seed packet for this plant. Garlic is what garlic needs — and Missouri's combination of warm and cool temperatures produces plenty of it.
Whether purchased from the grocery store or a local farmer, garlic can be planted in late fall and harvested in the months of early summer.
Garlic takes many shapes. It first begins as a spike underground, and then it transitions into an upright flower stalk. It exhibits two dead leaves, and then it becomes a bulb of cloves.
For any gardener looking to grow their own garlic, all that's required is a bulb of softneck garlic from the grocery store. If you plan to grow hardneck garlic, local farmers markets such as the Columbia Farmers Market have bulbs of hardneck garlic. Any of these variations grow well in Missouri if planted right now during the autumn weather. So hurry, go grab your garlic!
Hardneck or softneck?
Garlic is broken into two groups: hardneck and softneck.
Softneck garlic is the typical standard for what's available in grocery stores and other wholesale markets.
Kelly McGowan, field specialist in horticulture for MU Extension in Greene County, explains that this is the case because of softneck garlic's long storage life. She's had great success growing a head of garlic from the grocery store.
"Typically, garlic is going to be planted in the fall, so this time of the year is perfect," McGowan says.
MU Extension agronomy field specialist and garlic grower, Rusty Lee, suggests that people should consider purchasing hardneck garlic from their local farmers. Hardneck garlic is known to be the more flavorful of the two, and the plant is already acclimated to the growing climate, which should include a cold winter, a wet spring and a hot, dry summer.
"We've got that [weather pattern] in spades," Lee says.
Patrick Byers, field specialist in horticulture for MU Extension in Webster County, says that Missouri farmers have a heightened interest in hardneck garlic because of its unique flavor profile and appearance. These can set them apart from other softneck-selling markets.
"Don't get me wrong, softneck garlic is fabulous," Byers says. "I like any kind of garlic."
The Columbia Center for Urban Agriculture currently grows two varieties of hardneck garlic, Samarkand and Music, but it's transitioning to purely Music for its large clove size.
"It eliminates that huge kitchen time suck of hammering little cloves, popping them out and mincing them up smaller," Tony Minnick, the Urban Farms Manager at CCUA, says.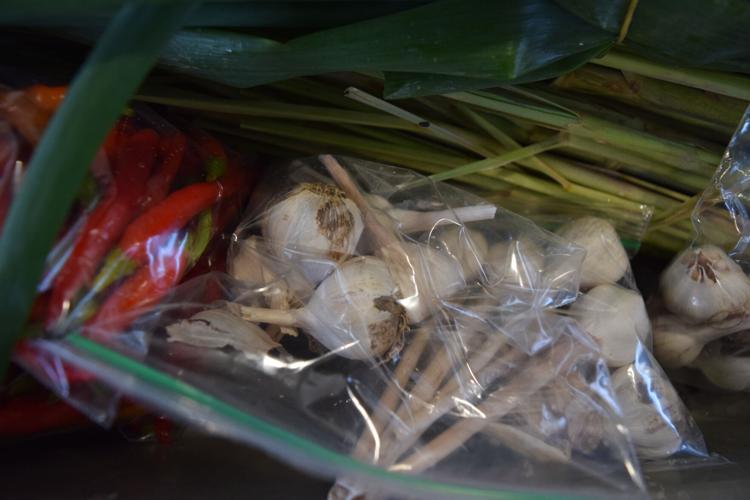 Don't throw away the scape
This is hardneck garlic's time to shine or shoot. The scape, the curvy, curly tip of the upright flower stalk that's ready for harvest in May, is special to hardneck varieties.
It's edible, and McGowan and Lee suggest it can be used to make a pesto. Byers says it can be used like asparagus and onion.
Minnick uses it as a guide to know when the rest of the garlic can be harvested. If the scape hasn't flowered yet, and it can be snapped off, it's ready. If the scape is ready, the bulb can be harvested in less than one month.
"It's kind of like a bonus crop if you're gardening at home," Minnick says.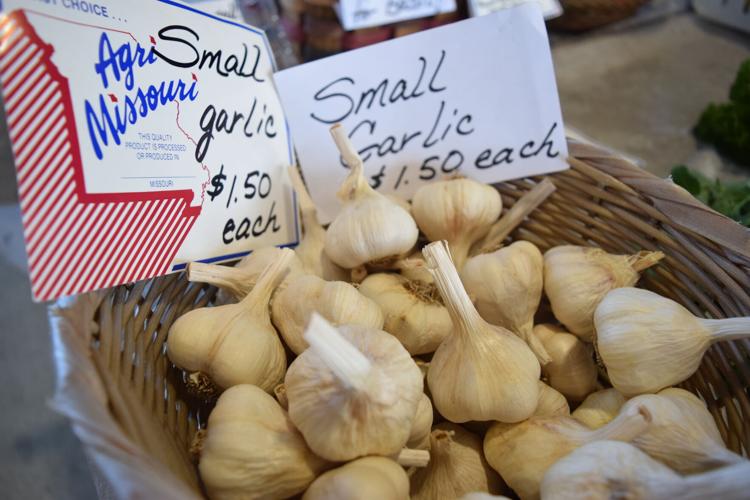 The cloves are clones
"Garlic is a clone of itself," Lee says.
Hardneck and softneck varieties can both be planted from themselves. When planting, space the individual cloves anywhere from 3 to 9 inches apart in the soil.
"It does not want to be crowded," says Liz Graznak, farmer and owner of Happy Hollow Farm.
One garlic can provide multiple future plants. "Crack a bulb open and you've got six to eight future plants to put in your garden," Minnick says.
Then, the top of the soil should be covered with straw, hay, grass or mulch, so that weeds are kept out and insulation is kept in, Lee explains.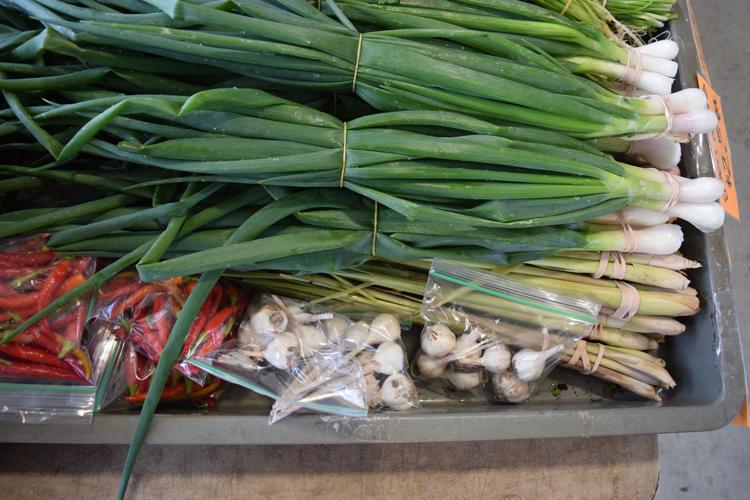 McGowan suggests giving them full sun and the same amount of water she would for most other vegetables: about 1 inch per week. But in the winter, most people don't give their garlic any drinks at all, because they have enough moisture from the ground.
Come around June, after the scape formation in May, the bulbs are ready to harvest.
"It's almost like 'a plant it and forget about it kind of a crop,'" Lee says. "You plant it this time of the year and put some grass over it and just kind of forget about it. Then next spring you're like: 'Well, oh my, lookie there.'"
Related Stories