Let's be honest: Some of us are less outdoorsy than others. Summer in Columbia almost always involves a nice patio. But "patio" is an umbrella term that encompasses a range of outdoor areas, some more fitted to your particular style. So, Vox created a ranking on a scale of one to four Vs of restaurant patios from most rustic to most polished to ensure you end up with the ambience you prefer.
You'll need bug spray
Chim's Thai Kitchen
VVVV
Location: 11505 S. Easley River Road
Hours: 11 a.m. to 9 p.m.
What you'll spend: $8-$12
Chim's is one of Columbia's best-kept secrets. Located 20 minutes from downtown, the little shack is set up along the Missouri River at Cooper's Landing. The venue has live music, a few picnic tables and a whole lot of nature. There's only outdoor seating available, so check the weather forecast beforehand.
Perfect bike ride pit stop
Mulberry Grill & Bakery
VVVV
Location: 101 Howard St., right off the Katy Trail in Rocheport
Hours: Saturday, 1 p.m. to sunset and Sunday, 11 a.m. to sunset
What you'll spend: $10-$12
Ever been biking down the Katy Trail and suddenly gotten a strong craving to stop exercising and eat pizza? This cozy family-owned restaurant is a few feet from the trail in the shade of a mulberry tree. It's famous for the outdoor brick oven on the patio. Mulberry doesn't have indoor seating, so you'll have to give the outdoors a shot to enjoy this grub.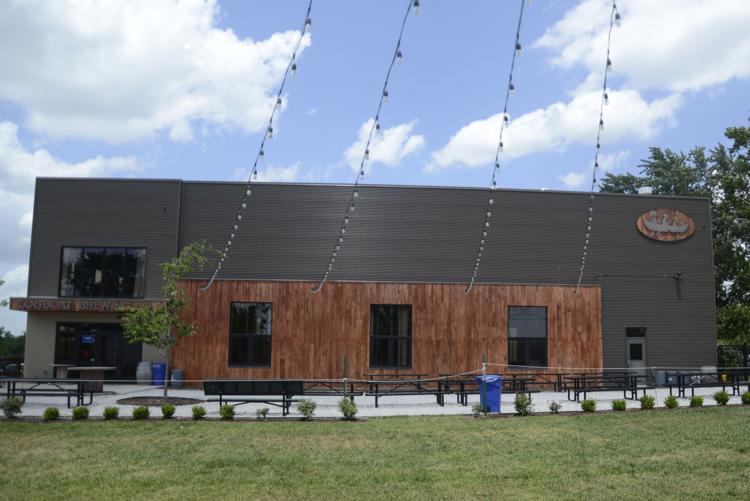 Not the place for white jeans 
Logboat Brewery
VVV
Location: 504 Fay St.
Hours: Tues.-Thurs., 3-10 p.m.; Friday, 3 p.m.-12 a.m.; Saturday, 12 p.m.-12 a.m.; Sunday, 1-6 p.m.
What you'll spend $10-$13
It's possible to sit inside at Logboat Brewery, but once you walk up to the grassy expanse right outside, you'll opt to sit there. You never really know what to expect from an afternoon at Logboat. There's usually a food truck serving up delicious eats, dogs roaming the wide plot of land that occupies almost an entire city block and sometimes even live music.
Nature optional
Las Margaritas
VV
Location: 10 Southampton Drive
Hours: Mon.-Fri., 11 a.m. to 10 p.m.; Sat. and Sun., 11 a.m. to 10:30 p.m.
What you'll spend: $14-$17
A little more casual, a little less nature, a lot more cilantro. The Mexican restaurant features a wraparound patio that stretches out over Swan Lake. "No other restaurant in Columbia has that kind of view," manager Martin Esquivel says. However, the lake is far enough away that you can choose whether to immerse yourself in the natural aspects of the venue.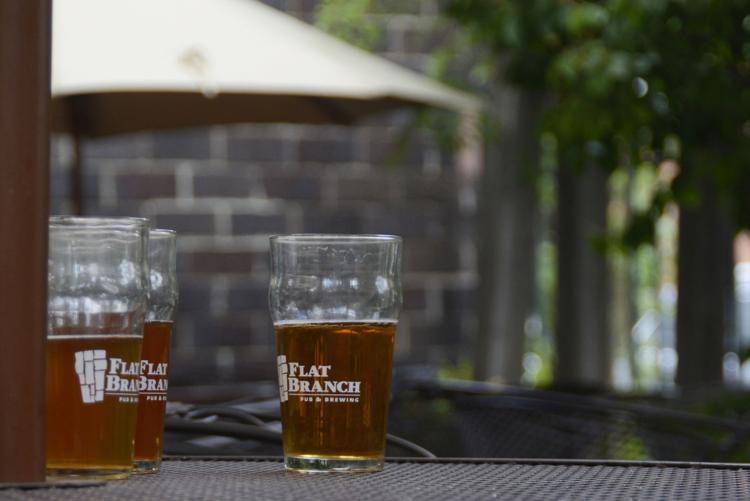 Just enough trees
Flat Branch Pub and Brewing
VV
Location: 115 S. Fifth St.
Hours: Mon.-Fri., 11 a.m. to 12 a.m.; Sat. and Sun., 10 a.m.-12 a.m.
What you'll spend: $15-20
Flat Branch Pub and Brewing's patio puts an upscale twist on outdoor eating. The area almost always has people flowing in and out, which server Melanie Vasquez says is largely because of the landscaping. "Our gardener does a really good job," she says. "Sometimes while you're sitting on the patio, you almost feel like you're transported elsewhere." The fence is draped in ornate foliage and sprinkled with fairy lights, which adds an ethereal atmosphere.
You might not even see a leaf 
The Roof
V
Location: 1111 E. Broadway, eighth floor
Hours: Mon.-Thurs., 4-11 p.m.; Fri. and Sat., 4 p.m.-1 a.m.
What you'll spend: $20-25
If you want more of the luxurious outdoors and less of the bug-spray smell, The Roof, atop The Broadway hotel, is your spot. While relaxing on its modern patio, you can enjoy elegant cocktails and sophisticated appetizers. Lead server Rhia Knapp says the environment is perfect for young business professionals or a more mature audience. "During the chilly summer nights, you can come sit along the long fireplaces and have your own little bonfire," Knapp says. But don't worry; you won't need to start the fire yourself.