From a food truck operation to serving at festivals to, now, a brand new restaurant, Ozark Mountain Biscuit Co. has wheeled into different avenues of success and expansion over the past eight years.
Fueled by a mission to bring the southern flavors of Arkansas to Columbia through biscuits and gravy, Bryan Maness opened Ozark Mountain in 2013. He was backed by his twin brother, Brent Maness, and his uncle, Michael Maness. Now, the food truck company plans to open a restaurant, called Ozark Mountain Biscuit & Bar, next to Walt's Bike Shop and across from Logboat Brewing Co.
Opening a restaurant was always in the cookbook for Bryan Maness, but that dream was delayed in favor of the events business.
The COVID-19 pandemic then accelerated the process for the food truck family business to expand. "It kind of gave me a chance to step back from that world and look at what else I had time to get started," Maness says.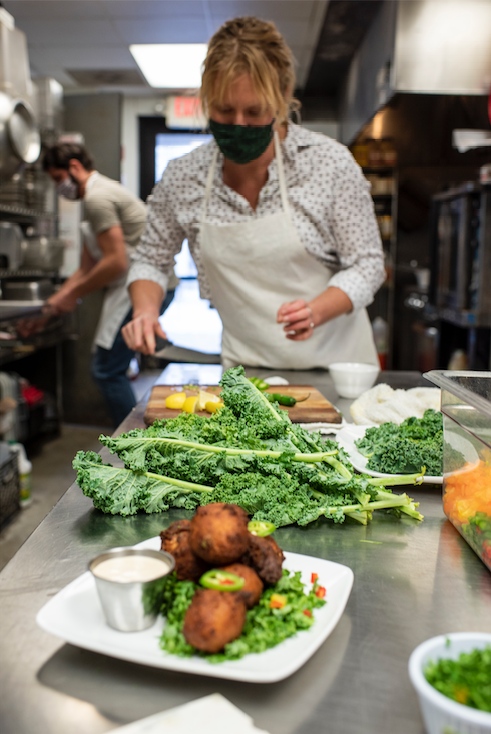 Maness had been scouting for the right location for three years. When a spot in front of Logboat opened up, he leapt at the opportunity. "I just saw the sign go up in the building," Maness says. "I thought, 'OK, that's a spot for us.' I knew I had to move on it."
The place is perfect because Ozark Mountain already has an established relationship with Logboat. The food truck has parked at Logboat two days a week year-round since it opened in 2013. "And we're also friends," Maness says. "My crew and their crew like to hang out together. We're going to be good neighbors."
In addition to being an entrepreneur and a chef, Maness is also a musician. He says he hopes the new location will allow for collaborations on music events among Logboat, Ozark Mountain and Rose Music Hall, all of which are situated in the same neighborhood.
Maness got a loan for the restaurant through the Small Business Administration and used a portion of revenue from the food truck operation. The restaurant is slated to open this summer, and Maness says he is looking to fill 25 positions including chefs and servers.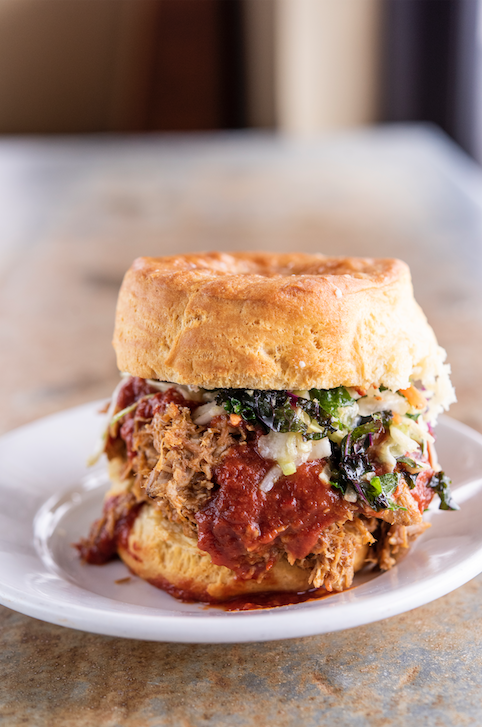 Maness designed the interior of the restaurant with accessibility and efficiency in mind. He was also conscious of the current health crisis and how it has changed the dining experience. Considering these realities, Maness made sure to install a high-efficiency compressed air system and included a 2,000-square-foot patio that allows for outdoor dining.
Paddy Jernigan, general manager of the food truck and back-of-house manager for the restaurant, is working with Maness to create the menu, which will include 15 to 20 Southern dishes. "One of the dishes we're going to do is a barbecue shrimp dish, which is a popular dish you find out in New Orleans," Jernigan says.
The restaurant will also feature a cocktail bar and a to-go espresso counter. Half of the space is allotted for the kitchen, where food will be made for the company's catering business, food truck operation and wholesale frozen take-and-bake biscuits, which are available at local grocers such as Hy-Vee and Clovers Natural Market.
The new restaurant will offer a revamped menu with options that aren't available at the food truck. Diners will be able to choose from fresh salads, shared plates and entrees. "The truck focuses on biscuit sandwiches," Maness says. "And we know that's not something that everyone wants to eat at all times." 
Related Articles