In the Williams family, everyone is "Papadoo." It's what Joshua Williams calls his family, his friends and his children — the people he loves. The name comes from his late grandfather, Henry Papadoo Williams, who was so revered by his community that his name became the family moniker. Papadoo is the man who taught Williams perseverance and the importance of community, so when Williams decided to put his all into a new soul food business in Columbia, there was only one name that would do: Papadoo's Soul Food.
The restaurant, which opened in May of this year, is a slice of home for Williams, a Texas native transplanted by natural disaster. He was visiting his aunt in Columbia in 2008 when Hurricane Ike tore through the Gulf of Mexico; his family home on the beaches of Galveston Island, Texas, was blown away by gale-force winds. Williams had two choices: Go home to clean up and rebuild, or stay in Missouri and make a new life. He chose to stay.
He worked different jobs and tried to settle in, but there was something missing. Columbia lacked the soul food Williams grew up with. In search of a literal taste of home, he called the cooks — his aunt, mother and grandmother — and asked for his childhood recipes. Over time, he mastered their roasted oxtails, a slow-cooked cow's tail made to slide right off the bone in one bite. He perfected their barbecue and moved on to the classics: gravy 'n' rice, fried pork chops, seafood gumbo. Cooking for friends and coworkers, he shared his old home with the new.
When his warehouse job took a turn, Williams says he stepped out on faith. "On Monday I quit, and Friday I was selling food," he says. He promoted his cooking on social media accounts by creating business pages and sharing his phone number on Facebook, Snapchat and Twitter; he relied on word-of-mouth. People started calling. Ten customers grew to 20, which grew to 40 and requests for catering. Williams began selling food out of his car, hand-delivering orders free of charge. He soon realized he needed a place to set up shop if he wanted to keep up with the orders.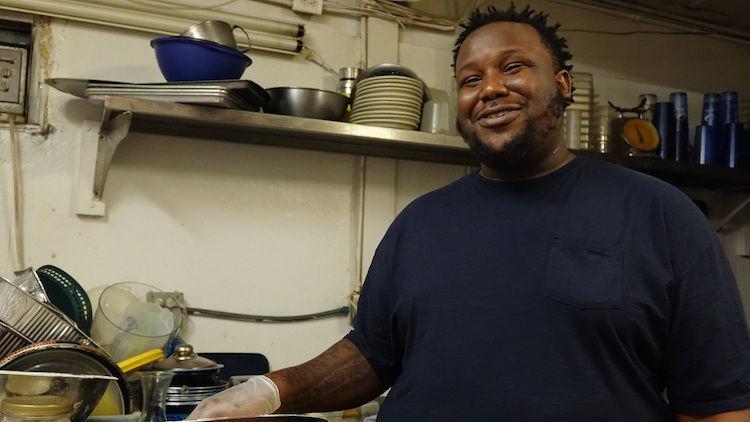 At the same time, Williams' friend, Adrian Preyer*, had just bought a new business — formerly Ruckus Bar & Grill on Business Loop — and planned to open a nightclub and bar called Plush Lounge. Preyer had an empty kitchen and knew Williams was looking for a place, so they agreed on a partnership: The space would be Plush Lounge by night, Papadoo's Soul Food Kitchen by day.
The new spot features a long neon-lighted bar and an open dance area with seating for the restaurant's overflow. The bartender offers a simple paper menu listing the regular items, and a lit-glass board features the specials of the day.
Every option on the menu might as well include "loaded" in its title. The salads are stacked with fresh-made meats, cheese and veggies. The crawfish and shrimp-stuffed baked potato oozes homemade cheese sauce out of its tin foil wrap. The fried-to-order catfish and spaghetti wafts savory goodness out the sides of its to-go box.
The Williams family originally hails from the the bayou of Louisiana, so Cajun seafood — like crawfish and alligator caught fresh by Papadoo — was a constant at the dinner table. Williams says the essence of soul food comes from Grandma's cooking. He calls her food the best in the world and remembers the rice 'n' gravy that was always on the kitchen burner. The whole neighborhood block was comprised of Williams households, and all the kids would show up at Grandma's for dinner. Even if there wasn't quite enough to go around, she would make sure everybody was fed. This same sense of care and sharing is evident at Papadoo's Kitchen.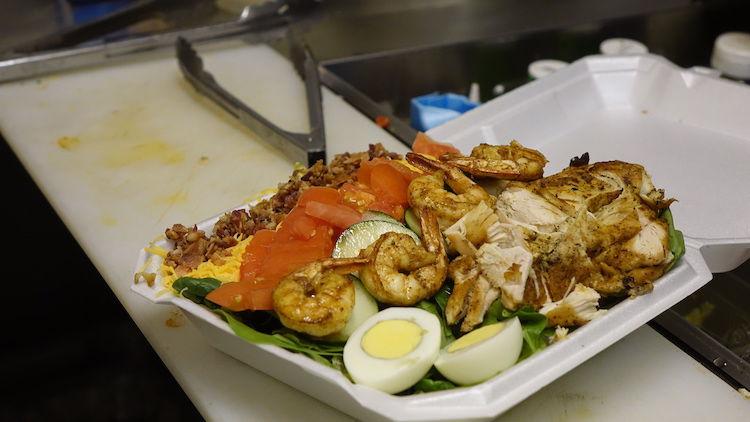 The business hopes to organize a Christmas giveaway and sponsor multiple families through the holidays. It also plans to throw a Thanksgiving lunch that will welcome struggling families and homeless individuals to come into the restaurant for a free hot meal and friendly conversation. "You always welcome here," Williams says. "You know we'll treat you like family."
Williams has hope others can be inspired by his success. "I feel like I give a lot of people hope that you can just do your own thing," Williams says, "A lot of people have seen the way I did it. They've seen that I was cooking from my house; they know I was selling food from my car. When they see that, to see where I'm at now, they look at it like, damn, you know, you can do it."
From the shores of southern Texas, through the dredges of disaster and out the backseat of his car, Williams worked hard — just like Papadoo taught him. The spirit of Papadoo has a new home in Columbia, and now Williams invites others to find a home in Papadoo's.
*A previous version of this story confused Adrian Preyer with Akil Hutchins, who organizes events for Plush Lounge. Preyer is the owner. The error has since been corrected.