One light never turns off at Café Poland. Even after the shop closes at 8 p.m., the large acrylic sign that reads "Café Poland Espresso & Pierogies" illuminates the tiny trailer until daytime. Although this might be comforting to some residents who take it as a reassurance that one of Columbia's most unique sources of culture is still open, it is a source of much frustration for Iwona Galijska.
"The light, it is always on, and we have to pay the city," Iwona says about the light-sensitive fixture that was falsely advertised to only turn on in response to daylight, but stays on throughout the night. "I told them I cannot turn it off, but it does not matter because they say it is ours."
High utility costs are nothing to trifle with, not when there's a fledgling business on the line, or when Columbia is seeing record development on what feels like every corner.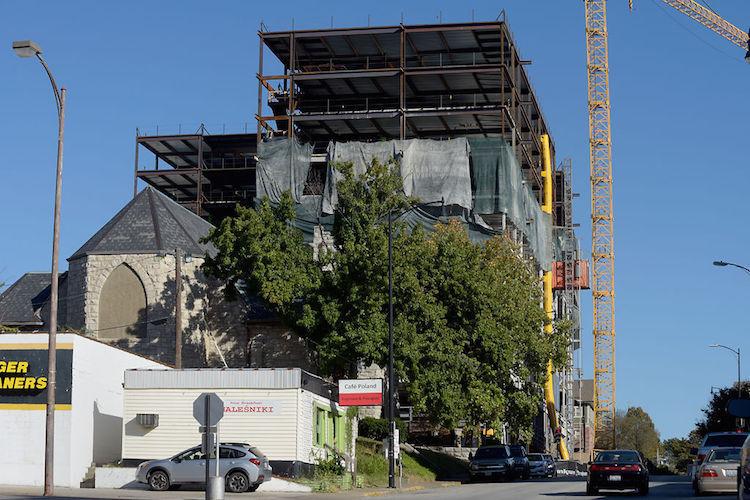 Iwona's oldest son Robert Burlinski, 46, opened Café Poland in January 2013, but left it under the care of his mother while he studies at Aureus University School of Medicine in Aruba. The cafe isn't bringing in enough revenue to pay her, so she instead volunteers six days a week.
Before moving to Columbia, Iwona, 65, owned a profitable farm in Poland and did not imagine herself moving to the U.S.
"I am lucky and unlucky," Iwona says. "All my life I was climbing, and then it all fell out of my control."
When Iwona first came to the U.S., she arrived in Anchorage, Alaska. Waiting for her in a neurological clinic was her son, Krystian, who was 22 years old at the time. His father, Iwona's ex-husband, had just died, and Krystian needed family. He was living with epilepsy and Post-Traumatic Stress Disorder.
Iwona arrived on a temporary visa, and the plan was to follow the clinic's treatment protocol, then return to Poland. However, Krystian's treatment was going to require him to stay in the U.S. for an extended period.
When Iwona returned to Poland for harvest, she had a life-changing decision to consider.
She could bring Krystian to Poland, where Robert made a modest living as the farm director and owner of a popular restaurant in their hometown. This would come at the expense of Krystian getting better treatment in the U.S. The other option was a permanent move to a country where the family knew no one, but where they could give Krystian the chance to recover.
"For Krystian, of course I would care for him," Iwona says. "I don't want to go back to my country without Krystian."
Iwona returned to Alaska two weeks later. U.S. law permits immigrants to legally enter the country when they are taking care of family members. Because of this, Iwona was able to stay in the U.S. while Krystian was receiving treatment. Robert already had a green card because his father was a U.S. citizen, so in 2002, they made the permanent move. Neither of them have been back to Poland since.
The move was a chance for the family to start fresh. Iwona and Robert attended the University of Alaska-Anchorage, where Iwona worked toward a degree in human services and Robert worked toward a degree in phlebotomy, the practice of drawing blood from patients.
In 2005, Robert opened a restaurant in Anchorage, which he called Café Polonia. Business was good, thanks to sailors from the nearby U.S. Navy base who became frequent customers. But it would not last. In 2007, President George W. Bush ordered a surge of more than 20,000 U.S. troops deployed to Iraq. Those sailors disappeared. A year later, they declared bankruptcy.
Iwona picked up a job at the supermarket. She also began work as a sterile processing technician at the local hospital. Robert found work at another facility as a phlebotomist. They managed to make a living in Alaska while Iwona finished earning her citizenship. In 2010, Iwona became a legal U.S. citizen, and the family had an opportunity for another fresh start.
"Because of good medical school, Robert wanted to go to Austin," Iwona says. "We stayed only for a half year because the out-of-state tuition was too expensive. Even at community college, which Krystian was taking, was the same. Very, very expensive."
With no possibility of opening up another restaurant, they were in a tough spot, but a stroke of luck changed everything. Iwona had reached out to the Polish Interior Ministry to find out the status of her father. She was kept from him as a child by her godmother, who raised her because her mother could not. Then, one day, she received contact from a woman also named Iwona Galijska. As it turns out, Columbia Iwona's father had two more daughters and named one of them Iwona after his first daughter. Poland Iwona Galijska reached out to Columbia Iwona Galijska because she thought she had stolen her identity. Once it became clear they were half sisters, Poland Iwona Galijska acted out of the same interest that brought Columbia Iwona Galijska to the U.S.: for family. She loaned Iwona, Robert and Krystian $4,000 she got from selling their father's home. It was enough to get them to Columbia, where education would be cheaper for Robert and Krystian.
When the family arrived in Columbia, they had no intention of opening a restaurant. However, after sending in multiple job applications, they were unable to find jobs. Then, one night, Robert came upon the little box building that is now Café Poland and decided to give the restaurant business another try. They were rejected for low-interest business loans because, as Robert puts it, "They said no one would buy our product." He was instead forced to use his student loans to start a new restaurant, in addition to the $4,000 from Poland Iwona Galijska and an additional $15,000 loan from his aunt on his father's side of the family. Without family, Café Poland might not exist.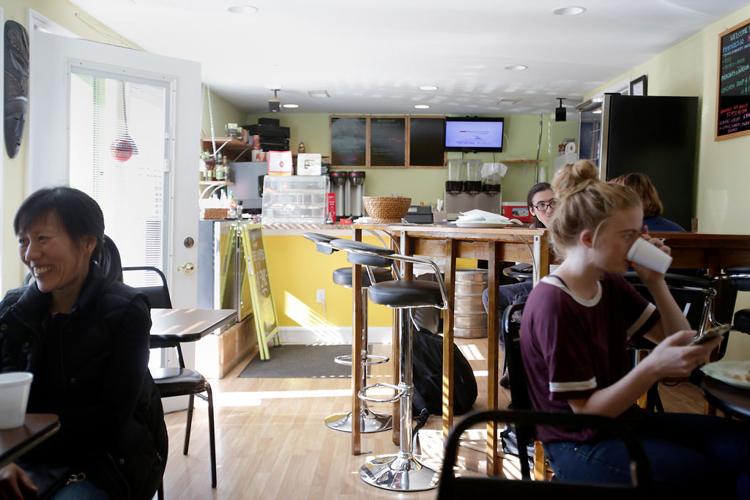 Now, it's midday on a Tuesday in October, 15 years after Iwona and her two sons reunited in Alaska. Iwona is watching over the intimate cafe Robert owns in downtown Columbia. A few customers are grabbing a bite for lunch at Café Poland. It's the only place in town that serves authentic Polish food — the pierogies are a taste of home for those who grew up with the cuisine.
Iwona is up on her toes as she leans her petite frame up against the railing. She's glancing through a guest book inside Café Poland. Business has been slow as of late, but these guest books — some completely filled with glowing reviews — are evidence of dedicated customers who have grown to adore this place. "I am from Saudi Arabia," one review begins. "I am in love with this restaurant. When I eat, I remember my mom. Thanks a lot." The lines of Iwona's face are deep and stuck in a sort of half-frown that might be a result of the struggle she and her family face every day. Iwona is in the restaurant six days per week, but every time a customer opens the door, a smile pushes those lines up into her cheeks and closer to her ears.
A bell rings, and the silence is broken. Iwona snaps up, turns around and takes notice of the young man's attire. A backpack implies school, and she asks how the semester has been treating him. He replies that he just got out of a quiz. She throws up her arms. "Oh, you have a quiz," she says. "Robert says, 'I have a quiz,' and he does not like them. How did yours go?" As she pours him a coffee, she talks to him as if catching up with a distant relative or friend. He leaves, and Iwona waves with one arm on her hip as she wishes him well.
"I hope people who come through here feel at home. Because to me, it is home, and I want to show everyone maybe a little something about Poland, about where I come from," says Iwona. 
The restaurant has a special place in the hearts of its frequent customers. Students, local business owners who take employees out for weekly lunches and fellow immigrants all rave about the pierogies, borscht and goulash. Late one Thursday night, a young Russian man stops by. He and Iwona converse in Russian for a while, and Iwona appears completely at ease. He orders pierogies, and as he leaves, he calls out Russian to Iwona. She laughs, replies and waves him off. As he leaves, a visible smirk appears on Iwona's face.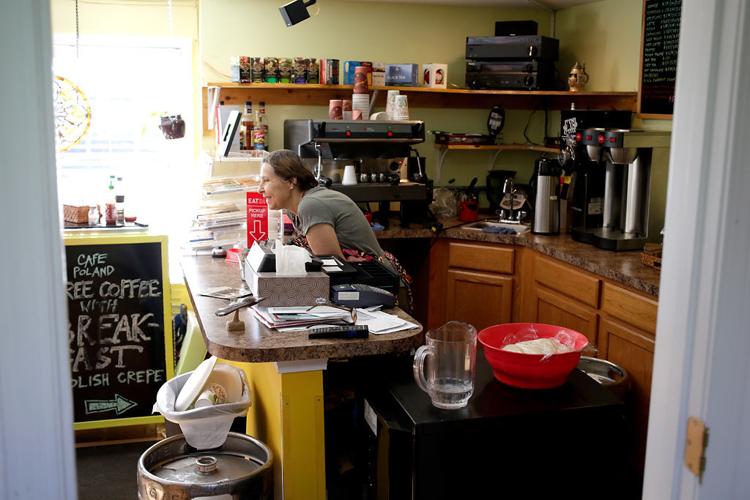 "He says he hopes his grandmother makes pierogies as good as mine," she says. "He is from Russia, and his grandmother is Russian. I guess she makes pierogies differently."
It's high praise, to best a grandmother.
Making Café Poland work has demanded a lot of each family member, especially as Robert and Krystian are both studying to earn degrees. Robert is currently in his second year at Aureus University School of Medicine in Aruba. While he studies abroad, he communicates with Iwona via Skype on a small desktop in the back corner of the restaurant. He helps her keep the books, crunch numbers and answers questions on how to fix the various coffee and cooking machines in the shop. Krystian, now 38, is studying photography and painting at Columbia College, and he is not expected to graduate until at least 2018.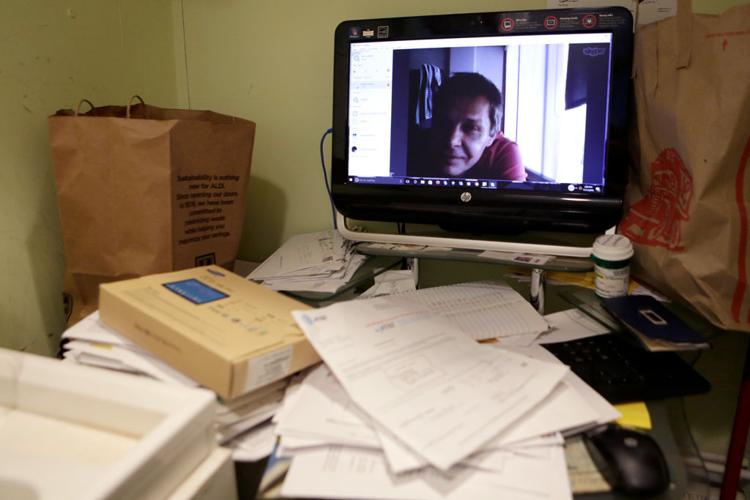 "I see myself, in five years, hopefully as a successful doctor. I want my mother to not work as much, or at all really. I hope Krystian is being able to support himself as an artist, and we are happy," Robert says from his dorm room in Aruba.
This Skype call with Robert has lasted more than 18 hours. The lighting and quality of the camera are not great, but it's easy to see the same bags his mother has forming under Robert's blue eyes. His brow is furrowed as he looks down and tilts his head back and forth, like he's willing himself to imagine the future he is talking about.
The family recently renewed its lease on the cafe for one more year — a short-term victory. Although the city of Columbia is likely to extend its current moratorium on new multi-family housing within a mile of MU campus, there's still the chance that after the one year, landowner Steve Pohl could sell the property on which Café Poland, Tiger Cleaners and the parking lot are located.
Keeping Café Poland open will take more than just paying the rent, and the decline in Café Poland's business means Robert's family will continue struggling to keep the lights on.
The sole responsibility for the restaurant falls on Iwona while her sons are attending school. She also receives help from her fiancé Daniel Karlov, an architect in Jamestown, who visits on the weekends and helps attract customers. Despite his help, on some days, business is slow, and she is there with perhaps one other worker while TV Land plays reruns of classics such as I Love Lucy and Leave it to Beaver. Sometimes she throws classical music, her favorite, on the Numark record player that rests on the shelf. Through conversations with her newly discovered family, Iwona has learned she shared this passion with her father, who was the president of a music society back in Poland.
On this day, though, Iwona plays Bob Dylan in the cafe — in honor of his Nobel Prize. She has one Bob Dylan album, a gift from a friend, but she says she does not like it.
"I do not know what Bob Dylan is saying with the lyrics," she says. "I do not think he is a very good singer. But when someone is able to tell me what it is he is saying, I actually have come to like him more."
More than just the record player, Café Poland has an aura of intimacy. Artwork takes up most of the available space on two of the cafe's four walls. A raised seating section guarded by a railing helps give the restaurant a homey dynamic, but it wasn't always this way.
The space was previously home to another immigrant-owned business, Carpe Diem, which hosted different arts and culture events. It was in bad shape when Café Poland moved in. Robert used money from loans to purchase new walls, electric work, chairs, tables, cooking equipment, coffee machines and everything else. On the walls, Iwona has hung up some of the cooking equipment from the original shop Robert owned back in Poland.
On the counter is a photo of Iwona and her children, all smiles and all together. The place starts to feel like a home. The smell of pierogies, borscht and fresh coffee fill the air, which combine to make the unique aroma that is Café Poland.
Before long, the workday has come to an end. For Iwona, Robert and Krystian, it is one day closer to what they hope will be a more relaxing life. Passersby can be faintly seen through the open shutters. Iwona repeats her nightly routine. Sweep up the floors. Put tomorrow's food in the refrigerator. If Robert is still awake, she wishes him good night. One more time around the cafe, double-checking all of the cooking equipment and making sure all is where it should be. Off go the lights.
Well, all except one.