Whether it's early morning, mid-afternoon or on your way home, Columbia has no shortage of coffee shops where you can get your caffeine fix. Because of COVID-19, many local favorites have made accommodations for social distancing, including new hours and revamped outdoor seating. With all the changes, Vox has the rundown of the best places to get a cup of joe for every occasion.
Want to sit outside?
Shortwave Coffee introduced outdoor seating back in May, and owner Munir Mohammed said it's been the most popular option for guests ever since. The long benches and tables situated in Alley A make Shortwave the perfect spot to do work or catch up with friends while social distancing. 
"We do a really good job of making sure that we always have a safe environment for all employees and for our guests," Mohammed says.
Now that the coffee shop's indoor seating is open again, there's plenty of space to comfortably stay six feet apart from other customers. Be sure to also keep an eye out for Shortwave's second location opening on South Ninth Street this month!
Location: 915 Alley A
Current pandemic hours: Daily, 8 a.m. to 8 p.m.
Need a place that's open late?
The Grind's south location is one of the only coffee shops in Columbia that's open well into the evening. People can sip coffee either indoors or outdoors until midnight on Monday through Thursday and 11 p.m. Friday through Sunday. With a study bar, conference room and plenty of tables, this locally owned coffee shop is a great place to hunker down and get some work done.
Aucky El-Tayash, The Grind's owner, said that while he's making sure to keep the place sanitized and socially distanced, he didn't want to make too many changes.
"I don't like being open until 1 p.m. one week, and then 5 p.m. the next week, and then 10 p.m. the next. It confuses the customer," El-Tayash says. Instead, he's focused on making improvements, like extending the south location's deck and adding online ordering.
Location: 4603 John Garry Dr.
Current pandemic hours: Monday-Thursday, 6 a.m. to midnight; Friday., 6 a.m. to 11 p.m.; and Saturday-Sunday, 7 a.m. to 11 p.m.
Looking for a quick pick-me-up?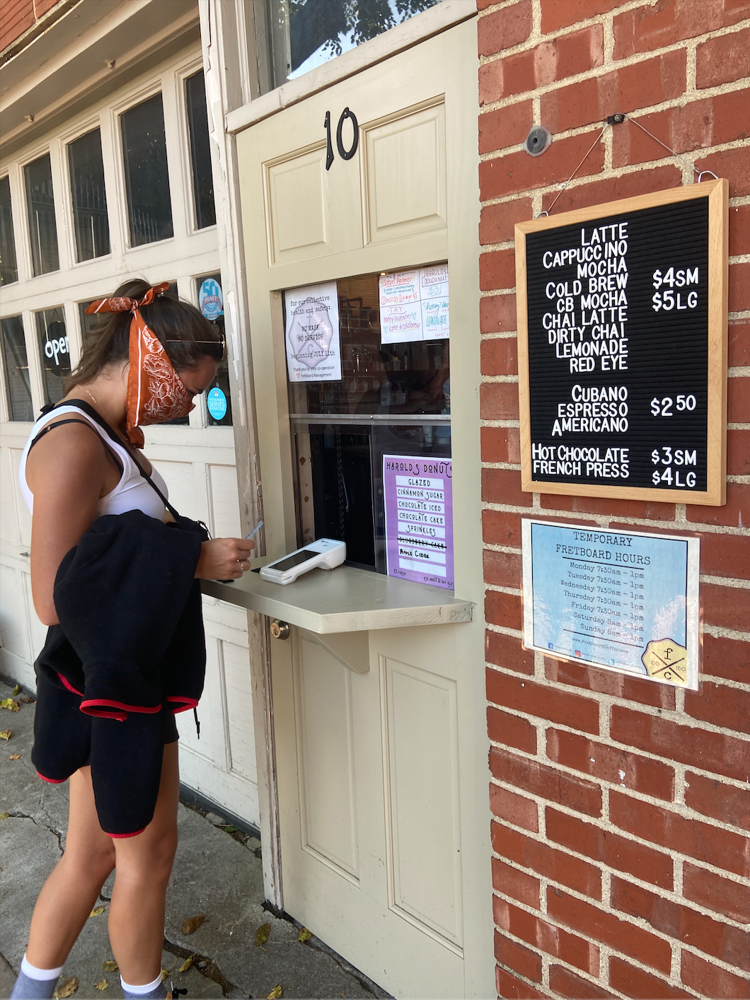 Fretboard's indoor seating isn't open right now to accommodate for social distancing, but the shop's walk-up window makes grabbing a cup of coffee fast and easy. The downtown Columbia staple is offering a limited menu right now — including cold brew, espresso drinks and chai teas — to help decrease wait times. 
Even without their usual full menu, Fretboard's coffee doesn't skimp on flavor and creativity. Try their honey lavender flavored latte or lemonade. If you aren't in a rush, spend some time at Fretboard's whimsical courtyard seating.
Location: 1013 E. Walnut St.
Current pandemic hours: Monday-Friday, 7:30 a.m. to 1 p.m.; Saturday-Sunday, 8 a.m. to 1 p.m.
Feeling hungry, too?
Aroma Coffeehouse serves an all day menu, so you can grab a bite to eat no matter what time you stop. The coffee shop has an array of bakery items, breakfast sandwiches and lunch items. We suggest the egg and cheese waffle sandwich or grilled cheese made with gruyere, brie and aged cheddar. If you're not in the mood for food or coffee, Aroma also has smoothies made with real fruit.
Aroma's spot on Business Loop 70 is ideal for anyone trying to avoid crowds downtown, and their drive-thru is a great option for quick coffee. The warm, open lounge area is the perfect atmosphere to sit and enjoy a snack with your cup of coffee. Also be sure to check out their collection of vinyl records for sale inside!
Location: 1009 N. Providence Road
Current pandemic hours: Monday-Saturday, 7 a.m. to 8 p.m. and Sunday, 8 a.m. to 8 p.m.
Don't want to leave your car?
With the pandemic, it's understandable to want to limit your contact with others as much as possible. Check out our interactive map of every coffee shop in Columbia that has a drive-thru.
Related Stories