Mala xiang guo is a traditional Chinese stir-fry dish. Known for its spicy and savory flavor, it generates an exciting tingling, numbing sensation when you eat it.
In addition to the delicious mala taste, the dish's versatility also has helped it gain popularity. Mala xiang guo usually contains meat, veggies and seafood, but can be made with only veggies and still taste incredible.
Ready to try some mala? This guide provides you with step-by-step directions to make your own and information on local restaurants that offer the dish to help you achieve the perfect mala experience.
So, how do you cook mala xiang guo at home? Here's what you'll need:
Ingredients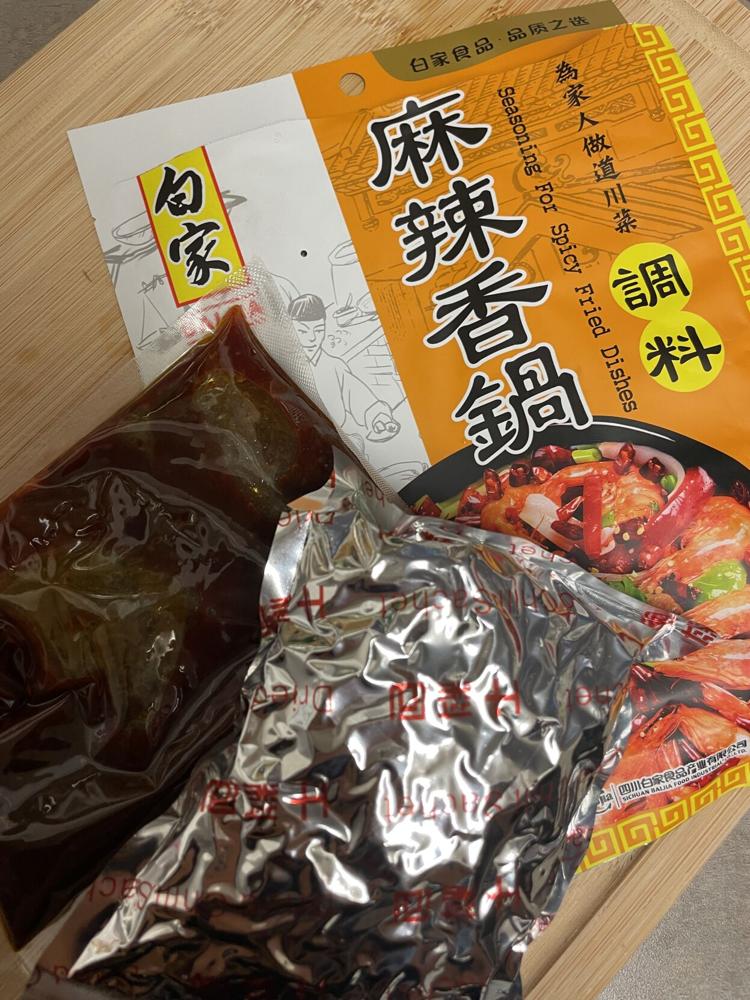 Vegetables: 
Wood ear mushrooms, enoki mushrooms, king oyster mushrooms, shiitake mushrooms or any other mushrooms of your choice
Firm tofu (a nice substitute for meat)
Bean sprouts
Any other veggies you like
Meat and seafood: 
Sliced beef or pork (recommended), quail eggs, shrimp, squid, spam, or any other meat you love
Sauce: 
One pack of mala stir-fry sauce
Two cloves of garlic
Ginger roots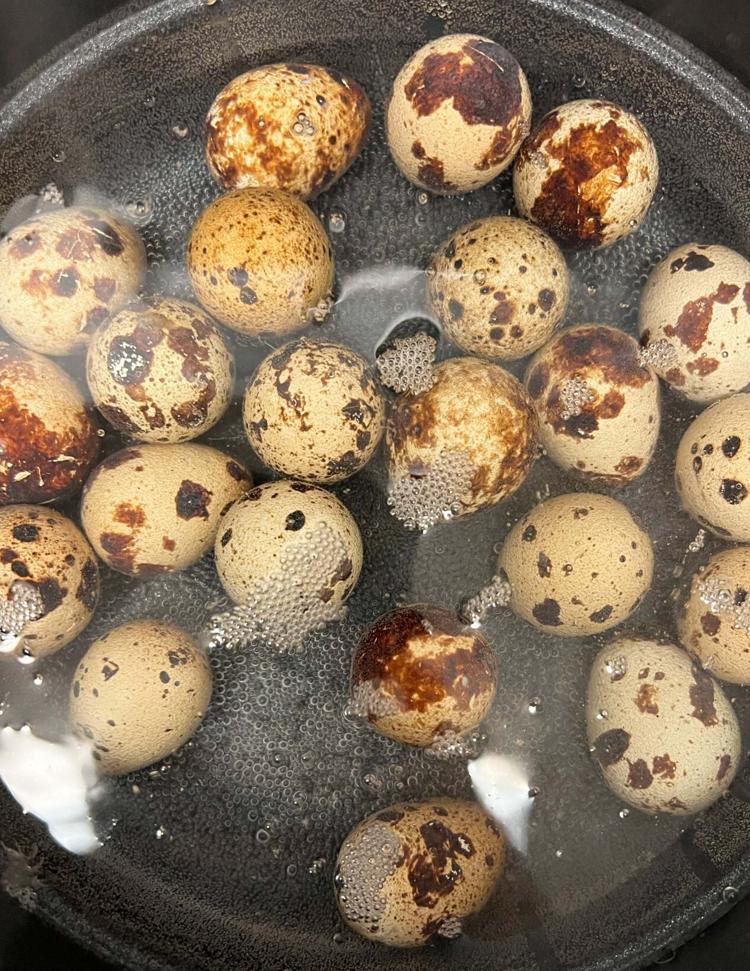 Where to buy the ingredients: The veggies, sliced beef or pork, and packs of quail eggs listed above can be bought at Hong Kong Market and Lee's Market. Shrimp, squid and spam can be purchased at almost any grocery store. And you can find mala sauce at Hong Kong Market as well.
Attention: You may want to prepare yourself some steamed rice to pair with the mala xiang guo. The rice will come in handy while you're sweating over the spiciness of this dish.
Directions
Step 1: Wash the veggies and thaw your meat. Use a small pot to boil the quail eggs. Dice the mushrooms and tofu into small pieces. Peel two garlic cloves and cut them into slices. Slice your ginger roots.
Step 2: Add some water to your pot and bring to a boil. Put all your veggies into this boiling water. Cook for two minutes. Drain and set aside. Keep the boiling water for the next step.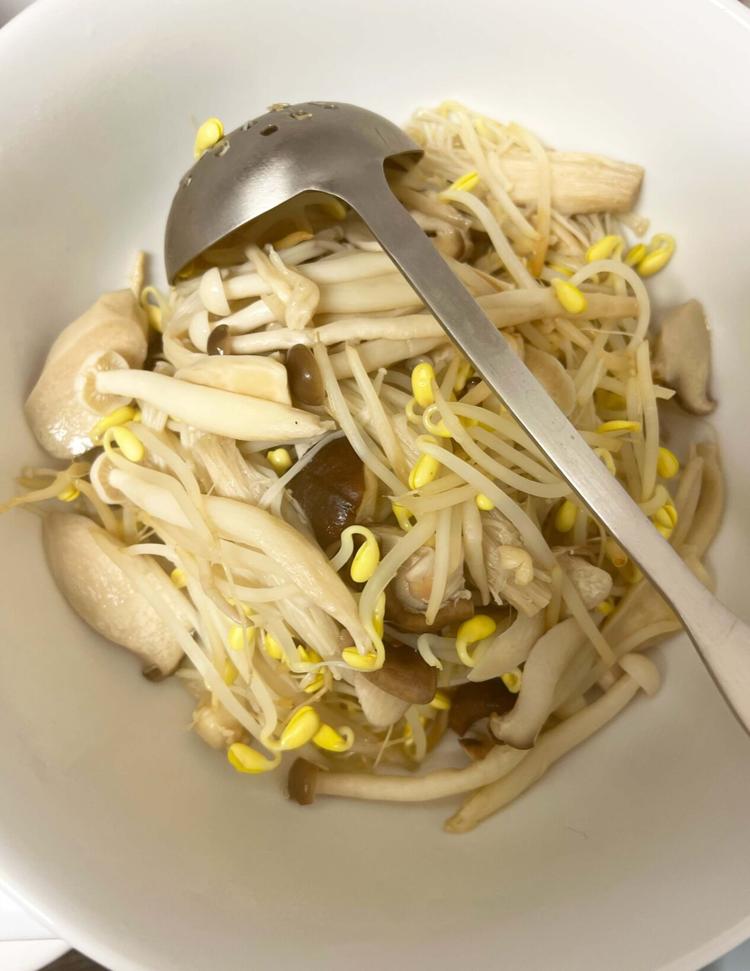 Step 3: Add your meat and seafood to the boiling pot, and cook until it's no longer raw. Take your fish out and set aside. Now you can discard the water.
Remember the small pot that's boiling the quail eggs? They're probably cooked by now. Rinse the eggs with cold water to cool them down, and peel the eggs.
Step 4: Heat oil in another pot or a wok. Stir-fry the garlic and ginger root slices until they are slightly golden (or until they generate their aromatic smell). Then add the dry chili until the fragrance fills your kitchen, making your mouth water. Add the mala sauce and stir fry in for about a minute.
Attention: Mala sauce can be extremely spicy. You might want to add half of the mala sauce first to see how you like the spiciness of it. Then decide whether to add more mala sauce or not.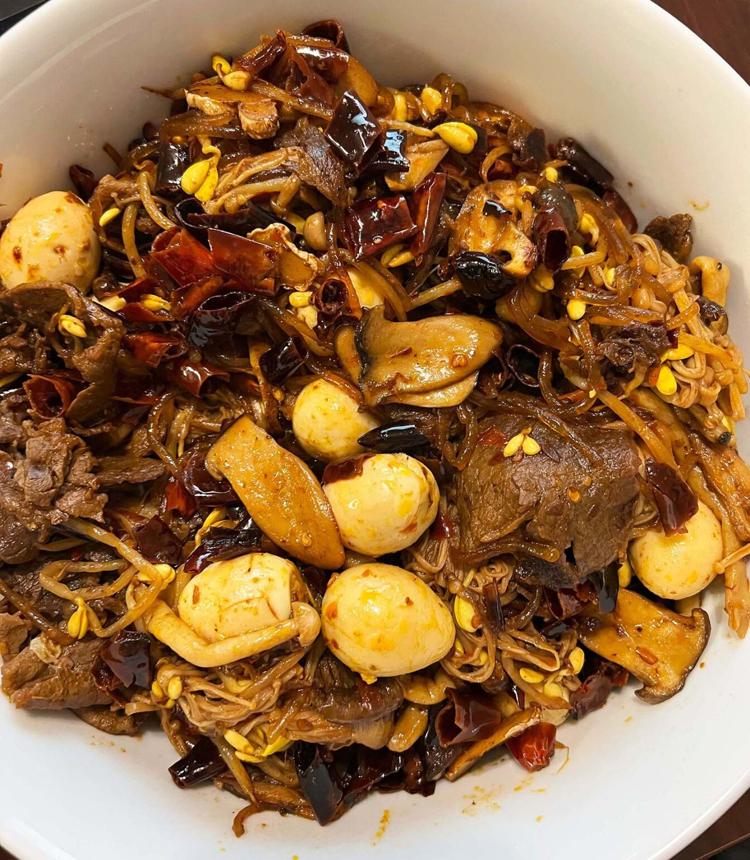 Step 5: Add the pre-boiled veggies and meat into the pot. Stir fry to mix the ingredients and dry the juice up.
Step 6: Transfer the food into a large serving bowl and enjoy.
Don't feel like cooking?
Tasty Place and Seasoning 63 in Columbia have mala xiang guo on the menu. Both restaurants offer take-out and delivery options, and you can also enjoy the dish in person.
How to order: You can pick the ingredients you want to add, and they will cook your mala xiang guo using the food you picked. Price varies depending on the ingredients you chose.
Tasty Place
Hours: Tuesday through Saturday from 11 a.m. to 9:30 p.m., Sunday from 11:30 a.m. to 9:30 p.m., closed on Mondays
Phone: 573-499-0001
Location: 215 North Stadium Blvd.
Price: The base price is $15.95 with some veggies. Final price varies depending on the ingredients you add.
View Tasty Place's menu (Hot spicy dry pot).
Seasoning 63
Hours: Mondays, 9:30 a.m. to 1:30 p.m., 3:30–10 p.m.; Tuesdays, 9:30 a.m. to 1:30 p.m.; Wednesdays and Sundays, 10:30 a.m. to 1:30 p.m., 3:30–10 p.m.; Thursdays and Fridays, 9:30 a.m. to 1:30 p.m., 3:30–10:30 p.m.; Saturdays, 10:30 a.m. to 1:30 p.m., 3:30–10:30 p.m.
Phone: 573-474-1333
Location: 2513 Old 63 South, Ste 103
Price: The small size is about $22.99 with five meat/seafood items and five veggies of choice. The big size, containing almost double the contents of the small one, is about $35.99 with five meat/seafood items and five veggies of choice. Price might vary based on the food delivery website you use. 
Related stories